We've been hearing about the rise of remote recruitment in the global economy. So we decided to explore how well that idea is being executed in the actual hiring process in a series called "Who Hires Remotely, Anyway?". And if you're on board remote hiring, don't wait, email us right now.
Thus far, we've broken down remote hiring by industries and by companies. Now, we want to see what remote hiring looks like through the prism of job titles. Spoiler alert: just as industry or company size aren't getting in the way of remote hiring, neither are job titles.
Across the board, in every stratum, remote work is becoming a chosen way of work. In this article, we're taking a look at the trends in remote hiring by job categories, experience levels, and job titles.
But before we start, we wanted to add an important side note that'll help clarify the stats and figures we've used. According to the Robert Half Annual Salary Guide, telecommuting is the number one perk sought by those surveyed. A massive 79% of workers said that flex hours/telecommute is the "benefit that would most affect their decision to join a company".
That's telecommuting as a perk. Great. But we're not talking about that. What we're considering in the rest of this article are jobs that are remote positions, advertised and recruited as such.
Let's start.
Job Categories in Remote Hiring
The job titles most in demand in the remote workplace is a derivative of the top industries and companies. The categories in which distant jobs are available is somewhere in the low 50s. And covers everything from accounting to art to consulting, fashion, math, retail, sports, writing…
The job titles within each category are wide-ranging as well. From entry- to executive-level, freelance to full-time, completely remote to remote with travel…the choices are staggering. And employers are recruiting remotely for all of these positions.
Let's take Retail, for example:
In retail, very decidedly the jobs that spring to mind first—shopping assistants, sales clerks, cashier— are customer-facing and usually aren't remote (although, self-checkouts are on the rise). But beyond that, retail includes everything from designing to packaging to producing and distributing products. And a lot of these jobs can be performed remotely, at least partly.
Consider these three jobs listed under the Retail category:
Regional Business Manager – A remote managerial position with the option to telecommute. Broadly, the position entails driving regional sales, managing sales accounts, and monitoring customer performance.
Guest Services Representative – An entirely remote entry-level position that's advertised as work-at-home. The job requires assisting guests via emails and phone, resolving/escalating issues.
Field Supervisor – A remote supervisor position that requires extensive travel. The position requires building relationships with merchants and supporting their efforts.
The point to note here is that all three are remote positions of different flavors – only one is work-from-home, one is fully remote but requires extensive travel, and for the other, coming into the office is optional. And employers are discerning enough to know that none of the above three workers need to be at the office to get the work done.
Job Experience Levels in Remote Hiring
There's a palpable question recruiters are seemingly asking when hiring these days—"can this position become remote or not? – regardless of any other criteria. And as long as it can keep generating savings and profits for businesses.
So, likewise, the experience level required for a job is inconsequential to remote hiring. And remote job boards are filled with positions like Program Manager/Project Manager/Business Development Manager/Sales Manager.
That is, remote work isn't just for entry-level positions or for periodic work. Rather, roles that demand experience, responsibility, and viability can also be carried out remotely.
Here are examples of remote positions based on experience required:
Entry-level remote jobs: Coach, editor, office assistant, medical scribe, transcriptionist, ESL instructor, writer.
Managerial remote jobs: Business intelligence practice manager, mobilization lead, at-home team manager, process improvement analyst, project manager, national sales manager, senior technical assistant specialist, implementation consultant, program director.
Executive remote jobs: CFO, COO, chief development officer, chief technology officer, VP, director of communications and operations, executive director, executive sales representative.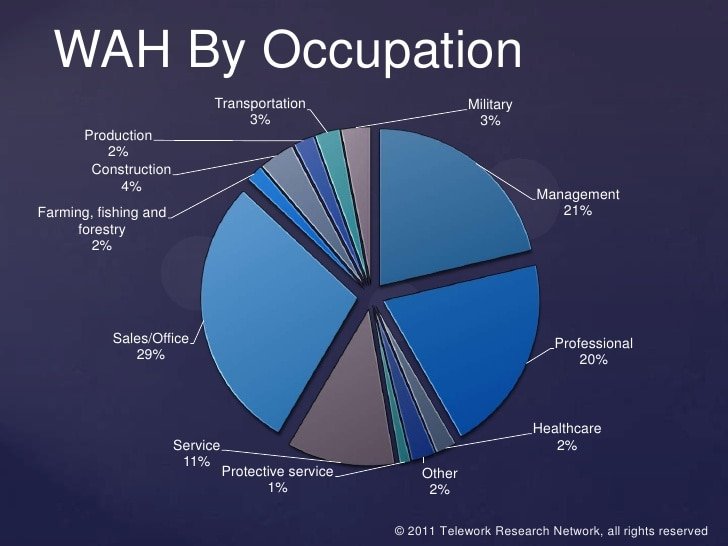 Job Titles in Remote Hiring
Unsurprisingly, there's a correlation between the top industries for remote and the top distant job titles posted on employment sites.
A quick countdown of the industry and the number of roles for each on the top 20 remote jobs list:
Accounting: 1
IT/Engineering: 5
Creative: 2
Managerial: 5
Education: 2
Medical: 2
Sales: 3
It's no surprise that IT jobs constitute 25% of the top 20 distant jobs list. But an eye-opener is that managerial positions account for another 25% of the top remote postings.
The 20 job titles most in demand according to FlexJobs are:
Accountant
Program Manager
Teacher/Faculty
Writer
Consultant
Engineer
Project Manager
Business Development Manager
Account Manager/Account Executive
Tutor
Developer
Customer Service Representative
Sales Representative
Analyst
Editor
Nurse
Medical Coder
Territory Sales Manager
Case Manager
Internet/Social Media Evaluator
Most of the statistics we've shared with you in this article, as well as the two previous ones in the "Who Hires Remotely, Anyway?" series, were not from theoretical studies or projected trends. They were figures obtained from job postings on actual employment boards where recruiters are advertising jobs and applicants are submitting their resumes.
And it all lines up, interconnects and verifies—whether you look at it by industries, companies or job titles—remote work really is on the rise. So much so that it's the way most businesses are opting to hire first and over in-office employees, regardless of department or position.
If you hear people saying that remote work is the way of the future, you can pooh-pooh them and boldly state that it's the way the world is working NOW. The only difference, we believe, is everyone will work remotely in the future. Including your employees. Why put off something you'll eventually have to do? Give us a call and we'll get you there.