20% of startups fail in the first two years. And do you know why? Almost a quarter of failures are because of teamwork issues. If you're looking to find developers for your startup, and you've had no luck so far, it's probably because you're looking in the wrong places.
At DistantJob, as an IT remote staffing agency, we have more than 10 years of experience helping entrepreneurs find developers for their startups. If you have no idea where to start, contact us! We will be happy to guide you through the process! However, we also created a guide with useful strategies that can lead you to find the perfect developer fast.


How Can a Startup Find Developers? Best Hiring Strategies
Before starting to recruit developers for your startup, there are certain aspects you need to consider. You might already have your business idea, but telling a developer 'I'm building a billionaire business, want to be part of it?'' won't convince them to join your team.
These are the 5 main steps to hire developers for your startup:
1. Define What You're Building
The first step you should take when finding developers for your startup is to be clear about what your project is about.
Defining the solution/product/service will allow you to convince developers that your project is worth it. Unless you have a millionaire investment, and you can pay high salaries, you need to transmit the passion and your idea effectively. Otherwise, why would someone waste time, energy, and knowledge in a project that will likely fail?
These basic questions can help you as a guide:
What is my project about?
What users are my main target? Mobile? Web?
Why do I need a developer?
2. Prioritize Finding Talent
Most startups, when they start hiring and expanding their team, face the problem of having a tight budget. Because of this, they rather hire someone who charges a low salary instead of looking for the right person.
It's not news that most startups fail. And it's not just because of 'bad luck,' but there are determining factors that influence a startup's success or failure rate. For instance, did you know that one of the top reasons startups fail is not having the right talent?
According to CareerBuilder, 3 out of 4 employers (74%) revealed that they'd hired the wrong person for a position. What does this mean in terms of money? The average cost of one bad hire is $15,000!
Prioritizing in finding developers for your startups means carefully looking at the best approaches and strategies that can lead you to hire a developer who is excited to work on your startup and has the necessary skills.
You should dedicate a big part of your time sourcing and recruiting candidates, whether in online platforms or coding events.
3. Know What Type of Developer you Need
As we've mentioned, roles in startups tend to require a little more flexibility than the average, so make sure the job description reflects that in addition to all the skills and experience that your ideal candidate will have.
Don't be tempted to write an unreal – exciting job description; be honest. If this role is going to be long hours of solo coding, there will be a developer who thinks they've just been offered a place in heaven. If it's a multi-skilled role where they will be talking to clients, doing a little bit of tech support, and pitching in with product design that will be someone's idea of Nirvana too.
The bottom line is, it does no one any favors if there aren't clear expectations, The worst thing you can do is hire someone only to find out they're not the right fit. That just delays projects and destroys morale.
If you don't have a technical background, this part is especially important for you. There are many different types of developers that specialize in specific areas.
To explain it more easily, think of developers as your kitchen appliances. The knife has a completely different purpose than the pot or the coffee maker, right? The same happens with PHP, Clojure, or ReactJS developers (among other categories); they might have similar foundations but focus on entirely different things.
You can't ask a Python developer to help you build a mobile app when it doesn't make sense (Python is not used to build a mobile app; it is mainly used for web development).
4.
Hire Remote Developers
If you live in one of the centers for technology like Silicon Valley, you might just have the best talent on your doorstep. If you don't, you might have to consider going further afield.
You could get lucky and find a developer who's willing to take a bet on your company and relocate. But you're much more likely to attract great talent if you accept applications from all over the world.
Hiring remote developers makes sense in a lot of other ways, too. It can take as little as two weeks to have your new developer on board, helping you to respond to opportunities as they occur – and it saves you money.
With most startups 'headquarters' being someone's home or garage, for cost and convenience, knowing that you don't need to get bricks and mortar premises and all the costs they bring with you is a major bonus. Hiring developers for a startup doesn't mean taking on more debt.
5. Avoid Freelance Marketplaces
One of the most demanding aspects of building a startup is that you will have to manage everything initially. When looking for developers, you have many different options, from freelancing marketplaces to recruitment agencies. Your job is to find which place can help you find the developer you need at an affordable cost.
There is a place for freelancers in the world of software development, but it isn't as a full-time employee of a startup. You might (might) find the right person on a marketplace, but boards are usually chaotic places, where it's often a race to the bottom in terms of price which obviously has an impact on quality. Freelancers can overpromise and under-deliver, leaving you worse off than you were before they started.
We will pick up this point later, where we will show you the best strategies to hire a developer for your startup.
6. Build a Solid Interviewing Process
Congratulations, you have candidates to interview!
Now it's time to prepare for the interview and find out the best ways to test skills. Traditionally, companies test a programmer's skills with whiteboards. However, these are no longer your best option as it's proven that they don't help you successfully measure a developer's knowledge.
You could give it a try, but other types of activities can help you determine if the candidate is worth hiring. For example, if you're looking for someone to build a website for you, you could give them a small project and see how well they perform.
Keep in mind that finding developers for your startup is not only about their skills and capabilities. It's also about the passion and the value they will bring to your team. If you make good hires from the start, scaling your startup will be easier.
Where to Find and Hire Developers for Your Startup
There are different strategies that can help you hire a developer for your startup. However, how to know which one is right for you? Here are 8 strategies with their pros and cons: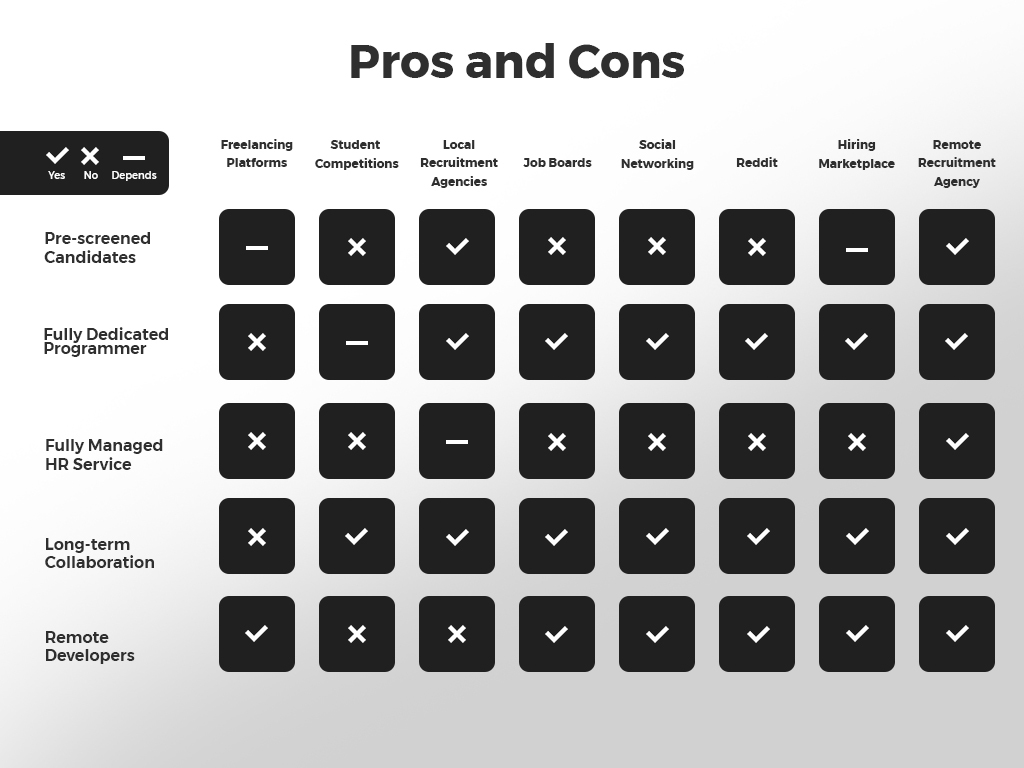 1. Freelancing Platforms
Freelancing websites are one of the most common strategies to hire developers. Usually, they are a great option if you are looking for single projects. For example, if you want to increase your website's speed then you can hire a freelance developer to help you with that. It's not necessary to establish a long-term commitment because it's one single task that you need from them.
There are two kinds of freelancing platforms: general, where there are many categories for different types of projects. And niche, which is the platforms created for specific types of jobs. For example, in this case, IT freelancing platforms.
Main cons of freelancing platforms? Although there are a lot of offers, getting real talent is hard. Reputation in freelancing is everything; therefore, a lot of freelancers prefer to charge cheaper to have more projects and improve their reputation.
Also, freelancers don't focus 100% on your project because A) They are already thinking in the next project and B) They are not integrated into the culture of your company and will not work following your management processes.
It is very different hiring a freelancer than a full-time dedicated employee who wants to grow and help your startup grow. Freelancers lack the accountability and commitment you need, especially when you're starting your business.
Freelancing platforms: Toptal,Guru, Upwork, Freelancer, Fiverr, PeoplePerHour
2. Find a Developer in Students Competitions
Engineering software students usually have several contests where they create and present projects. Most students are in a stage of their lives where they want to get a job and they are not asking for high salaries. Plus, they have all the energy to learn. So, it's a good strategy if you want to hire someone and see firsthand their capabilities.
Main cons of finding a developer in student competitions? Time. Most people don't have the time to search and attend student engineering contests and spend a whole day finding their perfect match. It's time-consuming and with no guarantees that you will find the developer you were looking for.
Also, when you're hiring for a startup you need people that have the mindset of an entrepreneur, because during the first months every decision can be crucial, therefore hiring a developer in a student contest can make this more challenging.
3. Local Recruitment Agencies
Their main goal is to find the best solution for your company. They know the local market; so, they know where to search for candidates. They can be expensive, but in the long run, it saves you time because these agencies do all the processes for you.
Main cons of local recruitment agencies? Because they are a centralized solution, they provide fewer options. You can get great candidates, but why limit your search to just one area? And unless they are specialized in hiring tech talent, most of the recruiters don't have the necessary IT knowledge when it comes to hiring the right developer.
4. Look for Developers on Job Boards
Job boards are a fast solution if you are looking to hire a developer online. Developers post their CVs and the projects they have worked on before and begin looking for job openings. Organizations and even recruiters use job boards when they are looking for candidates. This strategy allows developers to look for a job to connect directly with a company.
Main cons of job boards? Too many candidates, making it hard to know which one is the right one. The main problem is that on these platforms, there is no vetting, so it's harder to tell if a candidate is going to suit well in your company.
Examples: LinkedIn, Indeed, CareerBuilder, Monster, Glassdoor.
5. Social Networking (Twitter, Facebook)
Both Twitter and Facebook are great for finding developers. Facebook has a lot of groups where people discuss and publish posts about their niche. So, the process consists of joining communities of developers and searching for a possible candidate. On twitter the same thing is true. You can tweet saying you want to hire a developer (even add a hashtag #hiringdevelopers). Or you can look into the people's tab and see who is a developer seeking for a job opening.
Main cons of finding developers through social networking? Time and energy.
Unfortunately, the most suitable candidates are taken, and the ones who are not, are hard to find. It requires you to invest time doing these searches, joining groups, and constantly chatting with different people with the hope of finding the developer you were looking for. Also, there's no vetting. Besides having many options, you have no guarantee of the abilities of these candidates. And keep in mind that you must handle all contracts from scratch. At the end of the day, it's a lot of work.
6. Developers on Reddit
Professionals use Reddit to share insights, promote their business, or show they know what they do. They look into interesting questions users make, and answer them, proving their expertise in a determined area. So, you can hire a developer online by looking for a specific topic or asking questions related to their field. People love to share their knowledge, and Quora is a great place to hunt for talented developers.
Main cons of hiring developers through social networking? Again, it's a time-consuming process, and time is money. You have to do the search all by yourself. And talented techies in Reddit are already taken – usually working for big tech companies such as Google or Microsoft.
7. Hiring Marketplace to Find Developers
The Airbnb of jobs. It's very like job boards, although it has more filters. In these platforms, you can categorize; see the employees who are available in a determined area, their area of expertise, among other aspects. Overall, the hiring process tends to be faster.
Main cons of hiring marketplaces to find developers? No guarantee that people who publish their CV have all the abilities they say they have. Besides professional abilities and tech skills, in these platforms, it's hard to test personality skills and see if candidates are self-starters, work as a team, communicate efficiently, etc. There is no guarantee that they will fully integrate into your company's culture.
Examples: Hired, Underdog.io, Product Hunt, The Muse.
8. Remote Staffing Agency
Remote recruitment agencies like DistantJob specialize in finding remote tech talent for your company. Instead of looking into one area, they search worldwide to find the most highly qualified applicants. These agencies search for a candidate that not only has the professional requirements you are seeking but also will adapt to your company's culture and processes. Additionally, remote recruitment agencies can search for top talents in countries where the cost of living is lower.
Main cons of remote recruitment agencies? As the name says, they only specialize in remote talent. Meaning that if you don't want a remote developer or a remote team, it doesn't make sense for you to go to these agencies.
Find Developers for Your Startup Now With DistantJob in Just Two Weeks
Hiring IT talent is getting more difficult. Top-quality candidates are usually already working at big tech companies, therefore, the key to finding developers for your startup is through DistantJob. 
At DistantJob, we are a recruitment agency that specializes in headhunting the world's top IT talent. We know how to recruit and outsource qualified remote IT experts at a fraction of the usual cost. But that's not it; 10 years of experience has shown us the importance of hiring professionals that adapt to your company's culture and processes.
We provide our clients with top remote developers who also have the skills and the personality to integrate successfully into their companies. 
Do you want to find a talented developer?
Do you want real talent in your company?
Do you want it fast?
If the answer is yes, remote recruiting is the strategy you are looking for. And at DistantJob we can help you!
We connect companies, including startups like yours, with the very best developers from all around the world. If we send you a CV you can be sure that a person meets the criteria of your job description, is technically competent, and has what it takes to work successfully as part of a distributed team. Sound like just what you need? Get in touch today.