Remote recruitment, also known as virtual recruitment, is the process of sourcing, interviewing, evaluating, and hiring employees for remote positions, all conducted virtually through modern tools like video conferencing and email. This approach not only eliminates the need for physical presence but also maintains a high caliber in the recruitment process.
Illustrating this with a real example, a leading Canadian email & SMS communications provider, Upaknee, faced hurdles in scaling their team with a proficient developer. The traditional hiring avenues either fell short of matching the required skill set or demanded hefty recruitment fees. However, the narrative took a positive turn when they engaged with DistantJob. In just a few days, DistantJob connected Upaknee with a qualified developer from Bulgaria, who, post a couple of comprehensive interviews, was onboarded to the team.
"DistantJob provided a candidate whose skills were exceptionally high, higher than most developers we had interviewed locally."
– Stuart Dow, Managing Director at Upaknee.
Hiring remains a substantial expenditure for companies, with the average recruitment cost in the USA exceeding $4000. The sting of this cost escalates when sourcing for specialized tech talent in a competitive market. Remote recruitment emerges as a sustainable solution to mitigate these expenses without compromising on the quality or expertise of hires.
Recent data highlights the need for alternative hiring strategies like remote recruitment. A 2022 survey by ManPower Group showed that 76% of global employers struggled to find skilled talent for their IT needs, with a significant 78% talent gap in the US IT sector. By 2023, the high demand for skilled staff will continue, with companies falling behind in digitization risking an average loss of $7 million.
Adopting remote recruitment allows companies to quickly find the specific skills they need at lower costs. This method has caught on among tech companies, transitioning to remote talent recruitment. Join us as we delve into global staff augmentation and explore its reliability as a hiring strategy for your business.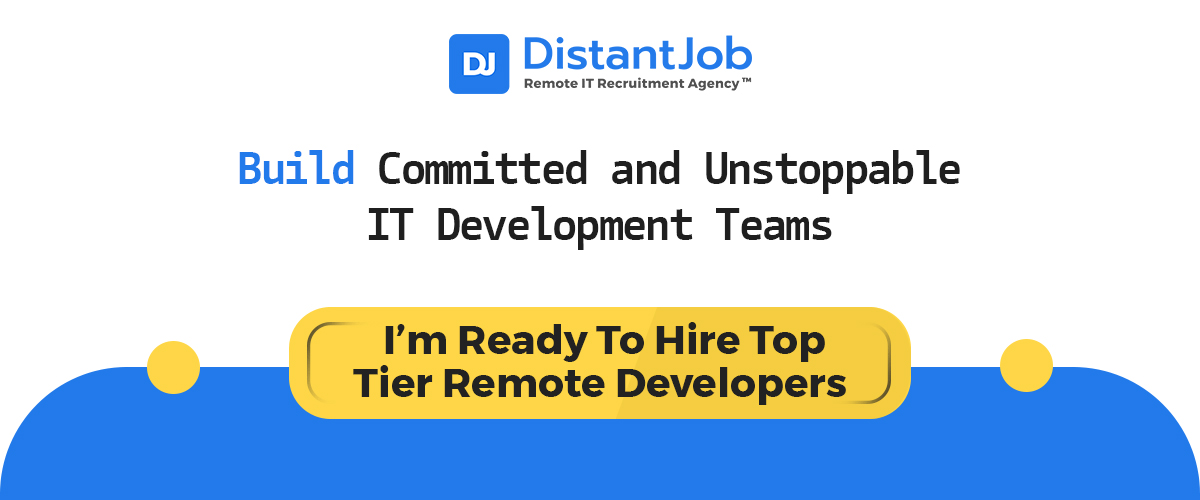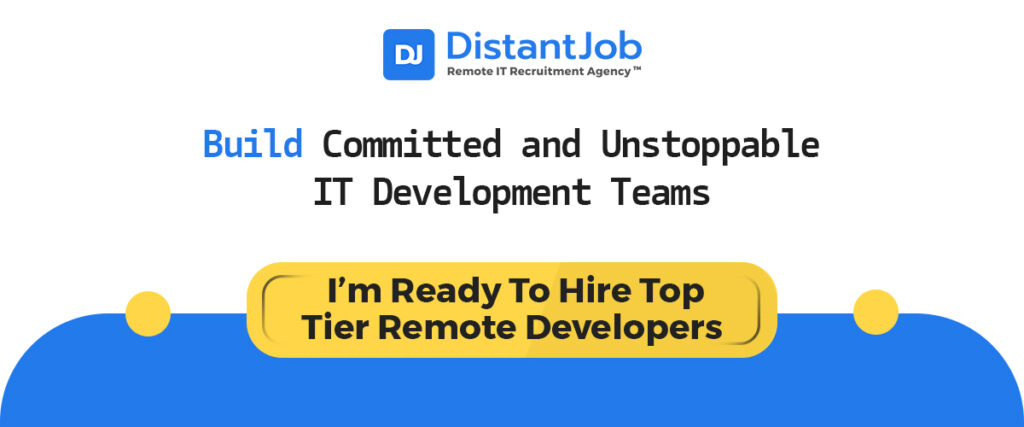 What Does a Remote Recruiter Do?
A recruiter can be defined as a professional whose job is to find qualified candidates for a job vacancy. They are responsible for meeting a company's hiring goals by filling open positions with talented candidates.
Local recruiters put their efforts into finding candidates within defined geographical boundaries. For example, if a company located in Miami needs a graphic designer, the recruiter will start searching for candidates located only and exclusively in Miami.
Remote recruiters differ from local recruiters because they don't have geographical boundaries when looking for candidates allowing them to increase their talent pool. They put their efforts into overseas and emerging markets where skilled workers are plentiful and available.
According to The Future of Work survey conducted by Cielo, companies' talent, acquisition teams have embraced remote recruitment practices:
59% of them interviewed candidates over video.
65% are extending offers without meeting candidates in person.
67% are virtually onboarding candidates.
The main reason is that remote recruitment not only benefits employers but it also benefits employees. People want to continue working remotely even after the pandemic; according to a FlexJobs survey, 65% would prefer a full-time remote job post-pandemic, and 31% would like a hybrid work arrangement.
How Remote Recruiting Can Propel Your Company Forward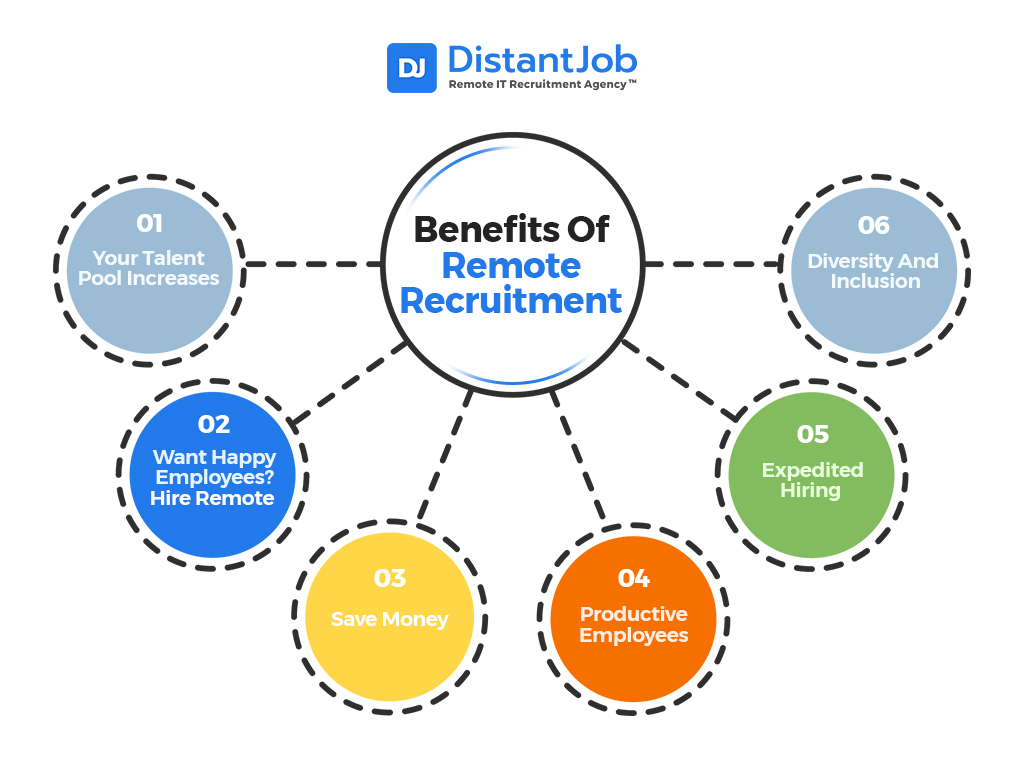 Do local recruitment agencies differ from remote ones because of the talent pool? Or is there more to it? Yes, because hiring remotely also means the opportunity to offer competitive contracts to attract top talent saving on your budget. You can offer a flexible schedule combining synchronous and asynchronous communication to retain your developers over time.
A remote recruitment agency can target time-friendly regions screening for specific skills and experience to match your company. So, there is a lot more to it! Let's look at the main advantages that remote recruiting can bring.
1. Your Talent Pool Increases
Your talent pool increases exponentially when you employ remote recruiting strategies. Hiring virtually can bring even better results. With a broader range of possibilities, a remote recruiter can screen for specific skills and experience to match your company. You won't only find someone good, but you'll find someone perfect for the job.
2. Want Happy Employees? Hire Remote
Everyone wants to work remotely. Even before the pandemic, stats showed how remote work kept increasing. But now that most employees got a taste of what working under flexible arrangements is like, they are not turning back. According to Upwork, 22% of the American Workforce will be remote by 2025.
The best way to hire a happy and engaged employee is by offering them a remote opportunity.
3. Save Money
Another substantial difference between hiring employees through a remote recruitment process versus a local one is the costs. For example, a developer's salary in California is not the same as the salary of an Eastern European developer. And the best part is that you pay an affordable salary but don't compromise the results because they are also incredibly talented.
A local recruitment agency can only select candidates within a determined range, meaning that you'll have to pay higher salaries if you live in an expensive city.
4. Productive Employees
Did you know that remote employees are more productive than on-site employees? Probably yes, as most employers are talking about it. The pandemic was an experiment to prove if what others have studied previously regarding productivity was true. And the results? 94% of 800 employers surveyed by Mercer said that productivity was the same or even higher than it was before the pandemic.
Remote employees are more productive because they avoid the commute, create their own workflow, work at the hours that suit them best, are less likely to take sick days, and don't get as distracted as those who work in an office.
5. Expedited Hiring
Remote workers, especially those with years of experience, are totally used to working in a virtual environment. They understand the tools and adapt quickly, making the hiring process smooth.
Instead of face-to-face interviews, you'll be talking to candidates by video chat when you are in the remote recruitment process. The entire process is faster and more effective, with everything done virtually.
6. Diversity And Inclusion
With global hiring, you can hire from a wider pool of candidates, helping you promote diversity and inclusion.
One such way that can happen is with the removal of the physical need to be in the office. Without such a restrictive need, you can hire anyone from anywhere, allowing you to open up your position to people with different ethnic, cultural, and socioeconomic backgrounds.
Another way this can be beneficial is for people with disabilities or health conditions. Working from home allows them to live more comfortably and safely in their homes while allowing them to work and not worry about everyday struggles like commuting.
Navigating the Challenges of Global IT Staff Augmentation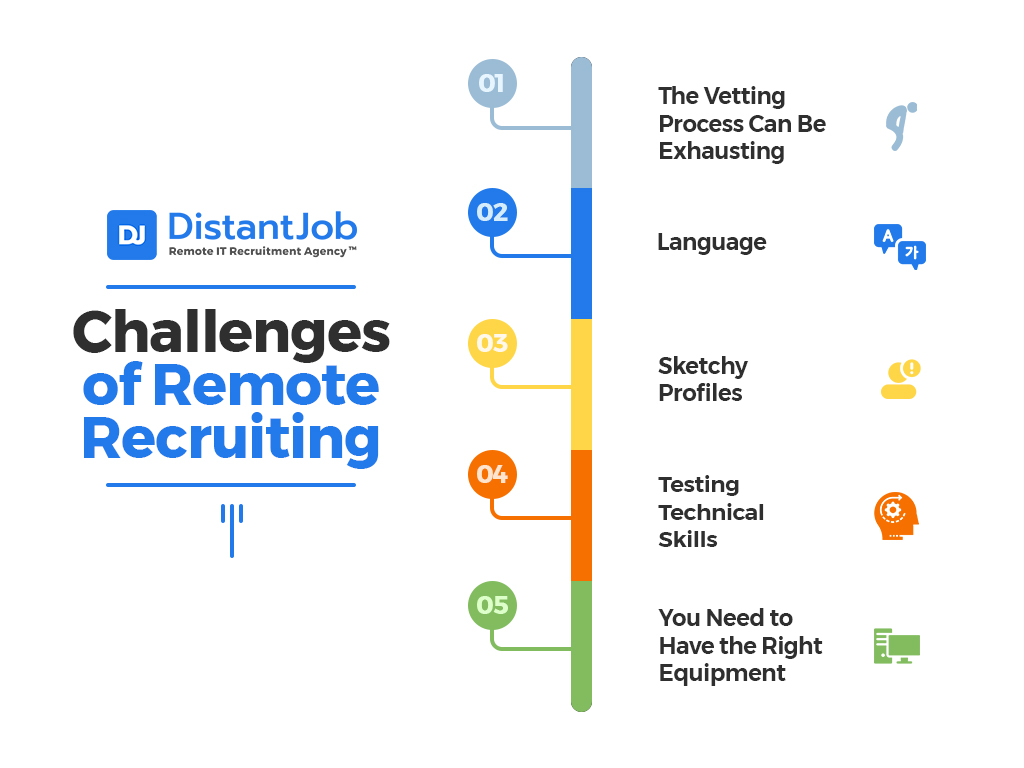 If you don´t have experience recruiting remote candidates, these are some of the challenges you´re likely to face:
1. The Vetting Process Can Be Exhausting
With most people being advocates for remote work, the vetting process can take longer than planned. And while having ATS is a great way to reduce this time, you´re still likely to receive hundreds and thousands of applicants eager to start working from home.
2. Language
A resume can say "advanced English level," but you´ll notice that is not always true during interviews. It has happened to us that we´ve interviewed people who could barely put words into sentences. Finding English-speaking candidates can also become a long process if you have no idea where to look for them.
3. Sketchy Profiles
Unfortunately, there have been cases where candidates have falsified their resumes and even identity. Your recruitment team must have a process where they can do background checks and identity verifications to avoid any potential scams.
4. Testing Technical Skills
This is one of the major challenges in remote recruitment, especially when evaluating senior-level developers. Your HR and recruitment team need a technical background to build evaluations that accurately test skills. Also, in the interviews, you need to know what questions to ask beyond generic ones to ensure the candidate is up for the role and tasks.
5. You Need to Have the Right Equipment
If you´re considering scaling your team online, the first step is ensuring you have the infrastructure. This means you have the tools and applications where you´ll be working and collaborating with your team, and you have built the processes, onboarding, and policies adequate for supporting remote teams.
8 Strategic Steps to Remote Recruitment: Tips from Our Expert Recruiter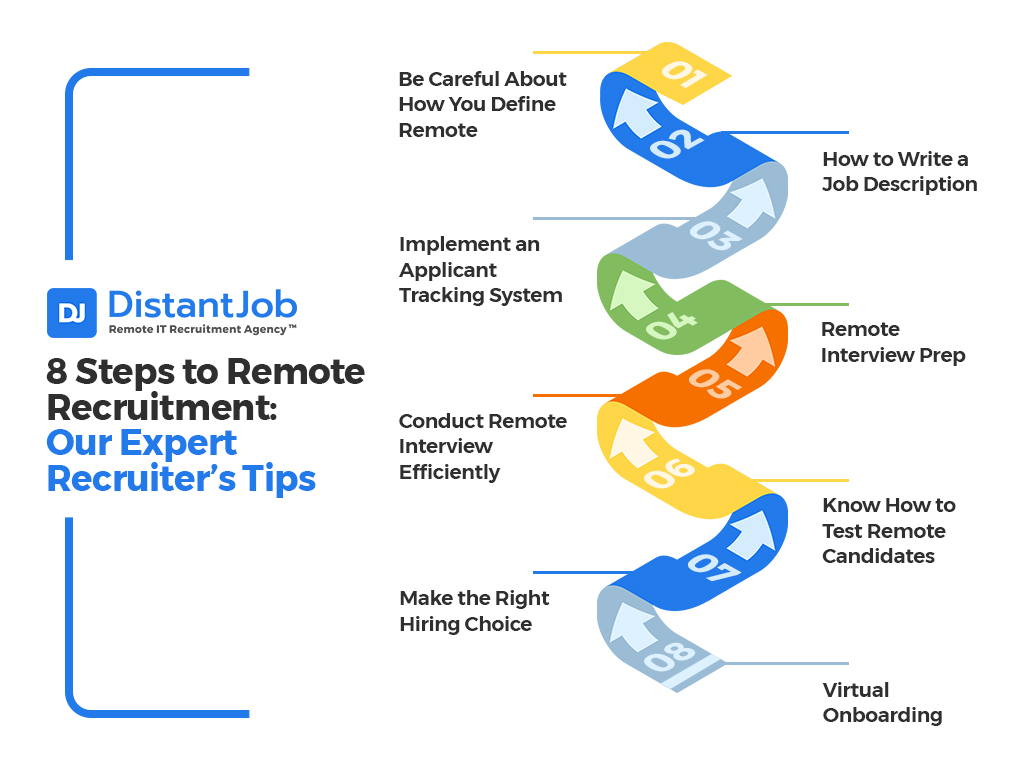 How to start hiring remotely? Transforming your local recruitment strategy to a remote one is challenging and overwhelming for most. Here are 8 effective remote recruitment tips:
1. Be Careful About How You Define Remote
I know it sounds dumb, but some companies and candidates have entirely different definitions of what remote is. If you're offering remote work, when in fact, you're only willing to let employees work 2 days a week from home, then this is something you need to specify on the job description – this is commonly known as a hybrid working arrangement.
Before posting your job ad and beginning the recruitment process, define what remote means to you. Can employees work 100% remotely? Is it fully remote or flexible? Or do you expect them to go on certain days to the office? Having this defined before starting to look for candidates will save you from wasting time and having misunderstandings.
2. How to Write a Job Description
Job descriptions are the bait that attracts talented remote candidates. Avoid using weird terms like 'rockstar' or 'guru' – no one likes that, plus it scares candidates away. Also, keep them short and simple. Focus on mentioning what candidates want to know.
You should be able to answer these questions:
What is the role about?
What are the expectations of that role?
Skills and requirements?
Time zone?
Is it a fully remote job?
What is your company about?
Consider using a different approach to your job ad. Instead of long text, you could have images or even videos! According to CareerBuilder, job postings with video are viewed 12% more and have a 34% greater application rate.
3. Implement an Applicant Tracking System
Recruitment without an ATS can be a nightmare. When posting your job description on different platforms, it often happens that thousands of unqualified candidates apply, wasting a lot of time reviewing their CVs – especially for remote positions. Sometimes, people, by just seeing the word remote, instantly apply without even reading the job ad.
An ATS will save you time and energy by helping you select the candidates that fulfill your requirements. It will also help structure your recruitment process by sourcing talent and assessing potential, tracking the interview process, and evaluating performance.
4. Remote Interview Prep
Before you start your remote interview process, make sure to understand what exactly is the role that you're looking for.
What skills are a must-have? Are any particular qualifications important for the role? What would your ideal candidate look like?
Having this prepared beforehand will let you identify potential red flags.
For example, if you're looking for a candidate for an important team project, communication and teamwork are crucial skills. If the candidate shows up to the interview with a know-it-all attitude, then you'll know that they are not the person you're looking for.
5. Conduct Remote Interviews Efficiently
Interviews are the moment where you have a fuller picture of the candidate's knowledge and capabilities. To do a great remote interview, the first thing you need to do is to have a video call application. Zoom, Skype Business, or Google Meet are some of the many options that help remote companies succeed, and in this case, conduct remote interviews.
Employing a camera in a remote interview helps to connect with the candidate. Plus, chances are the interview feels weird and awkward without one. When you have your camera on, it's easier to read their body language and get to know the candidate better.
If you're conducting virtual interviews, make sure to test your internet beforehand and always have a plan B instead if it fails (like sharing mobile data, for example).
6. Know How to Test Remote Candidates
Remote interviews are essential; the problem is that in some cases, especially when hiring IT talent, candidates memorize theoretical questions and make you believe they are the greatest developer of all time.
To avoid this, you have different alternatives:
Ask different and unexpected questions: Instead of asking the basic questions, think a bit deeper into what questions could make candidates prove themselves as the perfect fit.
Give them homework: Go back to the basics and give them a small project. You can set up a deadline and see if they deliver on time and how well their performance was.
Conduct group interviews: This is a great strategy to ensure that it's worth hiring certain candidates. You can ask other leadership members or team members to be with you during the interview and listen to their opinions about the candidate.
Additional tip: Take notes during the interviews about potential red flags or any aspect that caught your eye.
7. Make the Right Hiring Choice
You know what type of employee you want on your team, and you already conducted the interviews. It's time to make the decision.
Did any candidate resonate in your head? Do you feel someone can be a great employee and add value to your team?
Analyze the notes you took during the interviews as well as the other interviewers' comments.
One great strategy to help you define your best candidate is by implementing a scoring system. You can grade the candidates depending on their skills (hard and soft skills), aptitudes, and capabilities, and then compare them to the other team members.
If you have one common winner, then you know who to hire! If you don't, then you need to review them again and make a decision carefully. Or, continue looking for candidates.
8. Virtual Onboarding
Congratulations, you found a great remote candidate!
Now it's time to onboard them. Unlike other job board platforms for freelancers and remote positions, a remote recruitment agency supports you through the whole onboarding process.
First, an agency can help you prepare your new candidates by explaining the tools they will use and managing their accounts set up. Second, they take care of local labor law to ensure a correct and convenient contract arrangement for both sides.
And, you have more time and resources to introduce new candidates to the leadership team, show them the tools you use, and tell them more about the company, speeding up the workflow.
How To Attract Talented Remote Employees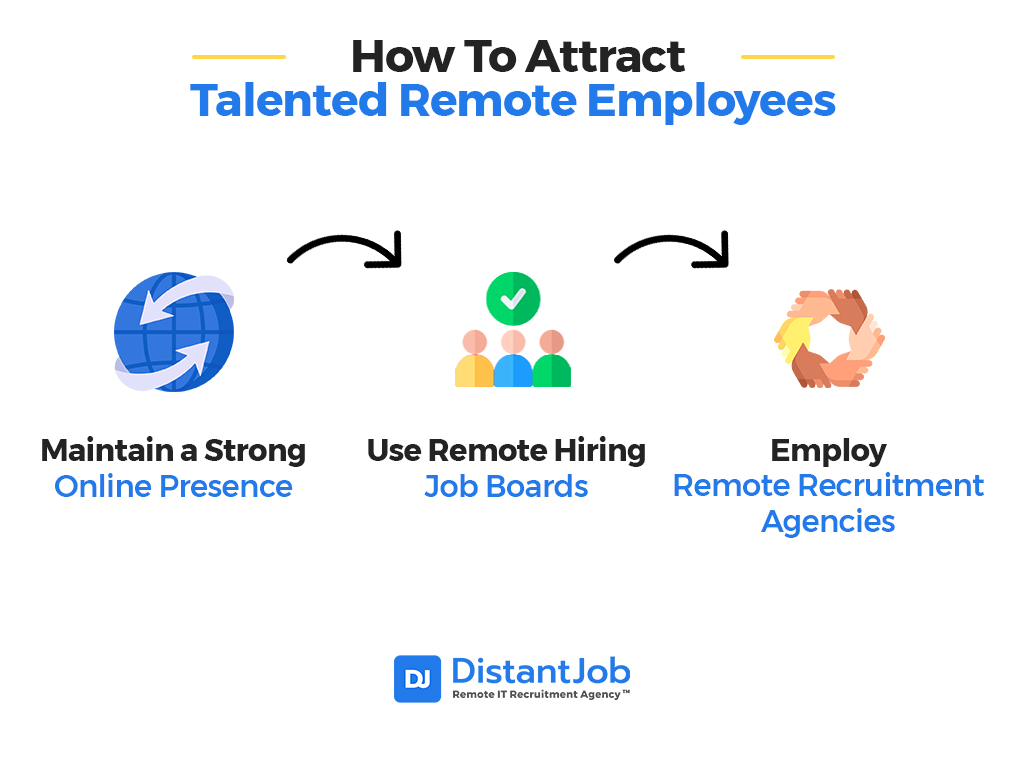 When it comes to remote hiring, attracting top talent depends on the way you get in touch with your potential candidates. Here are 3 of the top methods to get the best virtual employees:
1. Maintain a Strong Online Presence
A company looking for remote workers needs to have a strong online presence if they want to tell their candidates that they are considering remote work seriously.
Your website should be the minimum requirement, being the entryway to knowing more about you and your business. Make sure it's attractive and modern according to current web design sensibilities, and curate its information so it's always up-to-date.
2. Use Remote Hiring Job Boards
Nowadays, remote job boards can be a good outlet for companies looking for remote employees. Using a Remote hiring platform such as Indeed, or even freelancing sites such as Upwork or Fiverr, you can easily find qualified people to tackle your projects.
3. Employ Remote Recruitment Agencies
The best option if you're new to global hiring, is to entrust that process to someone with the knowledge and know-how to do it efficiently. Remote recruitment agencies like DistantJob have long-standing experience in the field, and our recruiters have a vast network of experts they can rely on when looking for people for our clients.
How Does Remote Work Affect The Hiring Process?
One of the major concerns that companies had regarding remote work was the lack of connection. How will they build a culture without being surrounded by their employees?
After the pandemic, the recruitment industry changed its processes and adapt them to a virtual environment.
Companies realized that hiring remotely brings up a whole new world of possibilities. They can hire better talent as they are no longer limited to one area – they can seek candidates in different states and countries with all the necessary skills. And they can also significantly reduce their costs as hiring remotely implies getting access to candidates that live in places with a lower cost of living.
You probably heard endless arguments on how international remote hiring can help scale a company. But besides considering the basic arguments, keep in mind that the pandemic impacted people's mindsets and lifestyles. They no longer want the basic perks of working in a fancy building; they want flexibility.
The Future of Remote Recruitment
After the pandemic, most companies opt for remote recruitment for two main reasons: they can offer convenient contracts to attract better talent and grow their business reducing their company's costs. Remote hiring isn't only one of the best options to build a competent team. It's also one of the best strategies to stay competitive in the market over time.
DistantJob is a remote recruitment agency with more than ten years of experience headhunting the best tech talent. Our technical recruitment team knows how to identify applicants who have the specific skills that your business requires.
Our team's extensive screening processes help you find remote workers who are happy to adhere to your schedule, speak, and understand English, and have the qualities your company is looking for.
Plus, we can do all of these in just two weeks. We can support you through the whole process, while you spend your energy growing your business. Don't waste any more time and resources, DistantJob will vet and find the best tech talent for you. Contact us to hire remotely a skilled developer now and boost your business!
What is remote recruitment?

Remote recruitment involves hiring and onboarding employees who work from locations outside of a traditional office setup. It utilizes online platforms and communication tools to source, screen, interview, and select candidates for remote positions.
How does remote recruiting work?

Remote recruiters differ from local recruiters because they don't have geographical boundaries when looking for candidates allowing them to increase their talent pool. They put their efforts into overseas and emerging markets where skilled workers are plentiful and available.