How Can You Recruit For Hard-to-Fill Engineering Roles Fast?
As experts in the tech recruitment industry, we've experienced first-hand how the demand for finding skilled developers has increased significantly over the years. Nowadays, the average time to fill an engineering role is 49 days. However, strategies like using job boards, networking, and considering going global by looking to hire remote developers can significantly speed up your hiring process.
Most talented engineers tend to gravitate towards large tech organizations, making it harder for smaller companies to attract them and compete with higher salaries. By building a reliable and adaptable recruitment process that focuses on hiring remotely, you´ll be able to access skilled IT professionals while reducing costs, among other benefits.
In this blog post, we´ll break down our strategies for successfully recruiting software developers and how to hire them. We´ll go over the tools needed, as well as the benefits of partnering with expert recruiters and how to find those recruiters.
Why Should You Hire Remote Developers?
With remote work continuing to increase, the best way to hire developers is to look on a global scale. Why? Here are 5 reasons why you should hire remote developers: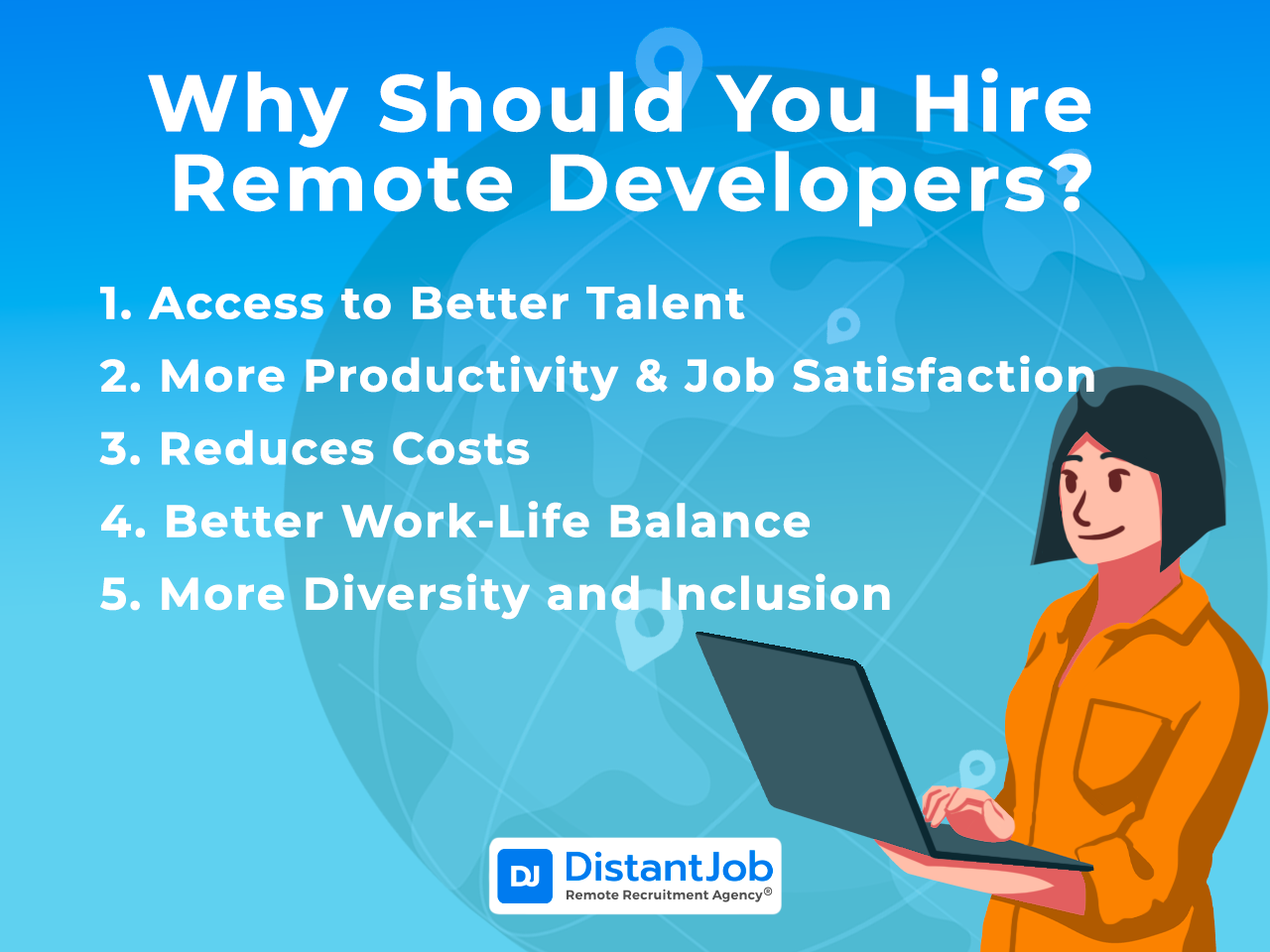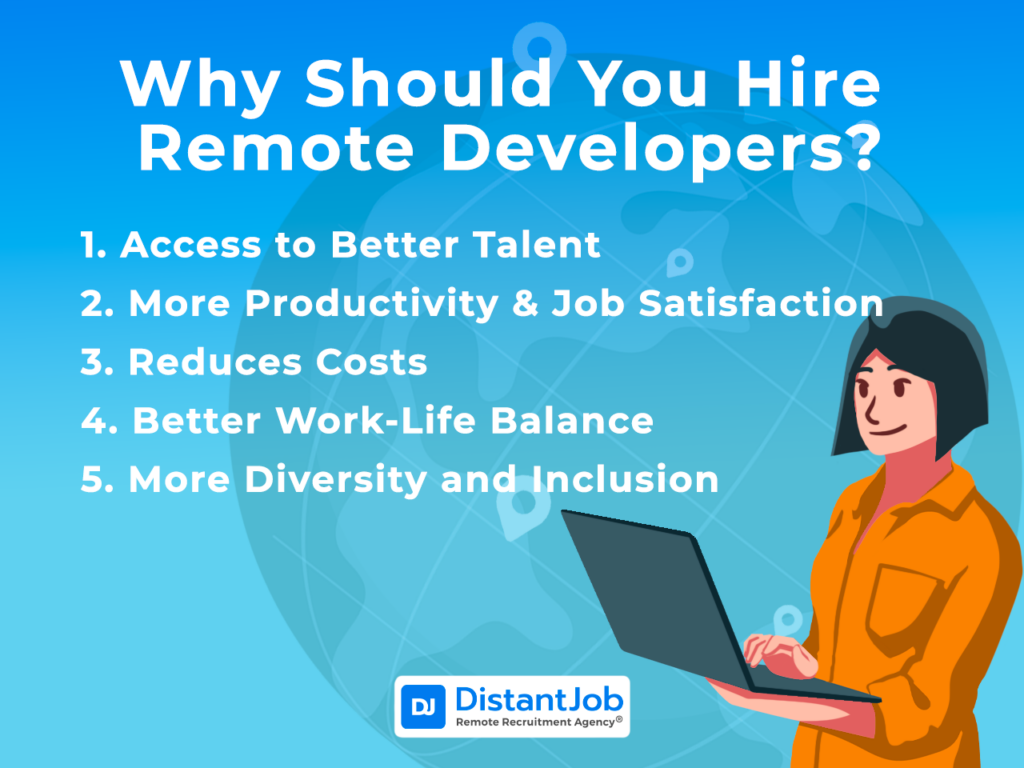 1. Access to Better Talent
Hiring a developer remotely allows your company to tap into a global talent pool rather than being limited to its local area. This can lead to a broader range of skill sets and experiences and a better chance of finding the right candidate for the job fast.
A survey by Remote.co revealed that companies that have adopted remote work had seen a 25% increase in job applicants.
From our experience, with more than 15 years in the IT recruiting field, we´ve noticed that many of our clients can't fill their roles because of 1) Cost and 2) a shortage of skilled professionals.
With remote sourcing and hiring, you can find top-notch engineers from countries with a lower cost of living. Going global, you automatically expand the talent pool, providing you the possibility of finding a developer that can be up to the task and take your business to the next level.
2. Higher Productivity and Better Job Satisfaction
Remote work has been shown to increase both productivity and job satisfaction among employees. In fact, a study by Stanford University found that remote workers were 13% more productive than their in-office counterparts.
The study attributed this increase in productivity to several factors, including fewer distractions, the ability to work in a more familiar and comfortable environment, and the lack of a daily commute.
3. Reduces Costs
As you already know, hiring remote developers eliminates the need for office space, equipment, and other overhead costs.
A simple example, a senior developer's salary in the U.S. ranges from $80,000 to $120,000 per year. In Eastern European countries, a senior developer's salary reduces from $60,000 to $ 90,000 per year.
4. Better Work-Life Balance
Allowing developers to work from home or anywhere they choose can improve work-life balance and a better overall quality of life. This leads to increased job satisfaction and reduced turnover.
As remote work enables flexible scheduling, no commuting, a comfortable work environment, and reduced distractions, remote developers have a healthier lifestyle that translates into less stress and higher job satisfaction.
5. More Diversity and Inclusion
By building a team with remote developers you will increase diversity and inclusivity in the workplace, as you won't limit your hiring options to a single location. This can lead to a more diverse range of perspectives and ideas and a more inclusive company culture.
A study by Buffer found that remote teams are more likely to be culturally diverse, with remote workers reporting that they feel more connected to people from different backgrounds due to their remote work experience.
Additionally, a report by the World Economic Forum found that remote work can increase diversity and inclusivity by reducing barriers to entry for underrepresented groups in the workforce, such as individuals with disabilities or caregiving responsibilities.
When looking for developers, often, the number one reason why the hiring process is slow is because of inexperienced recruiters. The key to finding developers for hire is looking in the right places and going outside the traditional recruitment methods.
7 Sites For Hiring Qualified Remote Developers
There's never a one-size-fits-all approach when it comes to hiring developers remotely. Job boards can be the best strategy for a company, while an IT staffing agency can be what another company needs.
Here's a list of the 7 best sites to hire developers considering different types of needs:
1. DistantJob
2. Toptal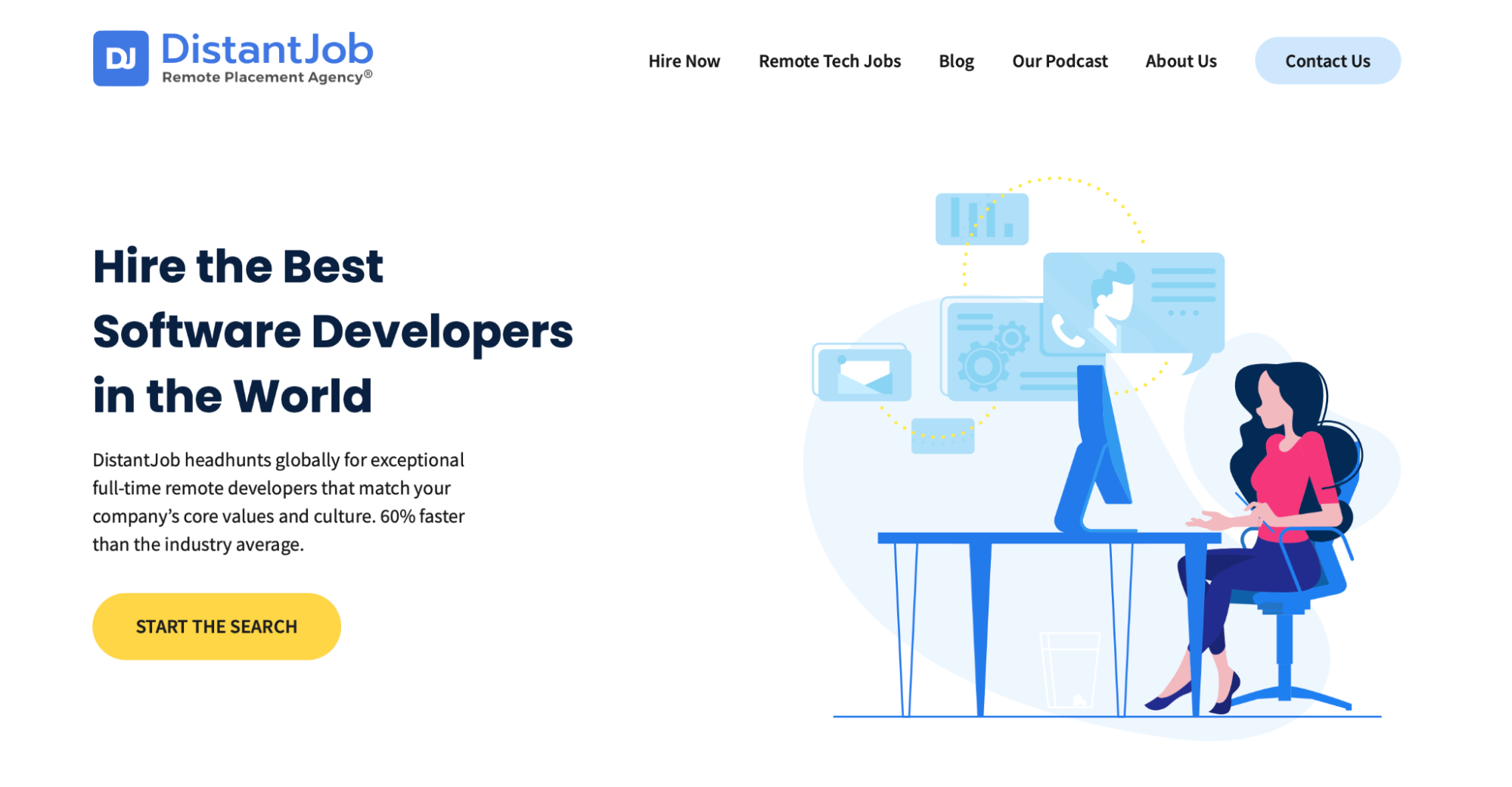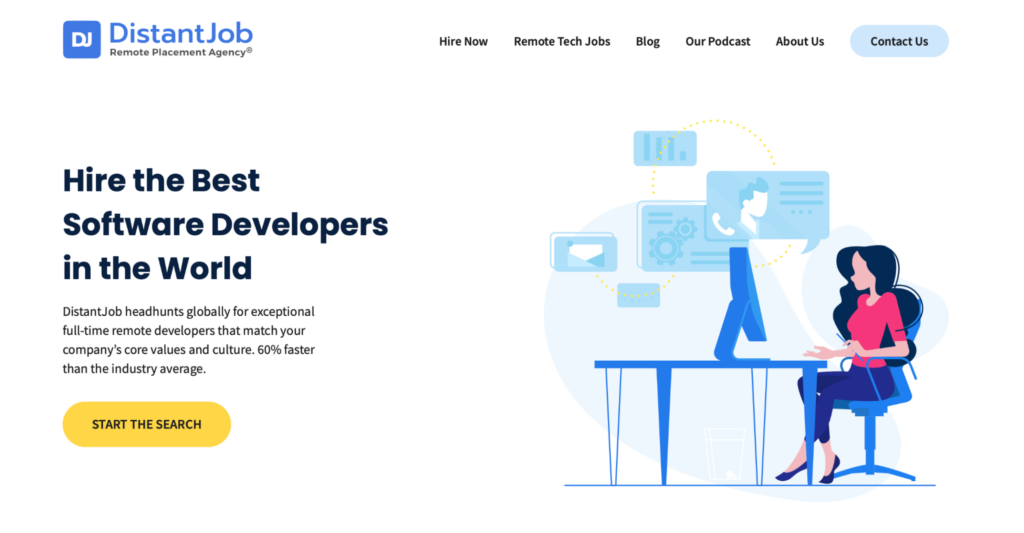 We are an IT Staffing boutique agency that focuses on helping companies, regardless of their size, to hire senior software engineers that match your wants and needs.
Your company can hire remote developers that not only fulfill their technical requirements and expectations but also match your culture and processes. Additionally, we also offer an HR solution where we take care of all legal and pay work and any administrative tasks that might come up.
All this while sourcing developers under 50% of the cost of North American salary. It´s all about balancing high quality with an affordable rate that works for both parties.
Best for: Companies looking for dedicated full-time senior developers.


Toptal offers an extensive network of freelance software developers, designers, and product managers, among other careers. They focus on providing a competitive and transparent hiring process that enables companies to get the talent they need in a short period.
They consider industry experience, skills, and availability to match freelance developers to your company's needs.
Best for: Freelance developers
3. Fiverr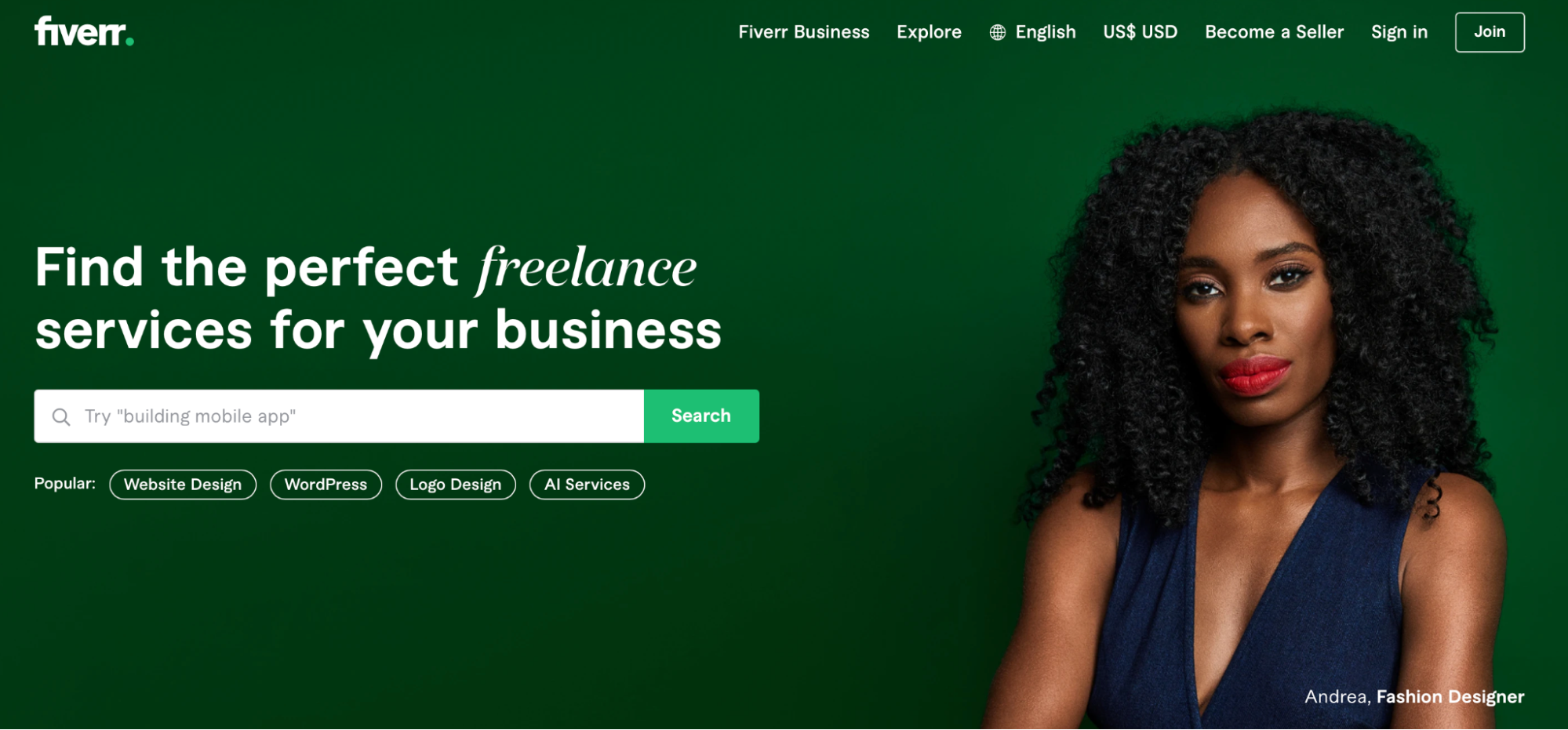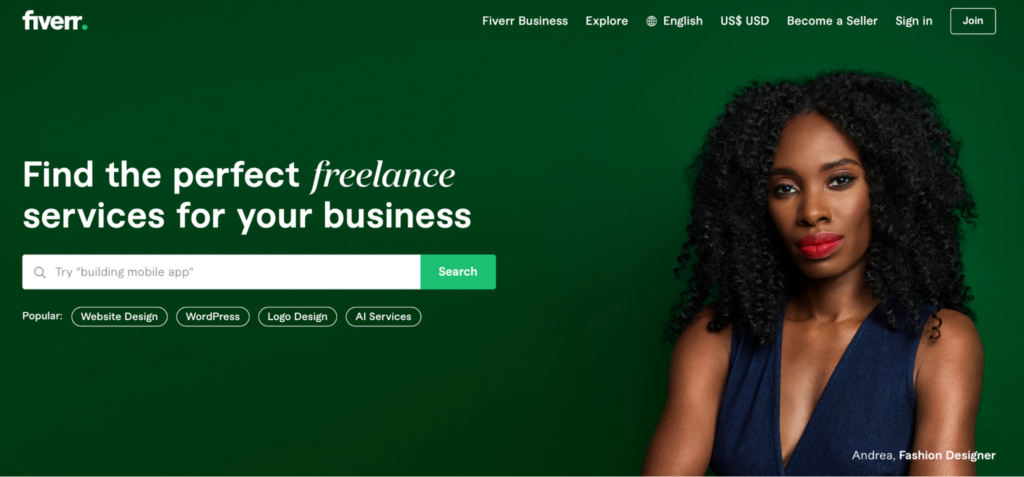 Fiverr is a popular freelance platform that offers over a million experienced software engineers suitable for different company needs.
The platform divides registered freelancers into Fiverr Pro and Fiverr Business. With the first one, you can hire individual remote developers at an affordable rate. On the other hand, Fiverr Business is more suitable for companies looking to hire a team of remote freelance developers.
Additionally, Fiverr Business provides a workspace to manage teams remotely and a proven track record.
Best for: Freelance remote developers (both individuals and teams).
4. Upwork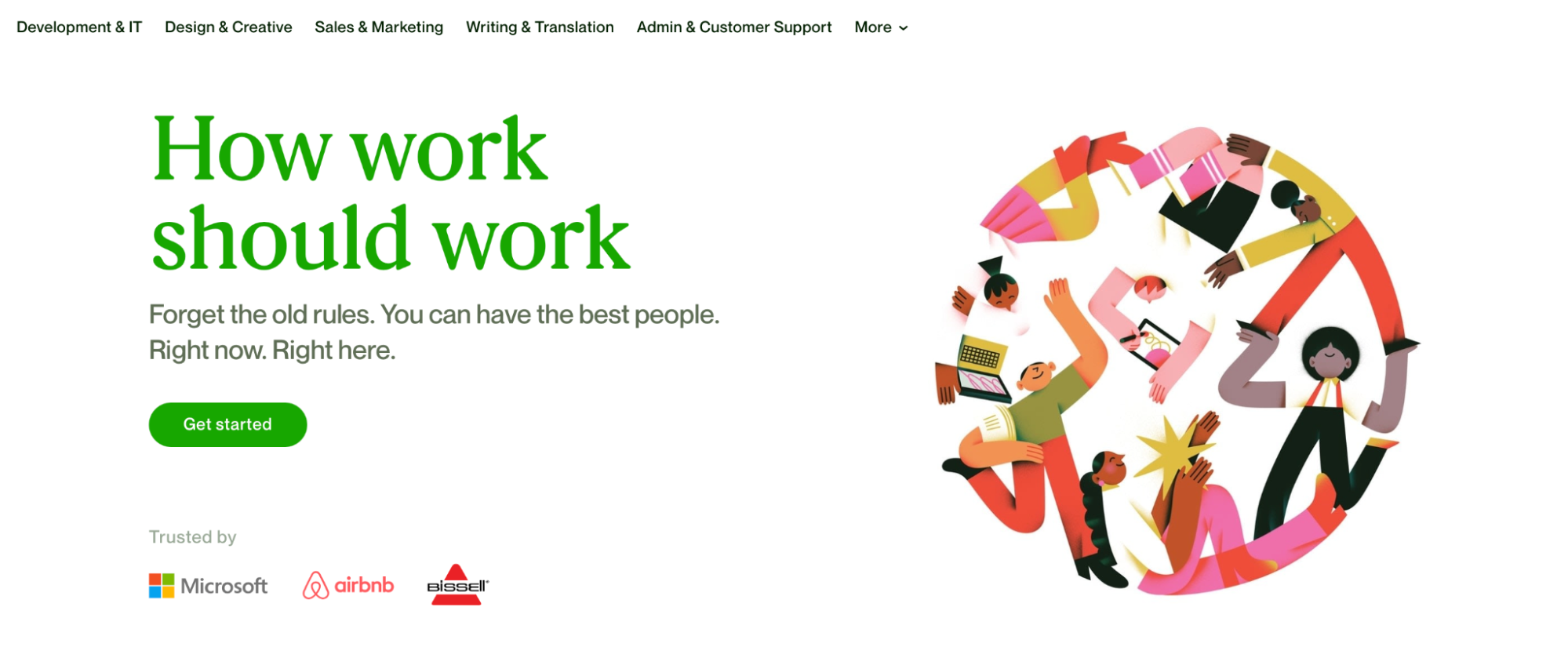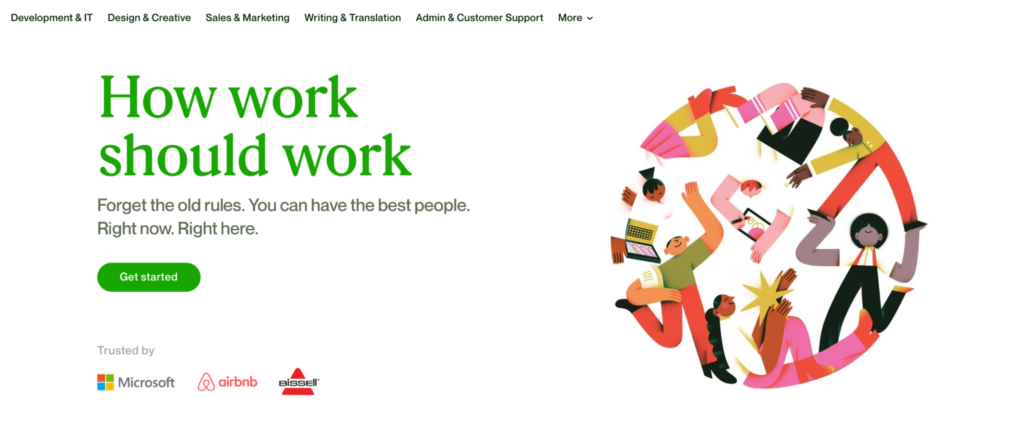 Upwork is a leading freelance platform that helps companies find and hire skilled freelance developers. With Upwork, you can review the developer´s work samples and client evaluations and gain a clear idea of their level of expertise and past performance.
Additionally, the platform allows you to choose a fixed or hourly rate when negotiating with a remote developer, giving you the freedom to negotiate and create payment terms based on your needs.
Best for: Freelance developers needed for specific projects.
5. Arc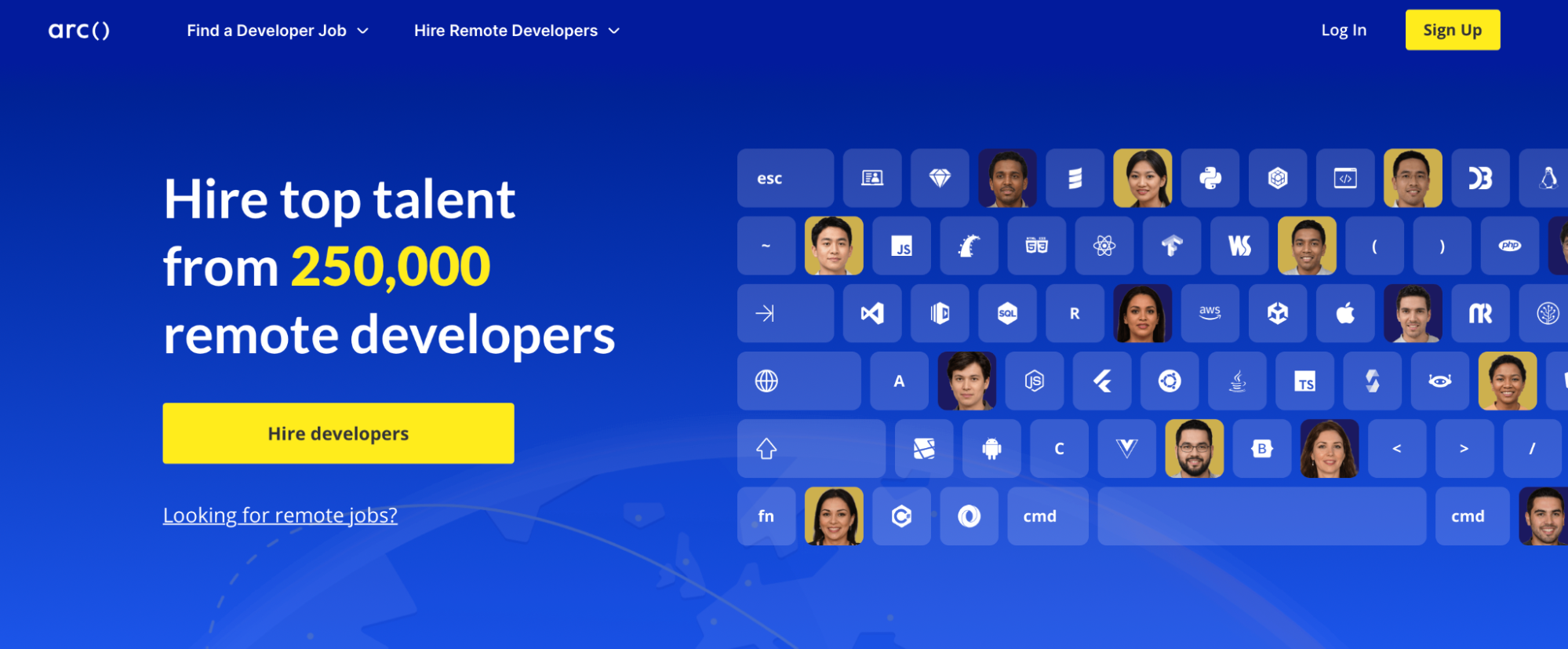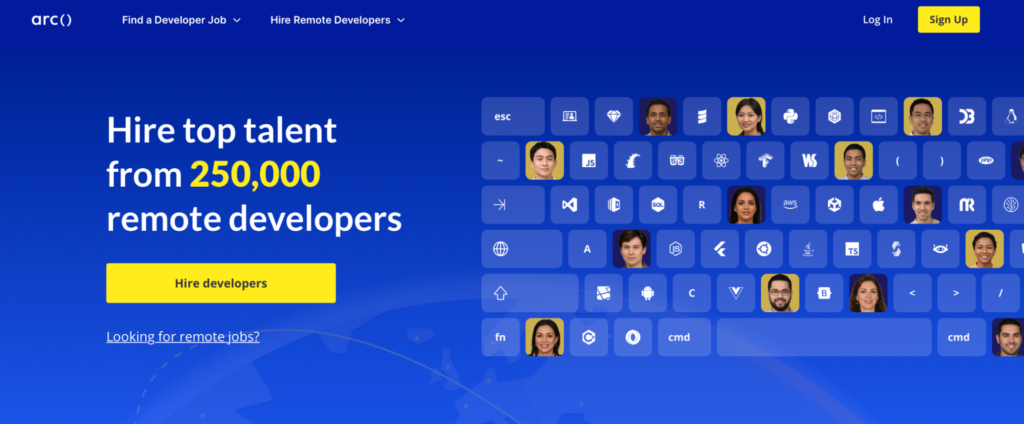 Arc focuses on helping employers find remote developers. The platform offers businesses two options: freelance developers or full-time developers.
With an engaged and active developer community, Arc can find a developer that suits your business's technical requirements. They manage the technical assessments and help you organize all your potential candidates tracking their progress and keeping in touch with them.
Best for: Freelance or full-time developers.
6. Dice


Dice consists in a popular job board that connects employers with IT professionals. The platform has a database of 5.1 million resources and over 97% tech experts ready to help you manage software projects and tasks.
With AI and a quality assurance team, Dice helps you verify and evaluate the qualifications and skills of all applicants. Your job posting can reach 1.5 monthly visitors, making the process faster and more efficient.
Best for: Project-based or freelance developers.
7. Working Nomads


Working Nomads is a popular job board focused on helping employers find the remote talent they need. Here you can find the best remote developers for your next project. You can choose from candidates looking for hourly gigs or full-time opportunities.
The platform ensures you get a greater reach for your job role by emailing it to 50,000 remote applicants and promoting it on its Twitter account, which has over 20,000+ followers.
Best for: Freelance or full-time developers.
What Are The Challenges When Hiring Engineers Remotely?
When looking to hire remote engineers, these are the top underrated 7 challenges companies often face: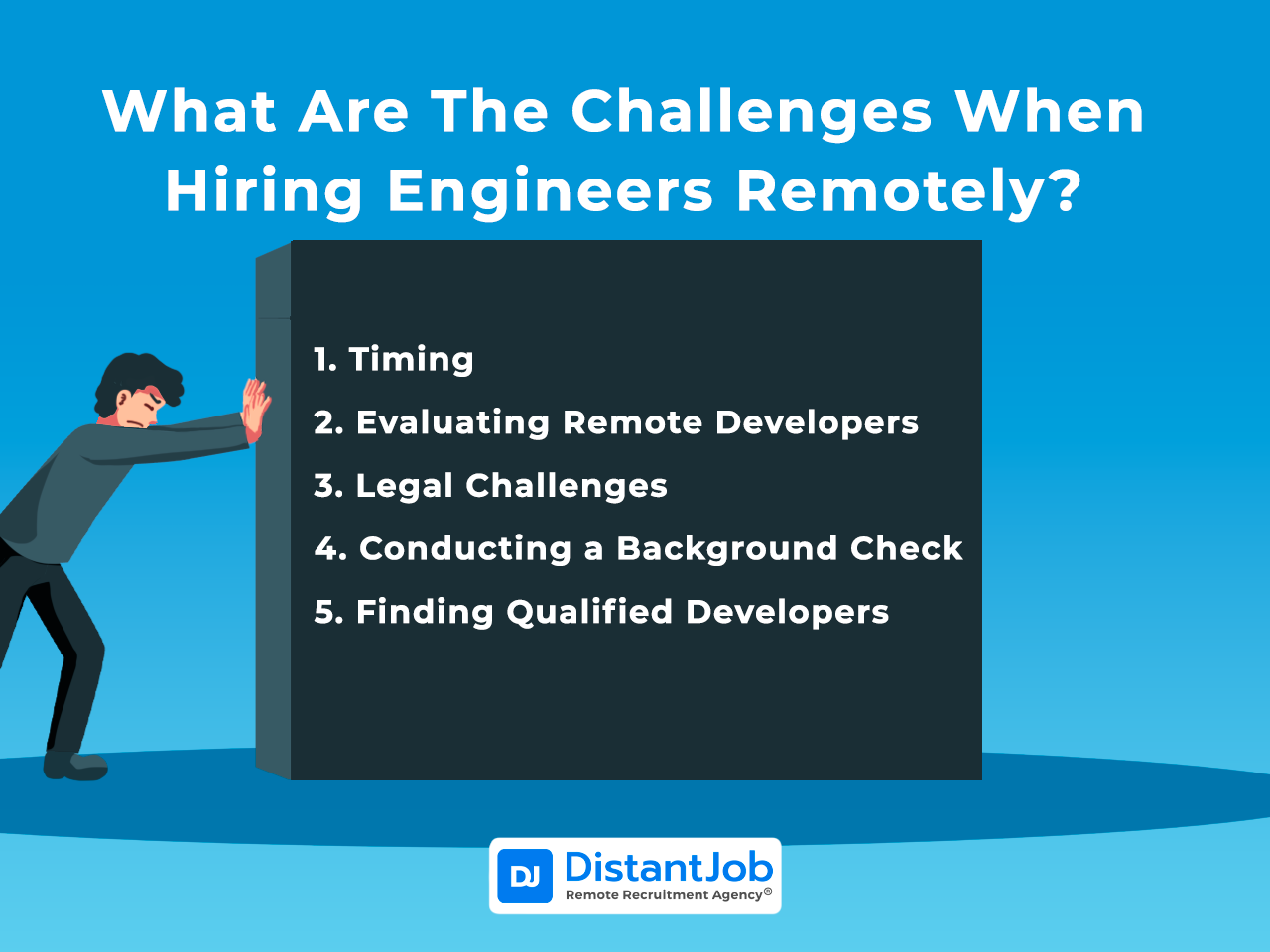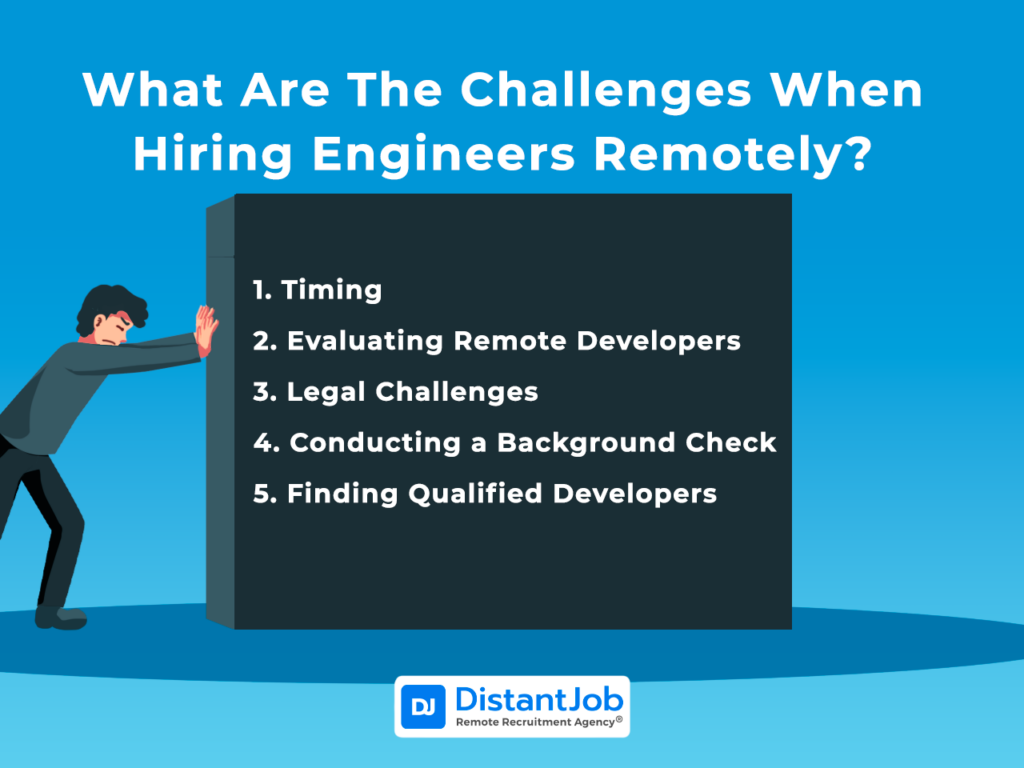 1. Timing
Recruiting talented and trustworthy remote developers is challenging for many businesses, regardless of location. With a vast pool of qualified candidates, it can take time to find the right fit. This is why sometimes timing in the hiring process becomes a crucial factor.
When recruiters or the HR team can identify the right candidates at the right time, the process is smooth and fast. But when they are inexperienced and have no idea where and how to look for the right candidates, the process becomes slow and inefficient.
2. Knowing How to Evaluate Remote Developers
Your hiring manager should be well-prepared to know how to evaluate developers´ both technical and personality aspects.
A practical solution is having candidates complete a test project. Here you can have a more hands-on evaluation of their skills and overall better understand their work style, rather than just relying on an interview.
Remember that the evaluation you conduct should adapt to the type of developer you´re seeking.
3. Legal Challenges
Legal considerations add another layer of complexity when hiring remote developers. Protecting intellectual property, navigating tax laws, securing insurance, drafting employment contracts, and understanding different legal systems are just a few of the legal challenges that must be addressed.
Before hiring a remote developer, it's important to ensure that your company can legally do so and that the arrangement complies with the laws of the region where the contractor is located.
While hiring a developer from a country with lower labor costs may be tempting, verifying that their compensation complies with local standards and that they are not being taken advantage of is essential.
Hence why working with recruitment agencies like DistantJob, becomes valuable as they focus on taking care of all the payroll and legal aspects.
4. Knowing How to Conduct a Background Check
The challenges of remote interviews can often lead to difficulties in verifying a candidate's qualifications and experience. It can be challenging to accurately assess a remote developer's abilities through a video call or phone conversation compared to an in-person interview.
When evaluating potential remote software engineers, you should build a detailed process to ensure all their educational credentials, skills, and experiences are real.
Here's how you can do background checks on remote developers during the evaluation process:
Check references: Ask the candidate for professional and personal references, and make sure to reach out to them to ask about the candidate's work history, performance, and dependability.
Verify credentials: Ensure the candidate's education and work experience are valid by contacting the schools or companies listed on their resume.
Verify work samples: Ask the candidate for work samples and check them for quality and authenticity.
Check online presence: Look for information about the candidate on social media, professional networks, and other online sources to see if any information may raise red flags.
5. Finding Qualified Developers
When sourcing a programmer remotely a common challenge businesses face is having mismatched expectations.
A candidate seems to be a potential employee with great qualifications and charges a lower salary. A win-win, right? Until you realize they don't have the required skills, and you have to start the process all over again. Or it also happens that they don´t quite blend with the company´s culture either due to a lack of collaboration or communication skills.
While hiring software engineers, ensure your hiring process is solid enough to evaluate all the aspects you consider important. While this can make the process itself a bit longer, you are guaranteed to find the right type of candidate because you´re focusing on your needs and your negotiables vs. non-negotiables.
This can be a complex process, and that's why many companies decide to outsource it. One of the benefits of IT recruitment agencies is that they can take charge of the process and offer you the best candidate that fits your needs… in record time!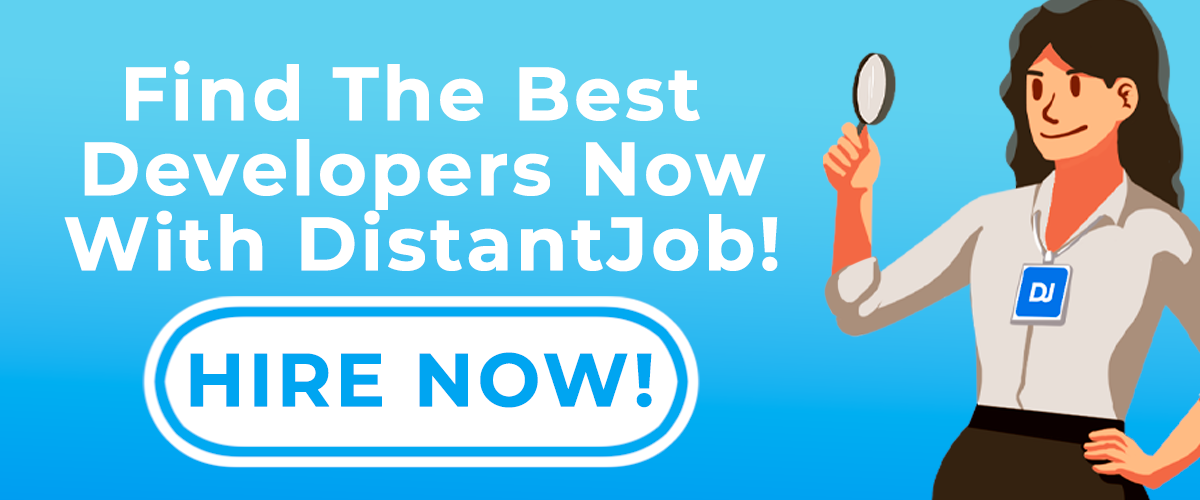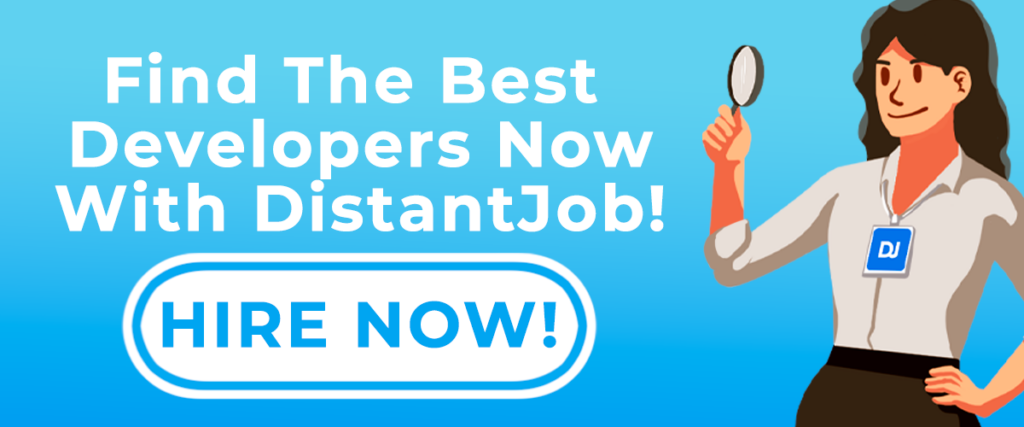 Why Hire a Full-Time Remote Developer and Not a Freelancer?
As a general rule, these are the considerations you need to keep in mind when evaluating what type of developer fits best:
| | | |
| --- | --- | --- |
| Differences | Freelancer | Full-time Developer |
| Contract Type | A freelancer typically works on a project-by-project basis, with a set agreement for the scope and timeline of each project. | A full-time remote developer is a permanent employee who works for one company. |
| Availability | Freelancers often take on multiple projects at the same time, so it makes it harder for them to be available. | A full-time remote developer is always available and committed to working for one company. |
| Skills and expertise | Freelancers may have a wider range of skills and expertise as they work with multiple clients. | A full-time remote developer will typically have a more specialized skill set. |
Takeaway: A freelance developer is a good idea when you help with a specific project within a limited time frame. But if you need someone to be fully compromised and willing to evolve in the role, a full-time developer is the best solution.
How to Hire Remote Developers? Simplify the Process with These 8 Practical Steps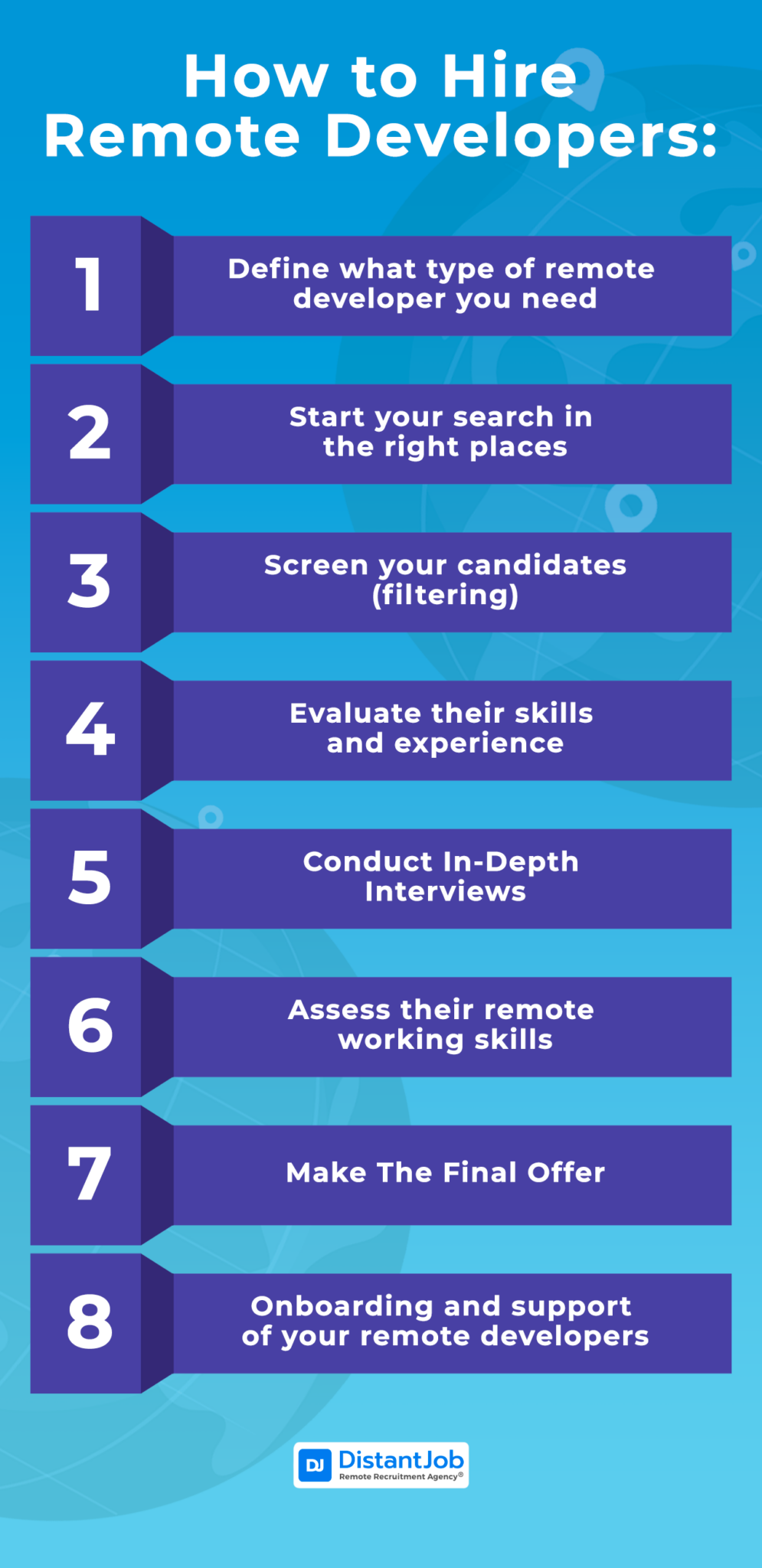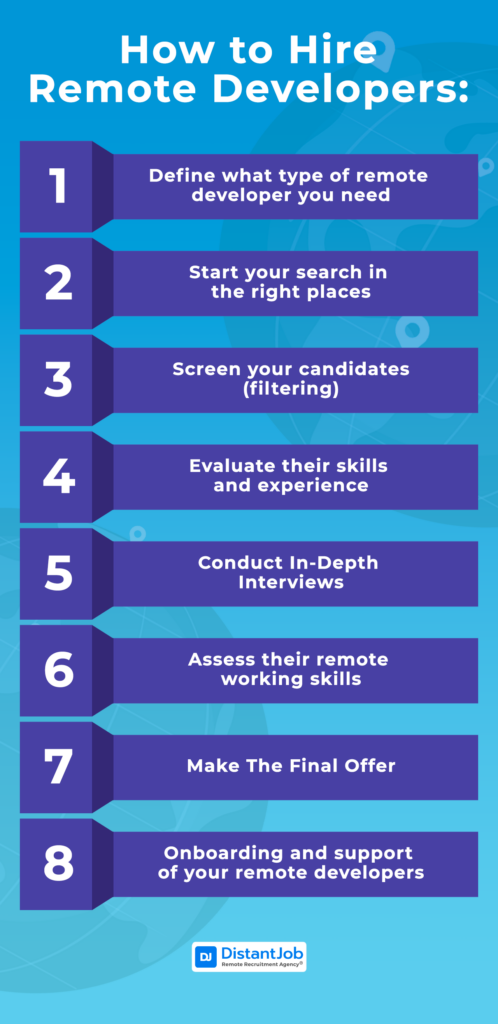 1. What Kind of Developer Do You Need?
This is the first question to answer when starting the hiring process.
You first need to define what type of remote developer you need, what programming languages they should be skilled at, what requirements are fundamental for them to have, and overall have a clear understanding of your current team's needs.
Additionally, when it comes to hiring a remote developer, you also need to evaluate if your business has the infrastructure to work and manage a remote employee. Especially if your company has few remote employees, then it's important to organize the work structure and the equipment they might need.
In this step, evaluating your negotiables vs. non-negotiables is also valuable:
What skills and traits are you willing to negotiate? (meaning that it doesn´t matter if candidates don't have them or not in the way you need them to)
What skills are non-negotiable? (meaning that if they don´t have them, you won´t consider them for the role).
2. Where Should You Start Your Search?
Often, the main question hiring managers have when seeking technical roles is where to find remote developers?
There are several places to find remote developers; these include:
Partner with recruitment agencies
Remote recruitment agencies are one of the easiest ways to find and hire remote developers. At DistantJob, we have succeeded in finding the right candidates for companies in just two weeks.
Besides the sourcing, evaluation, and vetting, we go a step beyond taking care of all the paperwork (this includes EOR, contracts, NDAs, IP protection, payments, and more).
Scout Job Boards
Job boards are also a great place to find remote developers. Here you can advertise the role itself and wait for candidates to apply.
The key here is to make a good job description, as this works like the spoiler of the company. If you engage candidates from the start, chances are you will get more applications and options.
Some popular job boards are Glassdoor, LinkedIn Job Search, Career Builder, and ZipRecruiter.
Online Communities
Online communities are a great alternative to finding software developers. As these are built and managed by developers, they share experiences, tips, failures, and in most cases, job opportunities and recommendations.
The best online communities to find remote developers are GitHub, Stack Overflow, Hacker News, Reddit, and Hackernoon.
Professional Networks
On professional networks, such as LinkedIn, you can let everyone know you´re hiring and directly start recruiting potential candidates by sending your offer. You can also check out their profile, work experience, references, and more.
Internal Hiring
Internal hiring is the fastest way to get someone for the role. As it involves transferring an existing employee from one area to another, they already know how the company works, its culture, mission, vision, dynamics, and more. So it´s just a matter of evaluating them and seeing if they are the right fit for that specific role.
3. How Should You Screen Candidates?
The next step after you´ve sourced a pool of candidates is screening. Here you want to start filtering what candidates are suitable for the interview and evaluation and which ones are not. This may involve reviewing resumes, conducting initial interviews, and in some cases (depending on the role), conducting technical assessments.
To make this step faster, many companies use ATS (applicant tracking system), which consists of a software application that manages the initial steps of the recruitment process.
Once candidates submit their job applications, ATS filters them extracting important information, and stores them in a database accessible to recruiters and hiring managers. Then, the ATS ranks candidates' applications based on keywords and skills mentioned in the job description, and it screens it to ensure that candidates meet at least the minimum qualifications.
You overview this selection and choose with whom you want to move forward in the application process.
4. How Can You Evaluate Their Work Portfolio?
A work portfolio from the candidates helps you evaluate their skills and experience. This is particularly important in technical roles, where evaluating these skills can often be challenging.
At DistantJob, as all of our recruiters have technical backgrounds, we decide the type of evaluation based on the role, so we suggest you do the same.
If you need a developer for a specific project, then making an evaluation based on the project will help you get a hint about their skills. Also, check their portfolio and credentials to see how they've applied their skills in previous projects.
5. What Are The Best Ways to Conduct In-Depth Interviews?
After you've evaluated their work samples, conduct in-depth interviews to know the candidates better.
These interviews involve not only getting a deeper understanding of candidates' strong skills and qualifications but also knowing more about their experience working for similar roles, their strengths, and their weaknesses. Also, getting to know them on a more personal level, learning what motivates them as remote developers and why they like their profession.
When preparing the questions and evaluations, make sure to be creative. It happens that candidates memorize questions and answers, and the idea with these interviews is to get to know candidates authentically, not with prefabricated answers.
If you want to hire a web developer, per se, don't ask them the basics about web development, but go a step beyond, asking them questions that make them apply their knowledge and experience.
When conducting these interviews, it is also valuable to ask other team members to be part of the interviewing process. Group interviews give other perspectives or things you are not seeing, and it's also an opportunity to check how a candidate interacts with their potential colleagues.
6. How Should You Assess Remote Working Skills?
Since you're hiring for a remote role, assessing the candidates' ability to work independently and effectively communicate with team members is important.
Not everyone is suitable for remote work, so ensuring candidates enjoy this type of dynamic, where work happens mostly asynchronously and they do not need to rely so much on other team members, is important.
Skills such as communication, time management, collaboration, self-motivation, and adaptability are key.
7. Ready to Make The Final Offer?
After going through all evaluations and assessments, it's time to decide.
Choose the best candidate for the role, and remember that not only does their technical expertise matter, but also their personality and how they interact with others.
Keep in mind that offering a high salary is not enough for competitive roles such as software development. When making the final offer, highlight all the benefits they will enjoy that come along with this role. For example, flexible schedules, remote work, PTO, and more!
8. What Are The Best Ways to Onboard And Support Remote Developers?
Congrats! You already went through the hardest and longest part of the hiring process. Now, it's time for the cherry on top: providing a comprehensive onboarding process and ongoing support.
This last step helps new developers learn more about the company and its culture. It's also a great way to build a closer relationship with them, so they feel more engaged, comfortable, and valuable in the company.
Start by providing clear expectations of the role, their first goals to achieve, how processes work, and overall, what's the company's overall vision. In this step, it's also valuable to offer virtual training and resources for them to understand more about the company's processes and tools. You can consider assigning a mentor who can provide guidance and support to make it smoother for developers to adapt.
Finally, during the onboarding process, supporting work-life balance and encouraging them to take breaks and set boundaries will also lead them to experience the benefits of working for a company that values employees' well-being.
Is The Process of Hiring Remotely Expensive?
Hiring developers can be expensive, but the cost can vary depending on a number of factors, such as the company's location, the developer's experience level, and the demand for developers in the particular field.
Here are some of the usual costs associated with hiring remote developers:
Recruitment costs: Recruitment costs can include advertising the job, attending job fairs or events, and paying for services such as recruitment agencies or job boards.
Salaries and other benefits: The salary and benefits package for developers can vary depending on their experience and skills and the company's location. In some locations, such as major tech hubs, salaries can be higher due to high demand.
Onboarding and training: There may be costs associated with onboarding and training, including providing equipment, software, and access to tools and resources.
While hiring remote developers through third-party organizations can add up an extra cost, depending on the organization itself and their experience, these, in the long term, can be more efficient as they will seek out remote developers in locations where the cost of living is lower.
For instance, hiring a senior remote developer in the U.S. is around $100,000 per year (if not more), while hiring skilled Eastern European developers costs between $60,000 to $90,00o per year.
Top 5 Skills For Remote Developers
The top 5 skills for software developers vary depending on the specific role, industry, and project requirements, but generally speaking, the following skills are important for software developers: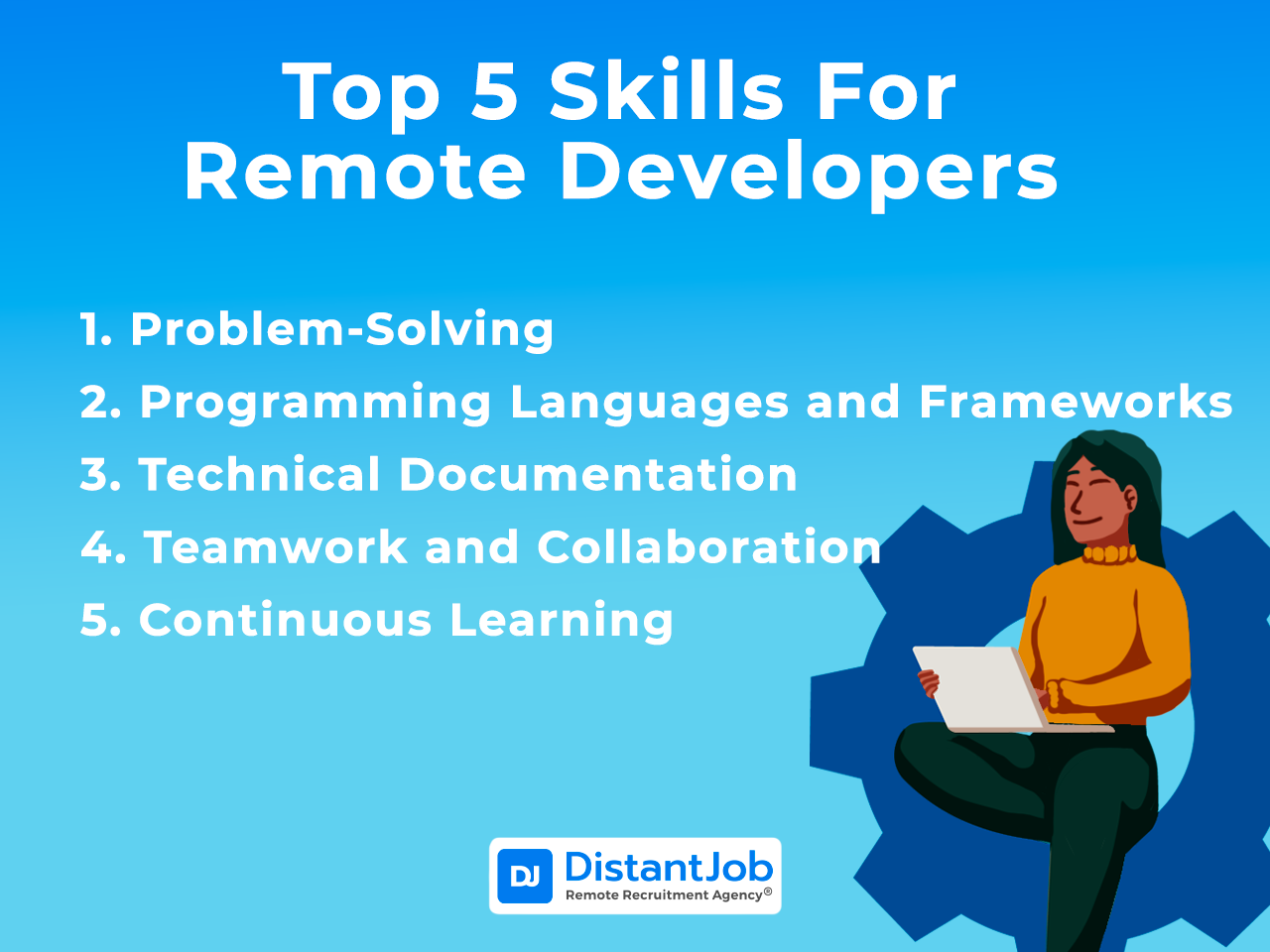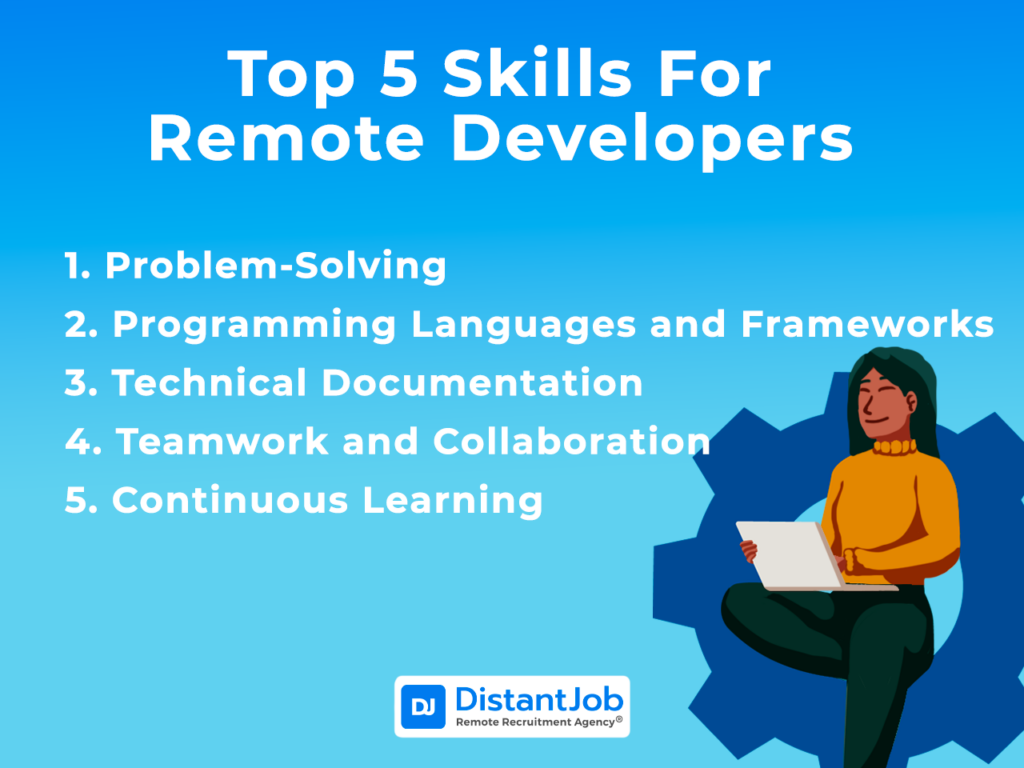 Problem-Solving
Software developers need to be able to analyze problems and come up with solutions that are efficient, effective, and scalable. They need to be able to break down complex problems into smaller, more manageable components and to think creatively to come up with innovative solutions.
Programming Languages and Frameworks
Software developers need to have a solid understanding of programming languages and frameworks relevant to their role and industry. These may include languages such as Python, Java, JavaScript, or Ruby and frameworks such as React, Angular, or Vue.
Technical Documentation
Software developers need to be able to create and maintain technical documentation, such as code comments, README files, and API documentation. They also need to be able to write clear, concise, and understandable technical documents that other developers can easily understand.
Teamwork and Collaboration
Software developers often work in teams, so they need to collaborate effectively with other developers, project managers, and stakeholders. They need to be able to communicate effectively, share ideas, and work together to achieve project goals.
Continuous Learning
One of the characteristics of software development is that its a field that is constantly evolving. This requires developers to be compromised to continuously learn and stay up to date with new technologies, frameworks, and programming languages.
Developers need to be willing to adapt to changing requirements and use new tools and invest time and effort into improving their skills and knowledge.
How DistantJob Can Assist You In Your Developer Hunt
Finding the right remote developer can be challenging, we know! That's why you should leave it to us. We will take on the challenge and commit to finding you the developer you need in just 2 weeks.
Our specialized recruitment agency offers access to top talent, a customized recruitment process, and ongoing support to ensure a successful hire. By partnering with us, you can save time and money while you can focus on other aspects of your business, while we do the heavy lifting such as recruiting, vetting and interviewing. 
We provide a customized recruitment process based on your needs and preferences and can get you the perfect match in less than 2 weeks. Interested? Contact us today online or visit our offices in Montreal.