As more than 78% of leaders within the IT sector identify a critical skills gap among their team members, the task of hiring tech professionals continues to grow more complex.
If your business is facing an IT talent shortage and you're out of strategies to secure top talent, then an IT headhunter can be exactly what your business needs.
With a deep understanding of the IT landscape, tech headhunters have access to a larger talent pool, possessing the expertise to identify and recruit top-tier talent. The result? Your organization maintains a competitive edge in attracting skilled professionals.
But what precisely is the role of an IT headhunter? Is this the same as an IT recruiter? What are the best IT headhunting agencies? Let's explore these and more questions.
What is a Headhunter?
A headhunter is a professional who specializes in identifying and recruiting highly qualified individuals often required in senior-level positions.
Headhunters are talent scouts. Combining tools and networks, they can find a variety of specialized candidates for you. Good IT headhunters stay in touch even after the hiring process. They check out with previous clients to see how things are going with the news developer.
They can be very effective as they specialize in a niche where they build a network to find the best candidates in no time.
What Does A Headhunter Do?
A headhunter's role is to identify and secure high-caliber talent. These are its main responsibilities:
Talent Identification: Headhunters actively seek out and identify potential candidates with the specific requirements sought by their client organizations.
Networking: They maintain extensive networks within the industry and build relationships with professionals at senior levels.
Client Consultation: Headhunters work closely with client organizations to understand their hiring needs, company culture, and specific requirements.
Candidate Assessment: They evaluate potential candidates by conducting interviews and assessing their skills, qualifications, and cultural fit within the client organization.
Negotiation: Headhunters facilitate the negotiation process between the client and the candidate, including discussions on salary, benefits, and other employment terms.
Follow-Up: Headhunters often stay involved after a successful placement to ensure a smooth transition for the new executive into their role.
IT Headhunter vs IT Recruitment Agency: What's the Difference
Both IT headhunters and IT recruitment agencies play key roles in the hiring process of IT professionals, however, there are differences in the approaches and nature of their work. In essence, IT headhunters focus on proactively recruiting top-level executives in the IT industry while the recruiters handle a broader range of positions.
Their distinction lies primarily in their level of specialization and client engagement. Let's explore its main differences: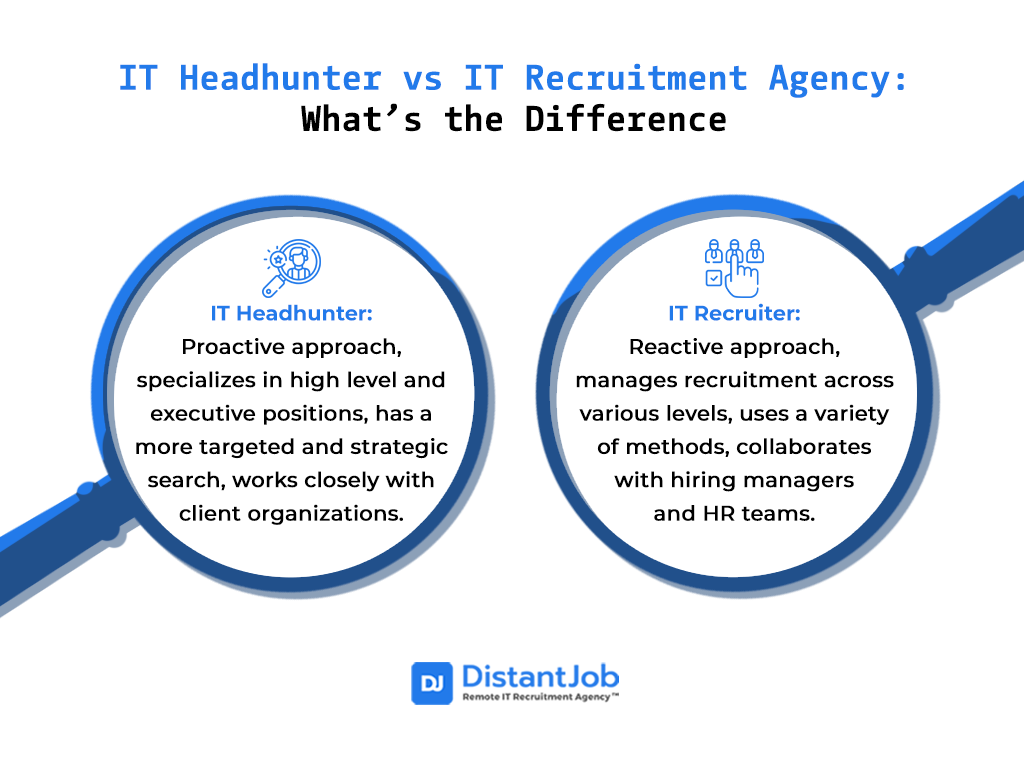 | | | |
| --- | --- | --- |
| Difference | IT Headhunter | IT Recruiter |
| Approach | Takes a proactive approach by actively seeking out and identifying potential candidates, often from competitors or within the industry. They usually approach candidates who may not be actively looking for a job. | Typically takes a more reactive approach, responding to job openings and actively seeking candidates through job boards, online platforms, and applications. |
| Target Roles | Specializes in recruiting for high-level and executive positions within the IT industry. They focus on finding candidates with specific expertise and leadership qualities. | Manages recruitment across various levels of an organization, from entry-level positions to mid-level management roles. |
| Search Methodology | Engages in a more targeted and strategic search, often headhunting candidates from competitor companies or industries. | Utilizing a variety of methods to attract candidates, including posting job openings, sourcing candidates from online platforms, reviewing resumes, and conducting interviews. |
| Client Engagement | Works closely with client organizations to understand their specific needs and company culture. They provide a personalized and strategic approach to executive searches. | Collaborates with hiring managers and HR teams to fill open positions. They often handle a higher volume of positions and focus on meeting immediate hiring needs. |
Why Should You Use an IT Headhunter?
IT headhunters are an effective way to quickly find a candidate for your project. Focussing on one field and targeting specific skills, headhunters can present you with great candidates speeding up the screening process.
Here are the top benefits of hiring with IT headhunters:
1. Market Knowledge and Salary Benchmarking
IT headhunters specialize in the technology sector, understanding its nuances, trends, and specific skill requirements. This expertise allows them to identify and attract top talent with the right technical skills and knowledge.
Additionally, headhunters stay updated on market conditions, salary trends, and other relevant industry information. This knowledge helps in setting realistic expectations for both employers and candidates, ensuring a smoother recruitment process.
2. Industry Expertise and Insight
Not only does the IT market change quickly, but also developers' tools and skills keep updating to develop competitive apps and services.
With the rise of new programming languages or software, it can be hard to isolate the skills you need at each stage of the development process.
A professional IT headhunter will understand the difference between front and back-end devs and won't think of pancakes when you ask for a full-stack. Finding the right candidate means looking for someone who has used the right tools and worked on similar projects.
3. Strategic Alignment with Your Company's Vision and Culture
We know that finding a candidate who is the best fit for your company and its culture is the most important part of the hiring decision.
No database search or quick flip through a pile of resumes is going to be the same as someone taking the time to find out what makes you unique and then looking for candidates who reflect that.
The specifics of what your company delivers have a real impact on the sort of person you need to hire and what their skills are. If your recruiter doesn't understand what you do or your company culture, they can't possibly find the right candidate for you.
4. Tech Talent Hotspots Expertise
Choosing an industry-specific recruiter is the best way to find someone who knows where in the world the best talent can be found.
Countries like the United States and India are well-known for their software developers. But during the last few years, other countries have proven to be a good source of finding great developers, like Ukraine, Slovakia, and the Czech Republic.
And let's forget that not everyone wants to work for one of the giants of the industry. While some developers want to be cogs in bigger machines, others thrive by working with smaller teams and developing new products and services. Another might prefer a medium-sized organization and the chance to refine a product and help improve what's already there.
Knowing what attracts the best developers is a vital part of recruitment.
5. Saves You Time
The average corporate job opening gets 250 applicants. That's why HR teams use recruiters to pre-screen, and some tech recruiters use AI to spot keywords and locate the 'best matches.'
However, a specialist IT headhunter will streamline the recruitment process by handling initial candidate screenings, negotiations, and other time-consuming tasks.
6. Comprehensive Talent and Skill Evaluation
Headhunters are skilled at screening candidates not just for technical proficiency but also for cultural fit and other soft skills. This helps in presenting a shortlist of candidates who are not only qualified but also likely to thrive in the organizational environment.
In addition to technical evaluation, IT headhunters employ a multifaceted approach to talent assessment. This includes scrutinizing a candidate's problem-solving abilities, adaptability, and learning agility. They delve into a candidate's past achievements and work history, using behavioral interviews to extract examples that highlight their capabilities.
7. Strong Negotiation Skills
Experienced headhunters possess strong negotiation skills. They can facilitate communication between employers and candidates, ensuring that both parties are satisfied with the terms of the employment agreement.
Their ability to navigate salary discussions, benefits, and other terms ensures that both parties are satisfied with the final deal. Beyond financial negotiations, headhunters also excel in building strong relationships with candidates. This involves understanding their career goals, addressing concerns, and effectively communicating the advantages of the position and company culture.
8. Risk Mitigation
Another major advantage of working with headhunters is that many of them offer risk mitigation. If a hire doesn't work out within a certain period, they will often find a replacement at no extra cost, mitigating the hiring risks.
Such guarantees underscore the headhunter's confidence in their recruitment process and their commitment to delivering not only the best candidates but also enduring solutions.
How to Choose the Right IT Headhunter for Your Business
Choosing the right IT headhunter is a critical step in securing top-tier talent for your organization.
To ensure a seamless partnership, it's essential to establish clear criteria tailored to your business needs. Begin by evaluating the headhunter's industry expertise and track record in IT recruitment. A proven history of successful placements, especially in your specific niche, speaks volumes about their ability to understand the nuances of your industry.
Additionally, inquire about their approach to understanding your company culture and unique requirements, ensuring a strategic alignment with your vision. Assess their risk mitigation strategies, such as placement guarantees, to safeguard your investment in talent acquisition.
Key Questions for Potential Headhunters
By using these criteria and the following question, you have a stronger foundation to select the right IT headhunter for your team who not only meets your immediate hiring needs but also contributes to the long-term success of your organization:
Industry Proficiency: Can you share examples of successful IT placements within our industry, showcasing your understanding of our unique requirements?
Cultural Fit: How do you ensure a deep understanding of our company culture to identify candidates who align with our values and work environment?
Risk Mitigation: What guarantees or risk mitigation strategies do you offer to address unforeseen challenges in the hiring process?
Recruitment Approach: Could you outline your recruitment process, from candidate sourcing to the final placement?
Client References: Can you provide references from companies similar to ours, highlighting the outcomes of your previous placements.
The Best of Both Worlds?
At DistantJob, our approach to recruitment sets us apart from traditional agencies. With a focus on IT talent, our team not only comprises skilled recruiters but also includes talented headhunters.
This unique combination ensures that our approach is finely tuned to meet your specific needs, offering a tailored and effective solution for your hiring requirements. Here's how we stand out:
Personalized Understanding: We invest time in getting to know you, your company, and your unique culture.
Thorough Role Analysis: Our expertise ensures a deep understanding of the role you're looking to fill.
Culture Fit and Tech Skills Assurance: Your shortlist guarantees a cultural match, verified tech skills, and remote readiness. Not everyone thrives in a remote setting, but our rigorous selection process ensures your team gets the best fit.
Speedy Results, Exceptional Quality: We pride ourselves on delivering top developers in under two weeks, far exceeding industry norms.
If you're in the market for an IT headhunter, partner with us. We don't just bring you talent; we ensure they're the right fit.
Ready to level up your team? Connect with us online or drop by our offices.