Headhunters: It's a word that conjures up a certain image. While we may have redefined the term in modern times, the word still evokes its history. 
Thousands of years ago (but up until the middle ages) the practice of taking and keeping the heads of your enemies was common practice – remember the French revolution? Talking about an IT headhunter may make you consider a ruthless individual with few scruples who will do anything to get the commission.
To a certain extent, that's true. There are headhunters out there who know very little about the companies they are hiring for, and less about the specific roles. They tend to work on commission and get called in to recruit when the need to hire is urgent. It's a high and fast turnover business, where there isn't time to get to know the company well, let alone the candidates.
While they may give the industry a bad name, they're not the only players in the game. If you have a vacancy to fill, and you're looking for the best talent around, then turning to dedicated IT headhunters isn't a bad decision.
What is an IT Headhunter?
In short, a headhunter is a professional who specializes in finding great candidates for other companies who meet specific job qualifications and skills. It can be an individual or a recruiting firm.
Headhunters are talent scouts. Combining tools and networks, they can find a variety of specialized candidates for you. Good IT headhunters stay in touch even after the hiring process. They check out with previous clients to see how things are going with the news developer.
They can be very effective as they specialize in a niche where they build a network to find the best candidates in no time. Additionally, IT headhunters often work with senior positions. Offering better benefits to the candidate, they can guarantee skilled and qualified professionals who are truly interested in your position. 
IT Headhunter vs IT Recruiter
Headhunters are a safe strategy to hire the perfect candidate for your project. However, it's not the only option. Recruitment agencies are also a great support to hire candidates. In both cases, you can rely on a pool of professionals and pre-selected candidates to interview and choose from. Especially in the IT field, roles and skills are constantly evolving with the release of new apps and technologies. When it comes to hiring, it's important to choose wisely where to look for developers to avoid wasting time with unqualified candidates.
However, despite the aim being the same, there are core differences in the way headhunters and recruiters operate.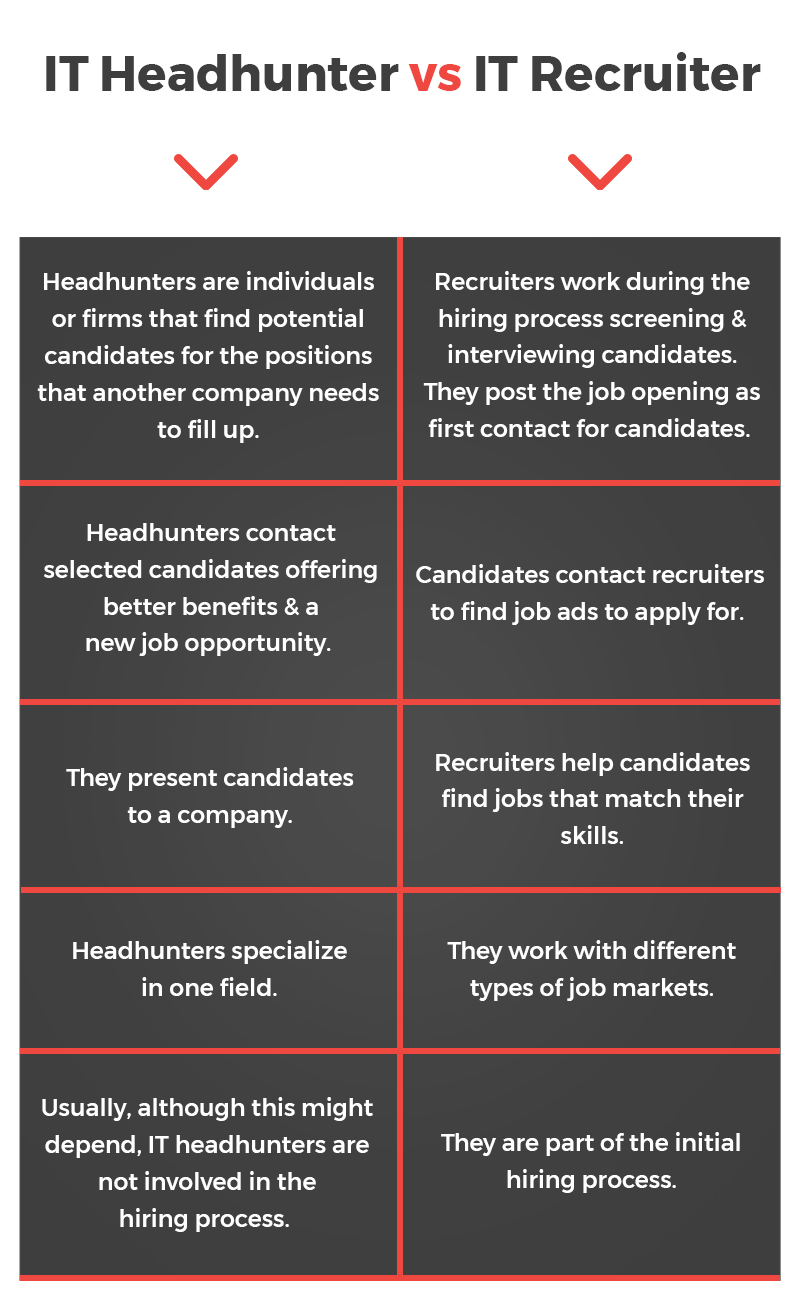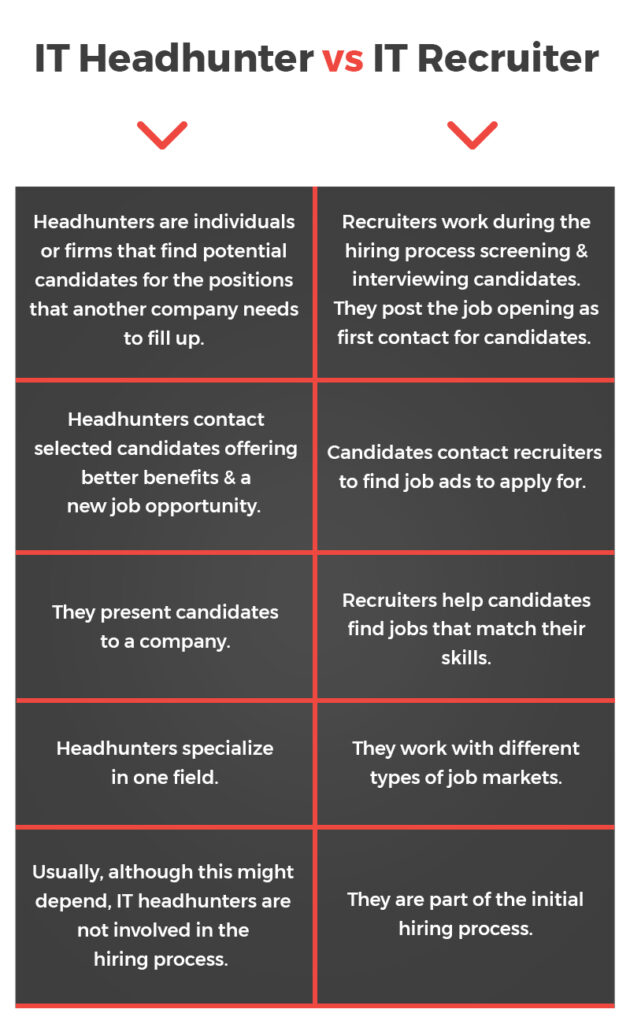 Perks of Hiring an IT Headhunter For Your Business
Based on the differences we just listed, headhunters are an effective way to quickly find a candidate for your project. Focussing on one field and targeting specific skills, headhunters can present you with great candidates speeding up the screening process.
Here are the top benefits of hiring with IT headhunters:
1. They Know the Tech Industry
IT is a rapidly changing industry – you only have to look at how things have developed over the past few weeks as tech companies have delivered more solutions to allow people to work from home safely in the wake of COVID-19. The specifics of what your company delivers have a real impact on the sort of person you need to hire, and what their skills are. If your recruiter doesn't understand what you do, they can't possibly find the right candidate for you.
2. They Know The Roles
Not only does the IT market change quickly, but also developers' tools and skills keep updating to develop competitive apps and services. With the rise of new programming languages or software, it can be hard to isolate the skills you need at each stage of the development process. A professional IT headhunter will understand the difference between front and back-end devs and won't think of pancakes when you ask for a full-stack. Finding the right candidate means looking for someone who has used the right tools and worked on similar projects.
3. They Know You
We know that finding a candidate who is the best fit for your company and its culture is the most important part of the hiring decision. No database search or quick flip through a pile of resumes is going to be the same as someone taking the time to find out what makes you unique, and then looking for candidates who reflect that.
4. They Know Where the Top Tech Talent Lives
Choosing an industry-specific recruiter is the best way to find someone who knows where in the world the best talent can be found. A lot of tech recruiters and IT headhunters are clustered around Silicon Valley for this reason, because the received wisdom is that the best talent goes where the money is and the big players like Microsoft and Google can all be found there.
But the truth is that not everyone can, or wants to, live in the same area.
Countries like the United States and India are well known for their software developers. But during the last few years, other countries have proven to be a good source of finding great developers like Ukraine, Slovakia, and the Czech Republic.
And let's forget that not everyone wants to work for one of the giants of the industry. While some developers want to be cogs in bigger machines, others thrive by working with smaller teams, developing new products and services. Another might prefer a medium-size organization, and the chance to refine a product and help improve what's already there. Knowing what attracts the best developers is a vital part of recruitment.
One of the (many, many) benefits of hiring a remote dev team is that you are no longer tied to hiring the people who happen to live within a few miles of your premises or might be willing to relocate there. The world is literally your oyster when it comes to finding the pearl of a dev who will be the perfect addition to your team.
5. They Save You Time
The average corporate job opening gets 250 applicants. That's why HR teams use recruiters to pre-screen, and some tech recruiters use AI to spot keywords and locate the 'best matches.' But a specialist IT headhunter will already have a list of candidates that they know are right for your role, pre-screened, and ready for your attention.
And if they don't have the right person? Because of all the above, they'll know exactly where to find them. An IT headhunter can reach out through their network and get you a shortlist in record time.
How Does an IT Headhunter Help With Hiring The Right Talent?
As we said, there are professionals who make their living by finding candidates – for any company and any role. They might be upfront and call themselves a headhunter, or they might use euphemisms like 'talent scout'. They'll proactively find you a candidate, often those who are already working for another company, and poach them. If you're lucky, using this method will get you a good hire, but the best way to ensure hiring success is to go to a dedicated IT staffing agency.
Of course, we're a little biased here. We're a remote technical recruitment agency; that's our niche and it's the area where we excel. We work with companies all around the world, and we match them to candidates from our lists, or we go and find the right person if we don't happen to have a match on file.
How Can DistantJob Help You
As remote IT headhunters and recruiters,  we work a little differently from most recruitment agencies. Simply because we are specialists. If you're looking to hire an architect for an office-based role, we're not for you. But if you want to find the very best developers for you, then we're your guys. How:
We'll take some time to get to know you, your company, and your culture.
We'll make sure that we have a thorough understanding of the role that you're looking to fill. Since we put much effort into building our reputation, we have a database of candidates. So, our first port of call will be to look there. We don't use a search algorithm to come up with possibilities. Instead, we use our knowledge of the industry and our amazing HR team to give you a solid list of candidates suitable for your project.
When you get that shortlist, you know that these people are a good match for your culture, that their tech skills have already been verified, and that they are remote-ready. As the world is currently finding out, while most people want to work from home, not everyone is cut out for it. And the best part? We can find you top developers in under two weeks; that's way faster than the industry average.
To conclude, if you're considering an IT headhunter we hope that you'll consider using DistantJob. Yes, we're willing to go out and take some scalps for you but we'll make absolutely certain that they're the right ones. Sounds good? Get in touch today online or visit us in our Montreal offices.