Why Do Companies Use Staffing Agencies?
Finding the right person to add to your team is vital for any business, especially when you're looking for the best and brightest tech talent to join your team. It's at this point that many businesses choose to engage with a staffing agency – but what is a staffing agency, and what does it have to offer to you?
In essence, staffing agencies can offer you two key things; their experience in recruiting and their database of candidates. This can help speed up the hiring process and give you fewer false starts interviewing the wrong person. It's important to know how to get the best out of your agency.
Staffing Agency Definition
Sometimes called recruitment or employment agencies, staffing agencies are there to help you with finding the right people to join your team. They can help you find short-term temporary workers, contract staff for longer projects, and of course, full-time employees.
Agencies act as an intermediary between you and the candidates. They usually have a bank of pre-screened candidates to discuss your role with, and they will also be able to source more suitable candidates if they don't have the right person on board.
Types of Staffing Companies
The definition of a staffing agency is a company that acts as a go-between between hiring companies and candidates. Broadly speaking, there are two types of staffing companies; generalist and specialist. Which type you choose will depend on your hiring needs.
1. A Generalist
A generalist company offers recruitment services to any business.
Bigger organizations that need to recruit a lot of staff may choose a generalist recruiter and sign a contract to get a competitive deal for commission. Companies with roles that depend more on soft or transferable skills might use a general recruiter too.
2. A Specialist
A specialist tends to work with a particular sector, for example, care staff or IT professionals.
If you have a highly specialized or technical role, then a specialist agency may be a better option. IT is one sphere where this is important, as recruiting a developer with all the right skills and experience is vital. A generalist recruiter may struggle to shortlist the candidates that you really need to see.
Remote hiring specialists may also support you with the legalities of hiring staff who live overseas. Rather than having to navigate local employment and tax laws yourself, the agency will handle that and invoice you at the end of the month, making hiring from anywhere in the world simple.
Here at DistantJob, we are specialists in hiring the top tech talent that is remote-ready. This means that if you've got a vacancy, we completely understand the role you are hiring from and can source you staff who will meet all your needs from anywhere in the world. We'll do the hard work of skill checking and following up on references so you know the person you are hiring can do the job you need them to.
Choosing a Staffing Agency
If you've decided that you're ready to work with a recruiter, it's time to find the right partner for you. To do that, you need to carry out a recruitment process for your recruiter!
Start by putting together a clear idea of what you want from your recruiter. Think about whether you'll need a specialist or a generalist or whether you will use different recruiters for different roles. Make a shortlist of the agencies that you think can meet your needs.
Once you have your shortlist, it's time to carry out an interview process, meeting up with their sales or customer experience representatives to make sure that they really understand your business and that they can give you the support you need. 
Then it's time to review the contracts, making sure that you can afford their services, and then you can start your first recruitment process.
How do Recruitment Agencies Work?
Hiring is costly. It takes time to develop the advert, promote it, screen applicants, and then shortlist and interview the right candidates.
Rather than taking up your own time to do all these tasks, you can pay a staffing company to do this on your behalf. This costs money rather than time, but if you run a busy team or business, then the trade-off can be worth it. 
What is the Staffing Agency Process?
Once you've found the right agency to partner with, you can start listing your vacancies. Here's how that process works: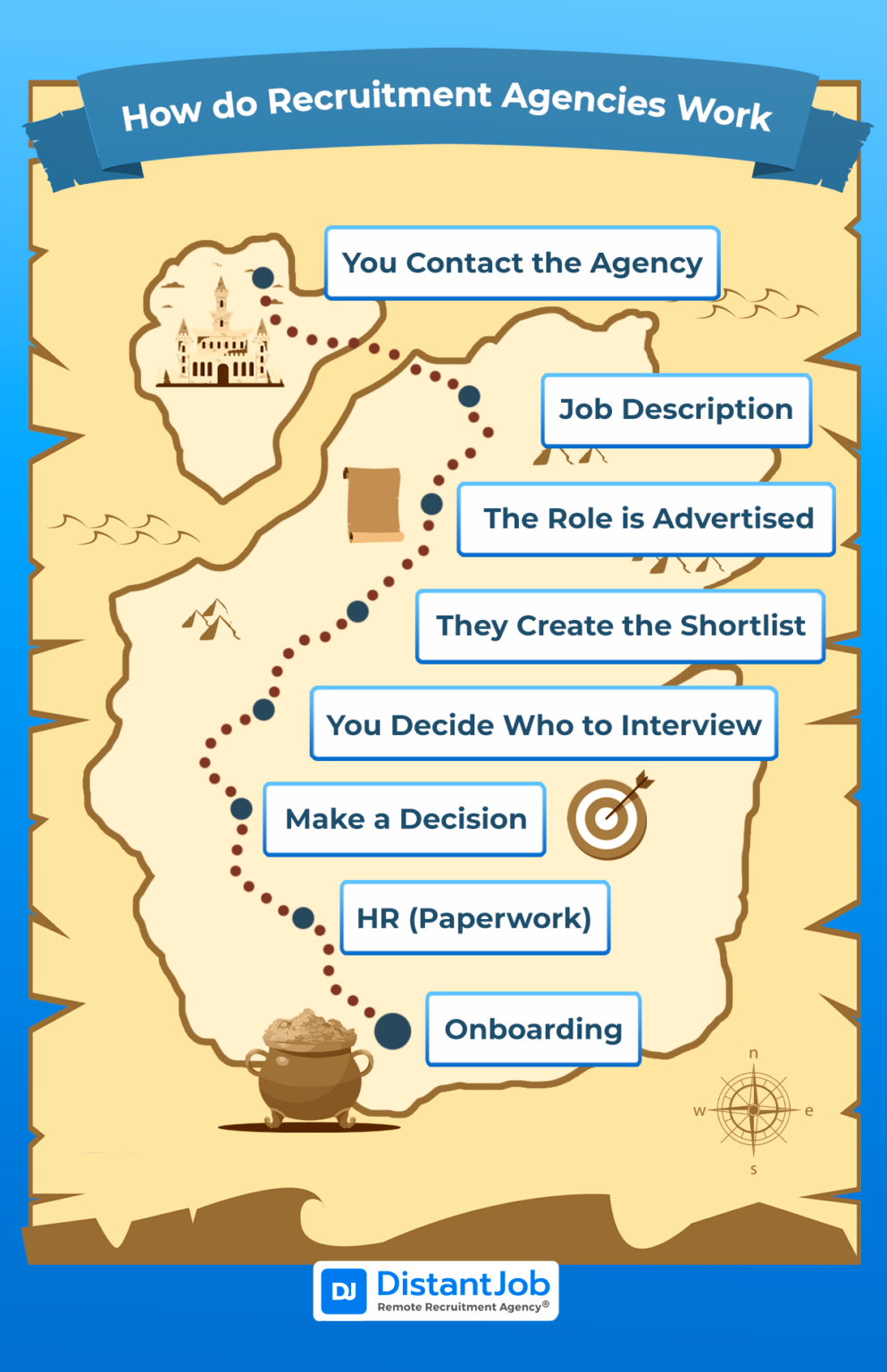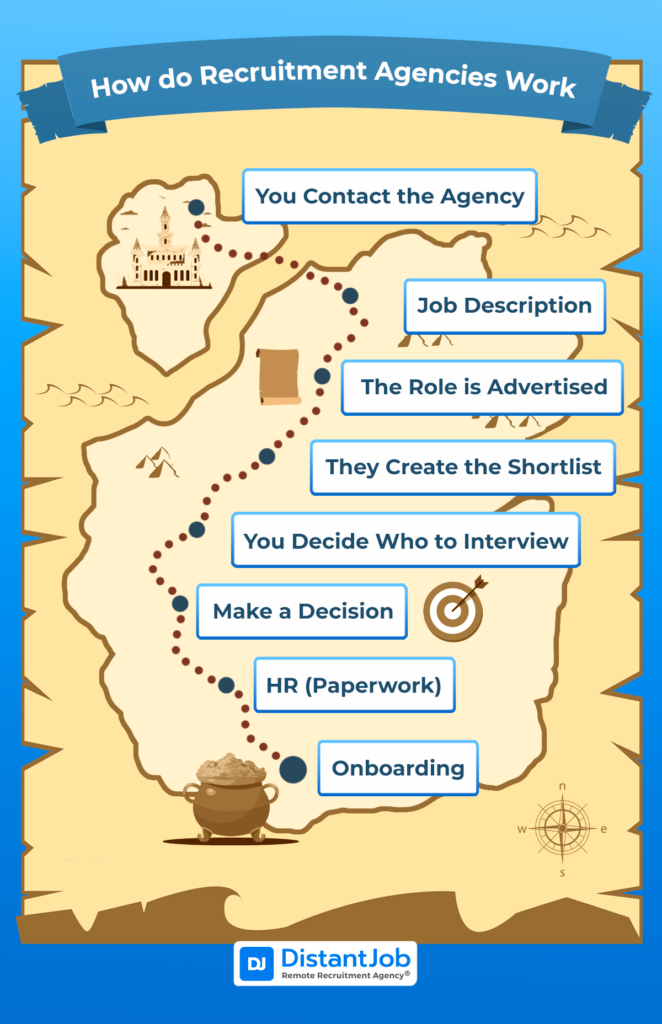 1. You Contact the Agency

The first step is to let the agency know that you have a vacancy coming up. They will want some basic details of the role, including responsibilities, any requirements you have, and your timeline for finding the right person.
2. Job Description
The agency will develop your requirements into a job description that they will use to advertise your vacancy. Your internal job description can be used as a basis for that, but a good recruiter will want to rewrite it to appeal to the right candidates.
3. The Role is Advertised
This is where the agency really earns their money as they put your advert in front of the right candidate.
This could be through:
– Calling potential candidates who are registered with them – most agencies maintain databases with hundreds of candidates.
– Adding a listing to Jobs boards
– Promoting the opening via their social media
– Head-hunting suitable candidates
4. They Create the Shortlist
The agency will then vet any candidates who apply, checking them against the job profile. A good agency will also have gained a grasp of your company culture and the personality types at play so they're presenting you with candidates who really fit. It's at this point any vetting needed will take place, for example, checking skills or certifications.
5. You Decide Who to Interview
You then get to review the shortlist and decide which candidates you'd like to talk to more fully. You let the agency know, and they make the arrangements.
6. Make a Decision
Once you've made your choice, you let the agency know, and they will talk to all the candidates, both successful and unsuccessful, and give them feedback on what went well and what didn't.
7. HR
You'll need to do all the relevant paperwork to get the new employee on the books. If you're hiring a remote employee this can be complicated by international tax laws, so your staffing agency may take care of this for you by becoming the 'employee of record'.
8. Onboarding
The agency will then support you through the onboarding process, making sure that you have a seamless experience with your new hire.
What Are the Benefits of Using A Staffing Agency?
There are plenty of advantages to using a staffing agency to help you find the staff you need, including: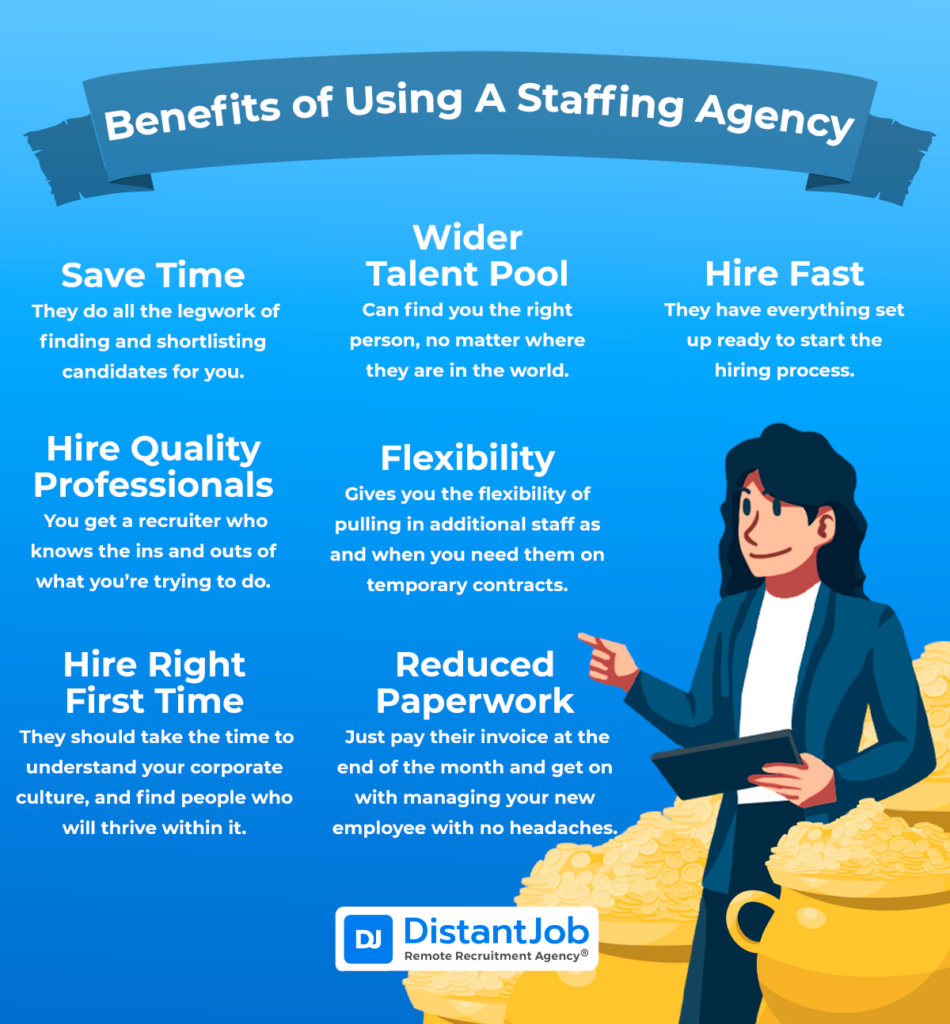 Save Time
Using an agency may come with a financial cost, but it will save you a lot of time. They do all the legwork of finding and shortlisting candidates for you, freeing you up to do what you do best.
Hire Fast
They have everything set up and ready to start the hiring process. They have a pool of candidates looking for work, and they know the right places to post advertisements to get a great response. All that speeds up the hiring process – here at DistantJob, we can find our clients a new developer in under two weeks (in other words, 40% faster than the industry average).
Flexibility
Using an agency gives you the flexibility of pulling in additional staff as and when you need them on temporary contracts, letting you scale your business easily or pull in extra manpower when you need it.
Wider Talent Pool
Remote recruitment companies can find you the right person, no matter where they are in the world. Your talent pool is usually limited to people who live nearby or are willing to relocate to your area for work, but what are the chances that you will get the best person?
Hire Quality Professionals
If you work with a specialist agency, then you get a recruiter who knows the ins and outs of what you're trying to do. 
For example, if you're reviewing CVs for a software developer a keyword search isn't going to cut it. Specialist knowledge means recruiters understand exactly what's needed.
Reduced Paperwork
If you're hiring an employee who works overseas, there are legalities to consider to make sure that you comply with local tax legislation. 
A staffing agency handles all that for you, becoming the employer of record in the employee's home country. You just pay their invoice at the end of the month and get on with managing your new employee with none of the admin headaches.
Hire Right First Time
A good staffing agency will not only find you candidates with the right skills, they'll find people with the right personality to work well with your team. They should take the time to understand your corporate culture and find people who will thrive within it.
Disadvantages Of Using A Staffing Agency
Like every decision you make in business, there are pros and cons; here are the downsides: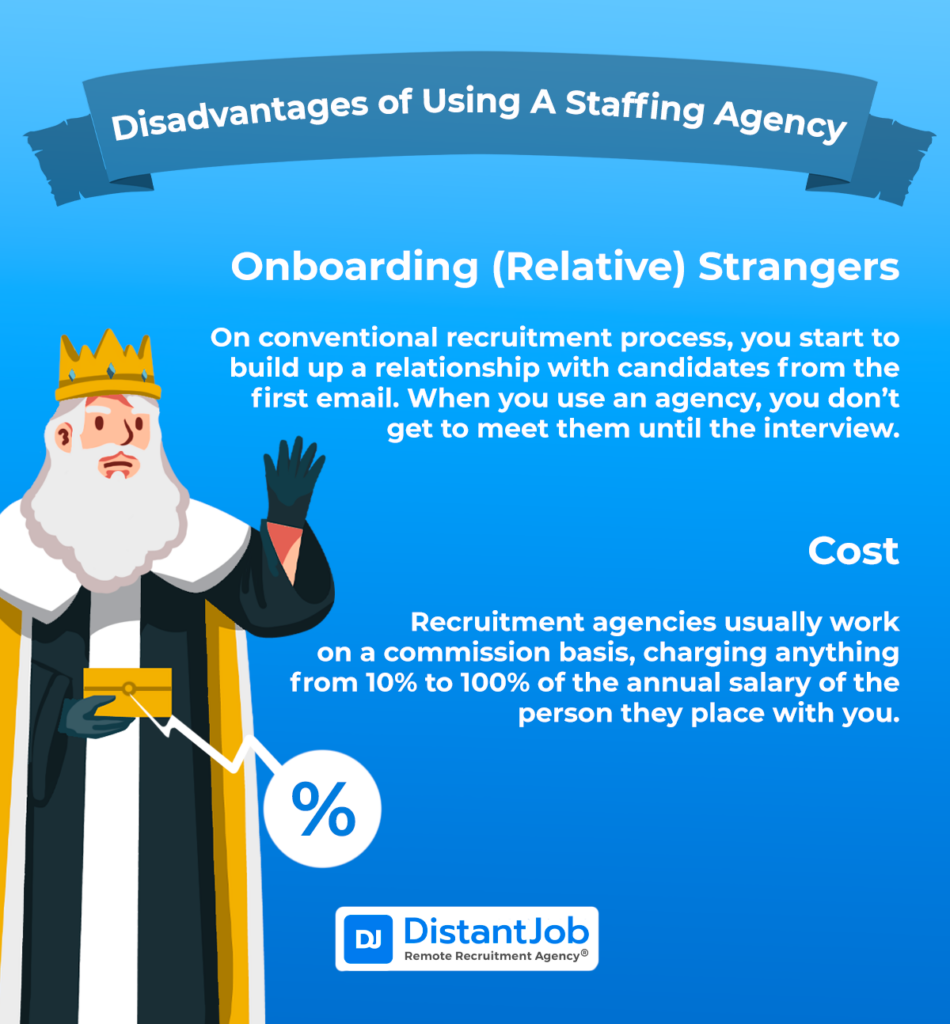 Cost
How do staffing firms or agencies get paid?
Recruitment agencies usually work on a commission basis, charging anything from 10% to 100% of the annual salary of the person they place with you.
For temporary staff, it is a commission based on the monthly fee. What you need to consider when looking at costs is what the cost of your time is if you did the hiring yourself. If you work out your costs, and the risk of hiring the wrong person and needing to do it all over again, then you'll probably see that it's actually a good deal.
Onboarding (Relative) Strangers
When you handle every stage of the recruitment process, you start to build up a relationship with candidates from the first email.
When you use an agency, you don't get to meet them until the interview. That's why it's important to choose a recruitment agency that understands your company and can find staff who are a good cultural and personality fit for your firm.
Common Misconceptions About Staffing Agencies
If you're considering working with a recruitment agency, then you may have heard some of the common misconceptions about staffing agencies – things like this:
"They Don't Care"
You might have heard that agencies just want to get their commission and don't really care about the quality of their clients. 
There might still be some big companies that rely on churn rather than quality, but smaller boutique agencies rely on building a reputation for quality, and the only way they can achieve that is by going above and beyond for you every time.
"It's Too Expensive"
As we've discussed above, there is a financial cost to using a recruitment agency, but there is also a cost to doing it yourself. 
While the average cost of hiring a new employee is $4,000 the cost of hiring the wrong person can be devastating to morale and deadlines.
Getting it right first time is much cheaper.
"Low Quality Candidates"
Have you ever had a bad experience with a recruiter? Been direct messaged on LinkedIn for a role you're not remotely qualified for, or been sent a standard email out of nowhere when you're not looking for work? There are some recruiters who try and play a numbers game, hoping that if they throw out enough bait, they'll get a bite.
These are the rare exception, though. For most recruiters, and especially the smaller companies, their reputation is based on their ability to find you the right person. The CVs you get as a shortlist should be the cream of the crop.
Is A Staffing Agency A Good Choice For Your Business?
As we've discussed, there are pros and cons to using a staffing agency. When you're making your decision, you might want to think about:
Whether you can find the right agency to partner with
Whether you need permanent or temporary staff
Whether you want to hire locally or internationally
What the costs involved will be
What the terms and conditions are
What results can you expect for your money
Once you have all that information to hand, you'll be in the right place to decide whether a staffing agency is for you.
And, of course, if you're hiring techies and you want to source the best talent worldwide – we can help! Contact us or visit our office in Montreal, and we can help you hire top-tier remote developers in no time.