Why Is a Boutique Recruitment Agency Such A Game Changer?
Recruiting the right candidate for a job opening can be a daunting task, especially when it comes to specialized positions that require specific skills and experience. While there are many recruitment agencies out there, not all of them are equipped to handle the unique demands of specialist recruitment. That's why companies have started to hire a boutique recruitment agency to offset their hiring problems.
In 2018, 72% of employers manifested difficulty in finding qualified candidates for the positions they needed to fill. This is often associated with a talent shortage (67% of recruiters attribute this to an increasing talent shortage), but the more likely cause is that it gets more difficult to hire specialists the more niche their skill requirements are.
While generic recruitment agencies can offer you more candidates overall, boutique recruitment agencies bet on offering less but more qualified options. Here's how they do this!
What is A Boutique Recruitment Agency?
A boutique recruitment agency is a small recruitment agency that is focused on finding candidates for only a few sectors or positions.
A small recruitment agency can work in different ways and have their own unique specialties. Boutique agencies like DistantJob specialize in hiring remote technical staff, particularly developers. Our recruitment team has more than 15 years of experience hiring for tech-related jobs across several industries and fields. During that time we've come to understand what makes for a great developer and what companies look for when recruiting new candidates.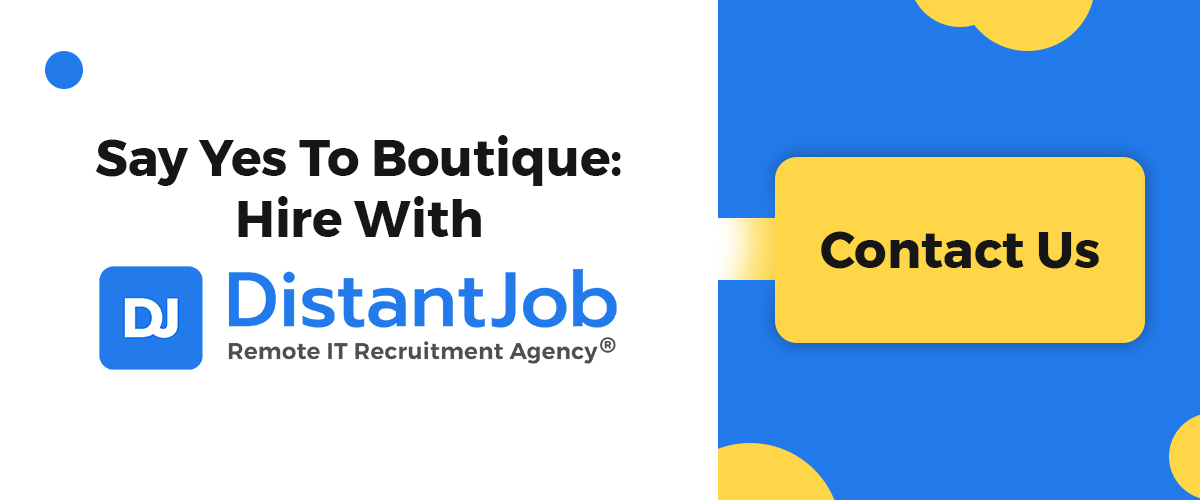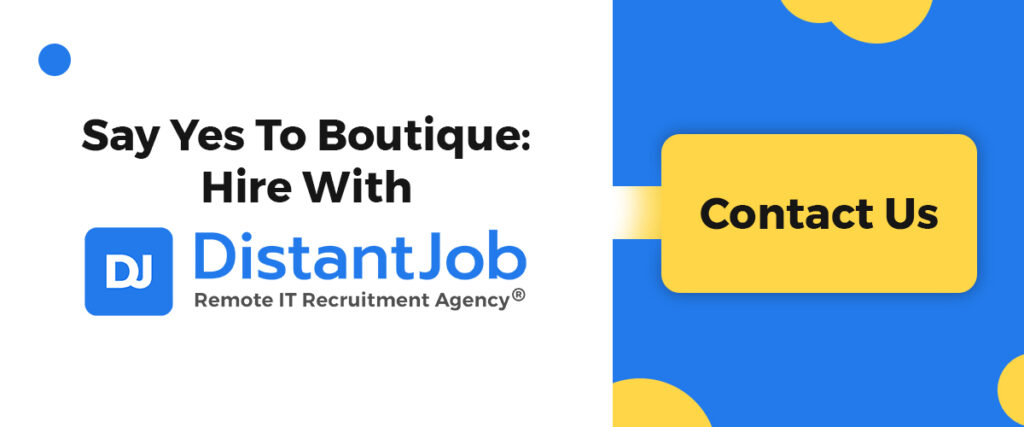 What Does A Boutique Recruiter Do?
Boutique recruiters are the liaison between the boutique itself and the client. They are responsible for finding and maintaining a vast network of qualified experts so they always have a fast answer to their client's needs. They will match candidates based on their skill requirements, as well as company cultural fit.
Usually, IT recruiters work together with IT headhunters. This teamwork allows companies to guarantee the quality of their service. You can be sure they will offer you the exact candidates you need.
7 Reasons Why You Should Work With a Boutique Staffing Agency
Working with a specialized staffing firm can bring many benefits to your business. Here are the seven most important points you should keep in mind:

1. Specialized Expertise
Boutique staffing agencies focus on a specific industry or field, giving them a deep understanding of the unique demands and challenges of your industry. They know what skills and experience are needed to excel in your field and can quickly identify top talent that fits your requirements. DistantJob, for example, focuses solely on tech recruiting.
2. Personalized Service
When you work with boutique staffing agencies, you will get direct access to one of their recruiters, which will work with you closely to research your specific needs and requirements. This guarantees that they will find the most appropriate candidates for your open positions.
3. Fast Turnaround
Using their expertise in the field and their vast network of pre-screened candidates, small boutique staffing agencies are better positioned to deliver quality candidates faster than generic agencies.
4. Quality Over Quantity
Instead of giving you a long list of possible candidates, boutique agencies prefer to deliver a smaller number of highly qualified people. They also go the extra mile to make sure that these candidates are a good cultural fit for your company to maximize compatibility between both parties.
5. Flexible Contracts
Hiring is often a seasonal affair, and small boutique recruitment agencies know this. They offer contracts that clients can adjust to their needs as they change. This is especially useful for startups and other small companies that do not hire regularly.
6. Access To Hard To Reach Talent
Since boutique agencies specialize in certain fields, they know where to look for the top talent of their specialty, and will often find talent that other companies overlook. For example, our team at DistantJob knows exactly where to find the best IT talent on a global scale.
7. Cost-Effectiveness
Boutique recruitment agencies are cost-effective, mainly due to the speed and quality of the candidates they provide. You'll be able to get back on track sooner, with a higher quality candidate, and by spending less money than if you had your HR team do it for you. Also, since they are smaller and more focused than regular agencies, they can offer more competitive rates while providing a more tailored service.
Agency vs. Boutique Agency: Main Differences
There are different types of staffing companies: boutique and general agencies. While both offer recruitment services, there are some key differences between the two.
Here are the main differences between a general agency and a boutique agency:
| | | |
| --- | --- | --- |
| Topic | Boutique Agency | General Agency |
| Focus | Specializes in a specific industry or niche, giving it a deeper understanding of the industry and the skills and experience required for specific positions. | Offers recruitment services across a broad range of industries and job types. |
| Service | Offers a highly personalized service with a dedicated recruiter who works closely with the client to understand their needs and their company culture. | Often has a large client base and may not be able to offer a personalized service. |
| Candidate Pool | Has a targeted pool of candidates with specific skills and experience that match the needs of its clients. | Offers a more extensive pool of candidates to choose from, due to its wide focus. |
| Quality vs Quantity | Prioritizes quality over quantity, presenting clients with a small number of highly qualified candidates. | Prioritizes quantity over quality, presenting clients with a large number of potential candidates to choose from. |
| Speed | Will quickly find the most appropriate candidate due to its specialized focus, deep understanding of the industry, and the skills required for specific positions. | Can find candidates more quickly due to its larger pool of resources. |
| Cost | Are cost-effective due to their specialized focus, and ability to offer targeted recruitment services to their clients. | Will charge costly fees due to its high operational costs and wide focus. |
Say Yes To Boutique: Hire With DistantJob!
Why do businesses use boutique recruitment agencies? Boutique agencies are cost-effective solutions to finding the right candidates for a company's open positions while being an extremely flexible service that can grow along with you.
The organizations that may benefit most from boutique assistance are likely to be those that need to move beyond the traditional job search and find applicants that fit with the versatile, flexible, and highly-skilled environment of the modern-day.
Recruit worldwide and gain access to the world's best developers. Partner up with DistantJob, and find the right candidate for your business in less than two weeks. Get in touch online or visit our office in Montreal!