Nowadays, IT staff augmentation is companies' most popular method to scale their teams with skilled developers. Staff augmentation is an outsourcing model used to staff projects and quickly respond to business hiring objectives.
As a remote recruitment agency, DistantJob helped companies augment their local dev teams by hiring talented developers from different parts of the world. By choosing this method of hiring you are investing in affordable and quality engineering solutions while still having full management of your remote dev team. Here is how it works.
What is IT Staff Augmentation?
Staff augmentation is an outsourcing strategy that teams and companies use when they need to hire extra IT talent temporarily. Companies augment their capacity by hiring skillful employees to work on specific projects.
As the name suggests, IT staff augmentation focuses exclusively on IT talent. This means companies use this strategy to temporarily or permanently hire skilled developers to help fill the gaps in their IT departments.
So far, it seems similar to outsourcing, right? Wrong; the approach is entirely different. The biggest difference is that with staff augmentation, you invest in employees while still managing them directly. With outsourcing, you purchase a prearranged, specific outcome with which you don't have direct management. Developers are not your direct employees; they are the outsourcing company employees. We will get back to these differences later!
How Could This Hiring Model Help Your Company?
Because of the competition and hiring difficulties, companies started evaluating alternatives to get the talent they needed. These alternatives included outsourcing, and resource and staff augmentation.
IT Staff augmentation means companies can:
Look for candidates with specialized skills
Become more competitive as it provides candidates with flexible and remote work opportunities.
The staff augmentation definition shows how this strategy is not only about hiring employees in the short term but also works as a bridge to build a permanent team.
What Are The Benefits Of Staff Augmentation?
1. Pay For What You Need
Staff augmentation will give your organization the flexibility to only pay for what you need. If you don't need to hire someone on a full-time basis, you can choose to sign a contract with your staff augmentation vendor to give you the exact staff you need for that given period.
2. It Saves Time
Your only job is to provide the requirements and pay the hired staff. The rest of the work is done by your staff augmentation vendor. This will not only save you time, but it also saves costs.
3. Allows You To Have Control Over Your Crucial Projects
With staff augmentation, you won't have to outsource the entire project to an outside company. You only fill a few gaps within your already existing staff in order to attend to a specific project that you need to accomplish within a given period. So, your in-house staff can work with the outsourced staff to handle the project.
Having your in-house team allows you to have full control of how the project is executed and ensure the outcome meets the quality standards of your organization. For the best results, we recommend assigning the quality assurance role to one of your in-house staff.
4. More Productivity In Your IT Department
Instead of giving all the tasks to your available staff, staff augmentation allows you to outsource the complex and unique tasks that your in-house team can't handle. This boosts productivity since each team member is assigned a task they know to do best.
5. Access To A Vast Pool Of Talent
IT staff augmentation vendors usually have a wide range of IT experts, including front and back-end developers, cybersecurity experts, product designers, network engineers, etc. Partnering with any reliable IT staff augmentation vendor gives you access to all this talent at any time. You don't have to go headhunting in other companies or running job adverts to save your business from failing to get the right talent.
6. Low Operational Costs
One of the great things about staff augmentation is how it helps companies to reduce costs. You can hire an Eastern European developer who charges half of the money a U.S. developer earns. Why? Because of the costs of living.
When you hire remote talent, you get to hire people that live in countries where the cost of living is lower. This allows you to lower your operational costs without prejudicing your projects. You get unmatchable talent for a lower price.
Types of IT Staff Augmentation and Services
Traditional staffing providers: These agencies focus on providing companies with temporary employees from different industries. Traditional providers are a great option for projects where a high level of skills is not a need.
Example: Adecco
Boutique staffing agencies: Small recruitment agencies that focus on finding specialized and skilled employees for specific projects.
Example: DistantJob
Vendor staffing providers: These are large-scale staffing programs that are managed by a single vendor. Suitable for companies who prioritize low cost and need to scale their teams fast.
Example: Randstad
Online platforms: These are platforms that provide hiring managers with instant access to freelancers and independent workers. It's best for companies who want to save money on the hiring process and who don't need specialized employees for critical projects.
Example: Upwork
On-demand talent platforms: Grant access to highly skilled talent that can be hired quickly. Best for companies who want to hire a remote employee fast.
Example: BTG
Staff Augmentation vs Outsourcing
Some people confuse staff augmentation with outsourcing. However, these two hiring strategies are fundamentally different. With outsourcing, you are required to hand over the entire project to an external entity to handle it. That means this entity will have control over how the project is done and bear all the risks involved.
On the other hand, you only have to outsource several people to complement your team while working on a specific project in staff augmentation. So, you will still have control over your projects, including how they are done and when they are delivered. This allows you to maintain the quality standards of your organization for every project that is done.
Outsourcing presents several disadvantages for businesses. However, it may be utilized for non-core projects that may not necessarily need your full control.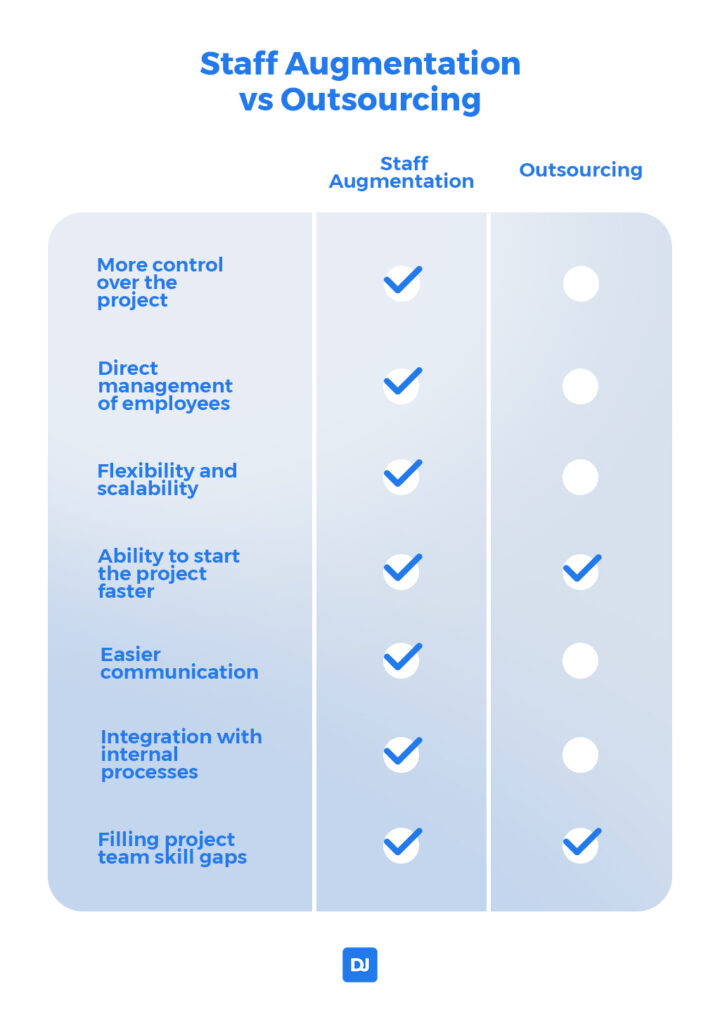 Choosing the right hiring model depends on several factors. What works for a company might not work for you. You need to evaluate your needs and resources and determine your team's hiring goals.
For example, if you need a Blockchain developer, working with traditional staffing providers might not be the right call as you need highly specialized candidates with in-demand skills. Instead, working with a tech requirement agency can provide you with the exact type of professional you need. On the other hand, if you need 20 employees to do a task that can easily be taught, working with traditional agencies or vendor staffing providers is more suitable than specialized agencies.
DistantJob IT Services
If you choose to use staff augmentation as your hiring strategy, you can always contact us to help you get the best IT staff to fill the gaps in your organization. We will help you find top, experienced, and carefully vetted staff that is fit to do the tasks at hand. While choosing whom to assign you, we go beyond just the skills and experience.
We ensure the staff we assign you are a perfect fit for your company culture, and we also take care of all the legal processes involved. This will enable you to focus on the core activities of your company as we handle all the recruitment processes on your behalf.
Scale your IT team with DistantJob today!