In the tech industry, talented developers are the diamonds everyone wants – but few can have. Whether it's because they are far away, charge exorbitant salaries, or have a huge demand, most companies are struggling to recruit and hire world-class software development engineers.
Is the 'Shortage of Developers' Actually a Thing?
There is too much buzz around this particular question. Are all the well-trained software engineers busy? Or are they like unicorns living in our imagination? The harsh truth is that there is, in fact, a shortage of talented developers. All kinds of industries are demanding tech professionals.
The Culprit?! Digitalization! If your business isn't digital, it won't survive in a couple of years. Currently, all kinds of companies are looking for the best tech talent to develop their websites or apps. And billions of companies are looking for the same thing as you: a talented software developer.
However, the shortage is not only based on average tech professionals. It's based on quality rather than quantity. Most businesses want to recruit talented software engineers with exceptional skills. And the main problem is that talent is out there, but it's harder to look for it.
The first mistake companies tend to make is to stay in a defined radius, trying to find talent nearby, when talent is everywhere. The second mistake is not knowing how or where to look for this talent. It's at this point that IT headhunters are crucial for finding tech talent. They have the contacts, know the field from A to Z, and know exactly where to find the candidate you're looking for. And I'll let you in on a little secret, just between the two of us. The talent you are seeking? It's not in the US. Why not consider hiring developers from Eastern Europe?
Closer Look Into the U.S Software Development Engineers Situation
9 out of 10 business owners in The United States struggle to find and hire talented tech professionals. The big competitive companies with aggressive hiring goals swallow them all up like Willy munches on krill. This hits startups especially hard, as they find themselves competing with big brands that offer a bigger paycheck and better benefits.
Because of this talent shortage across the U.S, companies are willing to pay extremely high salaries. Let's look at the graph below with the average salary (per year) across the states with the highest percentage of software developers: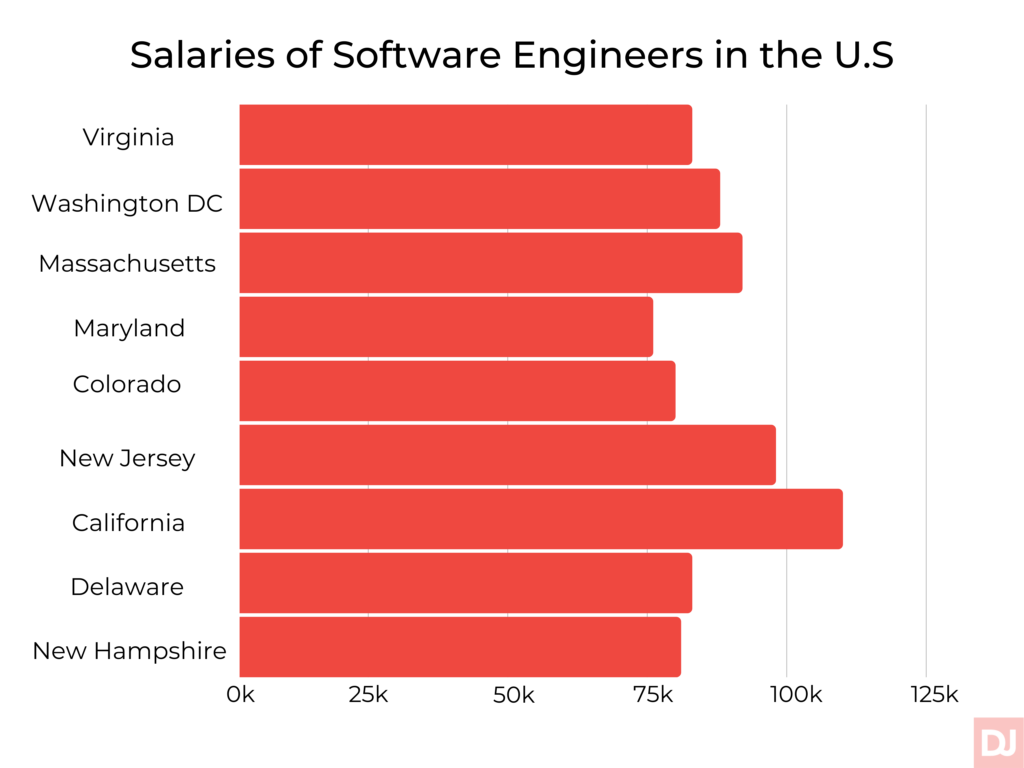 How to Recruit and Hire Great Software Engineers?
Hiring software engineers outside the United States not only lowers your costs but also gets you great talent. If you decide to start this remote recruiting journey, here are 3 strategies for hiring world-class engineers:
Know what developers are looking for in a job
Know your recruiting method
Know how to hold great interviews

What are Developers Looking for?
Say good-bye to the good old days when employees wanted to work at a company because it had a big name, paid high salaries, and offered gym discounts or free meals. Developers, especially those with excellent skills, want much more than that.
2019 Developer Skills Report by HackerRank surveyed 71,000 developers from across 100 countries. The purpose was to find the main motivations of developers when searching for a job offer. The results were surprising because neither Junior nor Senior level developers had 'competitive compensation' as their first option.
1st option: Professional growth and learning
Juniors: 71.5%
Seniors: 57.9%
2nd option: Work/Life balance
Juniors: 45.7%
Seniors: 44.7%
3rd option: Competitive compensation
Juniors: 31.3%
Seniors: 42.9%
To sum it up, before starting to recruit, know precisely what you are going to offer. Talented candidates care (a lot) about being able to have a better work/life balance, which translates into having the opportunity to work remotely.
How to Recruit Software Developers?
The first step in successful recruitment is to know which kind of developer you are trying to find. This means having a mind-sketch with both hard and soft skills that you find valuable. The next step consists of headhunting software engineers in the right places.
The most powerful option in modern recruitment is social media. But with tons of social media platforms, how to know which one is the best to look for possible candidates? Let's look at some statistics on social media recruitment:
87% of recruiters use Linkedin.
55% of recruiters use Facebook
47% of recruiters use Twitter
Besides social media, there are other useful strategies you can implement in the quest for your tech diamond.
How to Excel at Interviews
You are looking to hire a new software developer with specific skills, but a resume can't ever be enough. Nor can basic questions like: What is your biggest weakness? You need to dig deeper and smarter. A way to do that is by structuring interviews into two different parts: Technical interviews and personality interviews.
In the tech world, interview questions are never the same. It depends on what type of software engineer you want to hire and what for. If you want to hire a professional, you or the person interviewing the candidates needs to know about the subject. You can't ask about something you don't know anything about.
Personality interviews are equally important. Imagine hiring a candidate who has impressive hard skills but has terrible communication skills. This has serious productivity consequences that could harm your company. Find the time to ask the right questions; doing so will give you a notion of how this person operates and if you would like to have them on the team.
Skip the Hard Work and Hire Global Software Developers With DistantJob
We are not going to lie. Recruitment is a lot of work for most businesses to handle. Especially if you want to hire a talented remote software engineer who fits your team perfectly. But why resign yourself to struggle and headaches during this process when there are much simpler solutions? Like… us! We are an IT staffing agency specialized in headhunting remote tech talent. We care about your company, and we want every business, no matter their size, to have the best talent worldwide.