How Can IT Recruitment Agencies Get Me The Best Candidates?
The process of hiring people to fill a company's job postings is often a job unto itself with high costs, both in terms of time and money. No wonder companies have begun to rely on IT recruitment agencies as partners to help alleviate this problem and allow them to focus on other aspects of their business.
But why use an IT recruitment agency? What are the advantages of using an agency for your company's hiring efforts?
IT recruitment agencies can get you the best candidates by using their extensive network of contacts and extensive industry knowledge to quickly find and reach out to the best IT talent. They use a variety of methods to assess potential candidates, such as interviewing, tests, and background checks. Furthermore, they often have access to a larger pool of IT professionals than you would find through more traditional methods. This means that you can access the best IT talent faster, more affordably, and the perfect fit for your company culture.
Not to be biased, but at our recruitment agency, we employ expert IT recruiters that know where to hunt for candidates depending on your requests and know how to entice qualified professionals to work for you.
You'll get the very best, faster, and at a fraction of the cost; you'll have someone else doing the heavy lifting for you. But enough about praising DistantJob (feel free to book a call to find more) and let's get a detailed rundown of the business benefits of using an IT recruitment agency, as well as explain how we work to get you the people you need.
7 Benefits of Using IT Recruitment Agencies
If you're here, I assume you consider partnering with an IT recruitment agency. You're making a smart move. Why? Below, we outline the 7 Benefits of Using an IT Recruitment agency, exploring why such partnerships can be vital in finding top-notch tech talent quickly and effectively.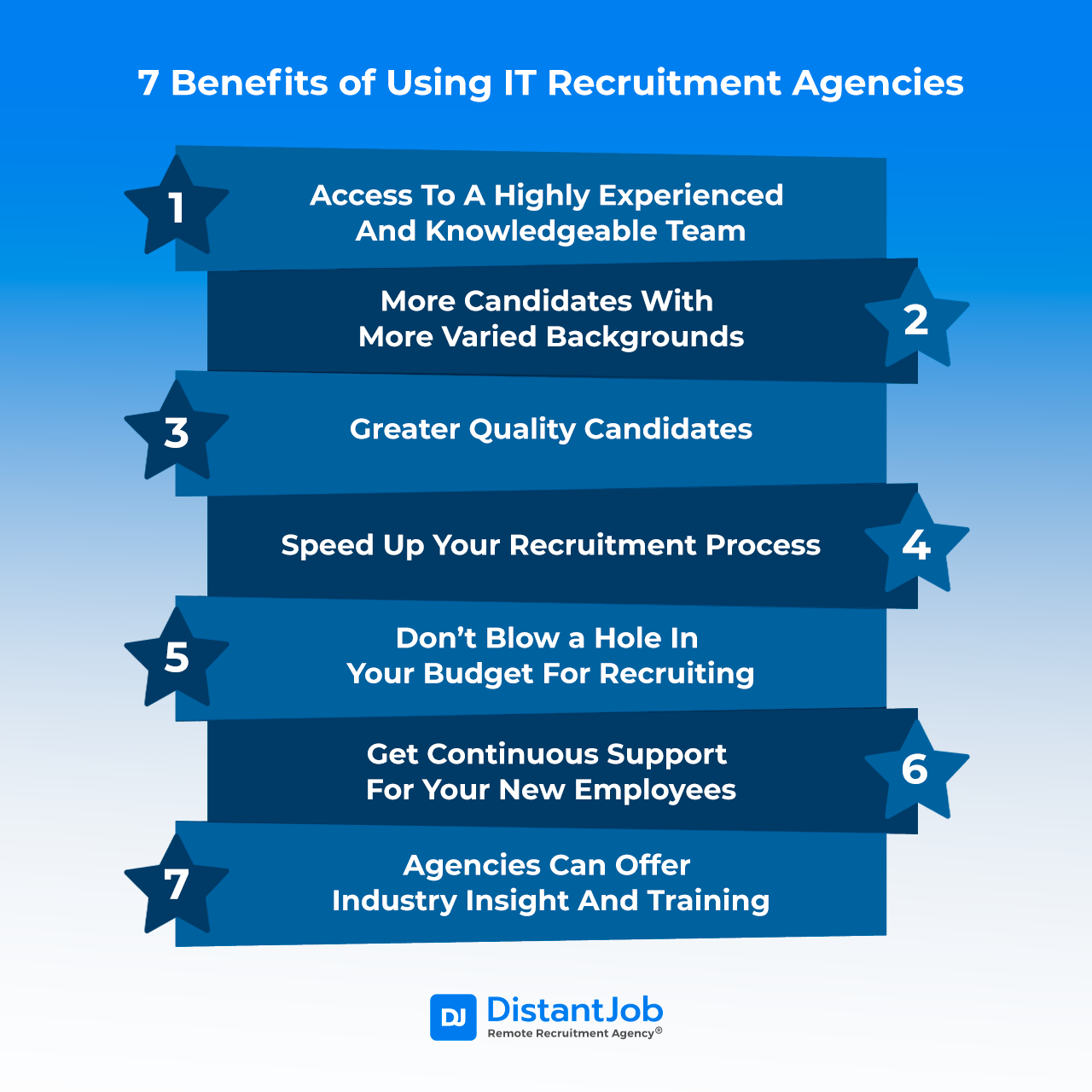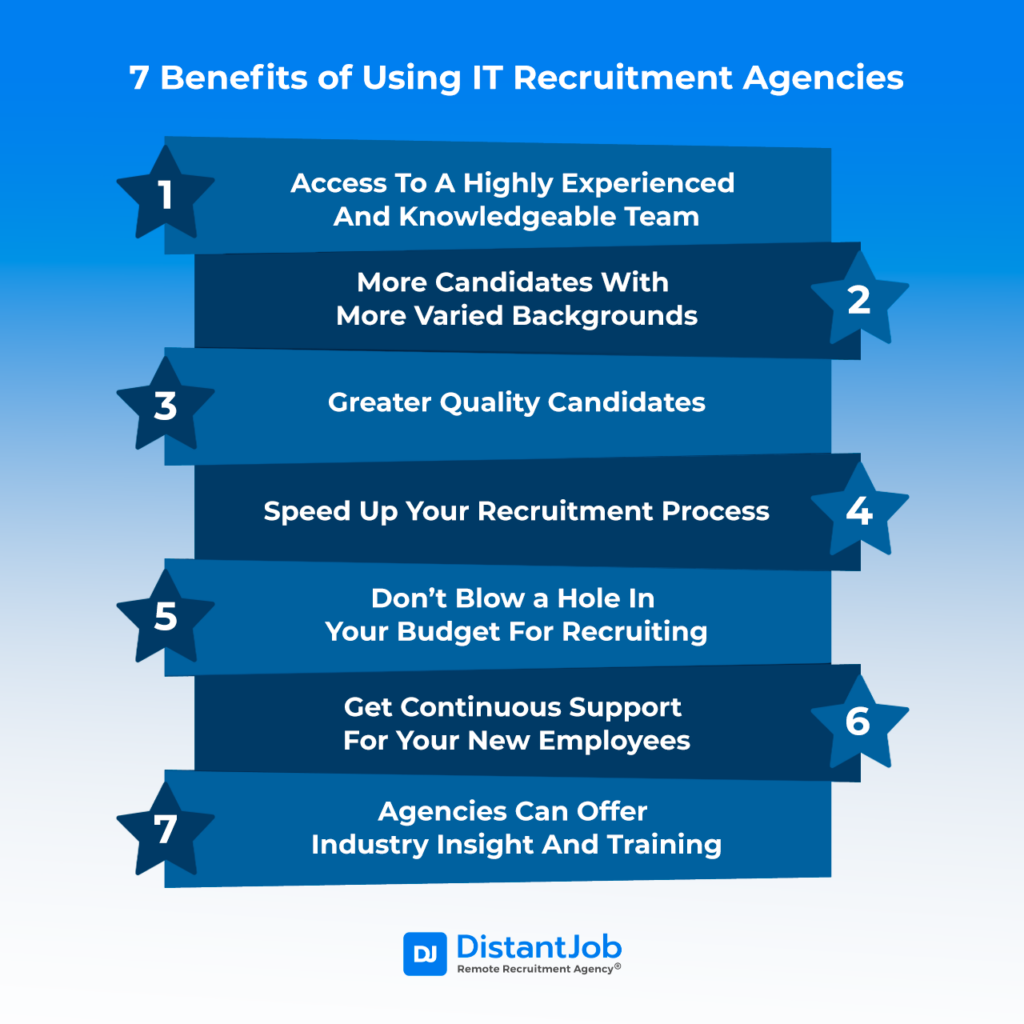 1. You Get Access To A Highly Experienced And Knowledgeable Team
Tech recruitment is always a demanding experience. As the IT industry advances and progresses, the technologies and methodologies it employs undergo a transformation as well. It's important to stay in the loop not only to know how to target your hiring campaigns but also to project a good image to your potential employees when talking to and interviewing them.
By employing a team of recruiters that stay on top of technologies, you can be sure that they will know how to differentiate between candidates that are all talk, from those with actual experience and expertise. They know how to ask the right questions and how to evaluate potential candidates with the right processes.
These recruiters are highly knowledgeable of the job market and its intricacies, being able to coach their customers on hiring best practices. They know which skills to look for in a candidate, how to test those skills, and the salary expectations of the job position at hand.
Before even getting your first CV to analyze, you'll know the most vital information about a job's requirements and demands so you can take action and make the best decisions for your company.
2. You Reach More Candidates With More Varied Backgrounds
Finding the right candidate locally is hard; the more so, the more niche the type of skill set is needed for the position.
IT companies have begun looking for remote talent to offset this problem. Not only are they able to find more candidates by broadening their search, but they also get people with more varied backgrounds. This is especially important if your company seeks diversity and inclusion hires to bring new experiences and know-how to their teams.
Did you know that having remote employees benefits both the employee and the employer and has a great impact on retention?
IT recruitment agencies not only tap into these remote people, but they also actively search for professionals who aren't necessarily looking for a position. These candidates, also often called "passive talent," are a huge market that experienced recruiters can take advantage of.
Recruiters also know how to entice passive talent to make career moves that benefit both the talent themselves and the clients of the agency.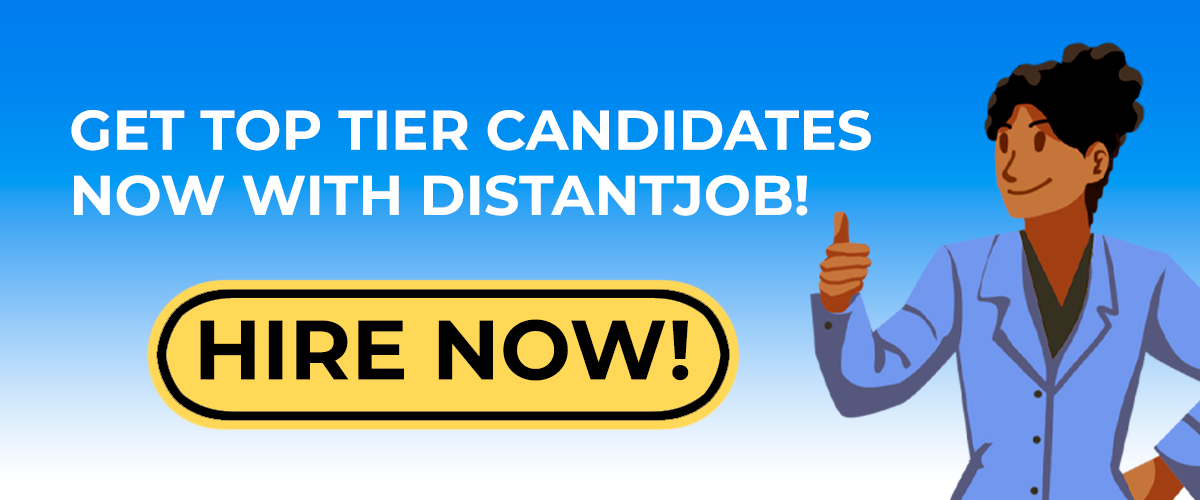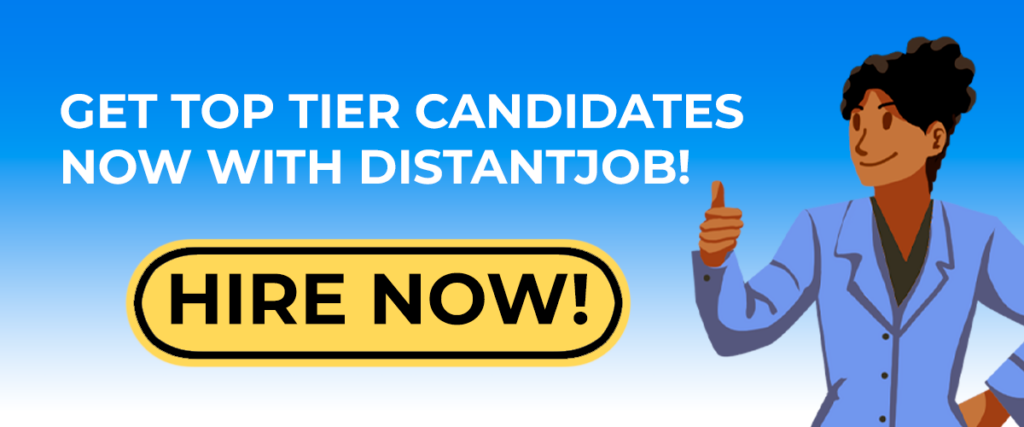 3. You Get Greater Quality Candidates
A side-effect of tapping into a greater number of candidates is that you can also find more qualified people overall. This is especially important for niche positions that have very specific requirements.
By having access to more people, IT recruitment agencies can test candidates more thoroughly and find the ones with higher qualifications. The recruiters working in these agencies are versed in many processes to screen and test candidates and employ the best ones depending on the situation and the requirements of the client.
Also, some IT recruitment agencies, such as DistantJob, go the extra mile and provide better options to their clients by analyzing the company's culture and only showcasing the candidates which match it.
4. Speed Up Your Recruitment Process
Employing an IT recruitment agency reduces the time you need to spend to get a new candidate on board. By handing over that responsibility to your expert recruitment partner, you can focus on what your company does best and reduce your time-to-hire by a large percentage.
IT staffing agencies take care of the laborious hiring administrative processes. They find the right candidates, present you with their findings, and even schedule interviews on your behalf. All of this so you and your company do not have to waste time.
Also, when the hiring process is over, top recruitment agencies like DistantJob can also help you handle all the paperwork (such as contracts and other legal documents) needed to get the person ready to work for you as soon as possible.
5. You Don't Blow a Hole In Your Budget For Recruiting
Hiring an IT recruitment agency will significantly reduce your hiring costs.
With their experience and knowledge, recruiters are highly adept at finding the right people in shorter times. This has several positive effects on your company:
You no longer have to pay for job adverts and candidate assessment software.
Your staff is free to focus on other more important parts of their jobs.
Reduces the need (or shortens the time needed) for temporary workers and other measures to compensate for a lack of a specific professional.
By tapping into a global remote market, your IT recruiter can find qualified people anywhere worldwide at more affordable prices.
By finding the right fit, you don't have to waste money by potentially hiring an unfit candidate and having to go through the process again or by needing extensive training.
Building a good relationship with an IT recruiter will pay off in the long run: you can pass that responsibility in the knowledge that you're always getting the best possible at the best price.
6. You Get Continuous Support For Your New Employees
Hiring a candidate is only the beginning. Keeping an employee is just as important. You'll want to invest in his career and skills so that they feel valued and in turn, bring value to your company.
This is why it is so important that you keep your staff's morale high. It makes them less prone to leave you for the competition and also makes them more productive overall. Having a good working environment and listening to (and acting on!) their concerns are the two biggest factors when it comes to keeping your staff happy.
Both can be achieved with continuous check-ins, which a top IT recruitment agency like DistantJob can help you with. Their recruiters will periodically get in touch with your hires and deliver reports on their assessments so you can act accordingly and save future headaches.
7. Agencies Can Offer Industry Insight And Training
In case you already have a strong HR team and just need to get them up to speed on hiring best practices, IT recruitment agencies can also help you!
Top agencies will offer training packages for your hiring teams. These consist of their expert recruiters passing on the expertise they use to get the best developers for their clients. This way, you will maintain full control of your hiring process and have all the tools to find the candidates you need.
Training like this can be offered regularly as your hiring team needs knowledge on a new IT field or just needs to revise their current procedures for an existing one.
How Do IT Recruitment Agencies Work?
IT staffing agencies will usually have a set process for finding candidates for their clients. Here is a rundown of the steps they will usually take:
1. Analysis
The agency will gather the requirements of their client about the position they are trying to fill:
What skills should they have?
What is the salary expectation?
What is the company culture?
2. Headhunting
After gathering all the necessary information, the recruiters will lean on their contacts and expertise to find people who fit the needs of the client. They will get a few options (usually 3~5) so that the clients can choose the one they feel is best for them. This narrows down the choice considerably and helps speed up the hiring process.
In the rare case where the client is not satisfied with the first choices presented, the agency will promptly get new candidates for them to pick.
3. Hiring
After selecting the desired candidate, the agency will take care of the necessary paperwork be it contracts, payments, or any other document. They will also employ a legal team to draft documents to protect their client's IP.
All that's left for their client to do is set them up in their onboarding process.
4. Support
After hiring a candidate, a recruitment agency's job is not done. Quite the opposite: this is where it really begins.
Top recruitment agencies will be vested in the success of both their candidates and clients, so they set up regular contacts with them to relay information between them. This helps both adapt to each other's needs and meet somewhere in the middle so everyone is happy.
DistantJob As Your Recruitment Agency Of Choice for Tech Talent
Many questions are probably going through your head while reading this. "What is the most popular recruitment agency?", "Can't I just hire with IT recruiting agencies near me?" Many agencies can claim to be the best or most popular, but at the end of the day, what matters is getting results.
DistantJob has 15+ years of experience in remote recruiting for our clients. This puts us in the position to find the best people for your business. Here's why:
1. We Recruit worldwide, Faster
By tapping into the global market, your talent pool gets significantly bigger, but this also comes with the challenge of pinpointing the best candidates among the crowd. With our vast experience, we can find and assess expert developers from all over the world (and that match your needs) faster.
2. We're Cost-Effective
We help you get on track by filling your open developer positions quickly, saving you from the inevitable operational costs you incur when there's a key member missing from your team, and you cannot operate at peak efficiency.
Not only that, but we help you save money directly by hiring from regions with lower costs of living such as Latin America and Eastern Europe, allowing you to pay lower wages for the same quality work.
3. We Hire Productive, Committed People
We purposely avoid freelancers and digital nomads, which typically have fewer stakes in the projects they get hired to do, and instead focus on candidates that are excited to work for your company, take responsibility for their projects, and have the drive to grow professionally.
4. We Can Help Support Your Employees
DistantJob takes care of the initial legal and contractual obligations when hiring someone, but we also know that keeping an employee after they get hired is as or even more important.
This is especially the case when dealing with remote work, where it's easy for your employees to feel like they're not fully integrated. To help you out, we optionally offer packages that see to the well-being of your candidates as they work for you. We make frequent reports to warn you of any potential issues that may come up so you can address them quickly and not risk losing valuable team members.
Experience Why So Many People Trust DistantJob With Their Recruitment
Recruitment agencies bring you the best talent at affordable rates. They make the hiring experience as painless as possible so you can relax and focus on what really matters: developing quality products for your customers.
Now that you know what to look for in an IT recruitment agency, don't forget to check out DistantJob! We provide you with the best candidates available for your IT needs, be it expert developers, engineers, or anything in between. We conduct a rigorous screening process to find the best matches that fit your company's specific needs and company culture. Call us today, and build that loyal team that will make your development fast efficient, and unstoppable.
FAQ on IT Recruitment
What is the meaning of IT recruitment?

IT recruitment is the process of hiring people for technology-related jobs. It involves sourcing, screening, and selecting candidates with specific technical skills so knowledge of the tech industry is a must because it involves understanding complex job roles that keep evolving.
What roles do IT recruiters recruit for?

IT recruiters hire for roles such as Software Developers, System Analysts, IT Managers, Network Engineers, Data Scientists, and Cybersecurity Experts, Cloud Consultants, Data Scientists, among others.