DistantJob is taking a closer look at how remote hiring is unfolding in the trenches. That is, on actual job boards where employers are advertising remote jobs and qualified candidates are getting hired. Not through means of projected numbers, but how remote work is faring in the real workplaces of today. In this series, "Who Hires Remotely, Anyway?" – of which this article is the first of three – we're breaking down remote recruitment by industries, companies, and job titles. If you'd like to learn more about hiring remote workers for your company, you can email us right away.
Thanks to technology, both in the way work is carried out in any industry as well as in how technology enables remote work, many office positions have become suitable for 'work at home'.
For instance, it makes sense that the IT industry is the leader in remote hiring. They're the inventors of the technologies that made all of this possible.
But in the vastly different healthcare industry, roles like data processing, transcription, and digitizing archival materials can all be performed remotely, too. These roles are relatively new, in the first place. They've been created by the universal shift in work norms and structures. A job like digitizing archival materials is a perfect testament to the fact that now "everything needs to be online".
And once the work is done online, it can be carried out from anywhere. Hence the widespread acceptance of remote work across all industries.
Of course, if it weren't for the accompanying benefits, remote work wouldn't have gained such stupendous momentum. And the benefits, too, transcend industries.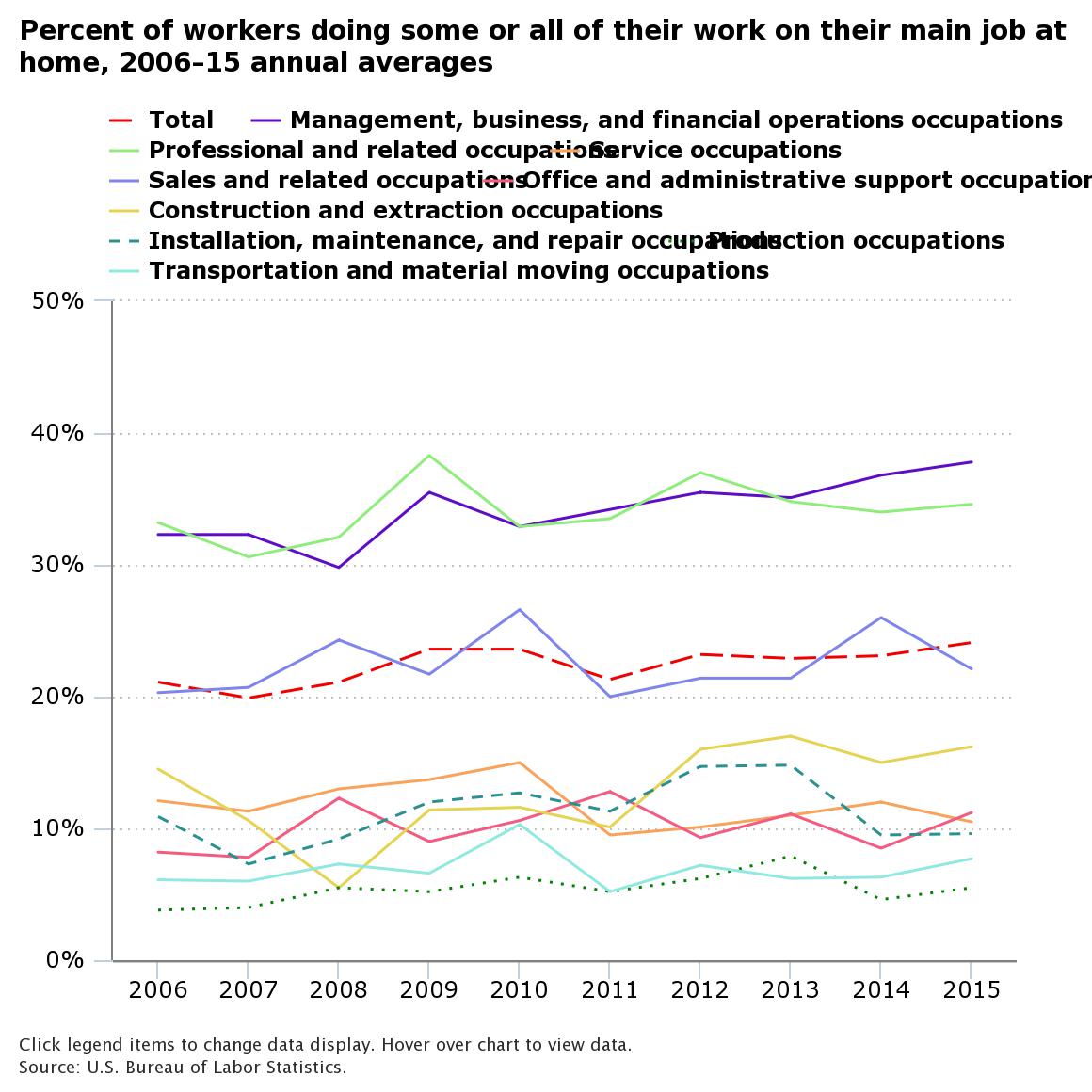 Image Source: US Department of Labor's Bureau of Statistics (BLS)
The industries who hire the most remote workers:
Computer/IT: This industry not only started this trend and are leaders in remote hiring, but now they've upped the ante to maximizing their remote hiring. With estimated savings of approximately $11,000 per employee per year, you can see why.
Healthcare: Almost all allied health jobs can be done remotely. And hospitals have latched on to remote work to save money and provide better service to patients.
Education and Training: The online education industry will be worth $275 billion by 2022, says Orbis Research. But now well-established institutions, such as the University System of Maryland, rank among the top remote recruiters. Additionally, many university administrative roles are also perfect for telecommuting, making Education a key player in remote hiring.
Sales: Outside of demonstrating complex machinery to B2B leads, most sales position is suitable for remote work. And the virtual hiring frenzy in the past years suggests they're doing just that. Well-known companies, such as Cisco, AT&T, Symantec, and Liberty Mutual, all offer remote sales positions that come replete with enviable benefits packages. As in, these remote roles are integral to their businesses, not ancillary jobs.
Customer Service: Many businesses, especially large corporations, are making their customer service departments entirely remote.
Accounting and Finance: From bookkeeping to accounts payable, a majority of the roles in this industry can be done remotely. So much so that there are job boards catering particularly to that need. Like the Accountant List, which pulls together only remote accounting jobs.
Travel and Hospitality: Be it travel assistant or planner or reservations manager, all these roles are performed online and can be done suitably offsite. Going by the remote recruitment numbers, it's a fact hotels, airlines, cruise lines are aware of.
Mortgage and Real Estate: Every step of the mortgage process, from checking credit reports to getting clients funded, can be done remotely and currently is. In fact, there's a buzz going around that robots will likely replace mortgage brokers and real estate agents! (No comment on that.)
HR and Recruiting: HR companies mainly work with candidates online. So, it's been easy for this industry to accept the remote paradigm.
Pharmaceuticals: There's a variety of roles in this industry that can be home-based. Such as medical writer, clinical research assistant, clinical data analyst. And there's a growing demand for these virtual roles.
Manufacturing/Construction: The managerial and administrative aspects of manufacturing fully fits with remote work. This, among other benefits, has made this industry agile and have reduced overhead costs substantially.
Retail: The behind-the-scenes roles of working with suppliers and buying, tracking shipments…are all done online and hence great for remote work.
E-Commerce: In this industry worth a few trillion dollars, most of the work is largely carried out online and guarantees many remote positions.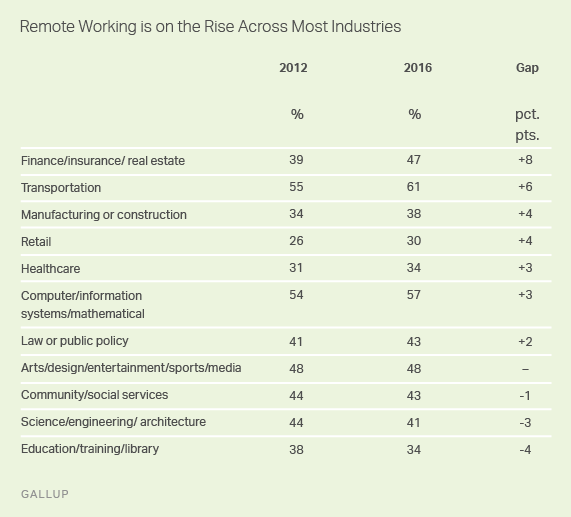 Image Source: Gallup's State of the American Workplace Report
On top of this, according to FlexJobs, five of the fastest growing sectors with more than 20% increase in remote hires between 2016 and 2017 are:
Therapy – If you think about it, everything a therapy session requires can be recreated from home via communication tools like Zoom. With the added benefit of comfortable and familiar surroundings. No wonder this industry is thriving in remote work.
Virtual Administration – Many admin roles have been outsourced to third-party vendors for a considerable time and have been remote. In fact, this industry is going to be worth $17.2 billion by 2023, according to Market & Markets.
Client Services – A client services manager interacts with all departments concerned with fulfilling client work. But that coordination (which includes everything from being the client's point of contact to tracking work to getting feedback) generally happens online, via a software. At most via a telephone. Neither of which demand onsite work.
Virtual Tutoring – Virtual tutoring is an overarching field. That is, you can hire a virtual tutor for anything from high school math to corporate business courses to piano lessons. And people have been doing that. Because according to Global Market Insights, this is a $165 billion industry.
State and Local Government – State and Local Governments employ about 80,000 people throughout the country. Since they are the ones that interact with their communities directly, these agencies are also the busiest and often operate on shoestring budgets. And to make the taxpayer dollar go further, they've increased remote hiring in recent years.
The above 18 industries are the leaders in remote work. But by no means are these the only ones hiring remotely. Virtual positions are much more abundant and the normalization of remote work has already happened.
It's no longer a question of whether one should hire remotely or not. Currently, the consideration facing employers is which departments, roles, job titles can be remote. With incessant benefits and cost-savings at stake, no wonder more businesses are opting to go wholly remote. If you're ready to join them, drop us a line and we'll get you started.