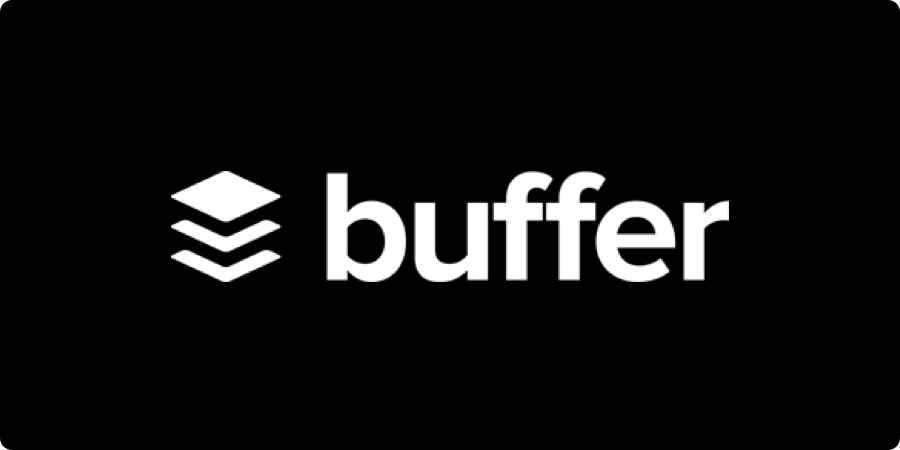 Buffer is one of the remote companies that get more job applications per month, and with good reason. The company is fully transparent with the way it operates. It freely shares the way in which it manages its remote employees. And it's clearly an heavenly place to work at.
In fact, we could write a whole book about how Buffer manages its distributed team. They've covered it all: from motivation to workflow to pay and everything between. But we don't want to look too much like fanboys, so we'll keep ourselves to a single topic.
By the way, Buffer is not only awesome to its employees, it's an extremely successful company as well. They have growing profit margins and a prestigious position in its chosen niche.
They present themselves as a full social media management solution. They count both businesses and individual users as their target audience. They focus on speedy post scheduling across a variety of social networks. This is done through expertly developed browser extensions and mobile apps.
Their flagship product is called Buffer for Business. It provides a full statistical overview of your social media presence. It also integrates with all the major social media networks.
But Buffer is not only special due to their incredible transparency policy. It is also one of the few companies that places a big emphasis on proper feedback. They are bullish about coaching employees. This is how they expanded their team without sacrificing personal connection to the company. So that's where we'll focus for now.
Here is how founder Joel Gascoigne structured the company's one-on-one coaching strategy.
Always do a one-on-one with your remote employees
Late Friday conversations with his co-founder gave Joel a sense of the importance of the one-on-one. Something that had already been present on his mind after reading Ben Horowitz's book "The Hard Thing About Hard Things".
Human beings are very self-conscious. Don't expect all your employees to be 100% straight with you when their colleagues are present. And a complete focus on the other person and on what he or she is saying can't exist if someone else is around . We humans aren't wired for that.
Buffer team leaders hold one-on-one meetings with each employee twice a month. The key takeaway here is that the meeting is foremost about the employee, and for his or her benefit. The employee does about 85% of the talking, and the leader or manager listens.
This is hard, of course. But it is central to the concept of coaching. Often, having someone to talk to about a challenge will let the employee figure things out. And the resulting growth and motivation skyrockets!
It starts with celebrating you remote employee's success
Every one-on-one at Buffer has a strict schedule. The first ten minutes are reserved for celebrating achievements. The people at Buffer say this is the most important factor for accelerating growth. A lot of people do a job well done and then jump immediately into the next challenge. But their fuel is depleting.
Achievement without celebration means very little. Take the time to go through an employee's wins before diving into business, and they'll leave refreshed.
Ask about the challenges your remote employee faces
Most of the meeting focuses on challenges the employee faces. As we explained above, the team lead will mostly ask questions. At most, they'll share some thoughts or similar experiences. The aim is to help the employee think about each challenge and come up with their own solution. A solution that they can be completely happy and excited about.
As Buffer's founder, Joel, puts it:
"Even if the solution is what you have in your mind, it is a hundred times more motivating for the team member to come away knowing that they came up with a solution themselves,"
It's worth noting that the challenges discussed don't need to be exclusively about the work at Buffer. Buffer has a firm belief that the personal development of each employee is key for the the company's growth as a whole. Personal challenges, like improving sleep, learning a new language, trying new forms of exercise, or developing a writing habit are all worthy of discussion.
It ends with double feedback
One of the best things of one-on-one meetings is that they allow for bilateral feedback. First, the team leader shares his impression of how the employee is doing. Then, the employee can weigh in with his or her thoughts on management, leadership or the direction of the company.
This feeds directly into the company's mantra of constant improvement. It helps employees feel like they have a bigger stake and say in the business. It also helps the leadership avoid falling victim to the "Emperor Without His Clothes" syndrome.
You get to give your feedback for 10 minutes, but you have to listen to their feedback for 10 minutes too! No exceptions!
The key to remote team success
Buffer put their one-on-one practice into place once they had over seven employees, and they keep it to this day. It's done once every two weeks between a team leader and the people under his wing. And it's done even more often between the company's c-suite.
Even now, when they are a much larger company, it helps to connect everyone. It also makes sure no-one is left behind or without an idea of the big picture. It's a powerful technique that put in place with no cost and little time investment, to get big results!
---
You can also have a killer global team. We at DistantJob will help you find expert developers to fill key positions. We'll give you the peace of mind that comes with having highly motivated employees. You'll be working with developers that are among the best in the world.
Get in touch with us and start building your company's future.