Hiring onsite workers is not what most businesses are looking forward to nowadays. Why would companies limit themselves when they can access a larger (and more affordable) talent pool? However, hiring a virtual workforce comes with its own challenges. And businesses must understand the differences between telecommuters, remote workers, and freelancers to make the right hiring decision.
Especially in startups or small businesses, hiring a telecommuter, freelancer, or full-time remote worker can greatly impact your company's workflow and culture. But one thing is for sure; you'll likely need to face the decision of who to hire soon enough as most people want to work remotely at least a few days a week.
A survey by Growmotely shows that 74% of professionals expect remote work to become standard, and 97% of employees don't want to return to the office full-time.
Let's explore which of these types of employees is the right one for your business.
What is a Telecommuter position?
A telecommuter is someone who works away from the office for a portion of the week. They could work from their home or another location for a stipulated number of hours or days. For example, those who work from a client location or travel for work are teleworkers.
Currently, managing telecommuters is one of the most popular trends primarily because of the pandemic. In 2020, when quarantines were necessary to stop the virus from spreading, working from home became the norm.
These past months where the COVID-19 situation has improved, and things are slowly getting back to normal, companies are starting to define their next steps.
In most cases, managing telecommuters and opting for hybrid models is becoming most the favorite working model. It allows employees to work remotely from home or other locations a few days a week and work from the office as well.
Is Telecommuting Good for Your Business?
Telecommuting is a growing trend. Before the pandemic, it was already a thing. In the U.S., it increased up to 173% between 2005 and 2018.
As the COVID-19 situation enabled telecommuting, employees have enjoyed the flexibility. And while most companies will implement telecommuting to some extent, the strategy is not effective for all businesses.
If you're considering telecommuting, the first thing you need to analyze is if your business can manage a virtual workforce. Obviously, some jobs aren't suitable for telecommuting, like manufacturing jobs or security jobs. But even those jobs that can be done 100% remotely can fail with the wrong management.
Let's analyze the main pros and cons of this strategy for your team.
Hiring Telecommuters: Pros
1. Productive Workforce
One of the biggest advantages of telecommuting is the increase in productivity. As employees work in their own environment, they have fewer distractions, and focus better on their tasks.
The rise of productivity in telecommuters also has to do with the fact that employees are less stressed. An Amerisleep survey revealed that 80% of telecommuters experience less work-related stress.
2. Increases Employees Loyalty and Retention
Increasing employee loyalty and retention is mostly about listening to your employees' needs and caring for their well-being. The way we work is changing forever, primarily because of the pandemic. Currently employees are redefining how they want to work, which in most cases reduces to a mixed structure between in-office and remote work.
Owl Labs' latest data shows that 25% of employees are willing to take a 10% pay cut to continue working remotely.
3. Better Collaboration
Telecommuting has changed the meaning of collaboration. It's not only about working in the same place or having thousands of meetings, but it's about taking advantage of key moments to brainstorm and discuss new ideas.
Implementing telecommuting arrangements lets you build spaces designed for different things. In most cases, companies are redesigning their offices to build collaborative spaces. And while employees can have in-deep working time at home, they can go to the office and experience a more creative environment.
Hiring Telecommuters: Cons
1. It Can Increase Cyber Attacks
According to Deloitte, cyber-attacks have increased to 35% because of the pandemic. If you're planning to manage a telecommuting workforce, you need to ensure that all devices your employees use have the right security systems and tools.
One of the reasons cyber attacks increased was due to the BYOD (Bring your own device) policies implemented by companies last year.
2. Expensive Solution
Telecommuting is more expensive than most people realize.
Just think about it. You still need to pay for your office spaces, equipment, and other bills. And simultaneously, you need to spend on the right technology and tools that will enable you to manage your virtual team.
3. It Can Lead to Burnout
The negative aspect of telecommuting is that, in most cases, it leads to burnout. Telecommuters tend to work more hours than when they are exclusively in the office because working from home makes it harder to define the boundaries between personal and professional life.
FlexJobs revealed that 75% of remote workers said they often experience burnout at work.
What is a Freelancer?
A freelancer is a person that works for themselves rather than for a company. In other words, they are their own boss.
They do take on contract work for companies, but they are ultimately self-employed. This means they can work for different organizations simultaneously. Freelancers set their working hours; they take care of things like billing clients or paying their own employment and business taxes.
Another characteristic about freelancers is that they may or may not come to the office to work. They can be fully remote freelancers as well; nothing ties them to going to an office, although this ultimately depends on the type of contract they have with a company.
With 58 million freelancers, this type of employment contract is expected to become the U.S. majority workforce by 2027.
Is Hiring Freelancers Good For Your Business? 
There are obvious reasons why companies are rushing to work with freelancers: practically no paperwork, you don't have to pay benefits (unless you wish to), you don't have to offer sick days or leaves. Freelancers work by the hour and get paid for it.
And yet, once again, you need to consider whether freelancers are the right choice for your business.
Freelancers earn either by the project or by the hour. Depending on the project length or how many hours they work, you can end up paying more for your freelancer than your full-time employee.
So if your business requires someone with specialized skills to work for a short time, then hiring freelancers is the best way to go. If, however, you need employees to work on similar projects for an extended period, it's more cost-effective to have full-time remote employees.
Let's evaluate the main pros and cons of hiring freelancers.
Hiring Freelancers: Pros
1. You Save Money
Hiring freelancers means you're only paying for their skills exclusively. As they are independent contractors, you don't need to pay for their medical care, social security, insurance, retirement benefits, etc.
The Bureau of Labor Statistics shared that 70% of an employee's salary goes to the wage itself, leaving 30% to account for benefits. As freelancers are self-employed, companies theoretically save 30% of each hire.
2. They Are Easy to Find and Hire
If one thing is for sure, it is that hiring freelancers nowadays is easier than ever. Many freelancing sites like Upwork, PeoplePerHour, Freelancer.com have millions of freelancers ready to take on projects. Additionally, because of all these freelancing platforms, it is easier to make an informed decision. As they have reviews and other companies rate freelancers' work, you know if someone has the skills you need.
3. Lower Financial Risk
When you own a startup or a small business, hiring employees always implies a risk. If you hire a bad candidate, for instance, you could end up losing a lot of money. However, with freelancers, this risk is lower. Not only because you don't pay for things like insurance or medical care, but because you can pay for the exact amount of time they work for you.
Whether it's a project-by-project basis or an hourly rate, it will be easier to calculate the amount of money you need and the financial risk of hiring a freelancer.
Hiring a Freelancer: Cons
1. Lack of Commitment
One of the main disadvantages of hiring freelancers is that they aren't as committed as full-time employees. They don't know anything about your company culture, your workflow, or processes. They just want to get the job done, a paycheck, and move towards their next project.
This doesn't necessarily mean they will do a crappy job and disappear. If you're lucky, you'll find someone who gets the job done the right way. However, if this doesn't happen, as they don't work for you, you can't expect them to have the same level of commitment as a regular employee.
2. Unavailability
Let's say that you are building a website. Suddenly your website is down, and you need technical help as soon as possible. If you are working with a freelancer, chances are they will help you when they can, not when you need them to. A full-time employee, on the other hand, will help you right away.
Freelancers don't need to report to you within a specific period. They work on their own schedule and under their own terms.
3. Unpredictable Quality of Work
When you hire an employee, you usually go through an extensive hiring process. You ask for references, study their CV, have different interview sessions, and make the final decision. When it comes to freelancers, the process is much faster and easier. And this tends to be a double-edged sword. On the one hand, you don't spend much time on the hiring process, but on the other hand, you have no idea how the quality of their work will be.
You can always check for references, but hiring a freelancer always involves the risk of hiring someone that doesn't add up to your company's standards.

What is Remote Work?
There is a third type of workers, who are not as hyped as freelancers, and yet they bring businesses the best kinds of ROI – full-time workers who engage in remote work.
Remote workers are defined as employees who work under a flexible working arrangement that allows them to work from a remote location outside the corporate offices.
Terms of telecommuters and remote workers are often used as synonyms, but they are different things. While a telecommuter still works from an office certain days a week, a full-time remote employee works entirely offsite. They don't need an office to perform their role.
Is Hiring Full-time Remote Workers Good for Your business?
If you can carry out your company's projects entirely online or on the cloud, then having a full-time remote workforce will bring you benefits in spades.
Full-time remote work isn't ideal for some industries, like manufacturing or security – for the same reasons telecommuting isn't. But apart from those few exceptions, every kind of collaboration can occur remotely.
Furthermore, as we discussed through different points of the article, remote work is here to stay. With the pandemic, the need for more flexible arrangements keeps increasing in most companies. And currently, according to Gartner, 74% of companies are planning to shift some of their employees to remote working permanently.
Let's look at the main advantages and disadvantages of hiring remote workers for your business. 
Hiring Remote Workers: Pros
1. Bigger Talent Pool
When you hire remote workers, you instantly unlock a bigger talent pool. You are no longer limited to specific geographic boundaries, which helps you look for the exact type of professional you need.
IWG showed that 64% of recruiters believe hiring remotely helps them find high-quality talent.
2. Attract Skilled Professionals
A few years ago, working remotely was only for a minority. Now that it has become a new norm, remote work is also the perfect strategy to attract skilled professionals. Americans are willing to quit their current job for one that offers them remote work possibilities.
According to the Economic World Forum survey, 40% of U.S. employees would seek another job if they were forced to return to the office post-covid. And 10% said they would quit their jobs regardless if they got another job.
3. Save Money
Having a fully remote workforce means you don't need to spend money on office space, utilities, equipment, snacks, etc., which leads to significantly reducing your company's costs. Stanford revealed that companies managing remote teams see an average increase of $2,000 in profit per remote worker.
Also, companies save money because they get to hire employees for countries or states with lower living costs.
Hiring Remote Workers: Cons
1. It Can Negatively Impact Collaboration
As face-to-face interaction helps teams strengthen the company's culture when all the activities happen virtually, collaboration needs to be more intentional.
A lack of collaboration in a remote team can lead to feelings of isolation that consequently could impact the team's morale and productivity.
2. Requires You to Re-Define Your Management Style
When you're at an office, it's easier to get a sense of control within your team. You can glance and peek at what each employee is doing. When you manage a remote team, most things will happen asynchronously, and you need to trust your team to make things work.
If you're used to having a micromanaging approach, then having a remote workforce will make you feel you don't have control at all. You'll need to change your management style to one that focuses more on trust and clear communication.
3. Communication Challenges
Hiring remote workers may implicate different communication challenges. For example, if you hire foreign employees who don't speak English as a first language, you will likely encounter a few obstacles in translating project instructions.
On the other hand, you'll need to build your processes and workflow based on clear and solid communication. Most of the time, this means over-communicating to avoid misunderstandings.
How to Know Which One is Right for Your Business?
The differences between telecommuters, freelancers, and full-time workers are not always clear because the terms are used interchangeably. However, after analyzing each type of employee and its characteristics, we now understand that freelancers differentiate from telecommuters and full-time workers because they are self-employed/independent contractors.
The core difference between telecommuters and full-time remote workers is that the first ones work by blending the office with remote work, while full-time remote workers never work from a central office.
However, knowing which one is right for your business depends on evaluating the key differences and analyzing your possibilities. In the table below, we added the core differences between the three types of employees:
Full-time Remote Worker vs Freelancer vs Telecommuter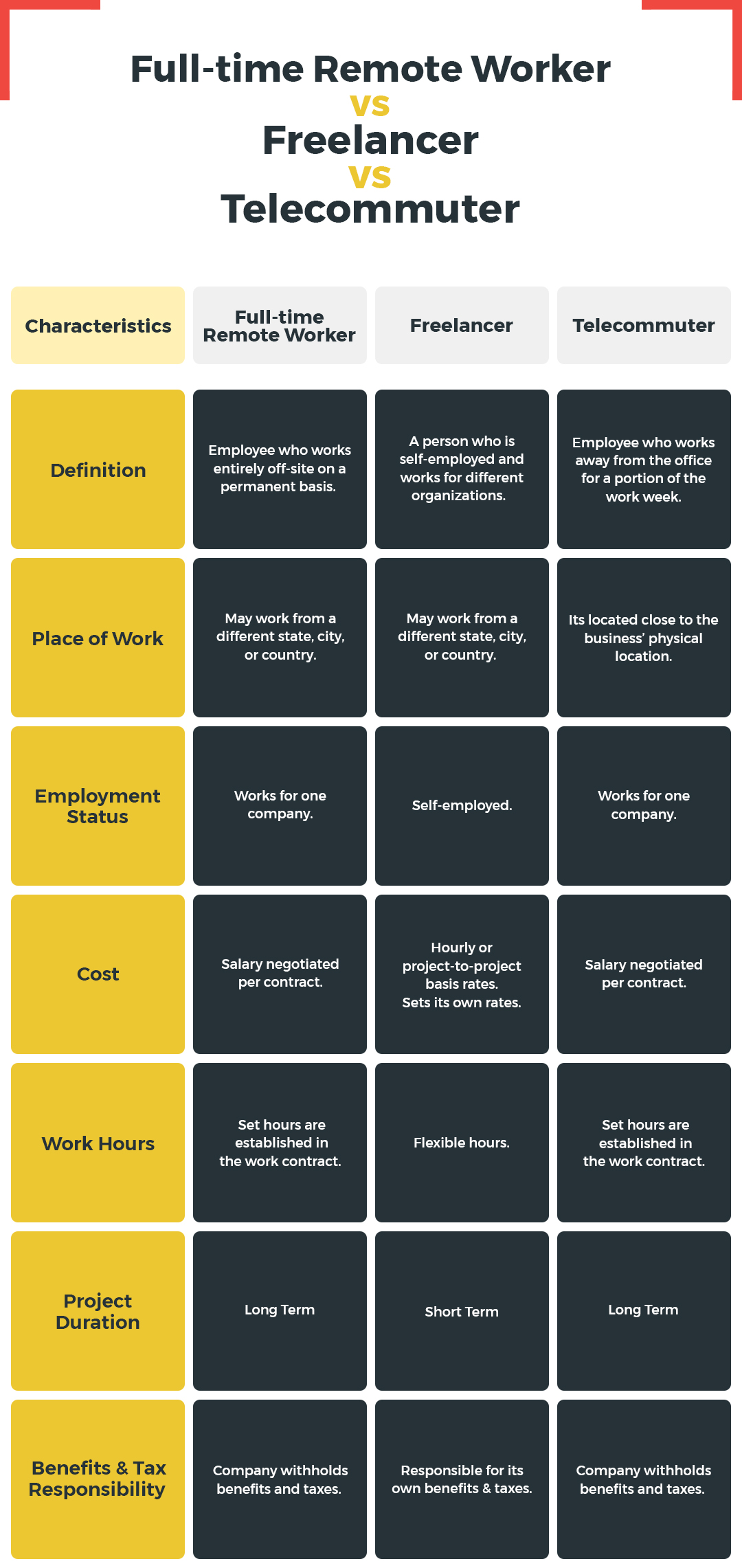 Where to Seek Help Deciding Who To Hire For Your Business
If you're still unsure of the implications of hiring a telecommuter, freelancer, or full-time remote worker, it's time for you to seek the help of professionals.
At DistantJob, as a remote recruitment agency, we've advised many of our clients, helping them decide which time of employment suits their needs best. Contact us and let us help you find the remote IT-qualified professional you're looking for.
And regarding the paperwork? We do all that for you as well – insurance, tax, leaves, you name it – we'll sort it all out.