Web developers are often mixed-up with web designers. The main reason is that both careers have similarities, and they tend to complement each other when building great websites. However, they are completely different areas of expertise. If you are looking to build a website for your company, you should know the differences between a web developer vs. a web designer. We created a small guide with Ihor Shcherbinin, our Recruitment Director to help you clarify and define what type of employee will make the perfect fit for your team.
Web Developer vs. Web Designer
In simple terms, the difference between a web developer and a web designer is similar to the difference between architects and house designers. An architect builds the house in a way that people can comfortably live in, and of course, it's strong enough that it won't collapse and kill anyone. While the house designer oversees the artsy side, designing how the house will be more attractive and comfortable.
With a website, it happens the same. Let's explore the primary roles and the main differences between web developers vs. web designers.
The Role of a Web Developer
Web developers build and maintain websites. Their primary purpose is to create functional websites that give users the best experience. They take a website design and project and make it into a reality. This is why they are involved in the more technical aspects of development. They need to learn programming languages, most commonly PHP, Java, Ruby (among others), and understand how the Internet works.
There are three types of web developers: Front-end developers, Back-end developers, and full-stack.
Front-end developers: They are highly skilled in UI (user interface) and UX (user experience). They oversee the visual aspect of websites; therefore, they often work side by side with web designers. The difference is that web designers work more on the creative aspects, while front-end developers focus on the functional elements.
Back-end developer: They ensure that the website runs efficiently by maintaining the server-side code. This way, data runs efficiently throughout the website, from the front-end (what the user interacts with) to the back end (the database).
Full-stack developer: They take care of both parts of a website, front and back.
The main responsibilities of a web developer involve:
Write efficient code
Create a website using basic HTML, Css and Javascript
Maintain software documentation
Work closely with project managers, designers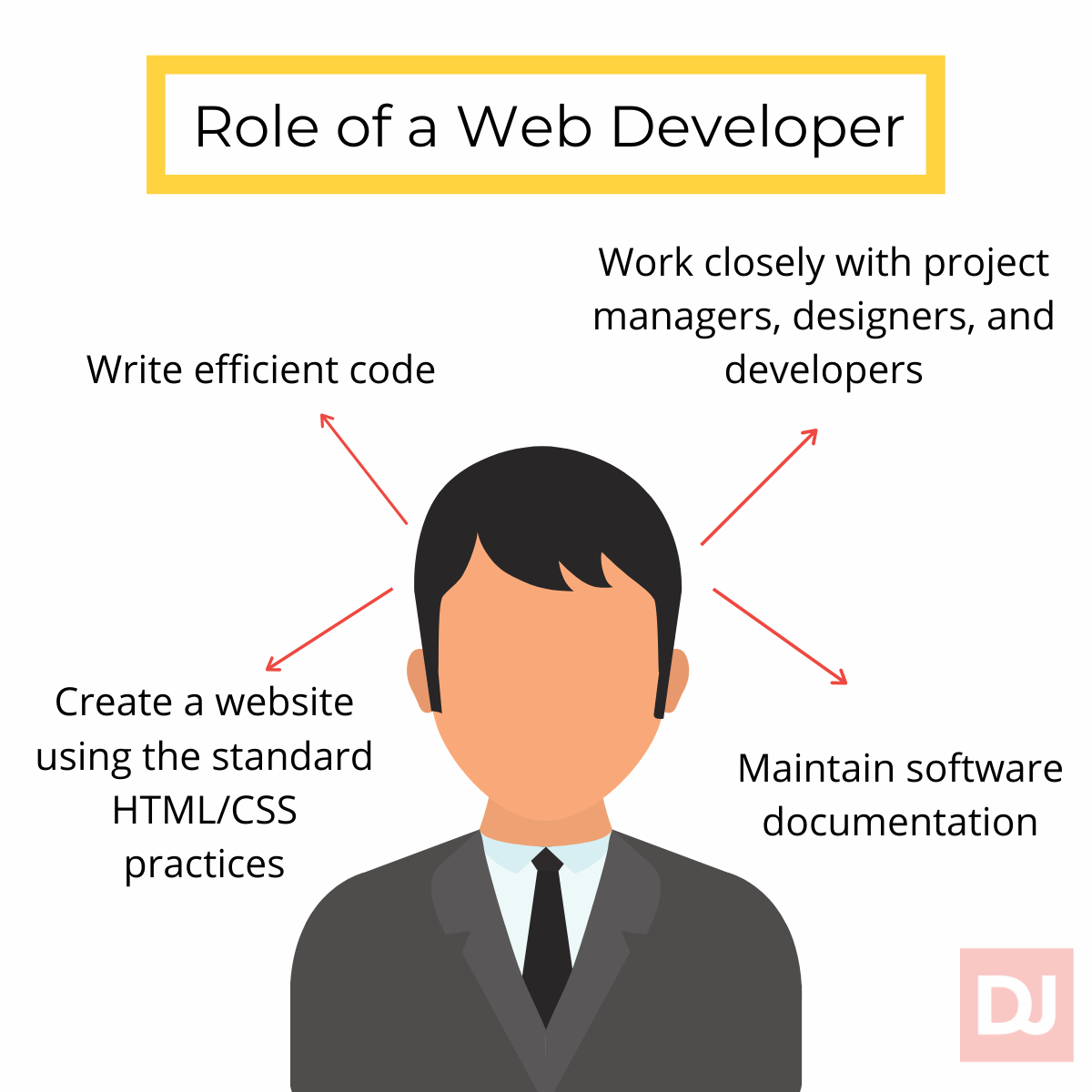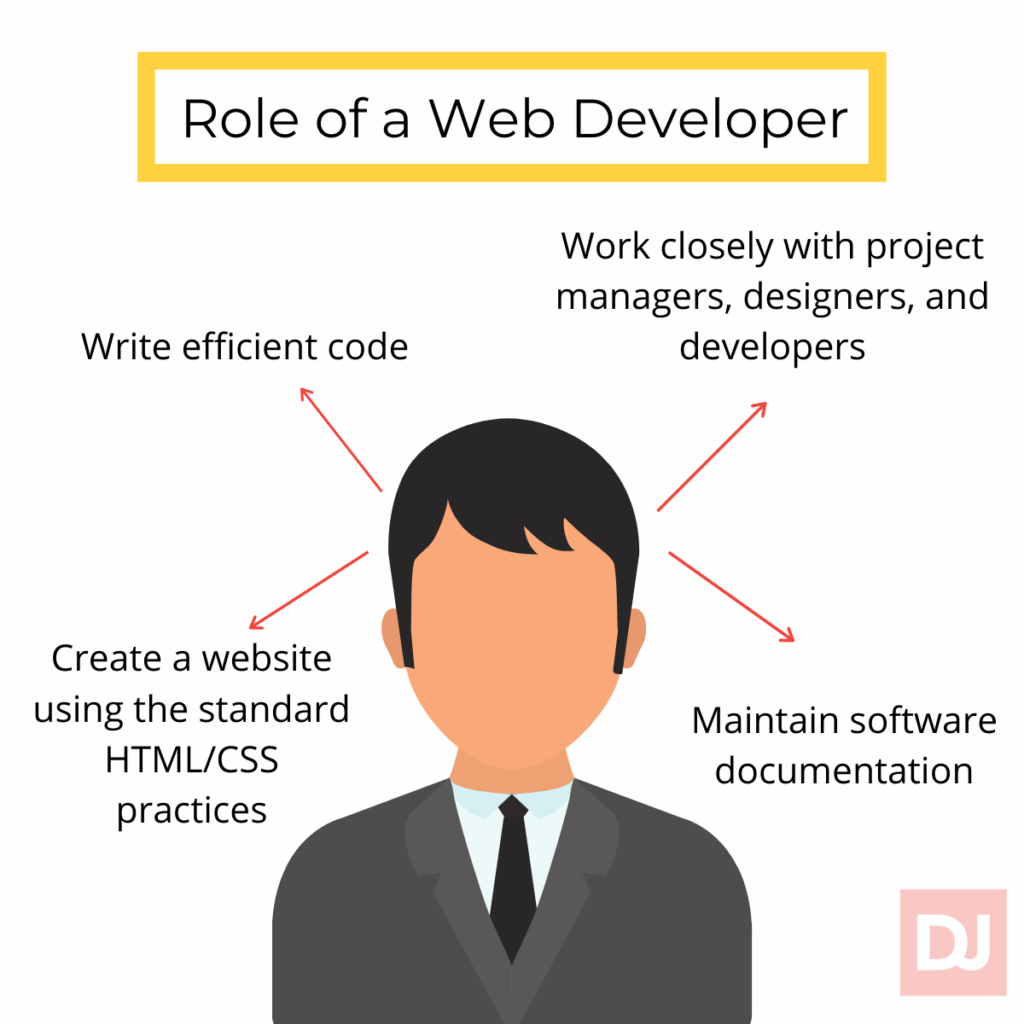 The Role of a Web Designer
Web designers mainly focus on everything involved with the visual aesthetics and usability of a website. Having an attractive website is incredibly important because it's what makes users catch the bate. According to statistics, 94% of first impressions are related to your site's web design.
If you have a great product but an ugly website where users have no clue how to use it, likely they will look for another option. That's why a web designer's role becomes fundamental for those companies looking to increase their digital awareness.
Web designers, like any other type of designer, are great connoisseurs of color schemes. They can build great website layouts and understand how everything should be set up for users to have a great experience. They relate mostly to the aspects of the UI/UX.
Web designers are also highly experienced in using Photoshop, Illustrator, and can design logos, create a branding strategy, layout forms, place CTA buttons, and more things.
The main responsibilities of a web designer involve:
Conceptualize creative ideas
Test and design the website
Creates functionalities and features of the website
Establish design, guidelines, standards and best practices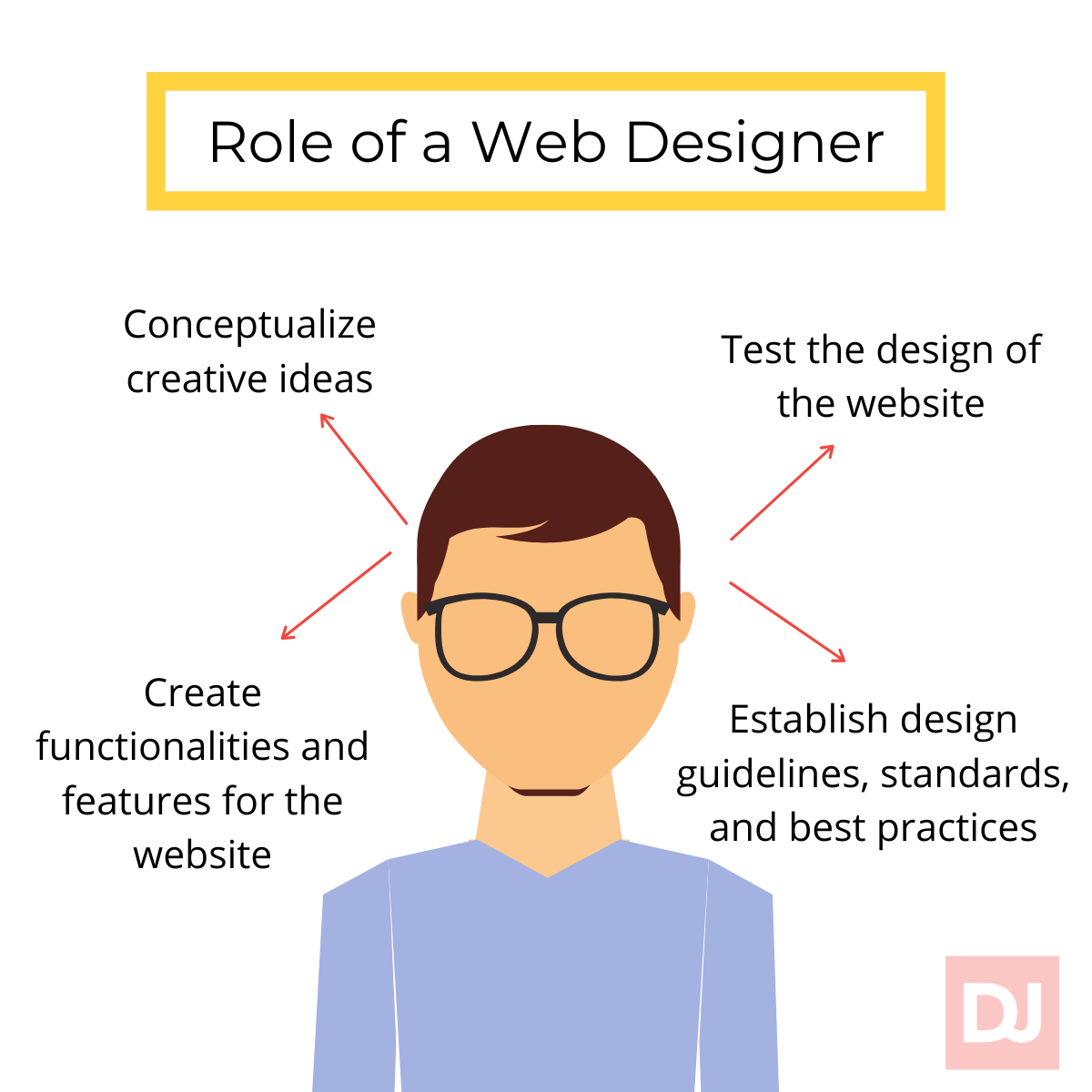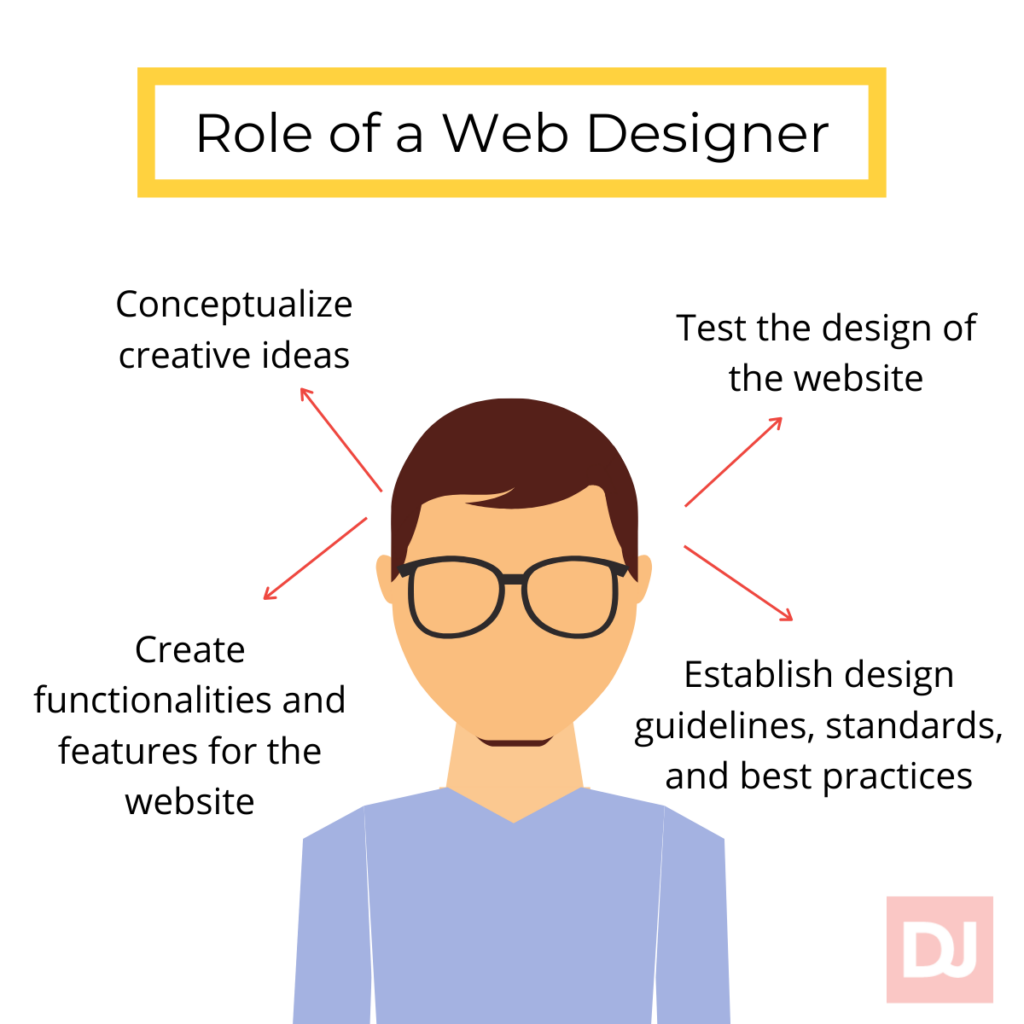 Which One is Better to Hire a Web Developer or a Web Designer?
The table below shows practical examples of different tasks and who you should hire for each one of them. This will help you better understand if you need to hire a website developer or a website designer.
| | |
| --- | --- |
| Task | Web Developer vs. Web Designer |
| Design webpage layout | Web designer |
| Build contact forms | Web developer |
| Update websites | Web designer |
| Test webpages (identify errors) | Web developer |
| Create logos – photo edition | Web designer |
| Optimize websites (better speed) | Web developer |
| Design responsive landing pages | Web designer |
| Maintain and update websites | Web developer |
How to Hire a Web Designer or a Web Developer
Now that you've learned the main differences between hiring a web developer vs. a web designer, you are probably wondering how to find the best designer or the best developer. Right? (Yes, we can read minds too.)
Here are 3 popular strategies to find and hire the talent you are looking for:
1) Freelancing platforms
Freelancing platforms are the thing these days. Freelancers are nomads who wander through the web seeking gigs. You hire a freelancer for a small task, he gets the work done, and that's it! If you decided that you want to hire a freelancer, there are many popular platforms such as Upwork, Fiverr, PeoplePerHour, among others, where you could dive into and hire someone talented. Although, as the saying goes, all that glitters is not gold, and hiring freelances has drawbacks to take into consideration.


2) Social media
Social media has gained tremendous weight these past years because people showcase their abilities and work through it. Let's say you are looking to hire a web developer; you could sneak into Facebook (or Twitter) communities and find someone who is talented and looking for a job. Or use other platforms such as LinkedIn, which has proven to be one of the favorites of recruiters as well.
3) Remote recruitment agencies aka DistantJob
Remote work is our reality, and fortunately, it has proven the many benefits it brings to the table. Whether you want to hire a web developer or a web designer for your website, considering hiring a remote one opens a door of significant benefits. For example, you could have a committed full-time remote developer working for you in a city with lower costs of living, which means you pay lower salaries. But, the best part is that you are paying for someone extremely talented that otherwise in your local city you wouldn't be able to find (or afford). 
Sounds good right? If you got excited by reading this, you are in the right place. DistantJob is a Montreal based tech recruitment agency, with many years of experience making the perfect match between companies and IT talent. Don't wait anymore and contact us!