As startups and companies move towards a remote model, hiring offshore developers simply make sense. The ''why'' is no longer the problem by now; the ''how'' is. How to hire offshore developers without wasting time or resources? In short: By implementing business-wise strategies.
I've been helping companies hire remote developers for more than 10 years. And with the recent demand for remote tech talent due to the pandemic, I often get different types of questions regarding offshoring a development team.
By talking to different clients and networking, I've learned that many people think that they should focus mostly on writing compelling job descriptions with the words "remote work" or focus primarily on their technical interviews. While these are all things that need to be carefully considered, offshoring developers goes beyond that.
The key to hiring offshore development teams is to start from the basics. From evaluating your budget and business model to knowing the skills you need and the right sources to hire developers remotely. We will evaluate all these aspects in this article.
How to Hire Offshore Developers: 5 Basic Steps
Here's a checklist with the 5 basic steps to take when recruiting offshore developers: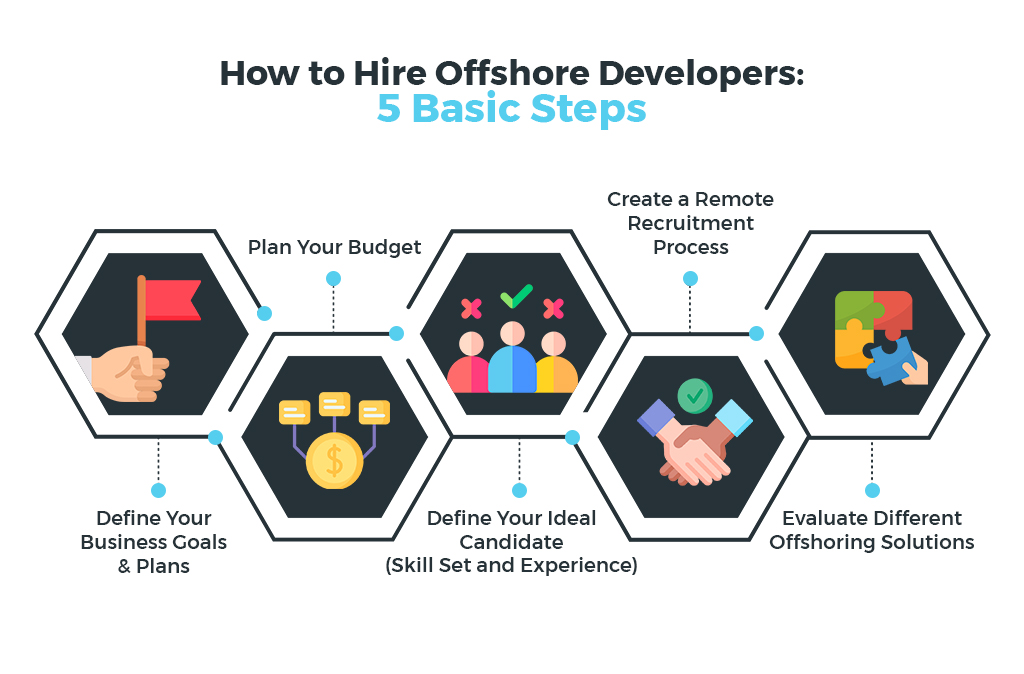 1. Define Your Business Goals and Plans
Before starting the recruitment process, your priority should be defining your business goals and creating a plan.
If you're a startup, in this stage, you should focus on what problem you're solving with your initial MVP. In the same vein, knowing and communicating why your product/service is a solution to a specific problem will help you define your short and long-term goals.
Tracing a map of the project and how things are going is important to see if your startup is viable and to explain it to your future development team and clients.
In companies already established in the market, although they might have traced their plans and have well defined where they want to go, they still need to define how offshoring developers will impact their business processes.
The key is that businesses define the goals and expectations for the new offshore development team. When they start working for the company, they know what they are aiming for and what their purpose is.
2. Plan Your Budget
Cash flow can be the reason why any startup or company fails. In the case of startups, it's a bit more delicate as every penny counts, and one bad financial decision can cost the entire project. Defining your initial capital and knowing how much you can spend on certain areas is something to do before starting the recruitment process.
For example, the primary benefit of offshoring developers is that you get to access talent in affordable countries. However, this is something to be careful about because although you might be saving money, in some cases, it still is a significant investment to make, so before starting with the hiring, make sure to define how much you can spend on recruitment. This means, make a budget of:
Salary range (Minimum-maximum you're willing to pay)
Calculate the cost of the recruitment process (this includes tools, time, and paperwork)
Evaluate if working with a third-party company is worth it to achieve your hiring purposes and create a budget for it.
Also, keep in mind that due to COVID-19, countries are establishing remote work regulations. This depends on the country you want to hire from, so make sure to research in-depth.
Both startups and companies need to consider that hiring offshore developers requires additional tools. For example:
Project management tools (Basecamp, Trello, Asana)
Communication tools (Zoom, Slack, Skype, Teams, Gmail)
Documentation tools (Dropbox, Google Drive)
Payroll tools (Deel, Bitwage, Hubstaff, Papaya Global)
3. Define Your Ideal Candidate (Skill Set and Experience)
When you have already defined a budget and already have a concrete business plan, your next step is to know your ideal candidate's skills and level of expertise.
Knowing exactly what position you need to fill and the necessary attributes and skills candidates should have will help you streamline your recruitment process. It's easier to hire candidates when you already know what you want and don't want.
This step will also help you define how to evaluate a candidate's technical knowledge and soft skills. If you're not sure what skills you need, think about why you want to hire offshore developers in the first place? Go back to your original plan, review it, and define the roles candidates need to fill. Whether it's just one person or a group of developers, you can start with the recruitment process once you have these roles pre-defined.
Remember, those ideal candidates are not only those with great expertise, professional trajectory, and hard skills. But they can also communicate effectively, work in a team, and work remotely successfully. These are 3 aspects to evaluate:
Personality traits or soft skills.
Past work history and experience.
Technical skills and abilities.
4. Create a Remote Recruitment Process
Once you have these foundations set, you can start with your recruitment process. In most cases, companies need to evaluate their previous recruitment process to see what works and what doesn't. This step is particularly important for those who had never hired remote developers as the process is entirely different.
Read more: 6 Reasons To Hire a Remote Recruiter to Find your Offshore Talent
The first thing you need to do is make sure you have the right tools to evaluate candidates. These tools mainly consist of video application platforms such as Zoom, Skype, or Google Teams. Once you have the essential tools, start with the recruitment process:
Write a detailed job description: Explain what role you're seeking, with the skills and abilities required. Ensure to add time zone, the type of contract, and any other relevant detail that candidates need to know.
Look in the right sources: Hiring offshore developers means you'll need to look out for them in different sources. This can be in job markets but also social media platforms like Facebook groups or LinkedIn. If you still can't find the right candidate, consider working with remote recruitment companies.
Evaluate candidates: Once you have a few interesting candidates, it is time to evaluate them. Analyze what's the best procedure for testing their skills, whether it's live coding tests, a small project, group projects, etc. Also, try conducting different types of interviews to know more about the candidate's personality and how they interact with different company employees.
Onboarding: Onboarding is just as important as evaluating. It helps new employees to understand more about your culture, processes, and workflow. It's not only about introducing new colleagues and talking about the team, but it's also their first experience in your team, so try to make it as enriching as possible.
5. Evaluate Different Offshoring Solutions
The truth is that the previous step sounds easier in theory than in practice. Sourcing for candidates tends to be one of the longest and most tedious tasks, especially when you're looking for specific skills and levels of experience.
When companies have no experience with remote recruitment, they can face many roadblocks in the process. From the sourcing part to HR tasks such as payroll costs, interviewing, policies, and documentation. If this is your case, and you feel that doing the recruitment process yourself can cost you time and money, consider working with different offshoring solutions.
Pros and Cons of Hiring Offshore Developers
Instead of wondering why hire offshore developers for your startup business, I dare you to change the question to why not?
While most of you, as I just mentioned, are more worried about the "how" it's always worth evaluating all the pros and cons of hiring offshore developers. This way, before starting the offshore hiring process, you're aware of what you're dealing with: Both the benefits and the challenges.
Offshore Software Development Advantages
1. It Helps You Stay on Budget While Accessing Top Talent
Did you know that the second reason why startups fail is that they ran out of cash?
When starting a business, it's difficult to pinpoint what are your main priorities. You need to hire top talent to make your business grow, but at the same time, you need to invest your resources in different things depending on your industry. Maybe you need to invest in tech stacks or internet services. Whatever the reason is, hiring offshore developers will help you stay on budget.
You can hire developers at affordable prices while accessing top talent at the same time.
Just to give you a general panorama of how much you can save by hiring international developers, check out the table below that has the average salaries of software engineers in different regions.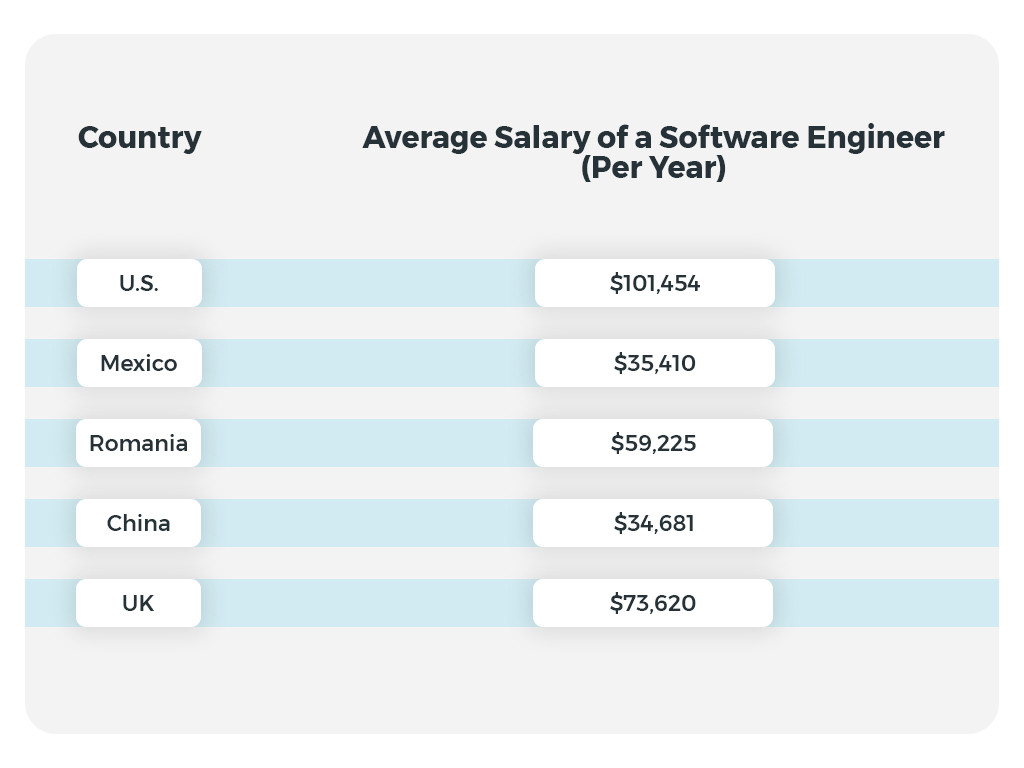 2. Best Strategy to Attract Elite IT Professionals
2020 changed the recruitment game forever. Now that companies work remotely and are changing their structure into either hybrid or full-time remote, employees don't want to return to the pre-pandemic work environment. Before the pandemic, remote work was already a strategy to attract developers. So, was offering gym perks, snacks, and other multiple benefits.
Now remote work has become the strategy to attract elite IT professionals. Employees of all kinds of industries are craving flexibility as it allows them to build a better work-life balance. And developers are no exception to this.
According to Terminal, 83% of software engineers said they want to continue working remotely after the pandemic is over.
3. Helps Startups Scale-Up Easier
There are many keys and secrets to scaling your startup. There is not a one-fits-all recipe for success. In your case, you might need to work on your funding strategy or in optimizing specific processes. However, a great way to scale a startup is by hiring an accessible and talented workforce.
When you hire offshore developers, you are not only investing your resources wisely. You're also choosing and picking employees with a specialized skill set to help you grow your business. Plus they are not external employees; they are deeply involved in your company and work by your processes and workflows. The only difference is that they are not in the same physical location as you. Don't know where to start your search for remote developers for your startup? Luckily we create this list with the best places to find the ideal developer/partner.
4. Increased Productivity
Another advantage of hiring an offshore development team is that you reduce costs and speed up the development process. This saves time, and we all know that time translates into money.
Time is a decisive factor for any startup. In a study conducted by Idealab, where 200 companies were analyzed, the single biggest reason startups fail was timing. They choose the wrong timing to launch their product/service. And as startups are born in a competitive setting, if you take too long to launch a product, likely someone else will.
Besides this, offshore developers are more productive as they work in their own environment. They get to focus more on their tasks which help them deliver projects successfully and on time.
Offshore Developers Hiring Challenges
1. Time-Consuming
If you want to take care of the hiring process, unless you have a solid HR team with experience in remote hiring, the process can be time-consuming. Firstly, because it often happens that talented developers already have jobs. You need to do an in-depth search on social media platforms and contact them directly, offering an opportunity they can't refuse.
Secondly, evaluating tech skills in a remote environment can be challenging when you have no experience, and besides, hard skills are not the only ones that matter. Soft skills, particularly when it comes to communication, are what will make a remote team succeed or fail. You need to keep an eye on those while interviewing offshore developers.
And lastly, as there are many vendors to choose from, it can bring confusion when selecting the right one. You can spend a lot of time working with the wrong agency, so it's important you keep in mind what they offer and the cost of their services.
2. Cultural Differences Can Become an Obstacle
Cultural differences can be an opportunity or a nightmare. Usually, offshore development teams are built by developers from different countries. This means, despite having similar skills and expertise, they have different backgrounds and perspectives. And while this may increase diversity and creativity, it can also bring problems, especially when cultures are quite the opposite.
Managing culturally diverse teams requires a lot of intentional communication and transparency.
3. Potential Cyber Security Risks
This challenge depends on your business. If you have a solid security system, you have nothing to worry about. However, it's worth highlighting that many remote teams usually work under BYOD (bring your own device) policies, which increases the potential risk of cyber-attacks. Hacking, malware, and data leakage have become the biggest risks of BYOD.
Since all information is on the cloud, your confidential data could be at risk in the hands of remote developers. You need to provide your offshore team with the right guidelines, policies, and parameters to ensure there is no risk.
4. Requires a Different Management Mindset
A good manager is a good remote manager. When you manage offshore developers, you'll learn that you can't manage them as if they were an onsite team. The first reason, and the most obvious, is that you're not in the same space. You can't expect that your team knows what you want without communicating properly; sadly, telepathy doesn't exist.
Secondly, trust becomes a major element in offshore teams. As you can't see and control what your team is up to, you need to make the right hiring decision to trust they will fulfill their tasks and your expectations.
Need Help with Finding Offshore Developers For Your Startup? Contact DistantJob
At DistantJob we're a fully remote recruitment agency specialized in IT talent. We care that our clients match their hiring expectations with seasoned developers from different parts of the world. Besides having a fast recruitment process (we take only 2 weeks to give you a perfect match), we make sure all candidates align with your time zone, culture, and processes.
We know the difficulties of finding offshore developers; that's why our purpose is to guide our clients through all the processes. We've been in the business for 10 years, we have a giant database with thousands of candidates, and the best part is that we also take care of all the HR hassle.
We handle everything from recruitment to payroll, contracts, and legal aspects. We want to help you grow; contact us today via our hiring developer page! 
FAQ
These are the top 5 questions you and your team need to ask before hiring an offshore developer: 
Do I have Enough Resources to Manage an Offshore Development Team?

Managing remote development teams is not only about paying a lower salary, there are other variables that you need to consider. For instance, you will likely need to purchase different tools to manage your team. Before starting the hiring process:
– Do the math.
– See if it's worth it and if this strategy allows you to save money.
Remember that investors will only fund startups after seeing a Minimum Viable Product, so you always need to prioritize your budget and stick to it.
2. Is Everyone on the Team Comfortable with Hiring Offshore Developers?
You might think that offshore development services are the best idea to stay on budget and access top talent. But other co-founders or members of the team might not agree with you. And this can cause many problems because managing offshore teams requires a lot of commitment, tools, and different strategies. Everyone must agree, especially when it comes to startups that have a lot at stake.
3. Am I Comfortable in Trusting and Giving Freedom to My Remote Team?

Managing an onsite development team is nowhere near managing a remote team. You need to give even more trust and freedom, as likely many developers will be in other parts of the world. You can't spy on them and be constantly bugging them because otherwise, how will they get work done?
If you feel you need to constantly oversee your team and control them closely, hiring an offshore team might not be the best idea. This strategy requires managers to forget about micromanagement.
4. How Do I Find An Offshore Developer?

Doing the recruitment process by yourself will save you money, but definitely not time, which turns into money at the end of the day. If you have a solid network of tech professionals, you could find and hire someone quickly. But let's face it; the IT industry is one of the most competitive. It is not that easy to hire someone that besides being talented, charges an affordable price.

That's why considering a remote recruitment agency can be a good idea. They will help you hire a professional/s with the skill set and personality traits you're looking for. For example, at DistantJob we not only focus on evaluating aspects but also on the personality traits. We analyze a company's culture and make sure candidates will be the right fit for it. If you want to do the candidate's search and screening on your own, check our list of best places to find remote developers.

5. How Much Money Are We Willing to Spend on Offshore Developers?

Finally, it all comes down to the budget. Evaluate your financial situation and see how much money you can spend on hiring an offshore developer.  Remember that it's important to set a realistic salary according to the quality and the skill set you want to have on your team. This means while other developers can charge a low salary, they might not have the necessary skills.

To make a business-wise hiring decision, remember to balance quality and price that don't negatively impact your MVP.