Hiring offshore developers has become a key strategy for businesses looking to optimize their resources, access better talent, and stay competitive. Accelerance Global Software Outsourcing report revealed that over 60% of companies plan to scale their teams by offshoring software development experts in 2023.
Besides having an increased talent pool, Deloitte´s Global Outsourcing Survey highlights that the main reason why businesses look for offshore employees is due to cost reduction. The average cost of software development services significantly varies depending on the country. Other factors influencing the cost are experience, education, hiring model, and more.
In this article, we will explore offshore software development rates by country and key strategies and platforms useful to hire offshore developers successfully.
Why Hiring Offshore Developers is a Viable Strategy for SMB
As an owner of a small business, adopting agile and cost-effective operational models is not just a smart strategy, but a survival imperative. This is where offshore hiring shines as a beacon of pragmatic adaptability amidst the swirling economic uncertainties. It's not merely a theory for us; it's our operational reality. Our team, spread across the globe, stands proof of the viability and benefits of this model. Let's explore its benefits in-depth:
Economic Benefits
Offshore development hiring is like opening a door to a world of talented individuals without draining your wallet. You get to hire skilled professionals from countries where the cost of living is lower, which means they have reasonable salary expectations. This can significantly cut down your business expenses, making it a smart move in today's tight-budget times.
Operational Benefits
With an offshore dev team, your business can keep buzzing even after your local team calls it a day, especially if they're in a different time zone. This way, your operations run around the clock. Plus, you can pass on routine tasks to your offshore team, freeing up your local team to tackle bigger, strategy-driven projects.
Business Enhancer
Hiring an offshore developer isn't just a cost-saver; it's a strategy enhancer. It brings a mix of fresh perspectives and skills to the table, fueling innovation. Also, having teams in different parts of the world can be a safety net, keeping your business running even if local disruptions occur.
The blend of saving money, improving operations, and strategic advantages makes offshore hiring a solid choice. In a time when saving every penny counts, tapping into the global talent pool isn't just wise; it's essential for growth.
Now, let's delve into the cost variance by comparing the expense of hiring a developer in the States versus engaging an offshore developer.
How Much Does it Cost to Hire Software Engineers in the US?
The average annual salary for a developer in the U.S. ranges from around $85,000 to $150,000 per year.
The cost can vary depending on the engineer's level of education, state, and specific skills required; however, on a general level, the software engineering salaries in the U.S. are higher compared to other countries due to factors such as the high cost of living and strong demand of IT professionals.
Salaries of developers who live in tech hubs such as San Francisco, New York City, or Seattle tend to be significantly higher as the demand for skilled developers increases in these areas. Experienced engineers can earn salaries reaching six figures and more.
The cost of hiring software engineers goes beyond the salaries, though. Factors such as benefits, taxes, and overhead expenses associated with maintaining an in-house team contribute to the total cost.
In the table below, you can see the difference in salaries and hourly rates based on experience and location in some of the U.S. states:
| | | | |
| --- | --- | --- | --- |
| State | Experience Level | Hourly Rate (USD) | Annual Salary Range (USD) |
| California | Junior | $30 – $60 | $60,000 – $120,000 |
| | Mid-Level | $60 – $90 | $120,000 – $180,000 |
| | Senior | $90 – $150 | $180,000 – $300,000 |
| New York | Junior | $25 – $55 | $50,000 – $110,000 |
| | Mid-Level | $55 – $85 | $110,000 – $170,000 |
| | Senior | $85 – $130 | $170,000 – $260,000 |
| Texas | Junior | $20 – $45 | $40,000 – $90,000 |
| | Mid-Level | $45 – $75 | $90,000 – $150,000 |
| | Senior | $75 – $120 | $150,000 – $240,000 |
| Washington | Junior | $25 – $55 | $50,000 – $110,000 |
| | Mid-Level | $55 – $85 | $110,000 – $170,000 |
| | Senior | $85 – $130 | $170,000 – $260,000 |
| Massachusetts | Junior | $28 – $58 | $56,000 – $116,000 |
| | Mid-Level | $58 – $88 | $116,000 – $176,000 |
| | Senior | $88 – $140 | $176,000 – $280,000 |
| Florida | Junior | $20 – $45 | $40,000 – $90,000 |
| | Mid-Level | $45 – $75 | $90,000 – $150,000 |
| | Senior | $75 – $120 | $150,000 – $240,000 |
Top Countries for Offshore Development and Their Rates
Hiring offshore developers can make your business reduce costs and access top talent. But how much can you actually save? Is the difference in costs that big?
While hiring remote developers has many benefits, keep in mind that you need to evaluate several factors. A country can seem affordable, but it can be difficult for businesses which leads to even more problems.
So, as not everything that shines is gold, the key to successfully offshoring developers is to evaluate your choices carefully.
Based on data from The World Bank and other sources such as Indeed, Glassdoor, PayScale, Salary, and DistantJob, we will explore the difference in costs as well as other factors depending on the countries.
Regions Overview: Cost of Hiring Offshore Developers
| | | | |
| --- | --- | --- | --- |
| Region | Hourly Rate (USD) | Anual Salary Range (USD) | Ease of Doing Business (0-100) |
| North America | $40 – $200 | $80,000 – $400,000 | 84 |
| Western Europe | $35 – $175 | $70,000 – $350,000 | 80.3 |
| Eastern Europe | $20 – $80 | $40,000 – $160,000 | 73.7 |
| Latin America | $15 – $60 | $30,000 – $120,000 | 65.7 |
| Asia Pacific | $10 – $50 | $20,000 – $100,000 | 65.5 |
| Africa | $10 – $40 | ​​$20,000 – $80,000 | 66.1 |
Let´s explore each region more closely, analyzing which countries are the best for IT remote recruitment.
Note: The ease of doing business index provided by The World Bank is the average based on the countries of each region. The Index ranges from 0 to 100, with 100 being the most favorable environment.
Software Development Rates in Western Europe
Western Europe rates are similar to North America in the sense that they are among the highest in the market.
Let´s look at the rates by country as well as other key factors to consider when hiring developers offshore:
| | | | | | |
| --- | --- | --- | --- | --- | --- |
| Country | Annual Salary Rate (USD) | Hourly Rate (USD) | Ease of Doing Business (World Bank Index) | English Proficiency | Time Zone |
| France | $60,000 – $80,000 | $30 – $45 | 81/100 | Moderate | UTC+1 |
| Germany | $55,000 – $75,000 | $30 – $45 | 85/100 | Moderate | UTC+1/+2 |
| Netherlands | $60,000 – $80,000 | $35 – $50 | 77/100 | Fluent | UTC+1 |
| Sweden | $50,000 – $70,000 | $30 – $45 | 85/100 | Fluent | UTC+1/+2 |
| UK | $65,000 – $90,000 | $35 – $50 | 83/100 | Fluent | UTC+0/+1 |
Software Development Rates in Eastern Europe
Eastern Europe has recently become a popular location to hire remote developers due to competitive rates and highly skilled professionals.
Eastern Europe has a strong talent pool of highly skilled professionals, with the region being known for having well-established educational systems, technical universities, and a focus on STEM (science, technology, engineering, and mathematics) fields.
| | | | | | |
| --- | --- | --- | --- | --- | --- |
| Country | Annual Salary Rate (USD) | Hourly Rate (USD) | Ease of Doing Business (World Bank Index) | English Proficiency | Time Zone |
| Slovakia | $25,000 – $40,000 | $15 – $25 | 39/100 | Moderate | UTC+1 |
| Poland | $30,000 – $45,000 | $15 – $30 | 55/100 | Fluent | UTC+1/+2 |
| Hungary | $30,000 – $45,000 | $15 – $30 | 52/100 | Moderate | UTC+1 |
| Ukraine | $15,000 – $30,000 | $10 – $20 | 64/100 | Moderate | UTC+2 |
| Czech Republic | $35,000 – $50,000 | $20 – $35 | 38/100 | Fluent | UTC+1/+2 |
| Romania | $20,000 – $35,000 | $12 – $20 | 55/100 | Moderate | UTC+2 |
Software Development Rates in Latin America
Latin America has emerged as a favorable region for hiring software developers remotely for different reasons. Most of its countries offer cost advantages compared to other regions in the globe. While the rates vary, in general, they are much lower than those in developed countries.
The region has experienced unprecedented technological growth in the last few years. The LATAM software industry is especially booming, generating revenue worth $22.1 billion in 2021. Argentina´s software market was valued at $1.9B and is expected to rise to 2.8B by 2026.
| | | | | | |
| --- | --- | --- | --- | --- | --- |
| Country | Salary Rate (USD) | Hourly Rate (USD) | Ease of Doing Business (World Bank Index) | English Proficiency | Time Zone |
| Brazil | $20,000 – $40,000 | $12 – $25 | 124/190 | Fluent | UTC-3/-2 |
| Colombia | $15,000 – $30,000 | $10 – $20 | 67/190 | Moderate | UTC-5 |
| Mexico | $15,000 – $30,000 | $10 – $20 | 60/190 | Fluent | UTC-6/-5 |
| Argentina | $15,000 – $30,000 | $10 – $20 | 118/190 | Moderate | UTC-3/-4 |
| Chile | $20,000 – $40,000 | $12 – $25 | 59/190 | Moderate | UTC-3/-4/-5/-6 |
| Bolivia | $10,000 – $25,000 | $8 – $18 | 152/190 | Moderate | UTC-4/-3 |
| Uruguay | $20,000 – $40,000 | $12 – $25 | 101/190 | Fluent | UTC-3/-2 |
Software Development Rates in Asia
Asia is another attractive location to hire software developers from, particularly for the strong emphasis on IT in the region.
According to recent research by McKinsey Global Institute, the region has accounted for 52% of global growth in tech-company revenues, 43% of startup funding, 51% of spending on research and development, and 87% of patents filed.
China, particularly, has proven to be among the best locations for skilled developers. HackerRank´s coding competition which focused on exploring tech skills across countries, proved this when its developers were first among the most challenging. Based on the results, China would take the gold medal if there were a hacking Olympics.
| | | | | | |
| --- | --- | --- | --- | --- | --- |
| Country | Salary Rate (USD) | Hourly Rate (USD) | Ease of Doing Business (World Bank Index) | English Proficiency | Time Zone |
| China | $20,000 – $40,000 | $10 – $30 | 78/190 | Moderate | UTC+8 |
| Singapore | $40,000 – $80,000 | $20 – $40 | 2/190 | Fluent | UTC+8 |
| Philippines | $10,000 – $30,000 | $5 – $20 | 95/190 | Fluent | UTC+8 |
| India | $10,000 – $30,000 | $5 – $20 | 63/190 | Fluent | UTC+5:30 |
| Sri Lanka | $5,000 – $20,000 | $5 – $15 | 97/190 | Moderate | UTC+5:30 |
| Malaysia | $15,000 – $40,000 | $10 – $25 | 5/190 | Moderate | UTC+8 |
Software Development Rates in Africa
Africa´s IT market has shown remarkable growth and has also gained attention from international businesses. The region has a rising demand for skilled service actor jobs, particularly in its young population.
Countries like Egypt, Morocco, and Tunisia, in North Africa, are among the most common offshoring locations as they offer significant advantages in terms of time zone compatibility with Europe and some U.S. states.
| | | | | | |
| --- | --- | --- | --- | --- | --- |
| Country | Salary Rate (USD) | Hourly Rate (USD) | Ease of Doing Business (World Bank Index) | English Proficiency | Time Zone |
| Morocco | $10,000 – $25,000 | $8 – $20 | 53/190 | Moderate | UTC+0 |
| Egypt | $8,000 – $20,000 | $6 – $18 | 131/190 | Moderate | UTC+2 |
| Tunisia | $8,000 – $20,000 | $6 – $18 | 80/190 | Moderate | UTC+1 |
| Nigeria | $6,000 – $15,000 | $5 – $15 | 131/190 | Moderate | UTC+1/+2 |
| Kenya | $8,000 – $20,000 | $6 – $18 | 61/190 | Fluent | UTC+3 |
| South Africa | $12,000 – $30,000 | $8 – $25 | 84/190 | Fluent | UTC+2/+3 |
How to Hire Offshore Developers? 5 Effective Strategies
Hiring offshore developers can be a smart move, but it requires a good strategy. Here's how to do it right:
1. Define Your Business Goals and Plans
Before starting the recruitment process, your priority should be defining your business goals and creating a plan.
If you're a startup, in this stage, you should focus on what problem you're solving with your initial MVP. In the same vein, knowing and communicating why your product/service is a solution to a specific problem will help you define your short and long-term goals.
Tracing a project map and how things are going is important to see if your startup is viable and explain it to your future development team and clients.
Although companies already established in the market might have traced their plans and have well-defined where they want to go, they still need to define how offshoring developers will impact their business processes.
The key is that businesses define the goals and expectations for the new offshore development team. When they start working for the company, they know what they are aiming for and what their purpose is.
2. Choose the Right Offshore Location
After understating your main goals and having an idea of the type of developer you're after, the next step is to look for the right location.
Research and select a suitable offshore location based on factors directly impacting your business. Consider the following:
Timezone Compatibility: Look for an offshore location with a timezone that aligns well with your in-house team's working hours. This will enable real-time communication and collaboration, increasing productivity and smoother project management.
Language Proficiency: Assess the English language proficiency of the developers in the offshore location. Effective communication is critical for a successful working relationship, so ensure that language barriers are minimal.
Technical Expertise: Research the tech talent pool in the offshore location. Consider the availability of developers with the specific technical skills and expertise your project requires.
Political and Economic Stability: Consider the political and economic stability of the offshore location. Stability ensures a conducive environment for business operations and minimizes potential risks.
Data Security and Privacy Laws: Investigate the offshore location's data security and privacy regulations. Ensure the country has robust data protection laws to safeguard your company's sensitive information.
Cost Considerations: Compare the overall costs, including labor and operational expenses, in the offshore location with other options. While cost savings are essential, prioritize the quality of talent and services.
Legal and Regulatory Framework: Understand the legal and regulatory framework of the offshore location. Be aware of potential legal complexities or requirements when hiring developers from that country.
3. Create a Remote Recruitment Process
Once you have these foundations set, you can start with your recruitment process. In most cases, companies need to evaluate their previous recruitment process to see what works and what doesn't. This step is particularly important for those who have never hired remote developers, as it is entirely different.
Read more: 6 Reasons To Hire a Remote Recruiter to Find Your Offshore Talent
The first thing you need to do is make sure you have the right tools to evaluate candidates. These tools mainly consist of video application platforms such as Zoom, Skype, or Google Teams. Once you have the essential tools, start with the recruitment process:
Write a detailed job description: Explain what role you're seeking, with the skills and abilities required. Ensure to add the time zone, the type of contract, and any other relevant detail that candidates need to know.
Look in the right sources: Hiring offshore developers means you'll need to look out for them in different sources. This can be in job markets but also on social media platforms like Facebook groups or LinkedIn. If you still can't find the right candidate, consider working with remote recruitment companies.
Evaluate candidates: Once you have a few interesting candidates, it is time to evaluate them. Analyze what's the best procedure for testing their skills, whether it's live coding tests, a small project, group projects, etc. Also, try conducting different types of interviews to know more about the candidate's personality and how they interact with different company employees.
Onboarding: Onboarding is just as important as evaluating. It helps new developers to understand more about your culture, processes, and workflow. It's not only about introducing new colleagues and talking about the team, but it's also their first experience in your team, so try to make it as enriching as possible.
4. Overview of the Legal and Contractual Aspects
Hiring offshore software developers implicates different legal procedures, as you´ll also need to review the policies and legal aspects of the country of the developer you're hiring.
These are some of the aspects to keep an eye for:
Scope of Work: Clearly define the scope of work in the contract. Specify the project's objectives, deliverables, timelines, and milestones to ensure a mutual understanding of the project's goals.
Intellectual Property Rights: Address intellectual property rights explicitly in the contract. Clearly, state who will own the intellectual property developed during the project, whether it will be the hiring company or the offshore development company.
Confidentiality and Non-Disclosure: Implement robust confidentiality and non-disclosure clauses to protect sensitive information and trade secrets shared during the course of the project.
Data Security and Privacy Compliance: Ensure that the offshore development company complies with relevant data security and privacy regulations to safeguard the confidentiality and integrity of your data.
Payment Terms: Clearly outline the payment terms, including the payment schedule, currency, and accepted payment methods. Ensure that payment milestones are tied to the delivery of specific project deliverables.
Performance Guarantees and Penalties: Include performance guarantees in the contract to ensure that the offshore development company meets agreed-upon standards. Specify penalties in case of delays or failure to meet performance criteria.
Governing Law and Jurisdiction: State the governing law and jurisdiction under which the contract will be interpreted and enforced.
Review by Legal Experts: It is essential to have the contract reviewed by legal experts with experience in international contracts and offshore outsourcing. Legal professionals can ensure that the agreement aligns with local laws and regulations and protects the interests of both parties.
5. Streamline the Process by Partnering with a Reputable Offshore Development Agency
Skip most of the steps by partnering with a reputable offshore development company, saving time and costs. This way, you get to work with experts in the field with years of experience finding dedicated offshore developers.
Partnering with a specialized IT agency gives you access to a diverse talent pool of skilled professionals from different regions, ensuring businesses can find developers with the precise skill sets needed for their projects.
Moreover, the rigorous recruitment and screening processes implemented by these offshore firms guarantee high-quality talent, offering businesses a cost-effective solution without compromising on the excellence of their software development endeavors.
💡Interesting read: Remote Staffing VS Outsourcing: What's The Difference?
Where to Find Offshore Developers? 7 Best Solutions
Indeed´s tech talent survey revealed that 86% of respondents say hiring tech talent is hard due to several challenges, such as general talent shortage, competition, and difficulty finding local candidates.
These 7 platforms provide a shortcut to finding and hiring an offshore dev team:
1. DistantJob
Platform type: Tech-focused recruitment agency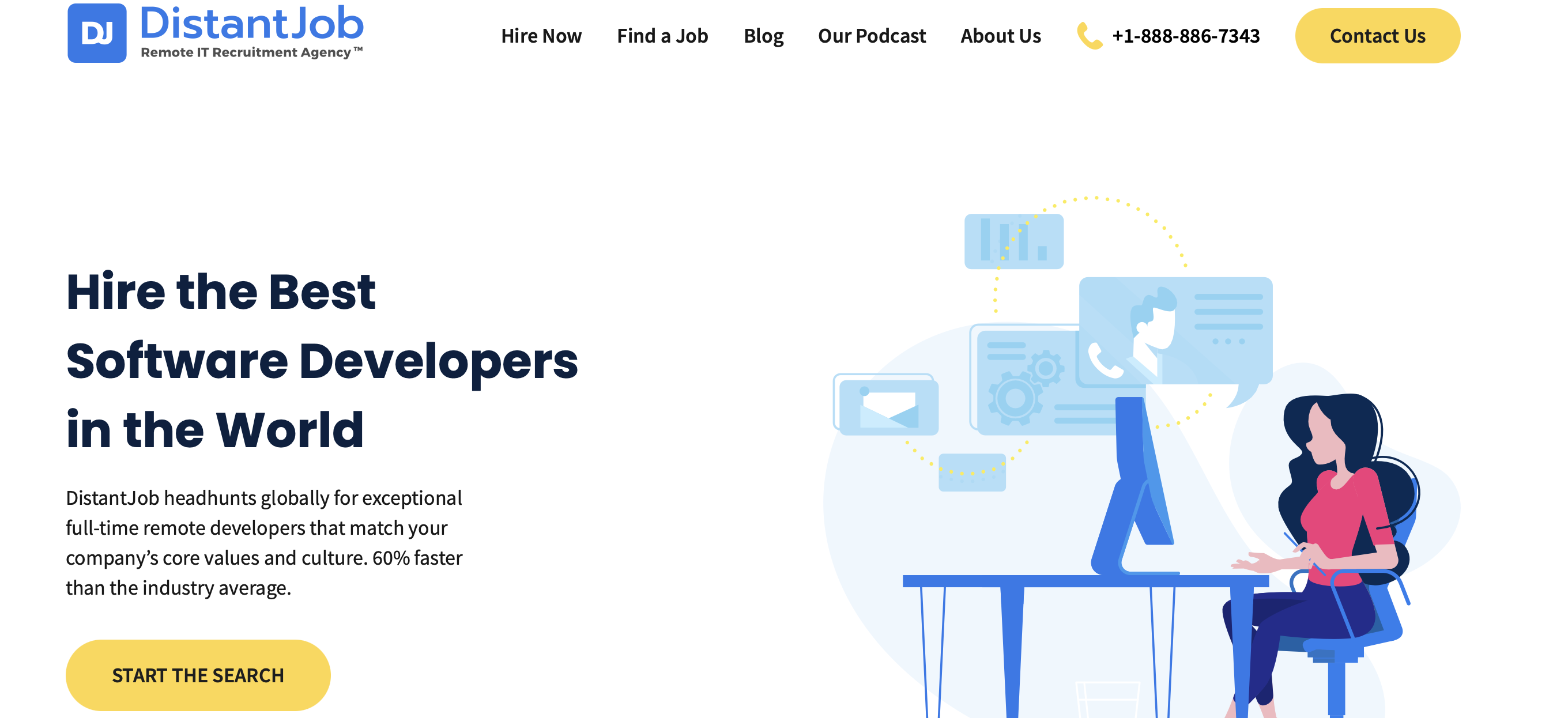 DistantJob stands out as a specialized IT recruitment agency with a unique approach to headhunting exceptional developers who meet a company's technical requirements and seamlessly integrate into its values and culture.
Setting itself apart from others, DistantJob follows a strict "no freelancers, no consultants, and no outsourcers" policy, granting companies full control over their developers or development teams.
Moreover, we emphasize the recruitment of career-driven specialists, providing dedicated support throughout the entire hiring process—from sourcing top talents to facilitating smooth onboarding and managing documentation.
2. AngelList
Platform type: Startup tech online job board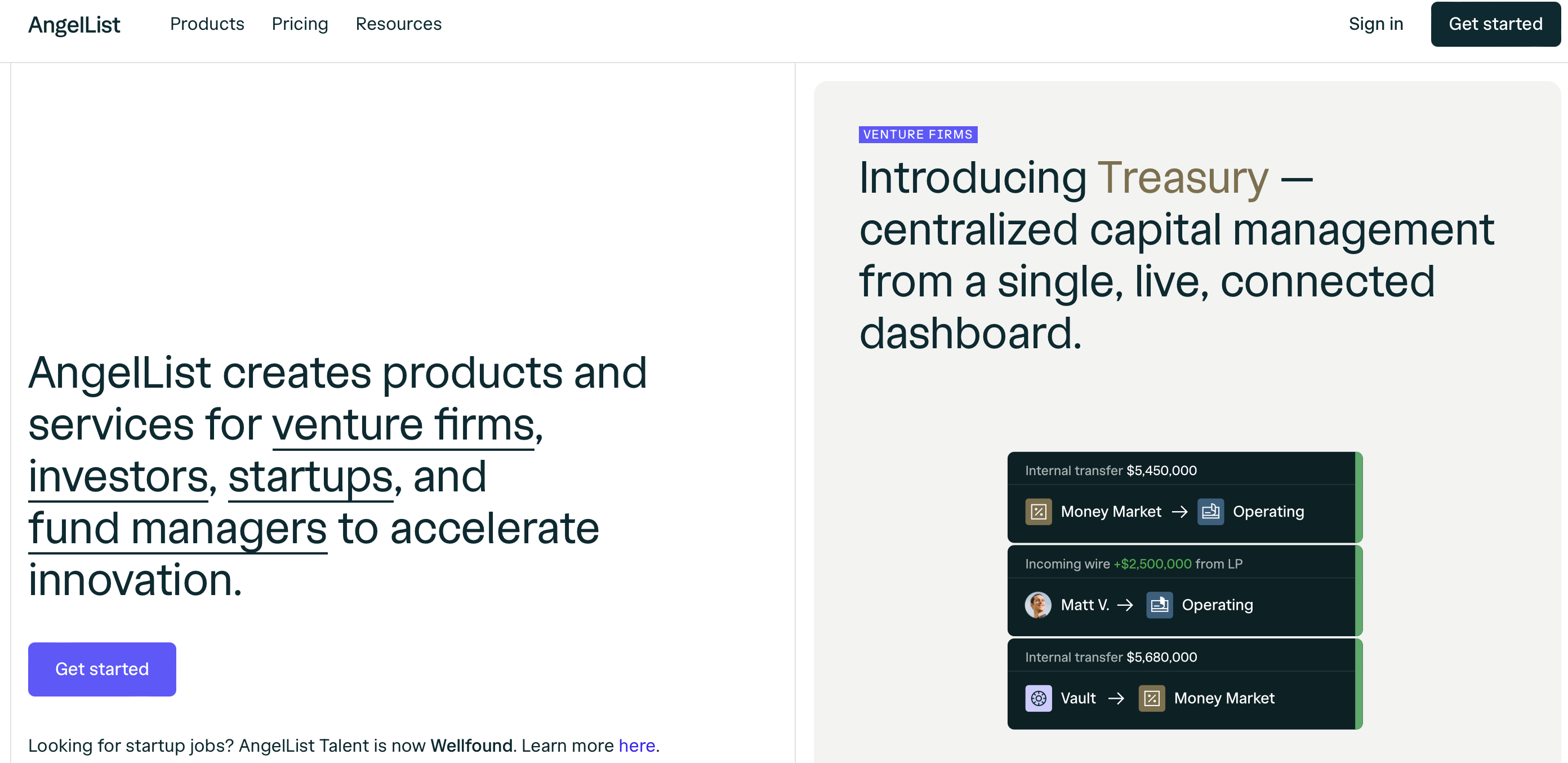 For startups seeking skilled software developers, AngelList emerges as the ideal platform. With its robust network, AngelList effectively connects startups, investors, and job seekers within the dynamic tech industry.
Functioning as a comprehensive marketplace, AngelList serves as a vital resource for startups in search of top-notch talent.
3. Toptal
Platform type: Tech-focused talent marketplace

Toptal is a renowned global talent marketplace that began its journey by exclusively linking companies with skilled software developers and engineers. Over time, its scope has grown significantly, encompassing an array of additional services, such as design, finance experts, and product and project managers.
The platform streamlines the contracting process, ensuring that financial transactions are secure, deadlines are met, and any potential disputes are effectively mediated to safeguard the interests of both freelancers and clients.
4. HackMIT
Platform type: Annual Hackathon

HackMIT stands as a highly anticipated yearly hackathon event hosted by MIT (Massachusetts Institute of Technology), attracting thousands of students from across the globe. This inspiring gathering fosters collaboration, innovation, and the rapid creation of imaginative solutions to real-world challenges within a restricted time frame.
Participating in HackMIT offers exceptional networking prospects, opening doors to potential hires for your company. By engaging with talented and ambitious students who excel in their respective fields, your organization can identify promising individuals who align with your vision and contribute to your team's success.
5. Apache Software Foundation
Platform type: Software developer community

The Apache Software Foundation (ASF) operates as a non-profit organization dedicated to offering support for open-source software projects. Within its realm, the ASF houses a diverse array of projects, encompassing renowned names like Apache HTTP Server, Apache Hadoop, Apache Kafka, among many others.
The foundation serves as a magnet for a community of talented and seasoned developers. Their active and dedicated contributions to a multitude of projects create an excellent opportunity for you to connect with potential candidates.
6. GitHub
Platform type: Software developer community

GitHub serves as a web-based platform that empowers developers to seamlessly collaborate on software projects, efficiently manage code repositories, and monitor version control. With its comprehensive features, developers can effortlessly host their code, engage in collaborative efforts through pull requests and code reviews, and actively contribute to open-source projects.
For businesses seeking to hire software developers, GitHub stands out as an exceptional resource. The platform boasts a vast and thriving community of IT experts who actively participate in various projects, showcasing their skills and expertise.
7. App Academy
Platform type: Coding bootcamp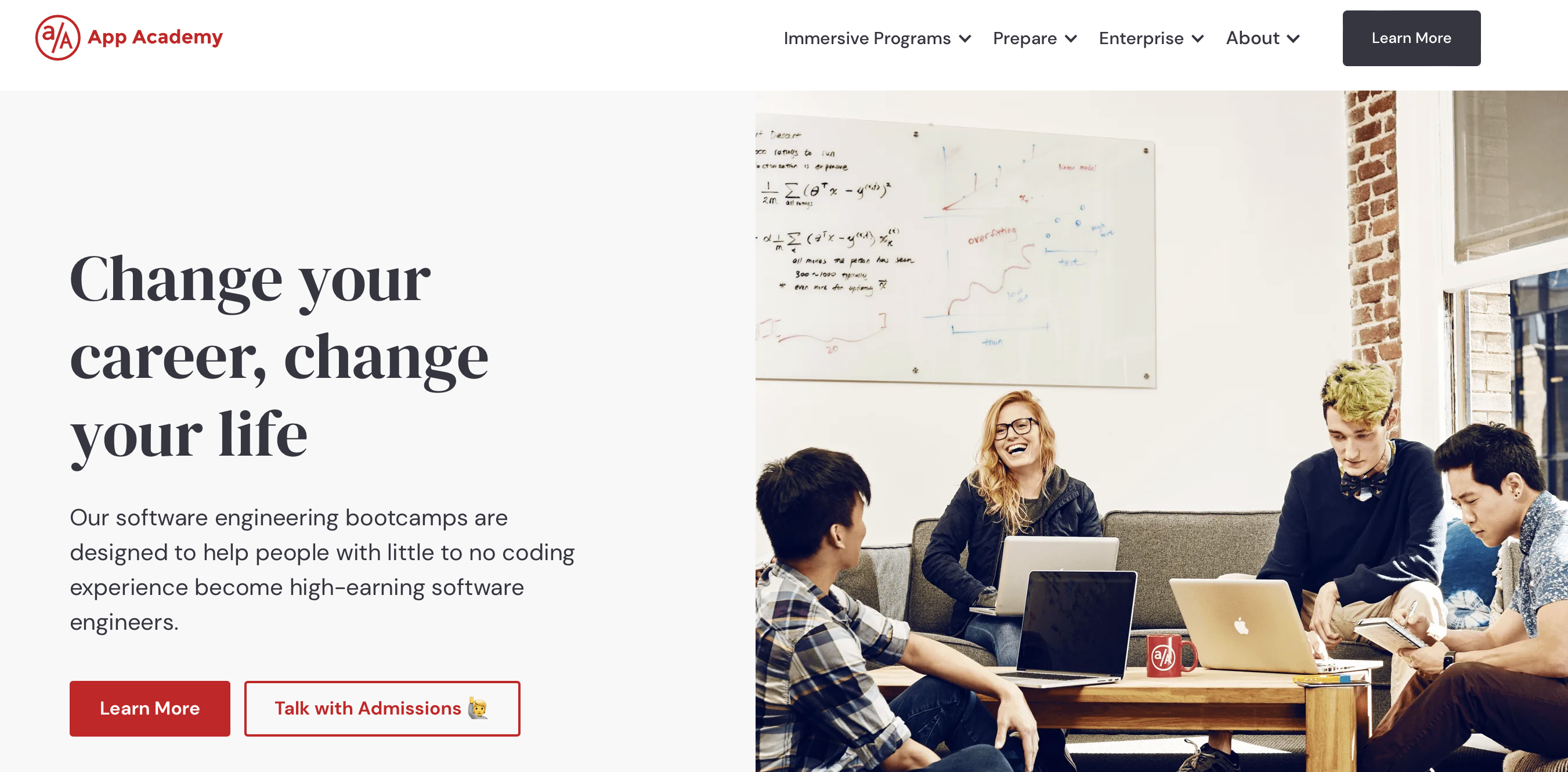 App Academy stands as a prominent coding bootcamp renowned for its rigorous and immersive software development training programs.
Notably, App Academy serves as a valuable resource for businesses, offering access to a pool of talented graduates prepared to enter the job market. These graduates undergo comprehensive training in programming languages, frameworks, and industry-standard tools, making them highly suitable candidates for entry-level software development roles.
Best Practices To Ensure Success with Offshore Teams
Navigating offshore development may seem tough at first if you're a newbie. but with the right strategies, it's totally doable.
Think of regular check-ins as your compass—they keep everyone on track and accountable. Tools like Slack or Zoom are your best buddies; they bridge the miles between teams, making collaboration a breeze.
It's all about creating a positive remote culture—celebrate wins, big or small, and make virtual hangouts a thing to keep the camaraderie alive. Communication is king, especially when time zones are playing hide and seek.
Set clear expectations from the get-go—it's the secret sauce for a smooth sailing offshore journey. And remember, a little flexibility goes a long way in blending the mosaic of work cultures offshore development brings to the table.
Need Help with Finding Offshore Developers For Your Business?
We know the difficulties of finding offshore developers; that's why our purpose is to guide our clients through all the processes. We've been in the business for 10 years, we have a giant database with thousands of candidates, and the best part is that we also take care of all the HR hassle.
We handle everything from recruitment to payroll, contracts, and legal aspects. We want to help you grow; contact us today!
FAQ
What Is The Meaning Of Offshore Developer?
An offshore developer is a software developer who is located in a different country than the company or organization they are working for. They collaborate remotely with the company's team, typically in a different time zone, to work on software development projects.
How Do I Manage Successfully An Offshore Development Team?
To manage an offshore development team successfully, prioritize clear communication, establish well-defined goals, use collaborative project management tools, foster a positive team culture, and conduct regular check-ins to ensure progress and address any challenges effectively.
What Are The Main Challenges Of Hiring Offshore Developers?
The main challenges of hiring offshore developers include dealing with potential language and cultural barriers, ensuring effective communication and coordination across different time zones, and addressing any legal and data security concerns related to international collaboration.
What Is The Best Offshore Destination For Us Companies?
The best offshore destination for US companies depends on specific project requirements and preferences, but popular choices often include Eastern Europe (e.g., Ukraine), Latin America (e.g., Mexico), and Asian countries (e.g., India, the Philippines) due to their skilled talent pools, cost-effectiveness, and time zone compatibility with the US.
What Are The Main Benefits Of Hiring Offshore Developers?
The main benefits of hiring offshore developers include cost savings, access to a diverse talent pool with specialized skills, and the ability to scale development teams quickly to meet project demands. Additionally, offshore developers offer flexibility, enabling companies to focus on core business activities while leveraging external expertise to enhance software development capabilities.