We've all heard the story of some guy who hired developers from India, because of the costs he saved paying cheap salaries, and had the worst experience. Stories like this make companies unsure of hiring remote programmers because they fear they will have a bad experience as well. Yet, hiring remote IT talent is getting popular not because of the costs but because of the pool of talent you have when doing so. For instance, eastern European developers have proven to be a rough diamond, with their excellent coding skills. Other regions have also ranked high in tech competitions. For instance, Latin America is a rising tech star, with many talented developers. If you are wondering if Latin America is a good source for remote programmers, this article is for you.
Hiring Remote Programmers in Latin America
There is not an exact number of developers in the world, but there is an estimate that it goes around 21-23 million. According to Evans Data's Global Developer Population and Demographic Study, it's projected that the number of developers will rise to 28.7 million in 2024.
The same study shows that two of the regions that will grow the most regarding programmers and the IT industry are the Asia Pacific region, followed by Latin America. Both regions are projected to grow faster than North America.
India is now the largest developer population center, the U.S. is the second one, and Brazil took Japan's place by gaining the fifth spot.
What does this mean? Brazil is now one of Latin America hotspots for hiring remote programmers.
The chart below shows the number of developers in several countries in the Latin American region according to Stack Overflow survey results: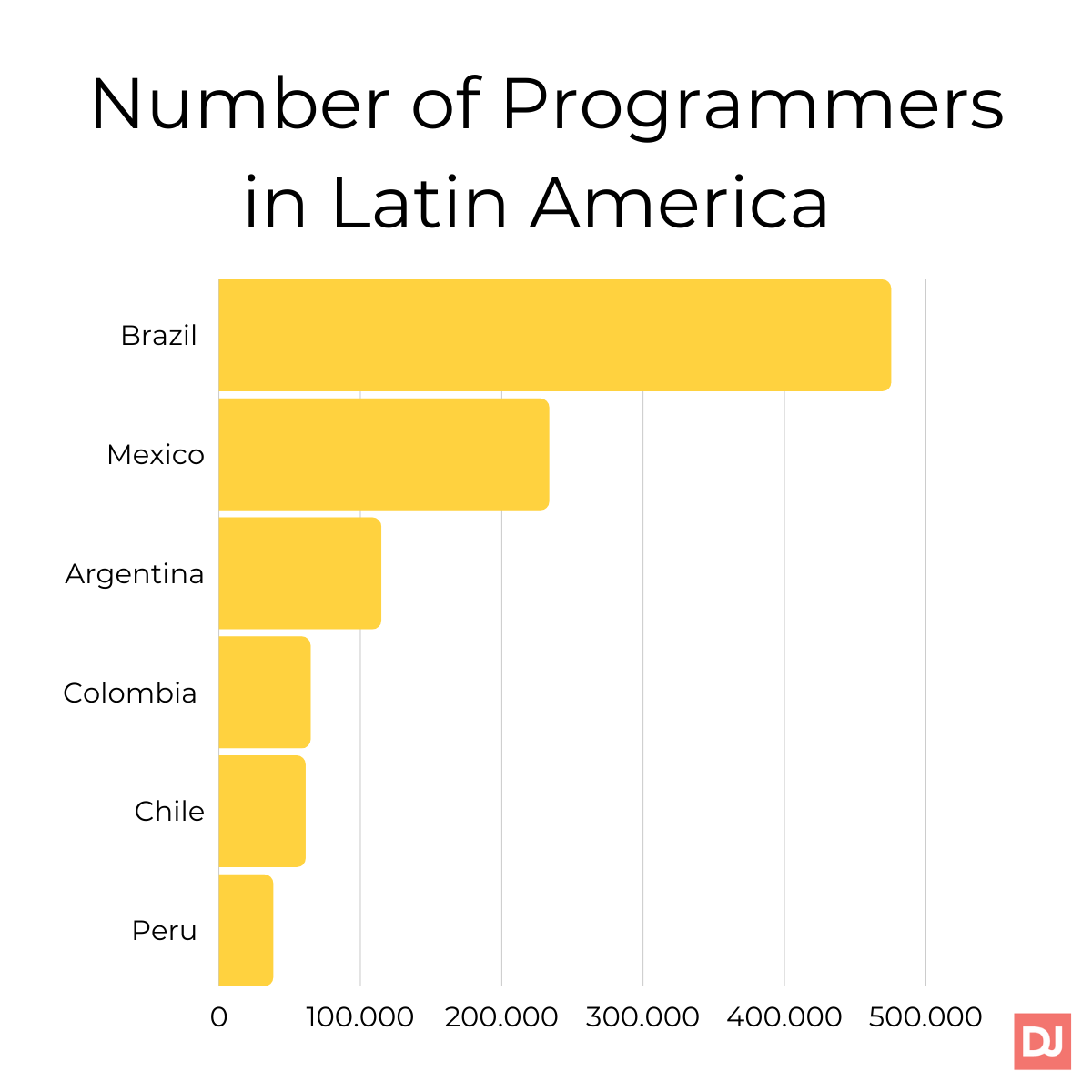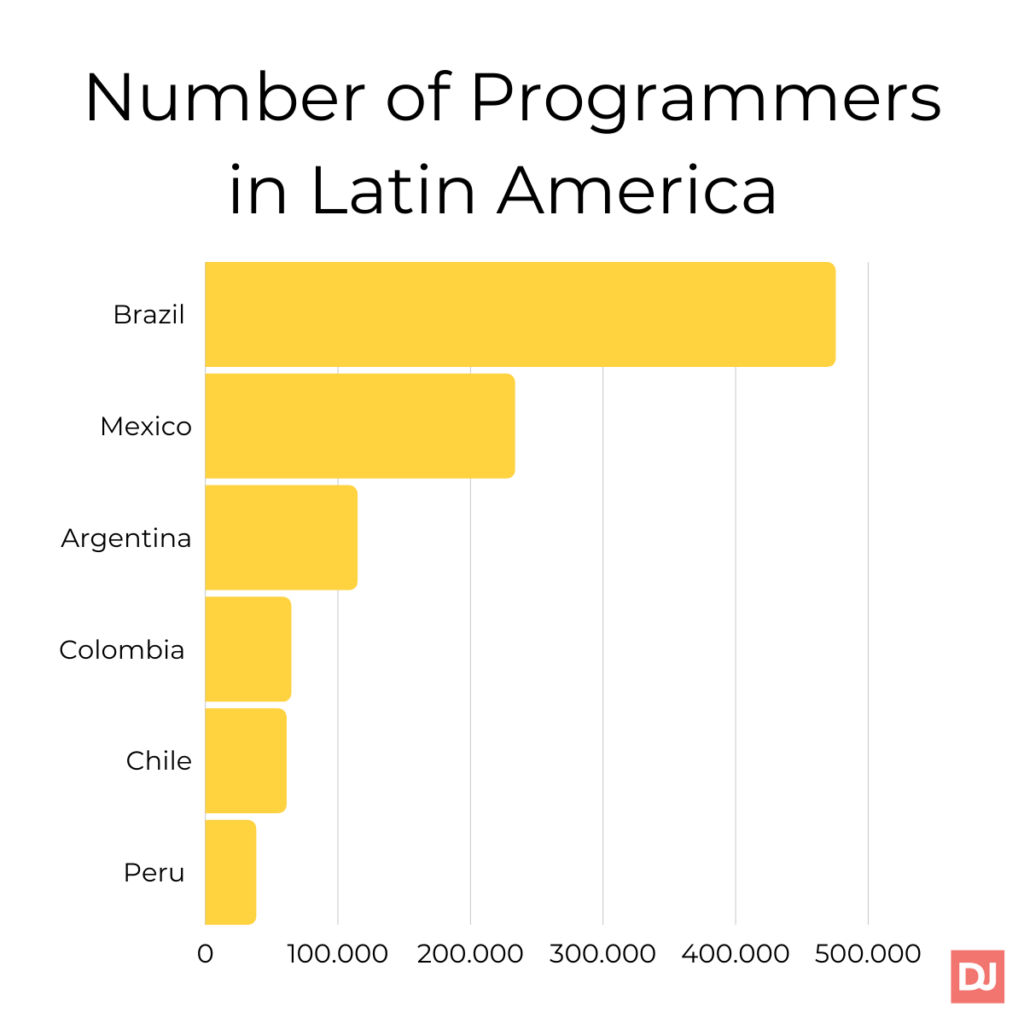 Which are the Best Countries for Hiring Software Developers in Latin America
There is great software engineering talent in Latin America that keeps rising as time goes by. To know more precisely which countries were the best in Latam (Latin America) regarding IT skills, we analyzed three different reports:
This test ranked 31 countries from which 4 belonged to Latin America. These are the results for Latam (Latin America):
| | |
| --- | --- |
| Country | Place |
| Argentina | 14th |
| Brazil | 17th |
| Peru | 21st |
| Mexico | 26th |
This test gathered 1.5 million developers from 50 countries. These are the results for Latam:
| | |
| --- | --- |
| Country | Place |
| Chile | 27th |
| Mexico | 33rd |
| Brazil | 38th |
| Argentina | 39th |
| Colombia | 45th |
This report is based on 550+ assessments from 44 countries. These are the results for Latam:
| | |
| --- | --- |
| Country | Place |
| Mexico | 2nd |
| Brazil | 20th |
According to these tests, the best countries to hire developers from in Latam are Brazil and Mexico. Followed by these ones you can find Argentina, Chile, Peru, and Colombia.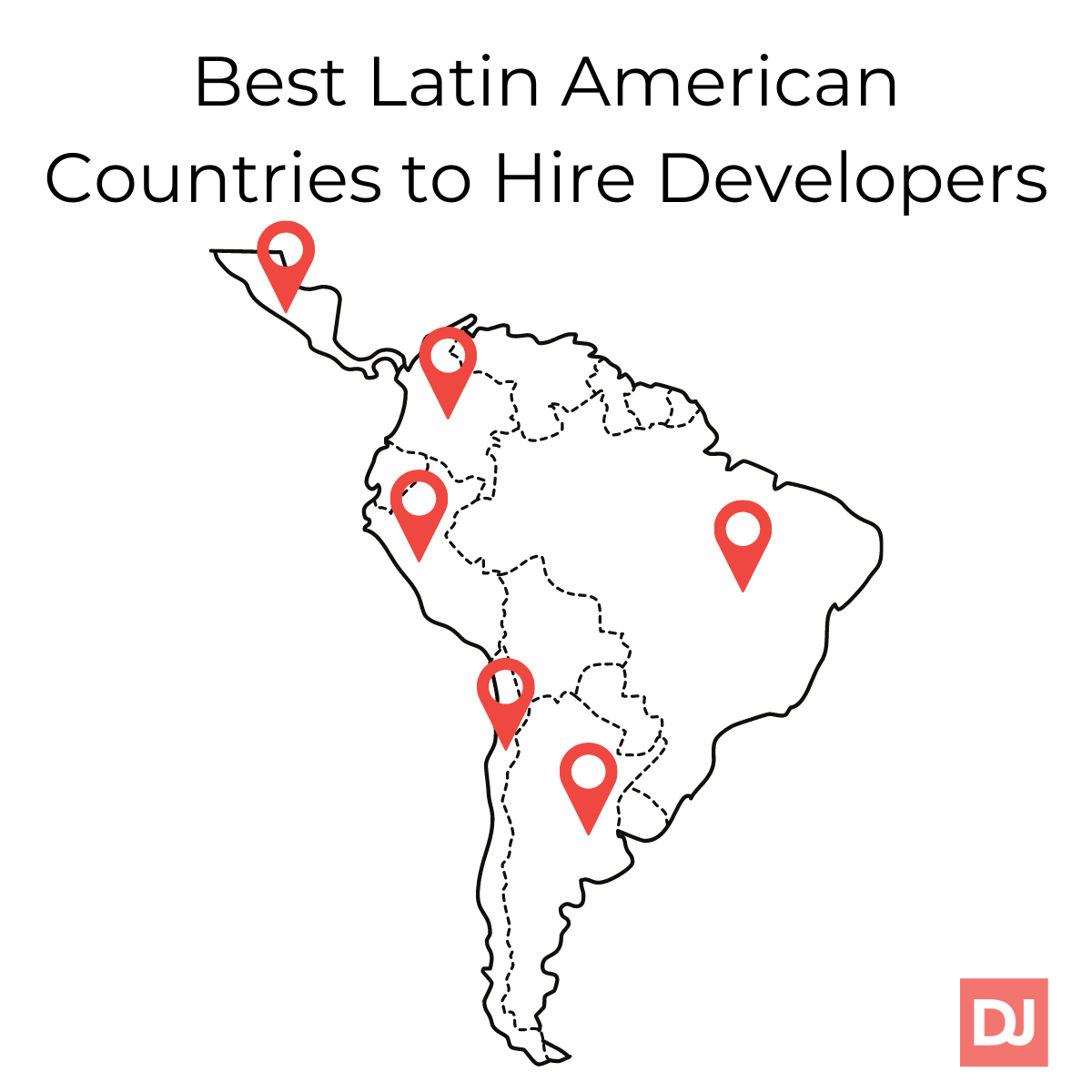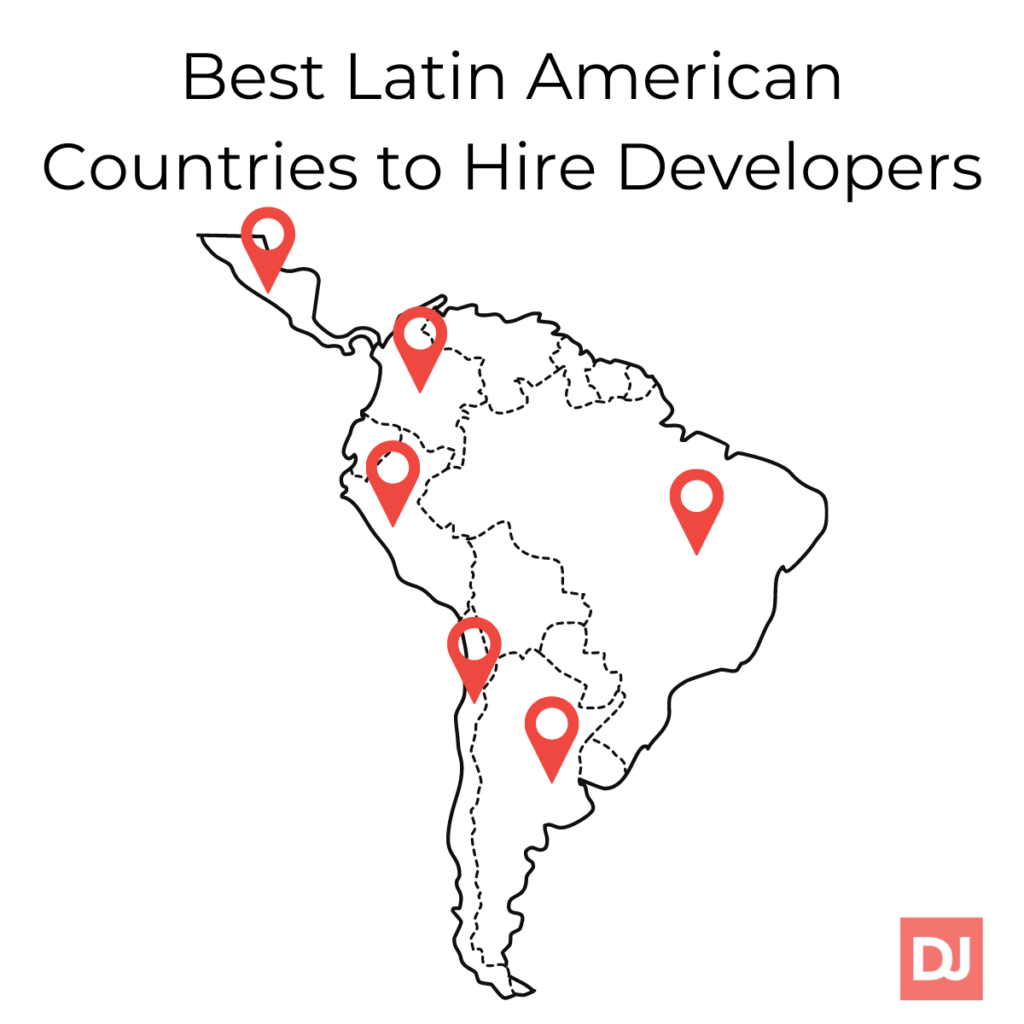 How Much Does it Cost to Hire a Developer in Latin America
There are many ways companies can save money by hiring remote employees. But when it comes to tech talent, sometimes making this smart decision isn't even about the money. One of the most significant benefits of scaling your company virtually is that you can hire talented employees. You have the whole world to choose from.
However, when you have employees with outstanding coding skills and lower salaries, you have the best of both worlds. Your company is saving money but, at the same time, is investing it in talented employees. Latin America is the new attraction for many North American companies seeking to lower their expenses but not give up their quality within. The chart below shows an estimated comparison of the salaries of software developers in Latin America.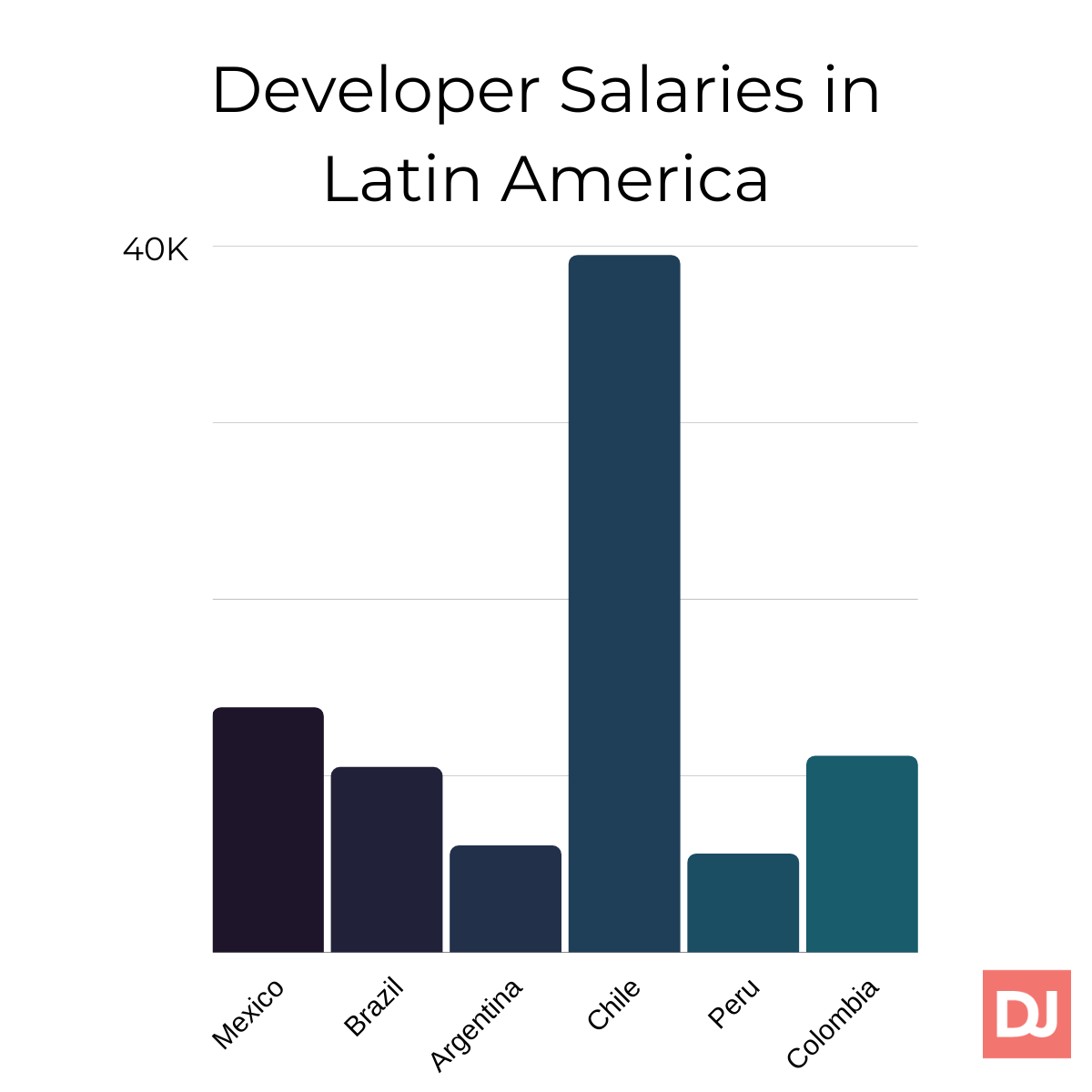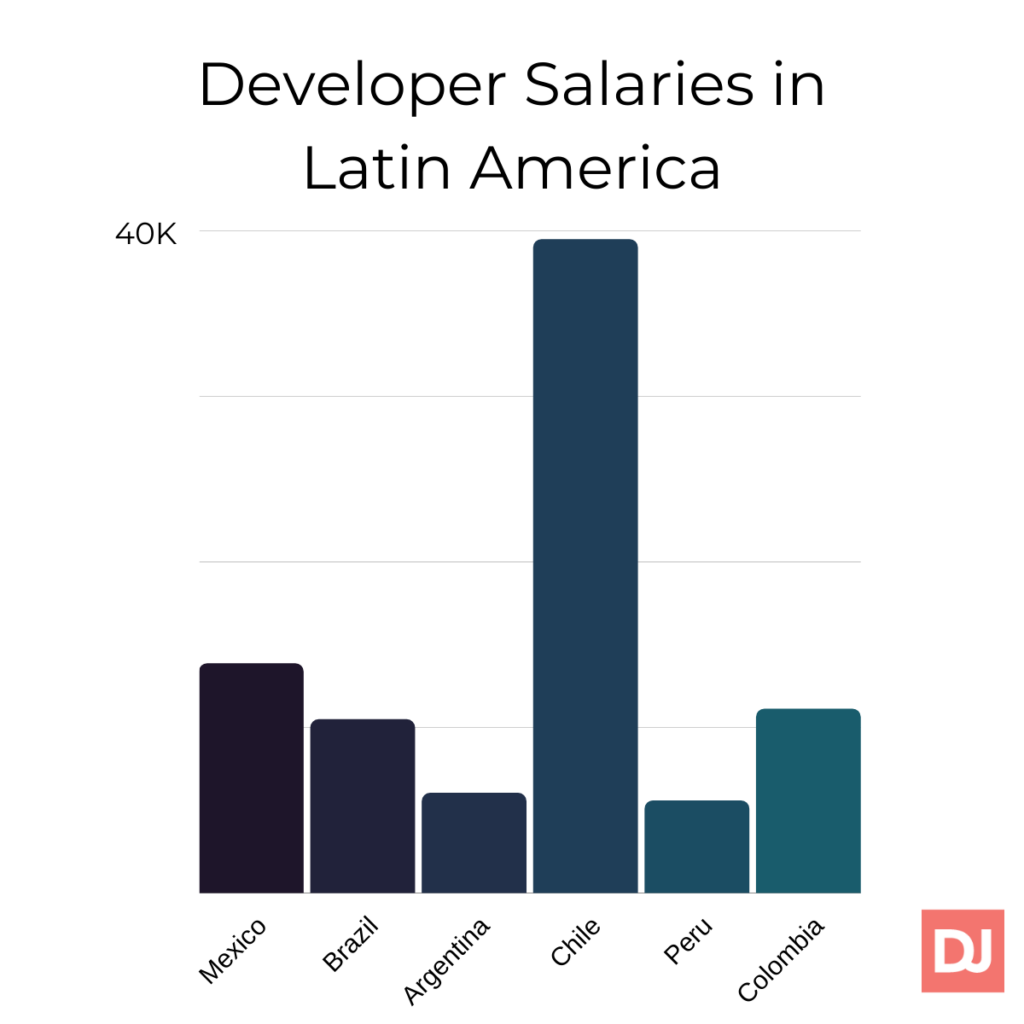 Why Should You Consider Hiring Latin American IT Programmers
Here are the main 5 reasons why you should consider hiring remote top software engineers in Latin America:
1) Time zones
Having remote employees implies, depending on their location, that you have different time zones. This is a double-edged sword because although for some employees, this means they choose their working hours and have more flexibility, on the other hand, there are cases where meetings happen at 10 pm.
One of the perks of hiring remote employees (mostly if you're based in the U.S.) is that the time zones aren't so different. If you are in California, for example, and hire a developer from Mumbai, there's a 9.5-hour difference, whereas if you hire a developer from Buenos Aires, there's only a 1-hour difference. Why does this matter? Because if you want full-time remote employees, communication is a must, and having similar time zones makes this easier.
2) Costs
Hiring remote employees gives you the opportunity of accessing IT talent at lower costs. This is a big perk, especially for startups, but also for big corporate companies because, at the end of the day, everyone wants to save money. Overall, salaries in the U.S. have a record of being too high in comparison to other countries. While in Latin America, because many countries have different currencies, employees benefit from being paid in U.S. dollars.
Just think of it this way; the average salary of a developer in the U.S. is of approximately $70k per year while the average salary of programmers in Latin America is between $20-40k.
3) Great English level
When you hire remotely, you need to review candidates' hard skills and other aspects, like for example their native language. Even if you hired the most talented remote developer, if they can't speak English, and you can't speak their language, communication is not going to be possible. It is possible with Google translate, but we all can imagine how bad it would go. It's essential to speak the same language to make communication more efficient.
According to the EF English proficiency index 2019, "the Latin American business community is increasingly vocal in its demand for more English speakers, and, in response, a majority of the region's countries have rolled out education reforms to teach English better and more widely''.
The best countries that have a higher English level are:
Argentina (High level: 58,38 EPI)
Costa Rica (Moderate level: 57,38 EPI)
Uruguay (Moderate level: 54,08 EPI)
Chile (Moderate level: 52,89 EPI)
Cuba (Moderate level: 52,70 EPI)
4) Emerging Market
There are many great countries in the world to hire developers. However, Latin America is still an undiscovered destiny for many because they seek regular locations such as India or China. Which are great, but expanding yourself to other regions like this one, also opens many doors both for you to hire great talent at affordable prices and for developers seeking job opportunities.
The digital landscape in Latin America is growing rapidly, with Brazil leading the way, followed by other countries such as Chile and Colombia, making this region a great destination for offshore services.
5) Talent
Not only the English level has significantly increased, but so has the quality and quantity of talented tech employees in Latin America. According to Stack Overflow, top users' reputation is higher in Latin American Countries (Like Peru, Colombia, Chile, Argentina, and Brazil) than in India and China.
There is a growing programming talent pool in Latin America. Mainly because the education systems in many countries from this region have improved, cities such as Buenos Aires are filled with educated tech employees who might be the candidates you are looking for.
Ready to Hire a Talented Remote Programmer? DistantJob Can Help
As we stated throughout the article, hiring top tech talent requires, besides the necessary skills for their role, to seek for someone who:
Speaks the same language as you do
Likes your company's culture
Understands your processes
Gets along with your team (among other aspects)
But how to guarantee that your candidate will be the one?
Besides expanding your limits and seeking remote LATAM programmers, make sure that your HR has the necessary knowledge to identify a great remote candidate. Not only looking for programmers with great professional experience or education but also keeping in mind soft skills and personality traits.
If these all sound too much, don't worry! We got your back. As a remote recruitment agency, we have over a decade of experience helping startups to big companies hire talented remote programmers online. We care that everyone has access to the world's best tech talent. Therefore, we make this process easier for you. Contact us now!