What Countries Have the Highest Concentration of Talented Programmers?
To figure out where the best developers in the world are from, Ben Frederickson, a software developer from Vancouver, researched where these highly-skilled developers could be found. The results identified the top five countries with the strongest concentration of tech talent: the United States, China, India, the United Kingdom, and Germany.
This data primarily came from GitHub user accounts, predominantly representing developers based in the United States, so it was difficult to capture the full talent pool available in other regions like Eastern Europe or South America.
We gathered different sources to fully understand what countries have the best programmers and what regions are labeled as "promising" in terms of tech advancements, education, and infrastructure.
And spoiler, no, the United States is not the best country to hire programmers as many would've thought.
What Do Entrepreneurs Say?
On a quick search on Quora, you will get many different answers. Some entrepreneurs provide general advice, while others share their own experiences.
For example, Russian engineers are well-trained but don't work well in teams. You can find smart developers in Costa Rica, but pulling together larger teams is difficult. Philippine engineers have good English language skills and are great at design, but the country has weak infrastructure and a high sickness rate. In China, developers are hardworking, but their English isn't great, and they cost three times as much. Indian developers are native English speakers, but they usually have second jobs, and the quality of their work has been called into question.
When searching for the best developer for you, it can be difficult to determine where the truth lies. Personal experience can contradict general statistics, and you may find yourself looking for a suitable candidate in a country where developers make up less than 10% of the population.
Fortunately, these reports and stats can help you determine which area is the best to start looking in and find the perfect developer for you.
HackerRank Competition: Best Country Is…
HackerRank released a competition for developers on a global scale testing 15 different domains, including mathematics, data shell, data structure, Java, and more.
One of the study's main highlights is that countries scored different results depending on the domain of the test. This finding is particularly important when seeking specialized developers, as a country might be better in programming, but a different country can have better results in the domain you're after.
For example, Russia is the number one country for Algorithms, while when it comes to the top 5 in Ruby, it doesn't even make it to the list. Poland ranked number one in Java, but in SQL, it's not even in the top 5.
On the overall score, China and Russia rank in the top position with the most talented programmers. Chinese programmers recorded the best performance in:
Mathematics
Functional programming
Data structure
Russian developers outperform other countries when it comes to algorithms. And shockingly, the US and India, which are usually the two locations debated among entrepreneurs to hire tech talent from, ranked below the #20 positions in all domains.
Following China and Russia on the overall score, other countries like Switzerland, Japan, Tawan, and Italy scored optimal results. For example, Japan holds expertise in AI technologies, while Italy did excellent tutorials and databases.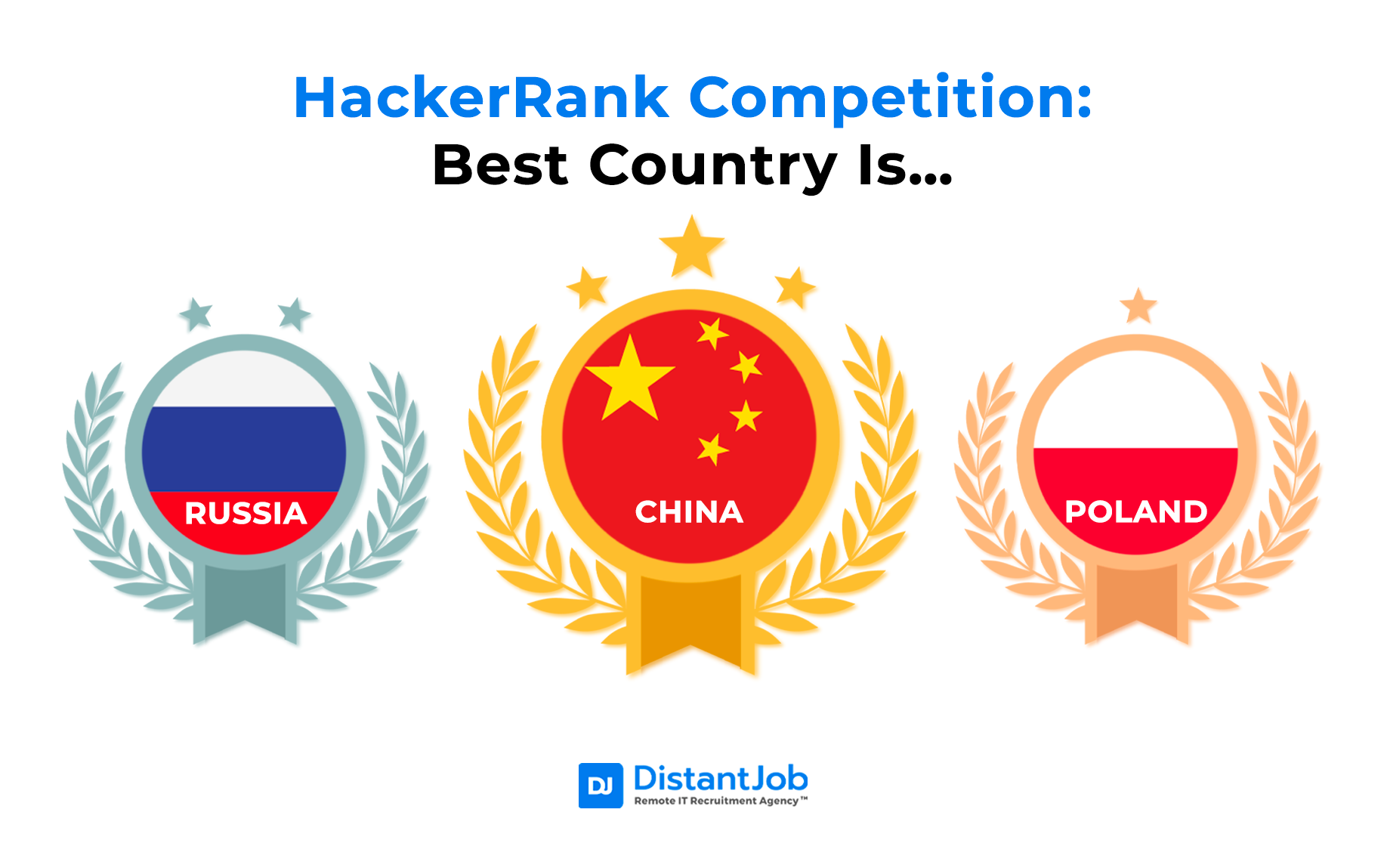 Based on HackerRank's results, if there was a hacking Olympics today, China would win the gold medal, Russia silver, and Poland would take home the bronze medal.
Which Region Has The Best Coders Worldwide?
HackerRank's 2023 Developer Skills Report explored the regions that have had stronger growth and progress during the past years, focusing on 2023.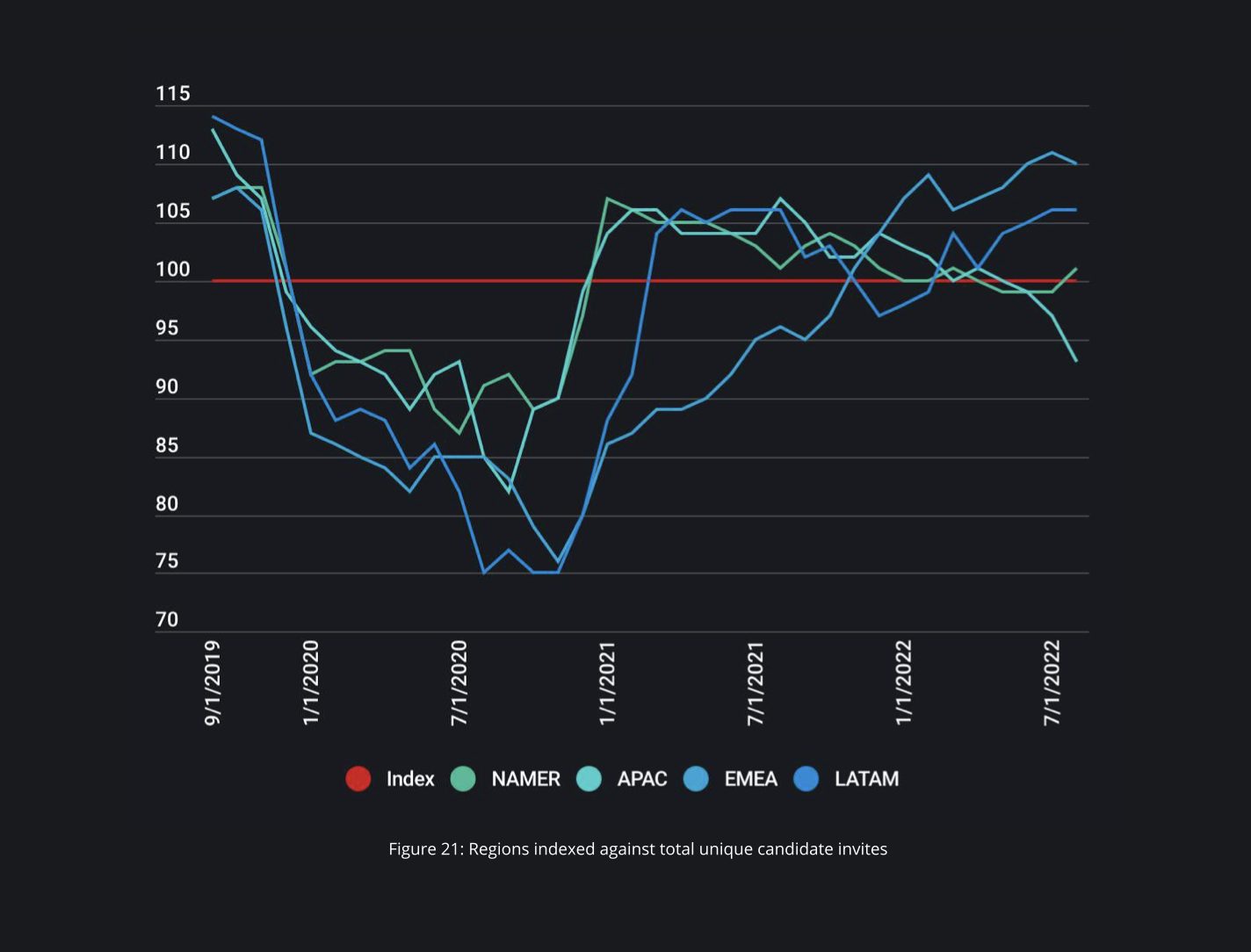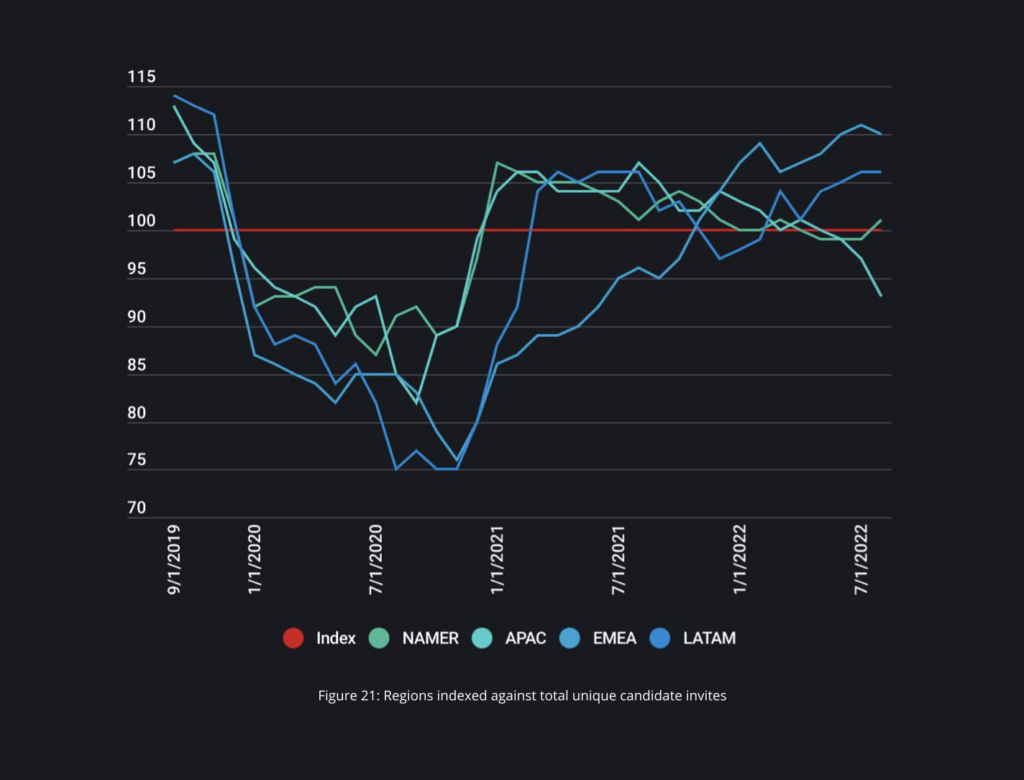 According to the report, the EMEA (Europe, Middle East, and Africa) and Latin America regions have shown stronger growth compared to other regions.
In 2020, all regions experienced a significant decline in performance. North America and APAC (Asia-Pacific) regions had a relatively milder decrease and a quicker recovery than Latin America and EMEA.
Both Latin America and EMEA had more pronounced declines and took longer to bounce back. However, in 2022, both regions surpassed the expected index level, indicating that they outperformed expectations.
Countries with The Best Coders
Besides the result of individual countries, Eastern European countries scored excellent results proving many talented developers. For example, Poland, Hungary, and the Czech Republic rank in the first ten positions of the HackerRank challenge.
In Eastern Europe, you can find over 5.7 million IT professionals, of which 33% are female tech professionals. In the past few years, local governments invested in the IT market and tech education. As a result, most developers are based in Ukraine and Poland, making Eastern Europe one of the best places to hire a remote developer.
The hourly rate and time zones are the most convenient for most developed countries. For example, in Western Europe, the time difference is about 1 to 3 hours. On the US West Coast, it is 10 hours, and on the East Coast is around 6–7 hours.
In addition, Eastern European developers are among the most proficient in English around Europe. For example, Poland ranks #11 on the English Proficiency Index globally, while Ukraine and Russia recorded a literacy rate of 99.4%.
Finally, Romania ranked 20th on the HackerRank list, but it's still one of the best places to look for developers. According to A.T. Kearney Global Services Location Index, Romania is the 18th country for financial attractiveness, skill levels and availability, and tech business environment.
Romania's government also offers excellent benefits for employers in Western Europe and North America in addition to convenient time zones and language proficiency. It is not surprising that Romanian cities top the list in SkillValue's Worldwide Report on the ranking of best developers in European cities.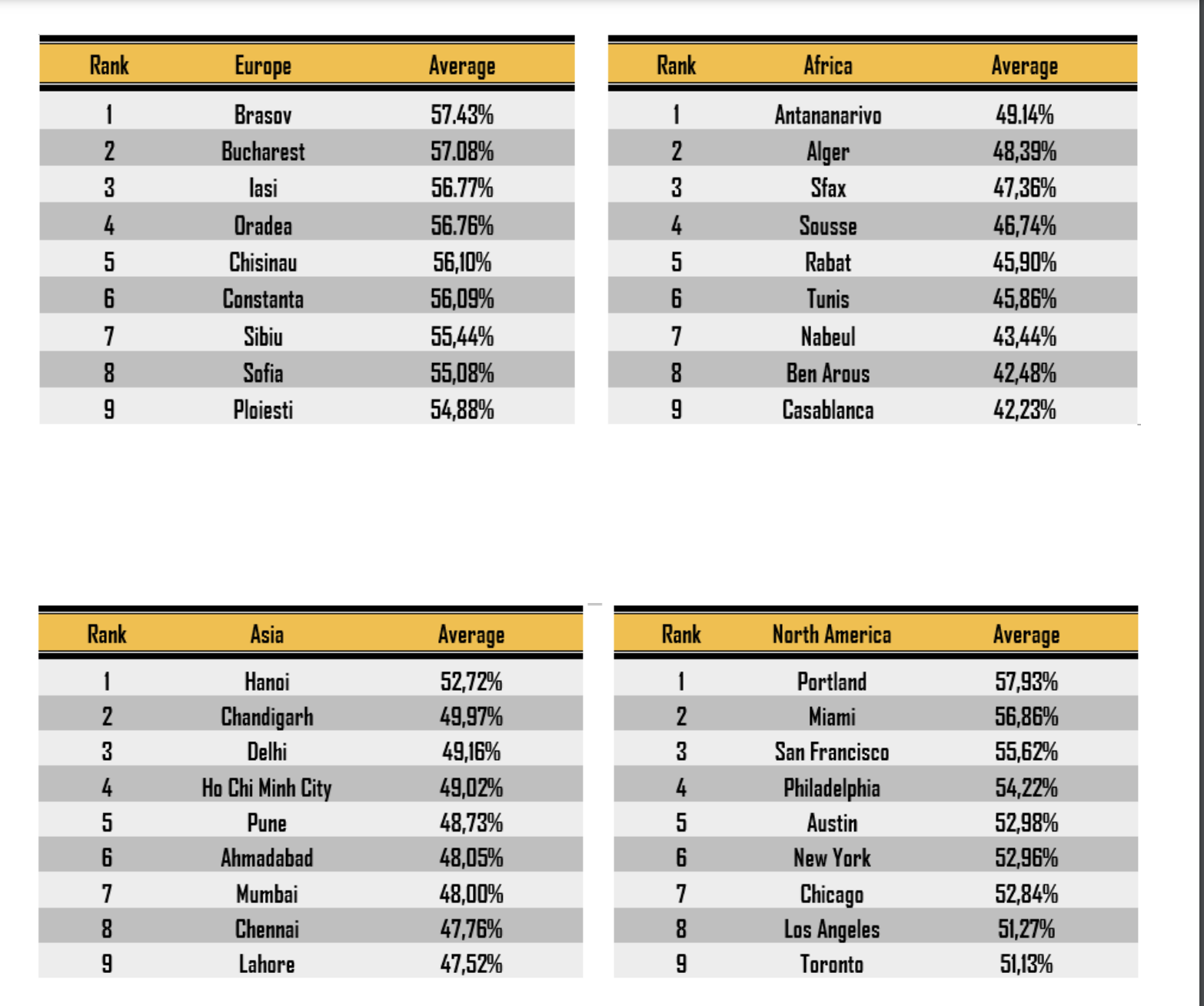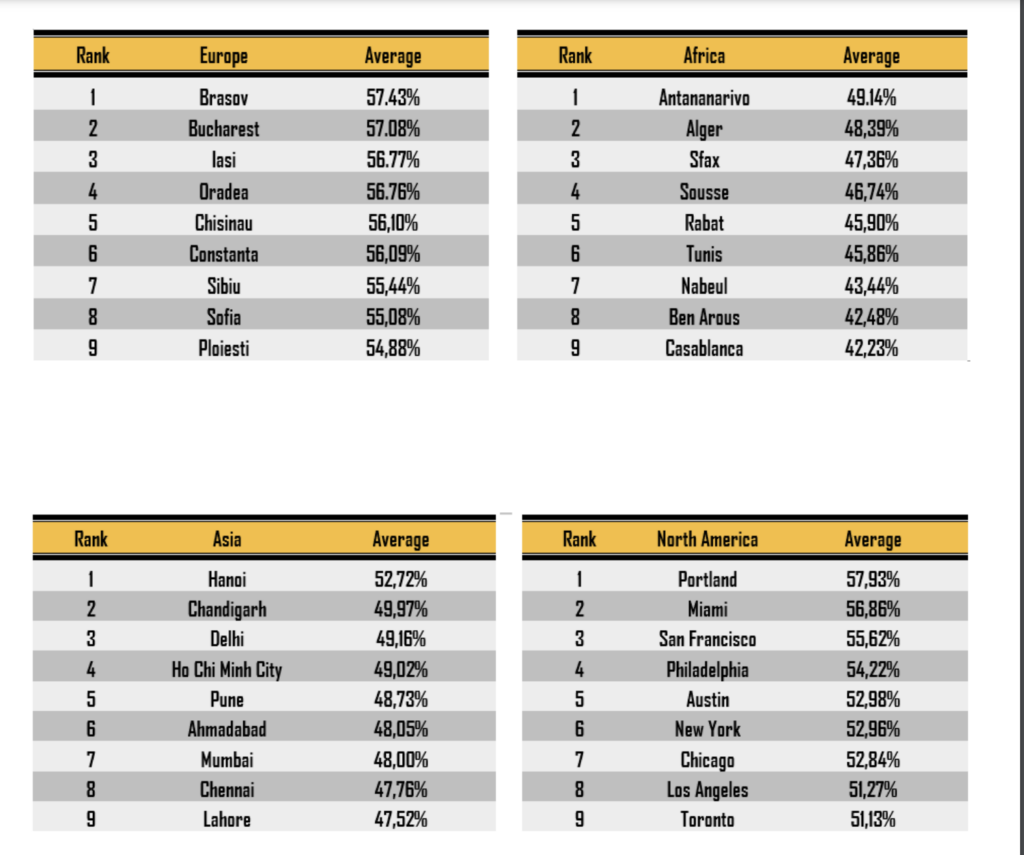 Best Countries to Find Programmers For Specific Coding Languages
In 2019, the SkillValue SaaS platform organized multiple competitions for developers with algorithm exercises in different programming languages.
According to this test, Mexico is the top country if you need an expert with Java and JavaScript, while Ireland has the best .NET developers. Once again, Eastern Europe dominated the competition with other coding languages. Serbia excels in C/C++, Hungary in PHP, and Slovakia in Python.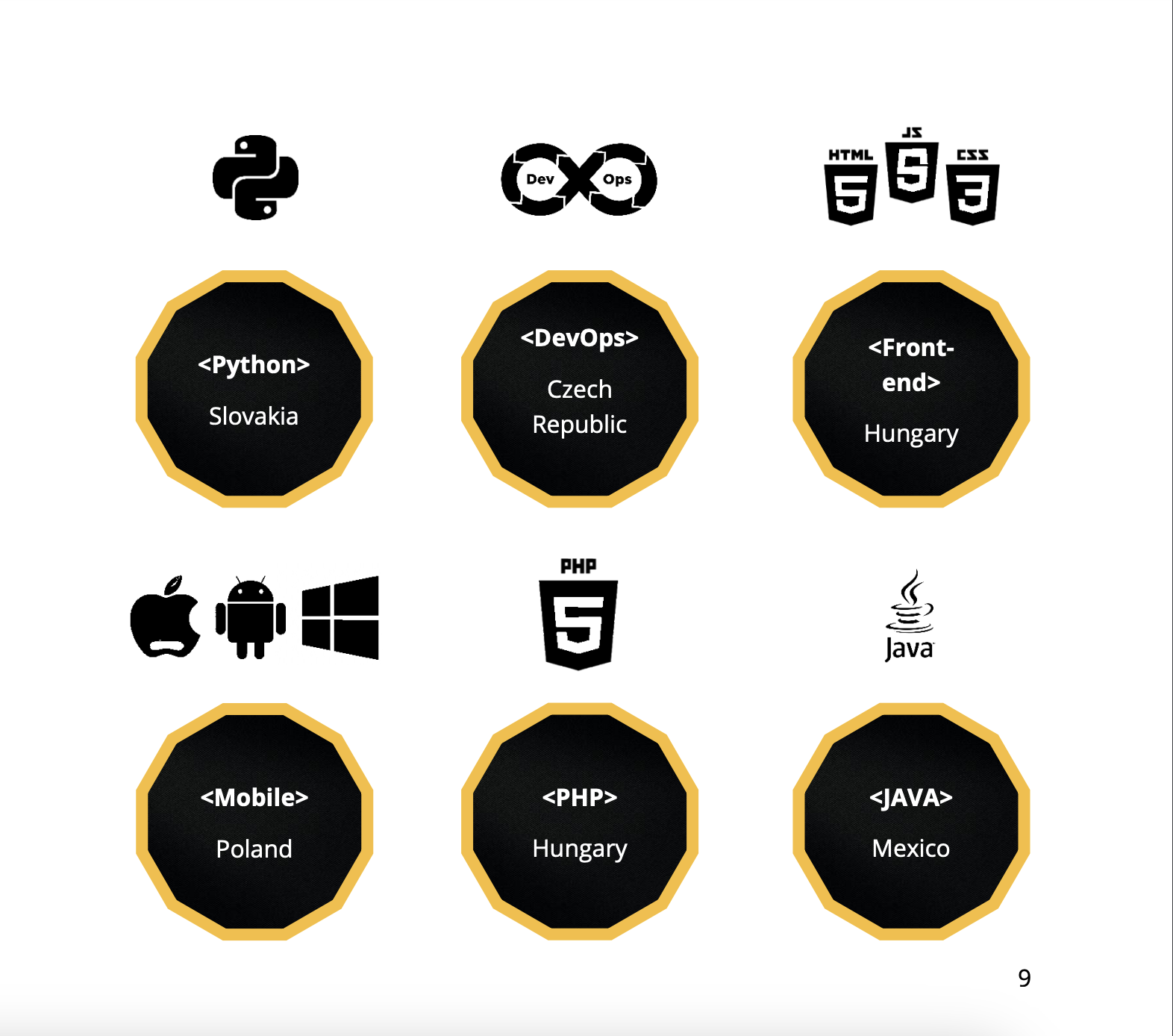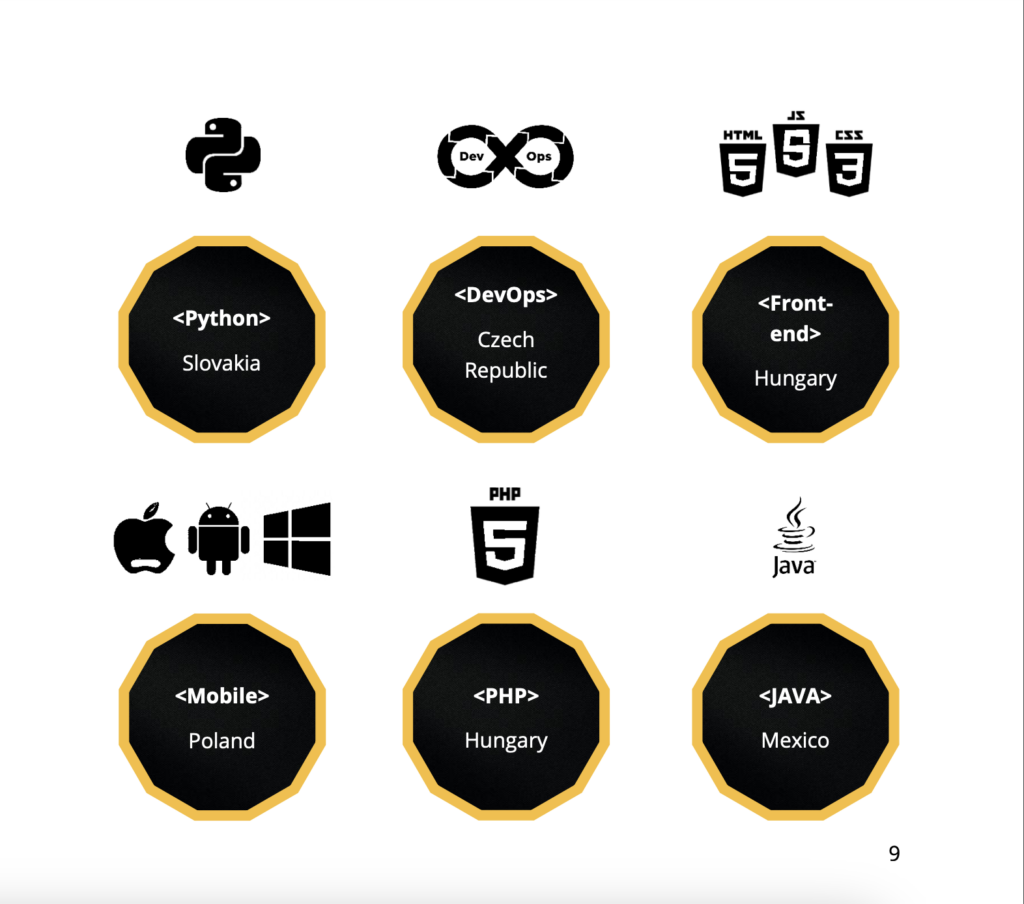 When it comes to the HackerRank competition, developers working with Java are mostly from Poland, Hungary, Bulgaria, Switzerland, and Taiwan.
For C++ programmers, countries like France, Russia, Italy, Hungary, and Switzerland have the best performance.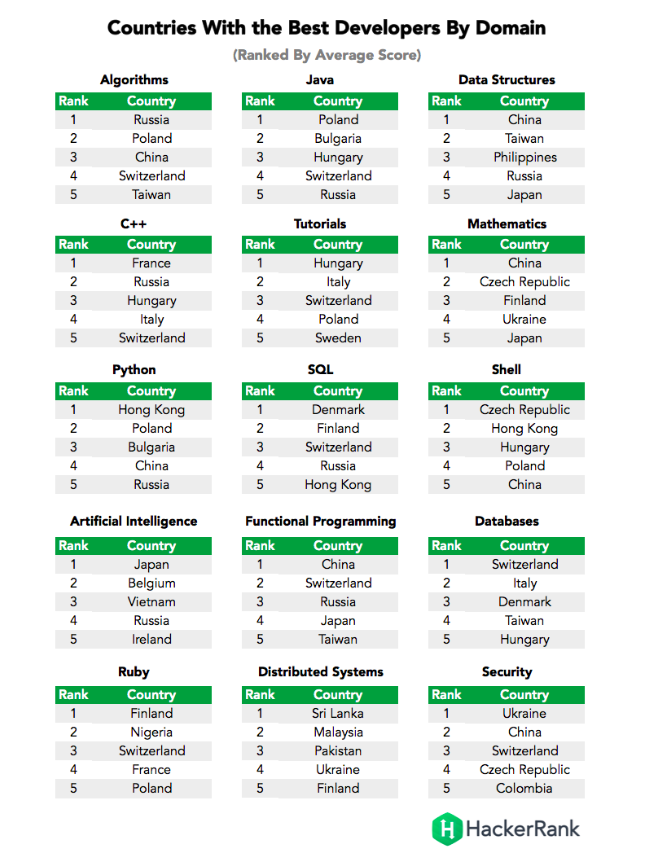 China performed well in multiple domains, beating other countries in data structures, functional programming, and mathematics. Russia won the algorithm challenges. While Hong Kong, Poland, Bulgaria, China, and Russia dominated with Python.
Based on the results of these different challenges, you can get an idea of which countries produce the best coders in different programming languages.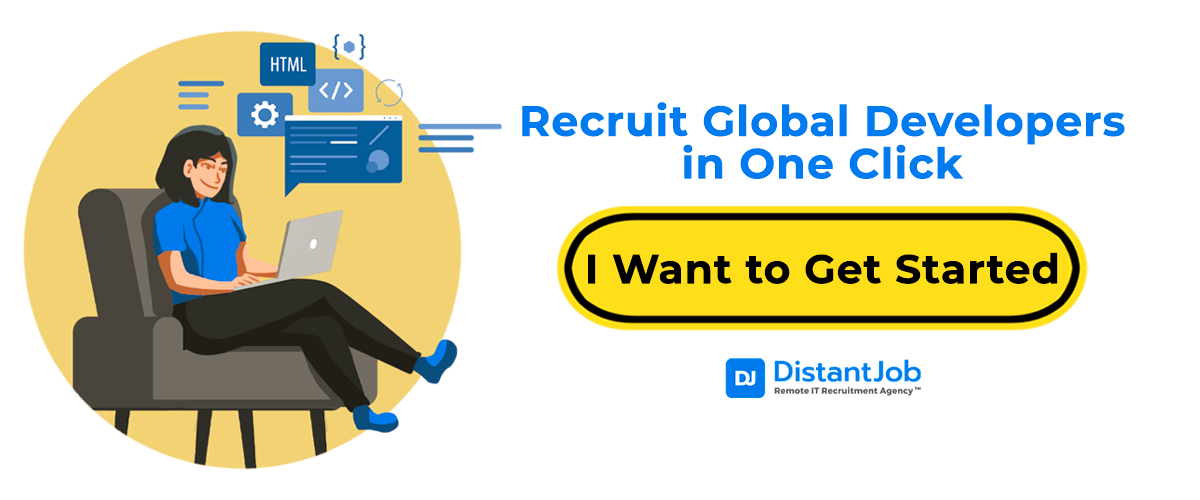 Where To Find The Best Programmers In The World For Each Technology?
Based on HackerRank's domain expertise, you can see where a programming language is more popular.
For example, Ruby is very popular in Japan, followed by Brazil, Mexico, and Chile. Or developers from Malaysia and Pakistan prefer C++, while in Taiwan, Python is more popular. Almost everywhere, Java is the most popular language.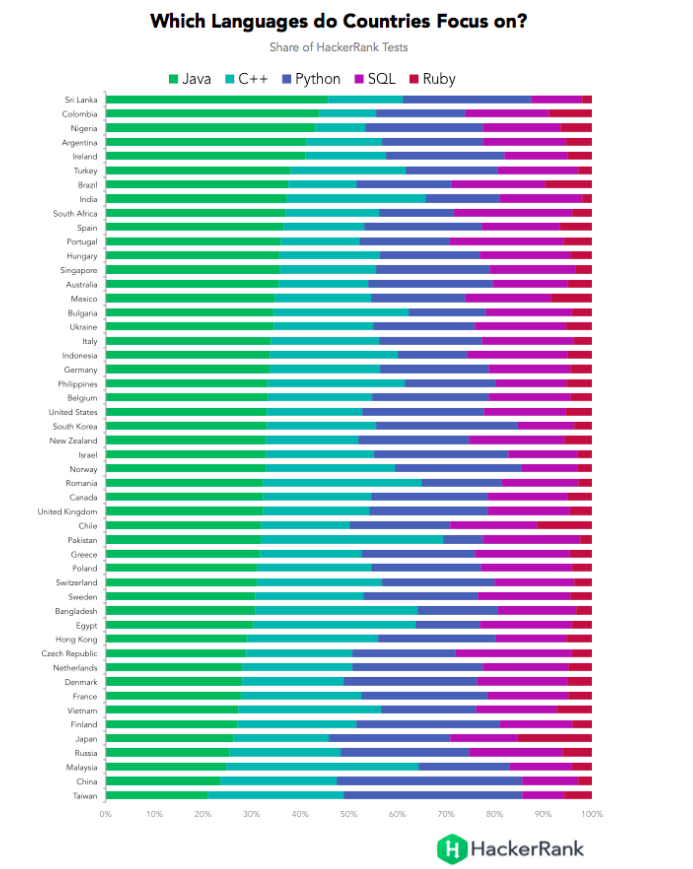 Which Country Has the Most Tenacious Developers?
Part of the HackerRank score system looks at those countries that don't complete the challenge. It might sound like a useless challenge, but when thinking of hiring, it's something you want to consider back in your mind.
Development projects always have bottlenecks, and you need someone tenacious enough to find solutions. Technical expertise is crucial for programmers, but other soft skills can make a difference. And one of them is determination.
In countries like Nigeria, Malaysia, and Pakistan, developers tend to give more easily. On the other hand, Switzerland and Hungary didn't leave any incomplete challenges and had the most tenacious developers.
IT & Innovation Report
The innovation index helps isolate where countries are investing in innovation and the IT market – producing skilled and updated developers. it's an efficient method to start looking at where are the best programmers in the world.
According to Bloomberg Innovation Index, the best Indicators for the Innovation Index are the capacity to invest in Research and Development, patent activity, overall productivity, and higher education.
Following this research, the best 10 countries for innovation are: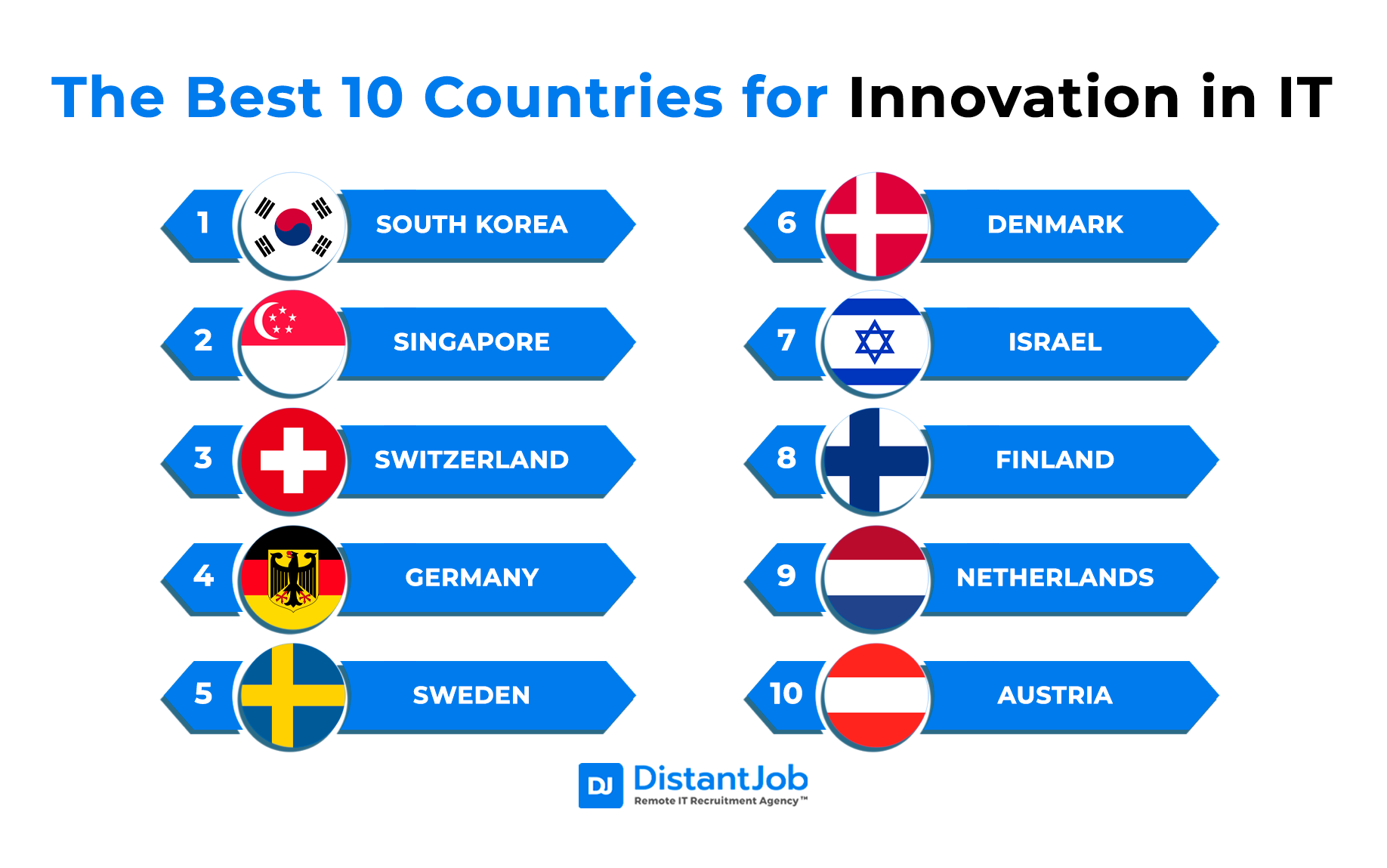 South Korea
Singapore
Switzerland
Germany
Sweden
Denmark
Israel
Finland
Netherlands
Austria
In addition, it's important to consider the local Digital Competitiveness in the global market. In this sense, the IMD World Competitiveness Center evaluates 3 factors in a country:
Knowledge: Capacity for technological learning
Technology: Investments in developing digital technologies
Future Readiness: Financial Plans for digital transformation
According to their system of research, the top 10 countries in 2022 are: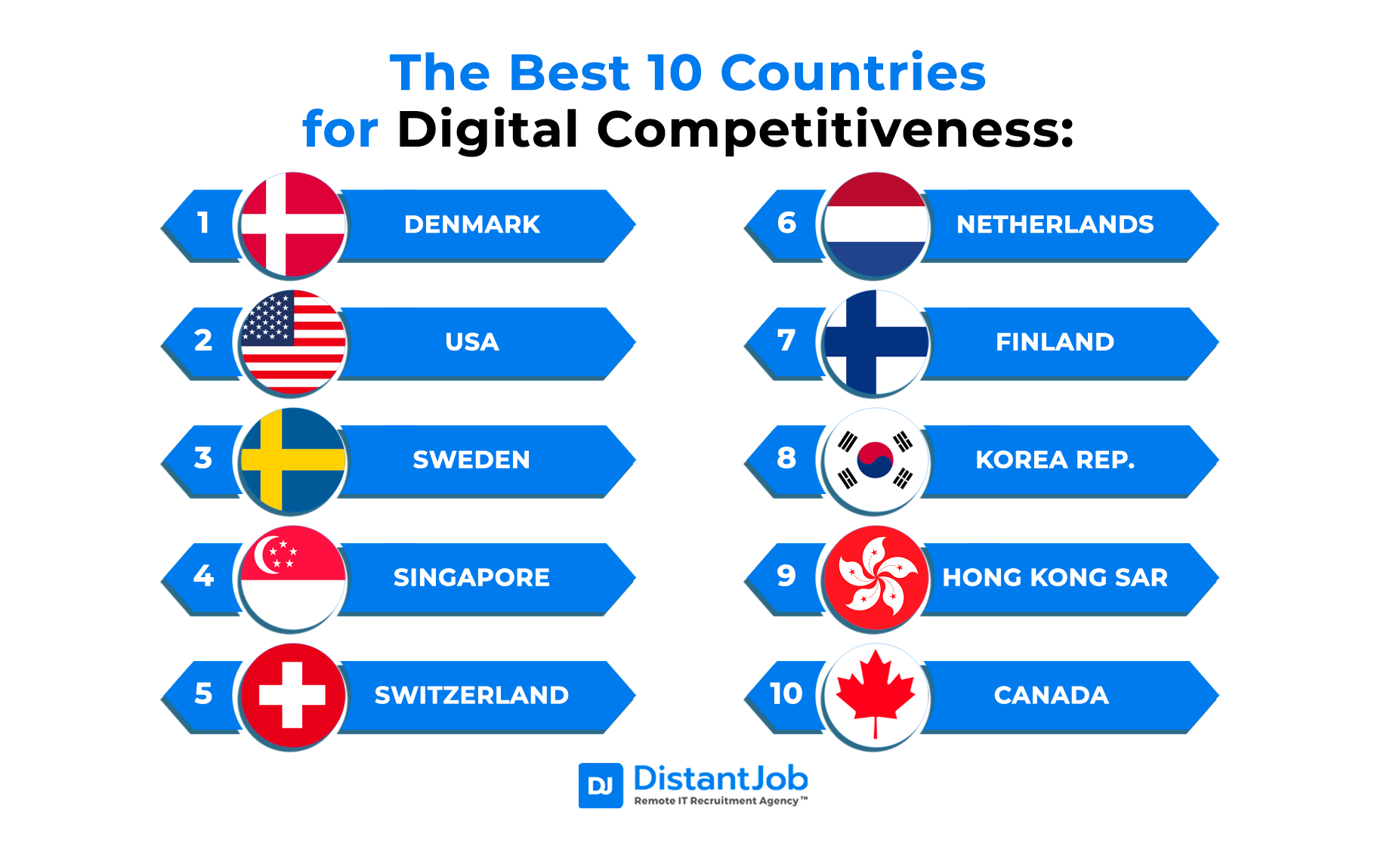 Denmark
USA
Sweden
Singapore
Switzerland
Netherlands
Finland
Korea Rep.
Hong Kong SAR
Canada
However, the fact that a country invests in digital evolution doesn't mean that it produces the best programmers. Finland and Canada, for example, have great technology infrastructure but didn't outperform in any of the competitions mentioned above.
Top 10 Countries With The Best Programmers In The World
German philosopher Friedrich Hegel proposed a unique approach to understanding history, organizing it through the thesis-antithesis-synthesis pattern. However, it's important to note that this ordering is not based on chronological events but rather on logical progression. Hegel emphasized that the significance of historical events lies not in their dates but in their impact on society.
Why is this point relevant here? It can serve as an inspiration for us. While certain countries may not have appeared on the HackerRank list, they still maintain high standards for remote development. By considering other lists and general statistics, it's worth acknowledging these countries.
Following Hegel's example, the countries listed here are not ranked from best to worst. Instead, they represent ten places where language proficiency and robust education systems contribute to an abundance of highly skilled developers.
As mentioned earlier, HackerRank conducted diverse tests and challenges covering various domains. Some countries may not have excelled in the overall rankings but demonstrated exceptional performance in specific challenges.
It's no surprise that an increasing number of businesses are choosing to collaborate with remote developers, whether as full-time employees, independent contractors, or through external agencies.
When seeking a remote developer globally, it is crucial to consider the specific skills required for your project. By doing so, you can make an informed decision and find the ideal developer for your team.

1. Ukraine
Ukraine is one of the top places to hire a remote developer in Eastern Europe. The IT industry counts around 175.000 tech professionals in Ukraine, with over 23.000 skilled and hard-working graduates entering the tech market.
In the HankerRank challenge, Ukrainian developers reached an average score of 88.7% across all the challenges. In addition, the country is home to the largest community of C++ programmers, and 80% of their IT professionals speak English fluently.
Average salary: $40,000 per year – $19.23 per hour
2. China
China is #1 in the HackerRank challenge and without surprises.
The vast country is home to the fastest-growing IT companies, producing 4.7 million tech graduates every year. Unlike Eastern Europe, only 10 million of China's 1.3 billion residents speak English. In addition, it is essential to consider their restricted policy on Intellectual Property (IP) laws – which you can turn around by hiring remotely.
Average salary: $50,000 per year – $24.04 per hour
3. Poland
Poland is #3 in HackerRank, ranking first in Java assessments and in the top five with programming languages like Python, Shell, and Ruby. Besides having a convenient time zone, 30% of the Polish population speaks English as a second language facilitating communications.
Average salary: $45,000 per year – $21.63 per hour
4. The Philippines
The Philippines is one of the largest English-speaking countries globally — over 92% of Filipinos speak English. And the local government highly implemented educational reform in the last few years, focusing on a specialized STEM high school system.
While for more complex projects, China or Ukraine is a better fit, for a single project, the Philippines is a great choice.
Average salary: $30,000 per year – $14.42 per hour
5. Romania
Romania is one of the places to hire in the IT market. Romanian government highly implemented IT infrastructure over the past years, and almost 90% of Romanian developers speak English and many other foreign languages.
Romania is a particularly attractive destination due to its large base of engineers as well as its low-cost outsourcing capabilities.
Average salary: $35,000 per year – $16.83 per hour
6. Brazil
There are almost 6.18 million fluent English speakers in Brazil, and the government implements technology education infrastructures.
Another factor to consider is the fact that the Brazilian IT workforce is relatively young – 38.18% of the population is under 24 years old. Like the Philippines, Brazil is a great place to find developers for small projects.
Average salary: $30,000 per year – $14.42 per hour
7. Taiwan
Taiwan is #7 in the HackerRank list, with top performances in functional programming and data structures. In the last few years, the local government launched a program to become "Asia's Silicon Valley," improving STEM education and IT infrastructure.
However, in Taiwan, it is hard to find IT professionals proficient in English. The government is improving this aspect, considering making English one of their official national languages.
Average salary: $40,000 per year – $19.23 per hour
8. Czech Republic
The Czech Republic counts 7,000 tech university graduates per year. The average salary tends to be higher than in Ukraine or Romania. However, it is still one of the most convenient places to hire because of the lower salary rate, especially hiring from the UK or US.
Average salary: $45,000 per year – $21.63
9. Canada
Canada counts 18.6% of Canada's annual graduates with STEM degrees. Even ranking #21 in HackerRank, cities like Toronto, Calgary, and Halifax have plenty of talented developers. Especially for US companies, Canada is an English-speaking country and has a similar time zone. As a developed country, however, Canada has a higher annual salary rate.
Average salary: $80,000 per year – $38.46
10. India
India didn't rank well in the HackerRank challenge, and the country is suffering from competition from Europe and South America. However, even with challenges and limits, India remains probably the first and most popular country when it comes to remote IT talent.
As the second-largest English-speaking country, India has long been a popular destination for offshore outsourcing for US or UK employers due to its plentiful workforce, but recently its quality of work has been called into question.
Average salary: $25,000 per year – $12.02
Find The Best Programmers In The World Remotely
When it comes to finding the best programmers in the world, you can follow different approaches and lists. Based on study rankings, you can explore HackerRank's list and evaluate its different challenge types and the domain preferences for each country.
Other studies can give you a general idea of which regions are significantly growing and progressing in tech. However, basing solely on the list can lead to losing other key hiring aspects of sight.
Scaling your tech team globally is also about welcoming developers who are a good culture fit for your company, have the needed soft skills, and that besides their tech proficiency, also have a good English level and live in a convenient time zone.
By partnering with DistantJob, you can access a wide talent pool of the best developers in the world who are ready to start working for you. Focus on scaling your business while we handle networking, vetting, paperwork and more. Interested? Book a call or visit our offices in Montreal and Quebec.