If you are running a small business, a CRM system is one of the tools you need to effectively manage customer relations and sales. Having to manually manage your social media engagements on different platforms, emails, phone calls, and text messages consumes more time and lowers productivity, even if you hire a programmer.
CRM systems will help you organize all your communication channels to improve effectiveness. The good news is that many CRM systems today are built with small businesses in mind. They come at friendly prices and have a wide range of features that allow small businesses to scale up their software whenever they require more features.
However, when you have so many options to choose from, it often becomes challenging to choose the CRM that fits into your business workflow and budget.
In this article, we have compiled a list of the top 5 CRM systems that you can choose from.
But before that, you must know a few basic things about CRMs.
Let's dive in!
What is CRM software?
Customer Relations Management (CRM) Software is built like any management system which aims to nature team and customer relationships. Once you successfully hire your sales team, they'll be in charge of this. CRM systems enable businesses to attend to their customers promptly and more effectively. Most of them have built-in automation capabilities that can automate some of the repetitive administrative and customer support tasks.
How Much Does CRM Cost?
The prices of CRM tools can range from low as $7 to $15 per user per month for the entry-level packages. The higher tier packages with all the features are usually between $40 to $150 per user per month.
The good news is most CRM vendors have multiple packages, so you can always start with the lowest and upgrade later when you see the need for more features.
How to know you need a CRM?
Your customer data is scattered all over the place: If you are in a situation where customers contact you using several digital platforms, and you don't seem to have an idea of which ones to give attention to first, you need a CRM. A CRM system will help bring all this information together and give you insights into the most efficient communication platforms for your team, as well as for your customers.
Customers complain about customer support: If your customers complain about customer support, you need a CRM to help you improve your responsiveness to customer issues. A CRM will also help you respond to your customers much faster.
There is no systematic flow of information internally: Remote teams share files and information continuously through various applications. But if you realize that the different members of your team all have different details on sales and customer support, you need to integrate a CRM. A CRM will help harmonize all this information to make it easily accessible by all team members.
A lot of manual reporting: Manual reporting is ineffective if you want scalability in software design for your business. You need to use a CRM to help you generate automatic reports about sales, marketing, and customer service.
You struggle to focus on the right customers: If you spend a lot of time on less valuable customers, you will end up losing the ones that will likely bring more value to your business. A good CRM tool will make it easier for you to identify the most valuable customers so that you can give them more attention.
Lead flow is becoming harder to track: If you can't effectively track your leads, it will become hard to determine the stages in your customers' journey that need to be improved to generate more sales. A good customer relations system will make it easier for you to manage your leads' flow and determine the stages in your customers' journey that need your attention.
How to choose the right CRM for your business?


1. Know your needs first
It is critical to first assess the needs of your business before exploring various CRM options. The priority of one business might be growing sales, whereas another business may want to prioritize increasing their brand awareness before they think of maximizing sales. Your objectives for getting a CRM system will help you choose the one that is most capable of fulfilling those objectives.
2. Integrations with other business apps
Having all your business applications in sync should be the goal. For example, if you use email and social media as your main platforms to market your brand and generate sales, you need to choose a CRM that integrates with all the social and emailing platforms you use. Remember, the main goal for acquiring a CRM system is to help you organize your engagements with customers.
3. Level of customization
You need to choose a CRM system that allows you to customize it to your business needs. Different platforms offer different levels of customization, so you should choose one that is at a level that suits your business requirements. At the bare minimum, the CRM should let you customize the level of access for the different users, plus reporting and dashboards.
4. Trial option
The easiest way to know if an application will suit your business needs is by practically trying it out. So, you need to choose a CRM tool that gives you the option to try it out for a couple of days before making the payment. The good news is that all the tools that we have shared on this list have a trial option that users can take advantage of. Some of them have lifetime free packages.
5. Other business apps offered by the vendor
As you further scale up your business, you might want to add more business apps such as email and social media marketing tools, accounting, project management, HR management, and many more. To make things easier down the road, it is best to choose a vendor that offers more than just a CRM system. You will also get discounted prices when you use more than one app from the same vendor.
6. The pricing plans
Even if you like the features and overall experience of a certain CRM app, you won't be able to use it if its pricing doesn't fit within your budget. You should look at the pricing options to determine how much you need to pay to get additional features and functionalities in the future.
Most of the vendors that we are about to share have three or more pricing plans that you can choose from based on the features you need.
7. Customer support reliability
You need to consider how fast your CRM service provider responds when you contact them with an issue or anomaly in their system. Any digital platform will get issues at some point, so you should choose a vendor that will make it easy to get solutions whenever you encounter challenges using their system.
Now that we know when we need a CRM system and the factors to consider while choosing one, let's get into the list of the best options you can choose from.
Best 5 CRM for Your Small Business
1. Bigin by ZOHO CRM
Bigin is one of the best CRM systems specifically built for small businesses and solopreneurs.
Its pricing starts from $7/month, making it one of the ideal choices for a small business that doesn't have a big budget. It doesn't have the many features that most sophisticated CRMs have. This keeps its user interface minimal, intuitive, and easy to use.
It is built to be a pipeline-centric CRM, and it lets you customize each stage in your pipeline for the different business operations.
Core features of Bigin:
Built-in telephony and email
Workflow automation
Customizable dashboards for tracking the various aspects of your customer support services
Activity management
It also integrates with most digital platforms including, Google Workspace, Microsoft 365, Zapier, MailChimp, and all other business applications offered by ZOHO
Drawbacks
The major downside with Zoho's Bigin is that users can only create a limited number of custom fields. It also doesn't integrate with some crucial apps like Zoho books.
Pricing
Bigin has one free package and two paid packages that you can choose from. The paid packages include: Express at $7 per month and Premier at $12 per month.
Both of them are billed annually if you want to get the 20% discount that Zoho offers. Their free package has basic features that you can get started with to test out the platform.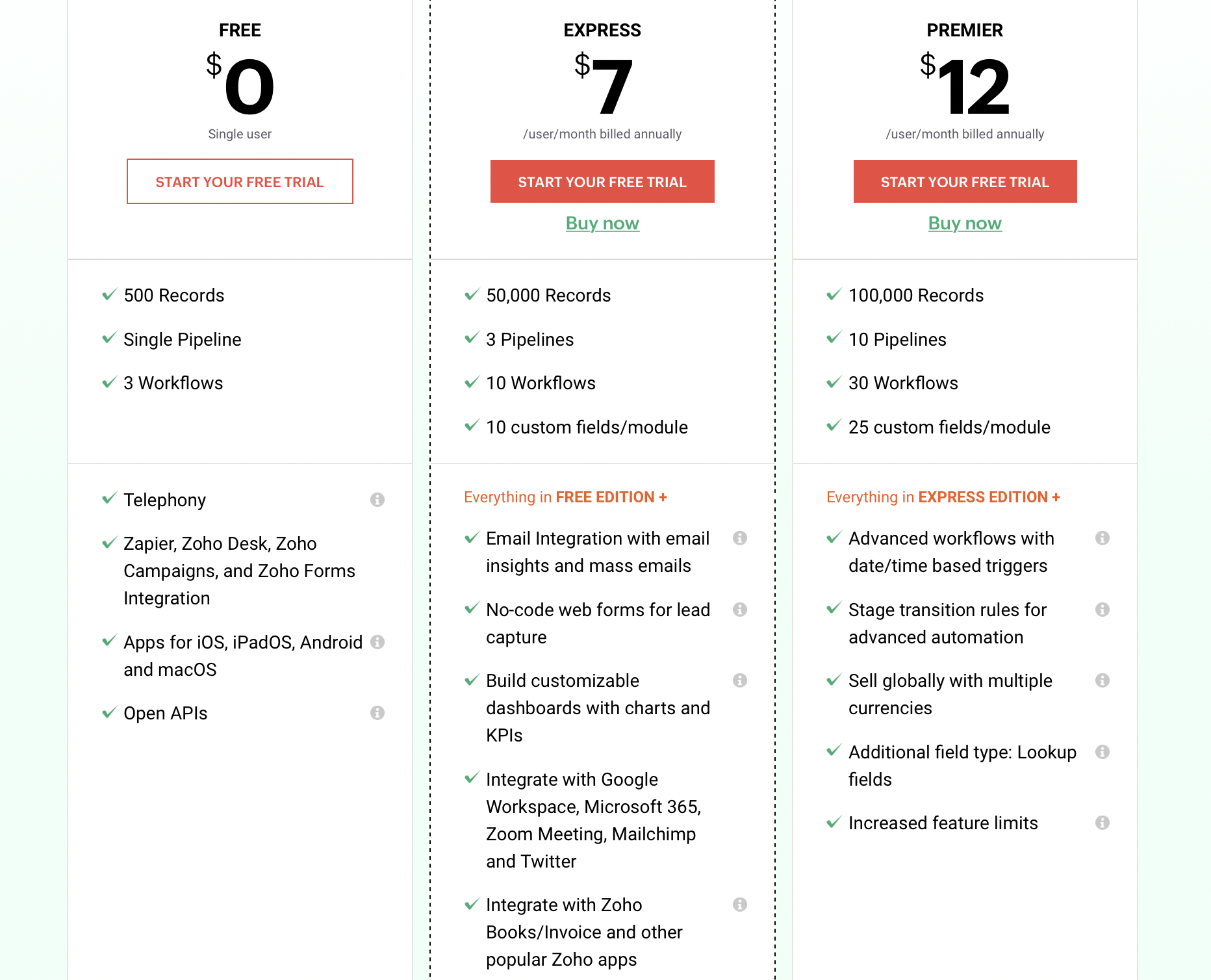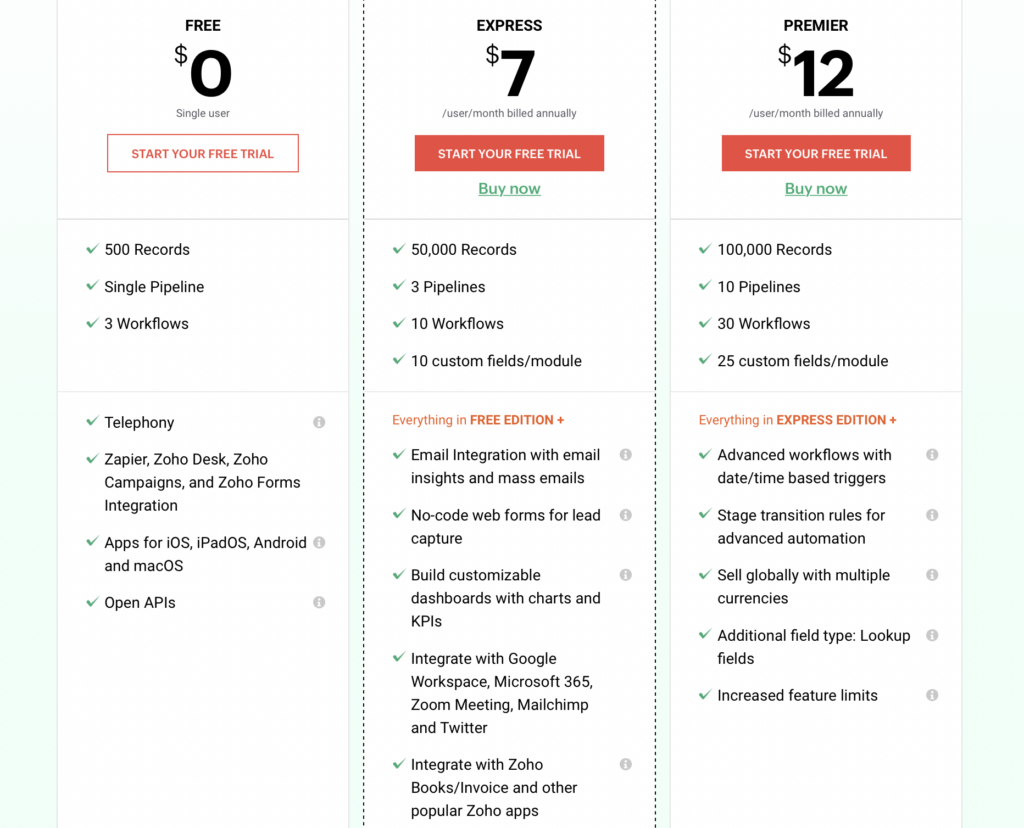 2. Freshsales
Like its name, Freshsales is a CRM system that focuses on optimizing all the processes involved in making sales. It is a fully-fledged sales automation tool built to automate most of the repetitive sales tasks that your sales team has to deal with on a day-to-day basis.
With this tool, your sales team will attract new quality leads, engage in contextual conversations, and use AI-powered insights to know which leads need more attention.
Freshsales is the tool for small businesses that want to automate most of their sales process to be more effective and efficient.
Core features of Freshsales
Built-in email, phone, and telephony to ensure all the communication channels are integrated within the platform. It also has its custom chat app, WhatsApp Business, Business chat (iMessage), and SMS built right within the platform.
AI-powered insights about the different leads, such as their probability to be turned into paying customers
Task management and auto-assignment of tasks to the respective sales reps
Slack integration to enable contextual collaboration
FREDDY AI improves decision-making with features such as lead generation bot, auto-profile enrichment, out-of-office detection, and many more.
Drawbacks
The major drawback with Freshsales is most of their advanced features are reserved for the biggest packages. You have to pay for their most expensive packages if you want to have access to features such as time-based workflow automation, some chatbot tools, and advanced metrics reporting
Pricing
Freshsales has a free package and three paid packages. The paid packages include; Growth at $15/user/ month for every 1000 contacts, Pro at $39 /user/month for every 1,000 contacts, and the Enterprise package at $69 /user/month for every 1,000 marketing contacts. Below are details of prices and features offered in each package.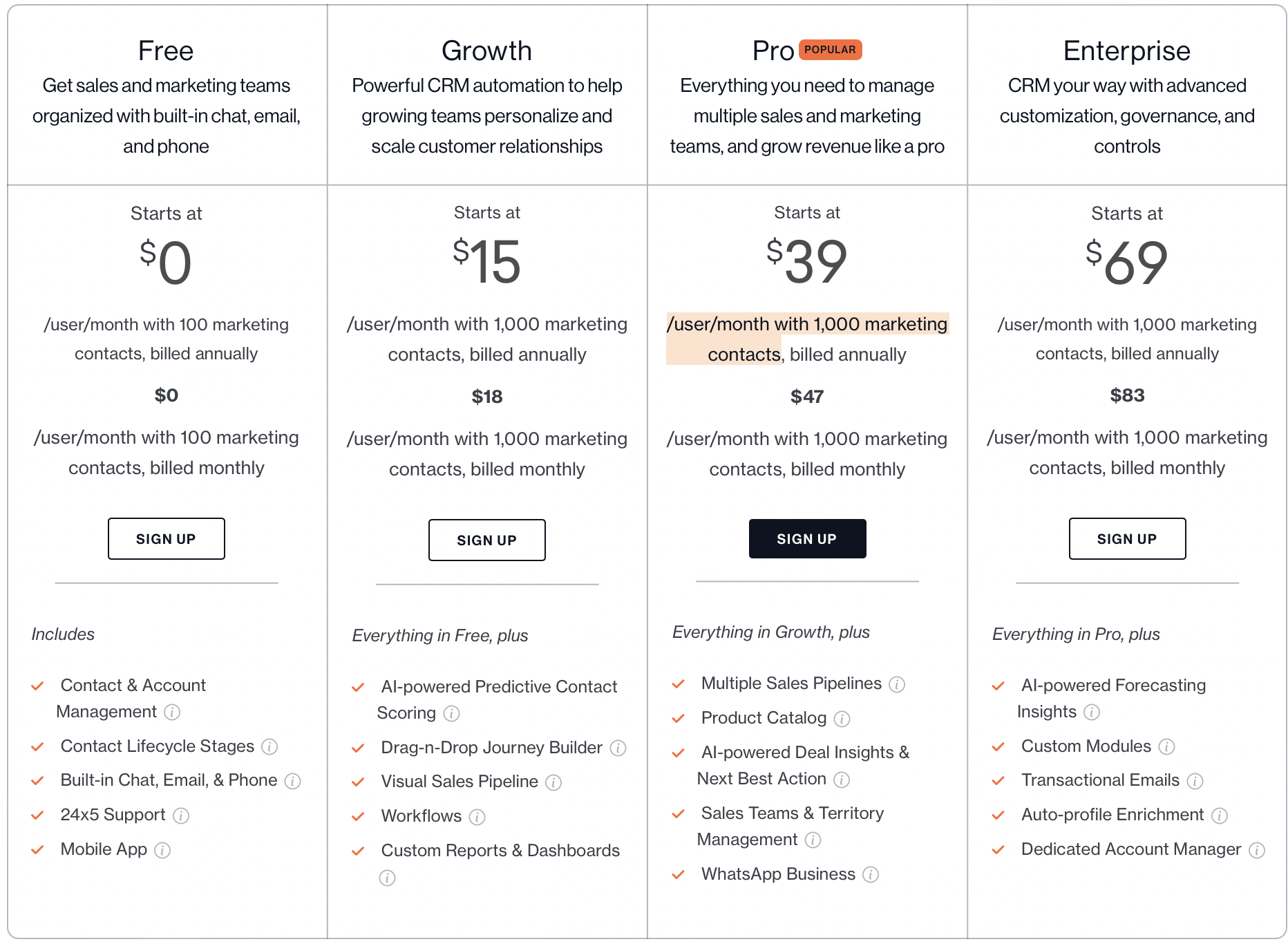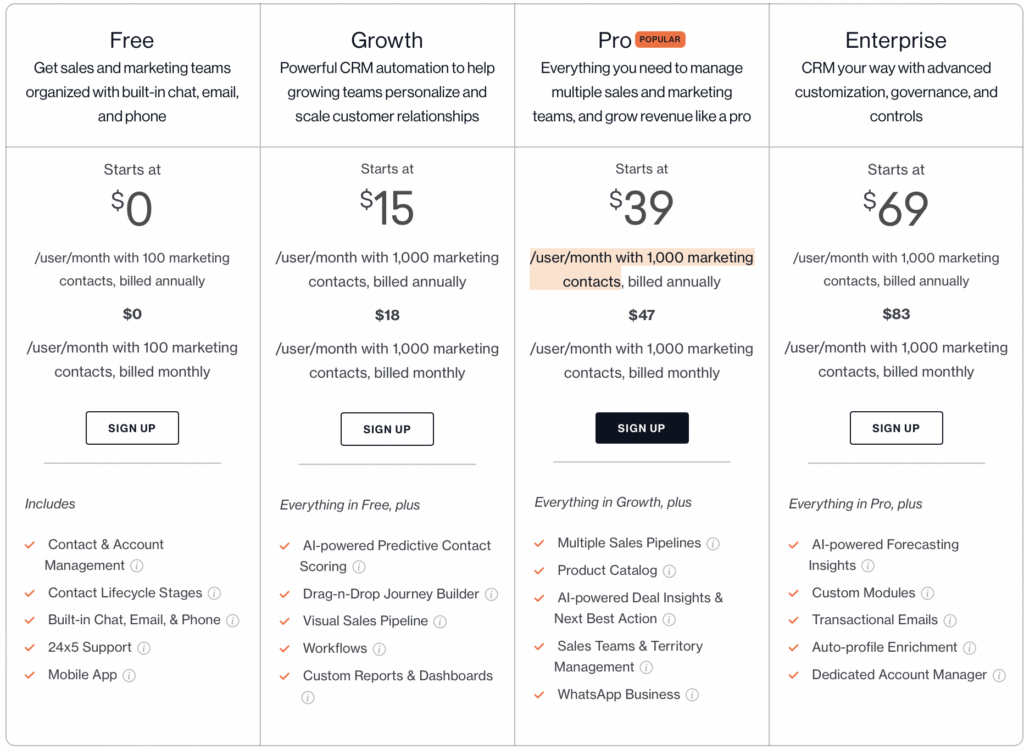 3. Pipedrive
Pipedrive is a very popular CRM that lots of small businesses worldwide use. This CRM app was built to drive the sales processes and track contacts at the different stages of the customer journey. It has an intuitive and highly visual UI that makes it easy for users to accomplish different tasks.
This platform is good for picking up leads, managing the pipeline, contact management, and maintaining the top deals. It is basically a Sales focused CRM.
Core features of Pipedrive
Lead management that includes lead scoring to help you focus on the most the valuable leads
AI-powered automation tools to help you automate repetitive administrative tasks like sending routine follow-up emails. Pipedrive's machine learning capabilities will help you identify the best tasks to automate based on your usage history
Communication tracking includes calls, emails, and contact history.
Drawbacks
Pipedrive lacks a built-in emailing platform, so you will have to use MailChimp integration to bring the emailing capability into the platform. It also doesn't have a free package that most of the other CRM platforms offer.
Pricing
Pipedrive has four paid packages: Essential at $12.5 per user per month, Advanced at $24.9 per user per month, Professional at $49.9 per user per month, and Enterprise at $99.0 per user per month. Below are the details of the features and the pricing for each package.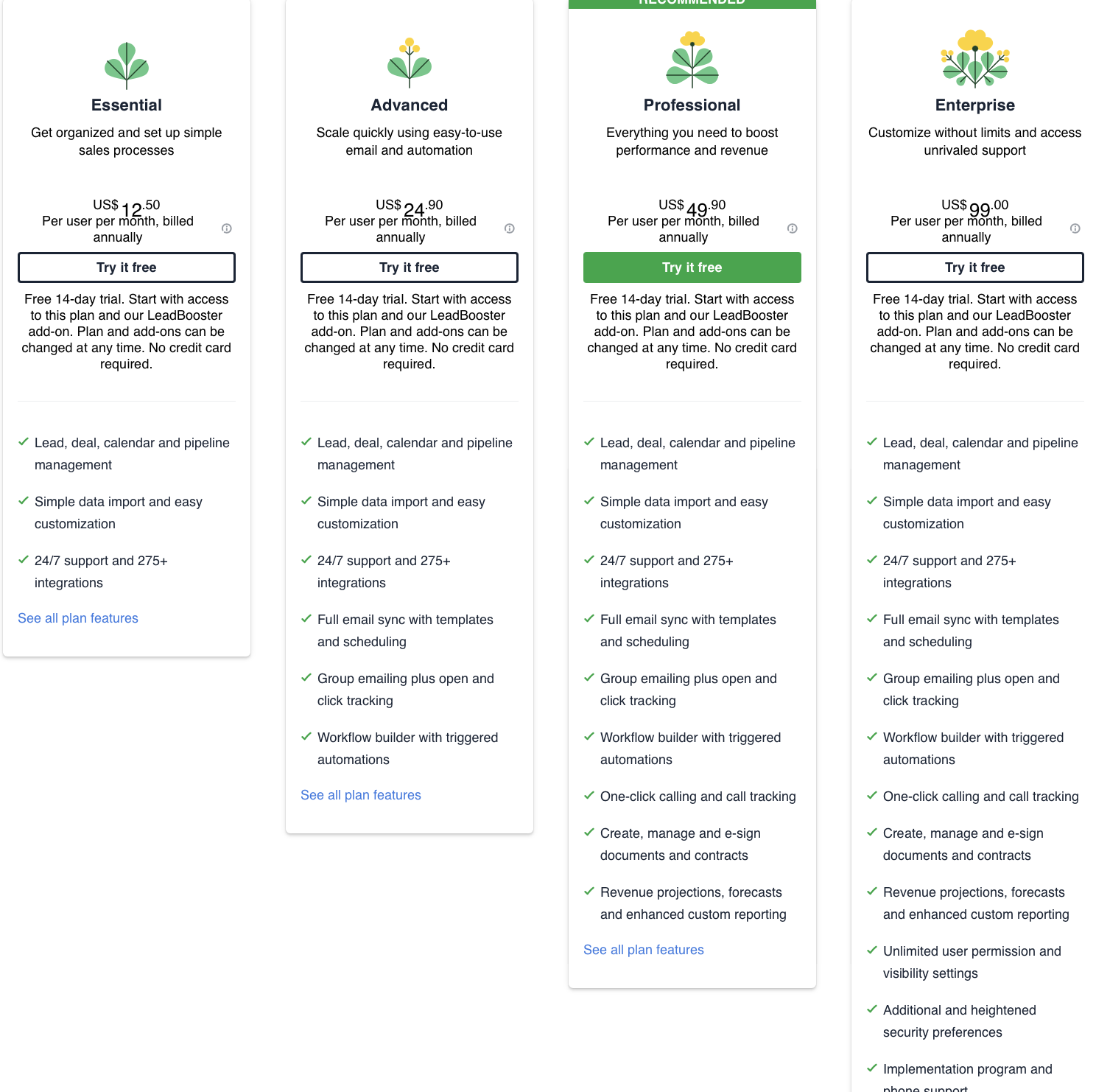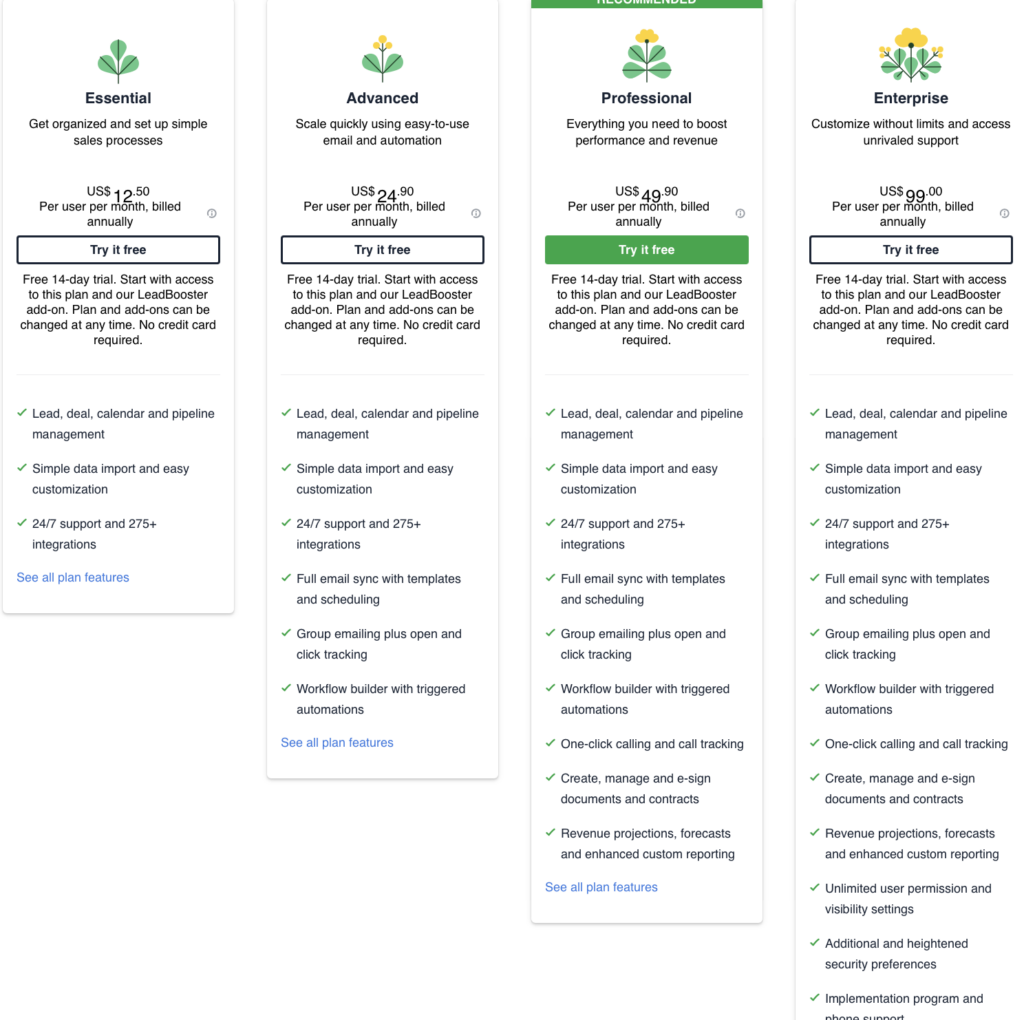 4. Keap
Keap is a CRM built for small businesses and mainly focuses on optimizing sales pipelines and contact management. This stool will help you to populate and organize your leads database. It can import contacts from other CRMs, spreadsheets, or by scanning business cards.
Keap will basically help you get new leads and focus on the most valuable ones to convert more. After converting, this tool also makes it easy to follow up on the previous contacts to maintain a good relationship with your clients.
Core features of Keap
Built-in Sales and marketing automation tools that trigger action based on client's behaviour
Ecommerce and sales integration
Advanced reporting and analytics to help you determine the impact of your actions and set targets for the future.
Email marketing tools include email templates and automation of basic emailing tasks like sending follow-up emails.
Integration with hundreds of apps, including Google Workspace apps, Microsoft 365, Zapier, QuickBooks, WordPress, and many more.
Drawbacks
It has many features that can be overwhelming for first-time users. Keap also lucks a free package that you can use to test it out before committing to pay.
Pricing
Keap has four pricing plans that include; Lite at $40/month per user, Pro at $85/month per user, and Max at $100/month per user. Each user is allowed to add up to 500 contacts for all the packages.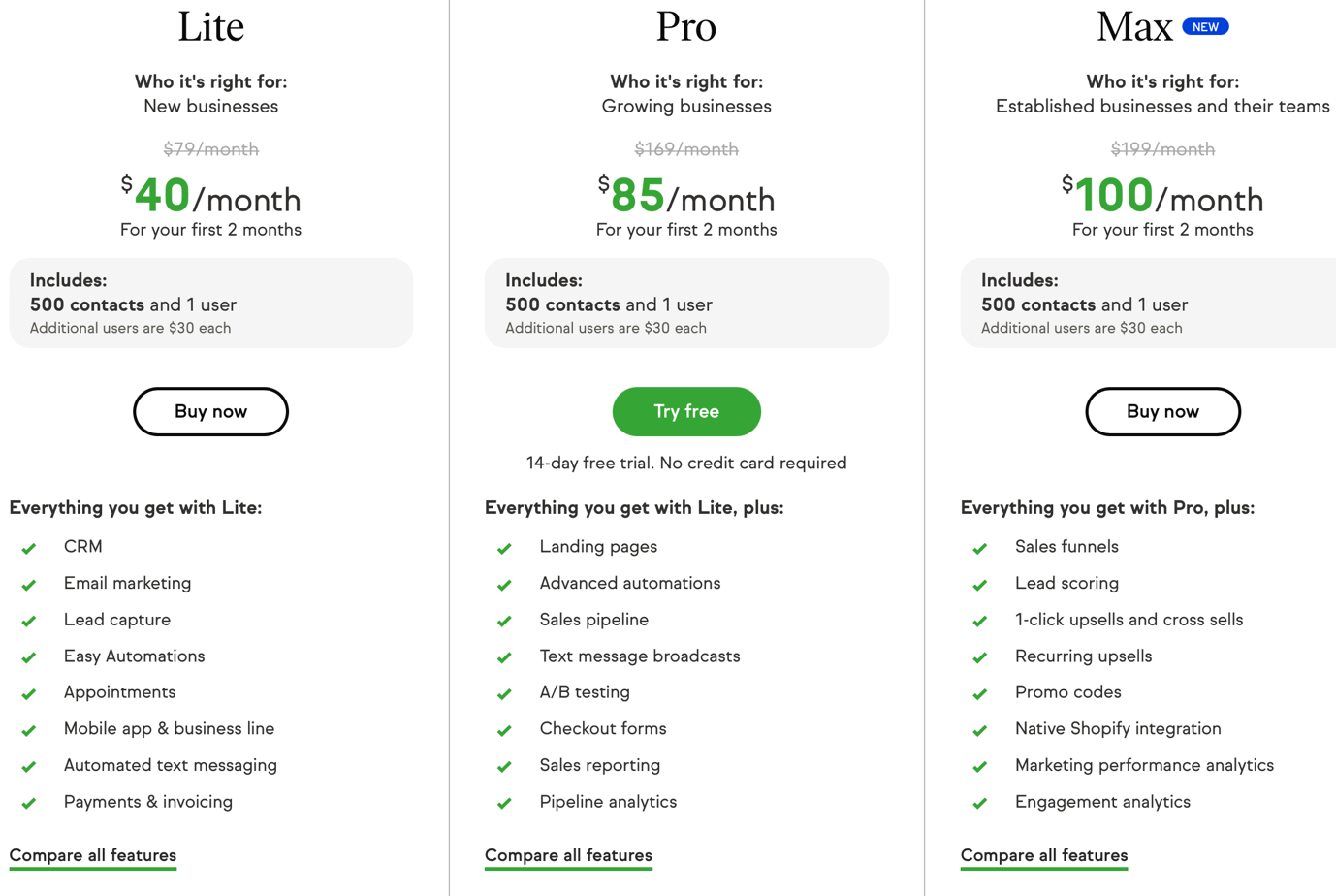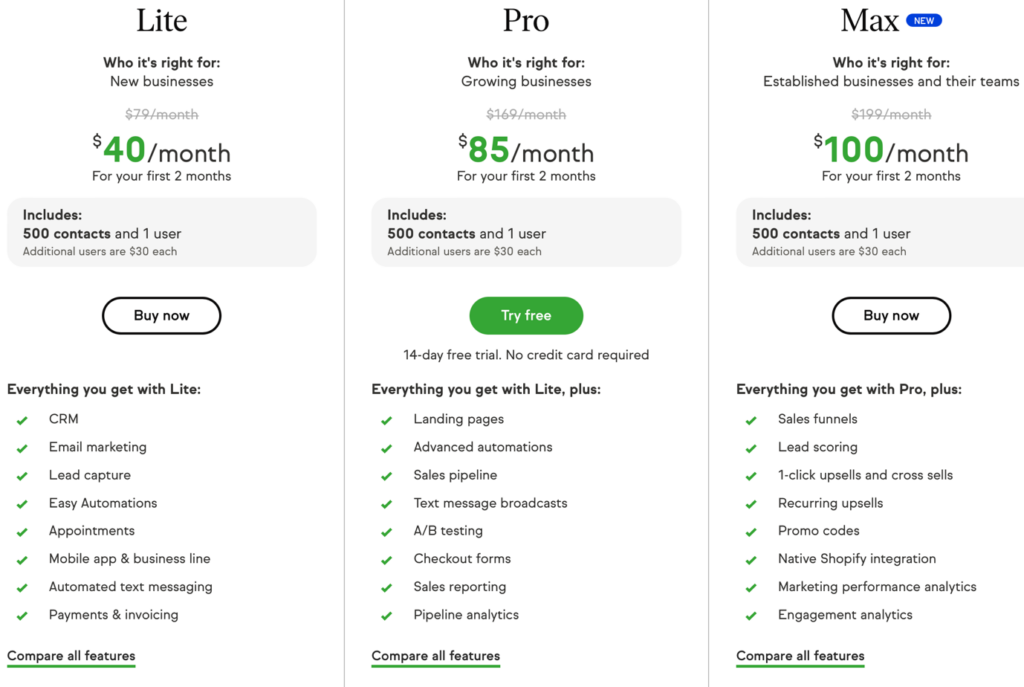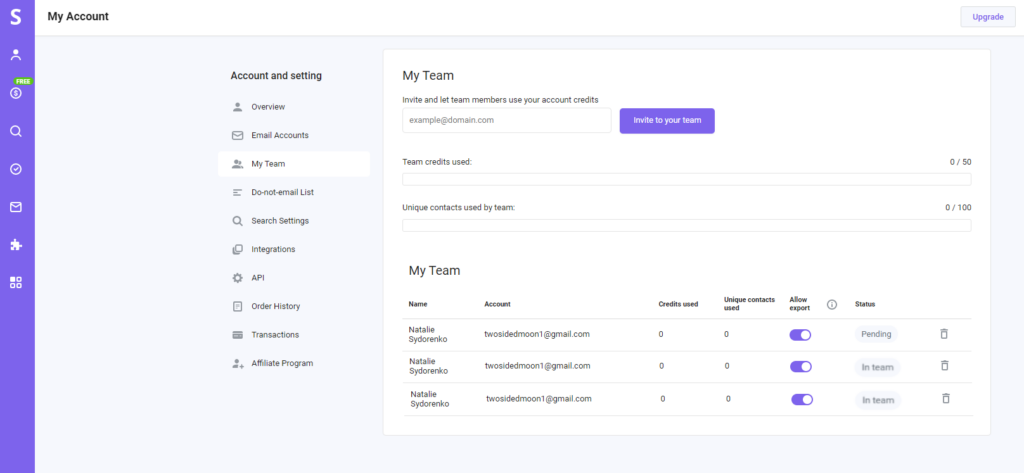 Snov.io is a perfect mix of a sales CRM and a platform for sales and marketing outreach automation with great possibilities for team collaboration. It offers a variety of tools for lead generation, email verification, email sending, and email tracking, with which you can accelerate collecting and managing lists of potential customers, getting in touch with them at the right time, all under one roof of a reliable CRM.
Core features of Snov.io:
Multiple pipelines
Deal stage management
Unlimited teamwork
Deal and prospect notes
Automated data capture with deal timeline
Lead tracking using tags
Integrated email service
WIth Snov.io, you can easily manage your business processes remotely as this CRM allows you to keep track of your sales team's progress with a transparent pipeline view, while your team is staying on the same page on their way to closing more deals.
Drawbacks
The release of promised, cool features is happening gradually because this CRM is relatively new on the market.
Pricing:
Snov.io has a forever-free plan for you to get acquainted with its range of features. Paid plans, which offer more advanced features for unlimited users, start at $33/month billed annually (or) $39/user/month billed annually.


Final thoughts
You now have all the necessary information you need to choose the perfect CRM software for your small business or startup. All you need is to hire the suited app engineers to do it. Like any software out there, CRM systems are tools you need to fulfill a specific purpose, so choose one that suits your needs and budget. 
You don't have to pay for the premium packages that come with features that you may never fully utilize to justify the expense. If you are buying a CRM system for the very first time, it is best to start with the entry-level packages and then upgrade to the high-end tier ones when the need arises. Most of the time, the entry-level packages ship with just enough features for most CRM tasks.