Recruiting talented employees has taken a whole different meaning since the remote work boom. The on-site types of interviews or boring job descriptions are now part of the past. The current workforce is now built by employees who, rather than just being well-compensated, prioritize work-life balance and well-being when choosing jobs. And companies over the world, who are aware of this mentality change, are competing to recruit the best talent out there. If you want to scale your team with skilled employees, you need to forget about the traditional methods and implement alternative recruitment strategies.
Alternative Recruitment Strategies
As a recruitment agency with more than 10 years in the field, we've experienced how the world of work is changing. Employees don't share the same interests as 10 years ago, and overall, the office environment has and still keeps transforming as time passes by.
One of the things that have changed the most, without a doubt, is the way companies attract their employees. Recruiting strategies have also evolved because of all these changes! Here are the 5 types of recruitment methods that all companies should implement sooner or later: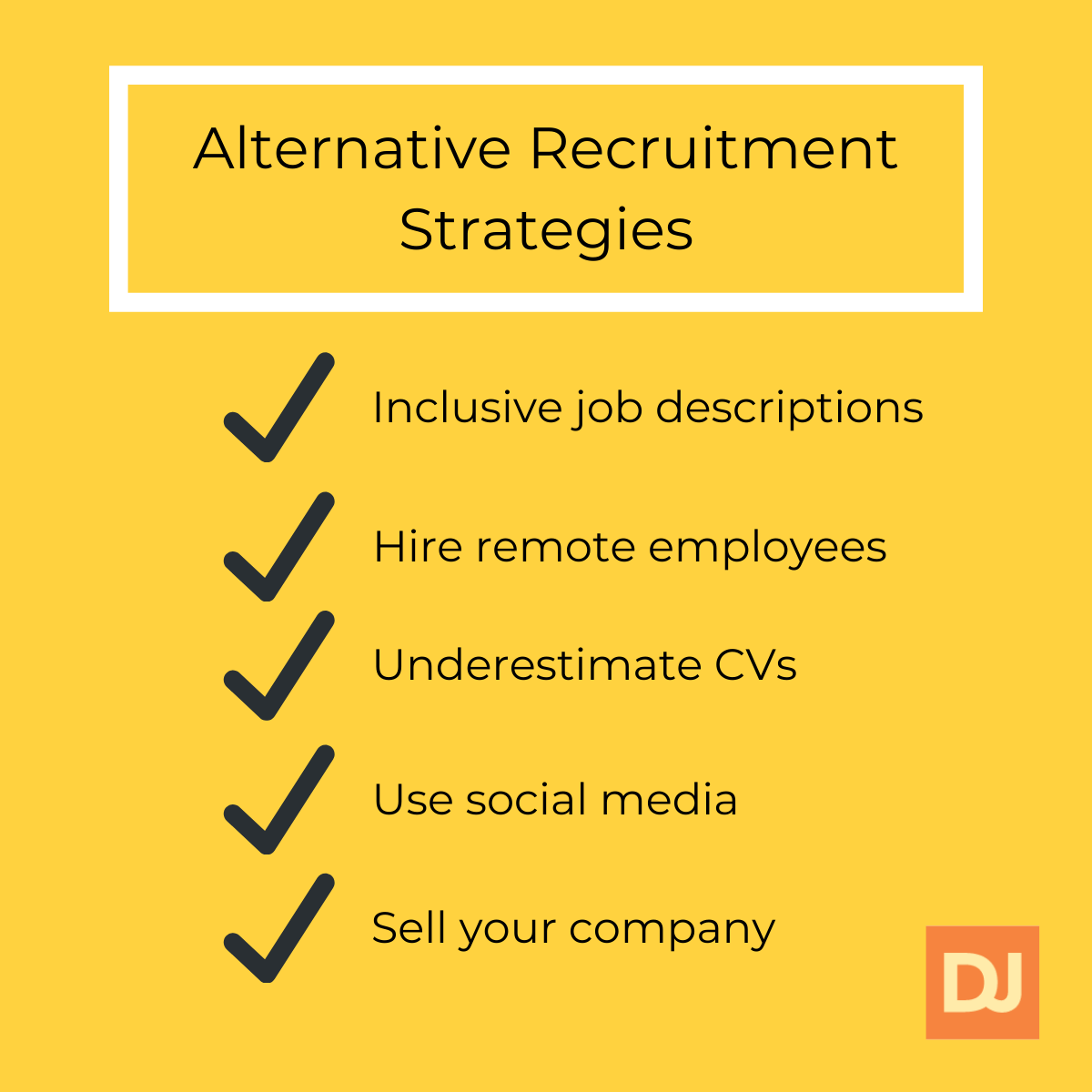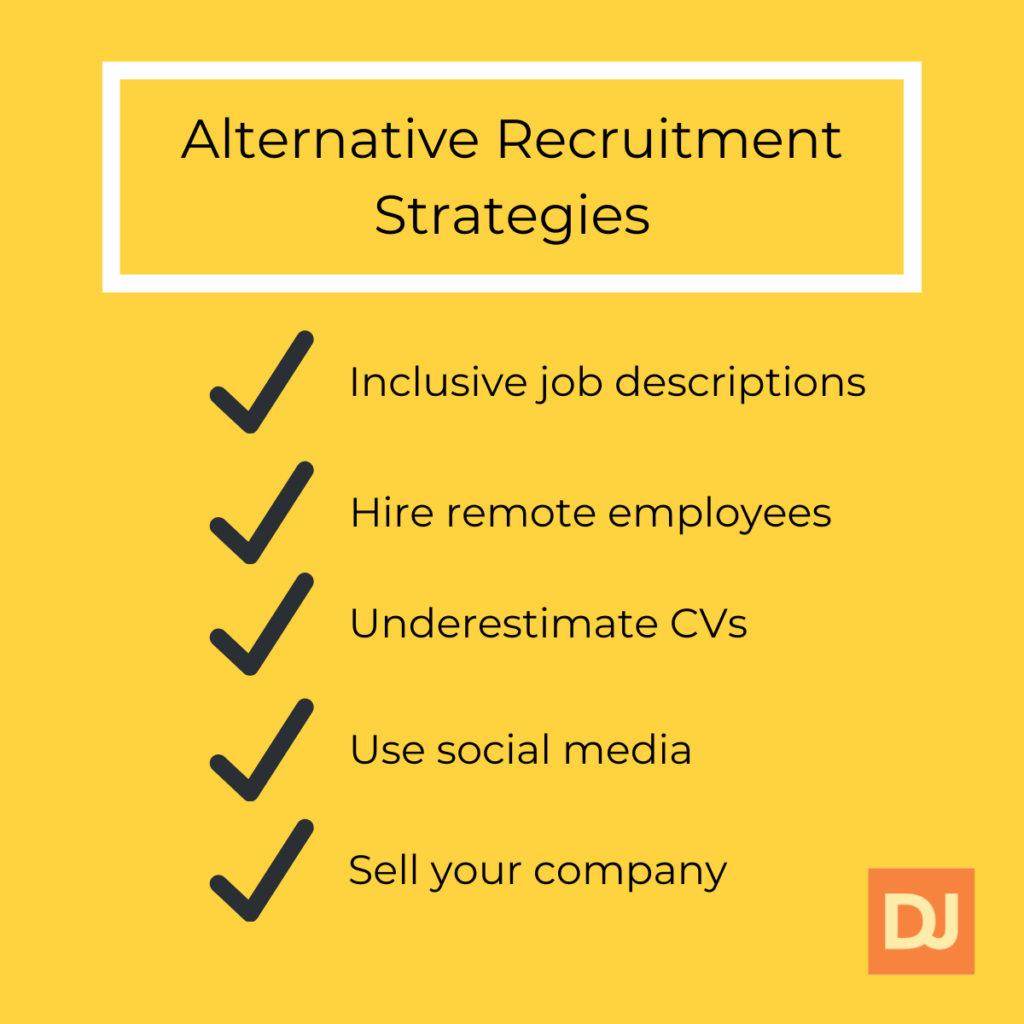 1. Change the Way you Write Job Descriptions
They say actions mean more than words, but in job adverts, words are everything.
Job descriptions are the beginning of your recruitment process. Most of them, depending on the places they are published, are viewed by hundreds of people. But if you choose the wrong words, likely you'll end up scaring many talented potential candidates.
What do we mean by 'wrong words'? – A study conducted by the University of Waterloo and Duke University analyzed how gender wording in job advertisements promoted gender inequality. One of their findings was that most job descriptions are written with masculine words – such as dominant, leader, competitive, among others – that made women less likely to apply to the job.
If your company is trying to promote diversity and gender equality, it's time to take a deeper look into the best practices for writing job descriptions and applying them to your own. Check here our guide on how to do that.
2. Hire remote employees
How is hiring remote employees an alternative recruitment method?
Remote recruiting is on the rise. There are many reasons why companies benefit from hiring remote employees, we explained in dept here but employees and talented candidates also benefit significantly when they get the chance to work remotely as well.
Employees who have children can spend quality time with them plus working full time in the comfort of their homes. The young force who seeks adventure and living in different places, with a flexible job they can pay their traveling bills and work full time at cafés or workspaces.
According to Gallup, 54% of office workers say they'd leave their job for one that offers flexible work time.
When candidates analyze job descriptions and overall job opportunities, they consider aspects such as job position, compensation, and career growth. And nowadays, flexibility is a significant factor that leads candidates to apply or reject a job. So, offering flexibility and remote work is a major advantage that your company will have when competing with other companies to attract and recruit the best talent worldwide.
Think about this: If one lesson companies have learned from the COVID-19 pandemic, remote work works. And most employees who faced this transition don't want to go back to the office. They want freedom and flexibility.

3. Don't Hire Candidates for their resume
CV's are the golden ticket for getting a job most times. Suppose you went to an excellent college, got good grades, and achieved a great professional career. In that case, you'll have more opportunities than those who went to a medium-range college and had few job opportunities.
This is not entirely wrong because you need a certain level of education, experience, and the necessary skills to obtain a job.
But, what is wrong is disqualifying applicants because they didn't attend ivy league colleges or have minimal working experience.
One of the best recruitment strategies we've learned as tech recruiters is to go beyond CVs. Personality and soft skills are equally important.
Picture this hypothetical situation: You have two candidates. John and Bob. John went to an Ivy League university and has built a great professional trajectory. On the other hand, Bob went to a regular college and only had one job before applying to this one. You hire John because of its amazing CV, to later find out he can't take feedback and he hates team work.
Sounds familiar? – If you haven't experienced this type of situation, you're lucky. Many companies prioritize the CV, and the so-called 'hard skills' , and forget about the soft skills and personality traits.
4. Use social platforms
Social media is the modern way of recruiting talent. Why? Because there are approximately 4.57 billion internet users! One of the most effective strategies for modern recruitment is posting job ads over social media. If your company uses LinkedIn, one of the recruitments most common hotpots, there's a good chance many candidates postulate for the job. LinkedIn is a great way to recruit candidates but is not the only option.
Using social media as an alternative recruitment strategy is all about being wise and knowing where to post your job ads. For instance, if you are looking for juniors or people that might not have so much professional experience, LinkedIn might not be the place for you. Instagram, Facebook, and Twitter might be the platforms that will help you reach out to this type of audience.
It's important to know your key audience and what social media platforms they use the most. For example, McDonald's changed their recruiting game, and they use 'snaplications' to reach out to a young audience. Snaplications, are applications over Snapchat, one of the most popular social media platform for teenagers.
5. Offer the chance to be part of something bigger
When people, especially young people, are offered the opportunity of working at big companies such as Google or Facebook, they do not think twice. Why? Because these types of companies are known to have a good culture, besides offering good compensation.
Be the company that whenever someone hears the name, they say, "I would do anything to have a job there''. Obviously, this is more of a long-term strategy because it doesn't happen overnight, but one thing is for sure if you foster a great culture, your employees and the people close to you will do the job for you. You can't go wrong with this recruitment strategy.
You can record a video showing how it's like to work at your company. If it's a remote company like ours, you can explain how exciting it's to have virtual happy hours or celebrate remote birthdays.
Let professionals do the work for you
Implementing employee recruitment techniques can be a long process. It requires writing a good job description, looking for candidates in the right places, interviewing, and many other aspects that take a lot of time and energy.
We live in the era of working remotely, and therefore, hiring remote employees is getting more common than ever. But, if you think it's too much work, we could give you a hand. As a remote recruitment agency, we have helped many companies hire the tech talent they were looking for. We have our formula based on looking for talented candidates who also understand a company's processes and culture besides having excellent tech abilities. All of this in less than two weeks. Sounds good? Contact us!