The growth of remote work has been steady enough that it has spurred another industry: co-working. To get in on the action, write to us.
It's true that remote work is a driving force behind the co-working industry. And a study (PDF) by Cushman and Wakefield, estimates that co-working is growing at a rate of 10-15%.
Many companies are now renting co-working spaces for their employees or paying them a monthly stipend to do so. This small investment comes with a robust ROI.
And the rewards aren't just financial (although many businesses are seeing a favorable decrease in expenses).
Here's how remote work and co-work go hand-in-hand and why both would help your business.
The Difference Between a Home Office And a Co-Working Space
Setting up a home office requires a substantial investment. In the low range, a home office can cost around $15,000. But a bigger problem is carving out a quiet space inside a home.
Co-working spaces, on the other hand, provide everything anyone can need for dedicated, focused work – ideal for your remote developers:
High-speed internet, printer, projectors, smart TV
Desks, chairs, whiteboards, conference rooms, phone call areas
Free coffee, snacks, microwave, refrigerator
Indoor sports like table tennis and snooker
Onsite wellness programs like yoga and Zumba classes
Break/nap rooms for a quick shuteye
Personal care services like shower and childcare.
Anthony Marinos of Grind says he views co-working more like a hospitality industry than real estate.
Why Remote Developers Do Well In Co-Working Spaces
A Harvard study found that an average employee "thrives" working from a co-work space compared to a regular office. Research from Deskmag suggests that co-workers are 74% more productive.
There are reasons why people thrive in these community-centric facilities.
Working alone versus "working alone together" – makes all the difference. It's the potential that matters – knowing people are around.
Health and wellness are on hand – and makes little sense not to use these free offers. And funnily, these activities promote wellbeing, helps to de-stress, and come back to work refreshed.
People-to-people interaction with diverse, creative groups – chatting with people from another profession, culture, and background is stimulating to a creative developer.
Amenities galore and often free – it's more psychological than the freebie itself. Plus, knowing they don't have to splurge on printing or internet connection is comforting.
No internal office politics or competition – the Harvard study suggests that since there's no competition amongst co-workers, people are free to shelf the persona and be themselves.
Stronger sense of identity – coworkers frequently have to introduce themselves and talk about their work. The above Harvard study also says that this helps to distinguish their work from that of others.
Readily available help – from accommodating community managers to people working in the same field, a co-worker has ample support freely available.
Job autonomy and flexibility – Since these spaces are open 24/7, co-workers can come in any time and for any duration.
Community and sense of belonging – the one thing all co-work spaces have in common is how they forge a community with a group of strangers. These spaces are incubators for meaningful human relationships that nurture a sense of belonging.
Research findings from Emergent Research with Global Co-Working Conference Unconference says that "co-working spaces are human spaces" and that's why "84% people are more engaged and motivated when co-working".
How Your Company Can Benefit When Your Employees Co-Work
Regardless of their size, companies are turning co-work. Big corporations like KPMG, IBM, and AT&T rent co-work spaces worldwide.
And many startups have their roots in these spaces, including Instagram, Hootsuite, Spotify, and Uber.
Whether you're renting directly or giving your remote devlopers allowances, your company can also benefit from co-working spaces in the following ways.
Save on rent and equipment when you don't need to provide space or devices for your payroll
Hire from anywhere in the world knowing your employees will have access to state-of-the-art office facilities
Scale up faster with human resources, not immovable assets
Have happy and healthy employees who outperform office workers
Know your remote employees are working distraction-free
Remote work has many benefits. Co-working helps you achieve those a lot quicker.
Beautiful Co-Working Spaces From Around The World
A lot of co-work space chains operate around the world – like WeWork, Knotel, MakeOffice, TechSpace, GreenDesk, ImpactHub, NextSpace, and Co-Merge. And offer a myriad of amenities.
But then there are co-work spaces that belong in Architectural Digest editorials. Fair warning, they've been included here for purely gratuitous reasons – other than to inspire you to leave your office and rent a co-work space and allow your employees to do the same.
Here are three of the most beautiful co-work spaces we've seen:
Hubud, Bali, Indonesia
The likes of Forbes and CNBC calls it one of the best workspaces in the world. This bamboo-built nirvana has the feel of an exotic retreat. But Hubud plays host to remote workers from all over the world.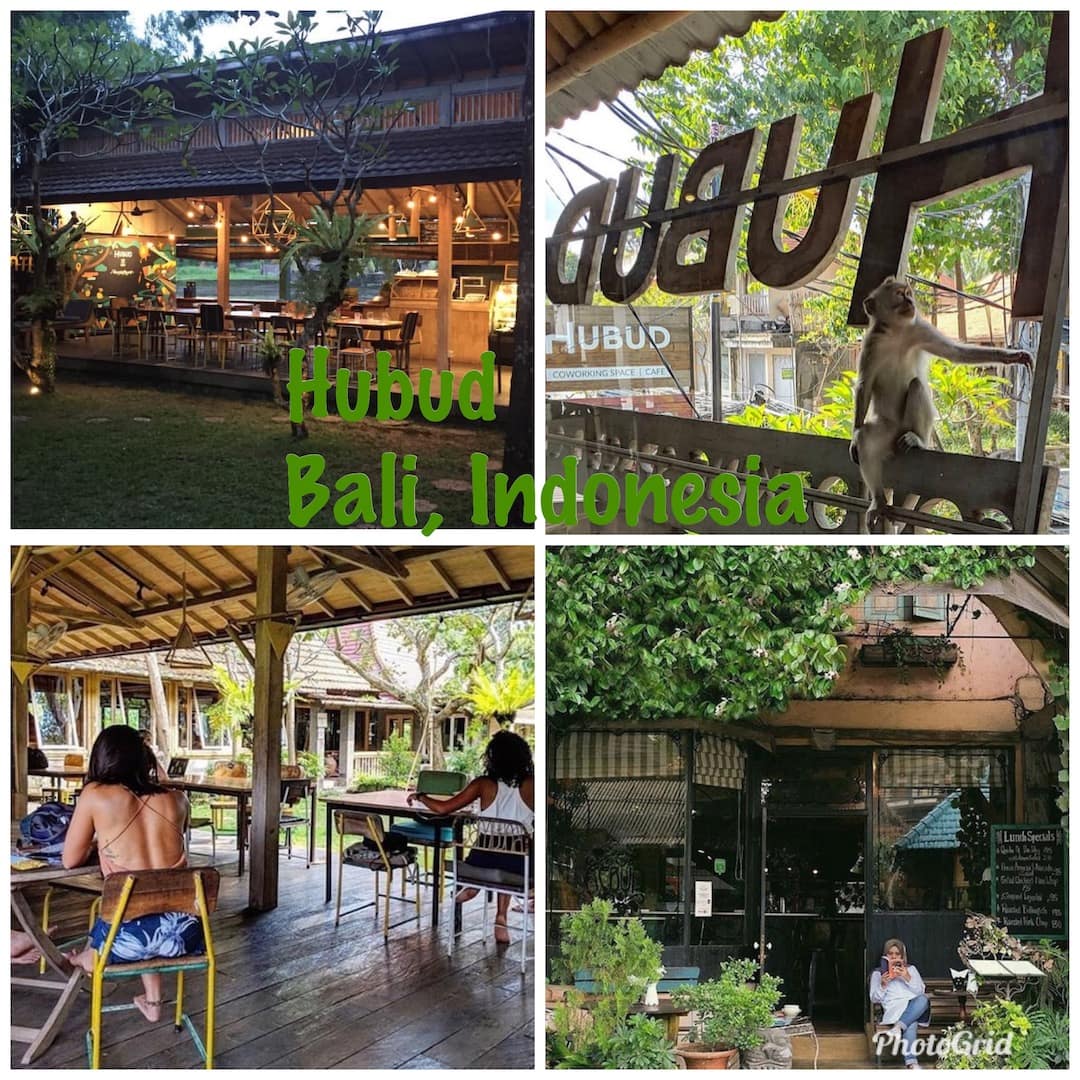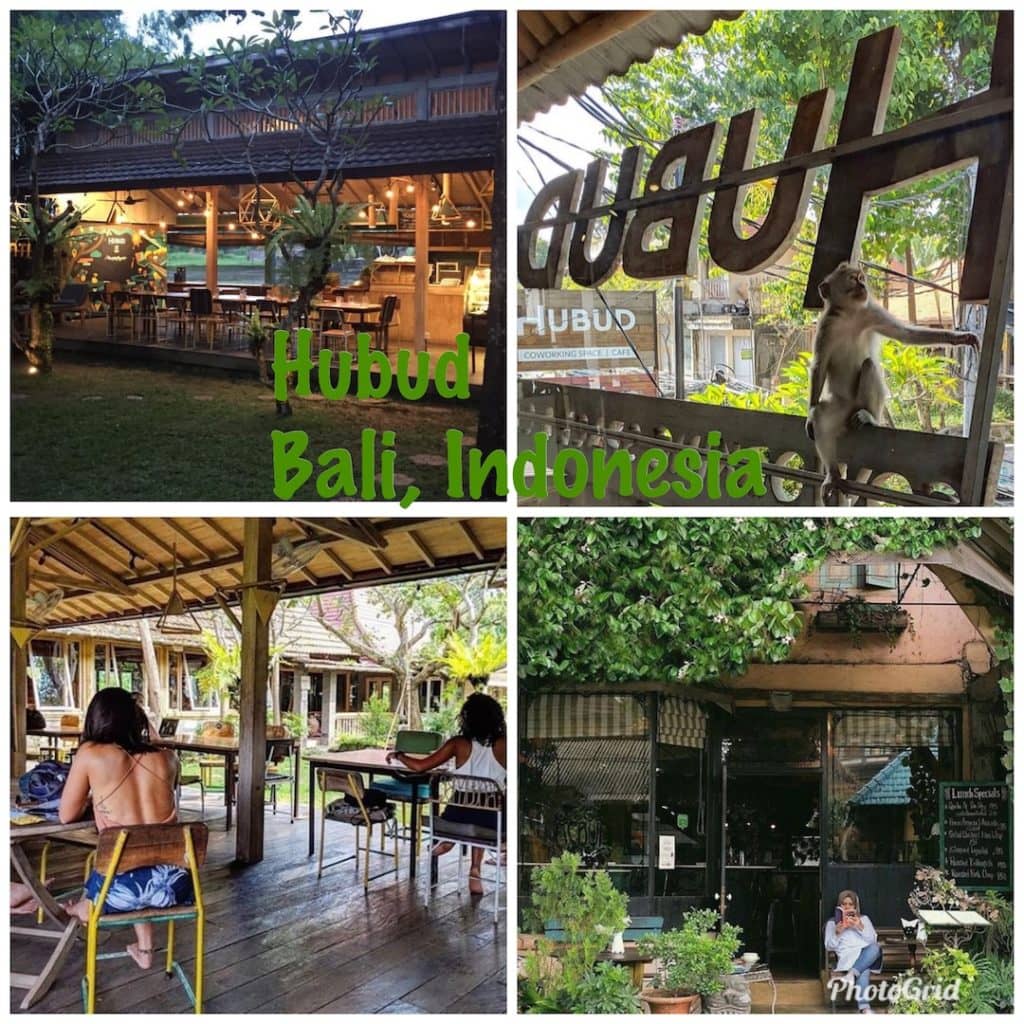 Image Source: Hubud
WeWork Weihai Lu, Shanghai, China
A 100-year-old former art gallery, this mansion-style building has wide-open, airy space that's a welcome break from the congested city – a place most conducive to creative work.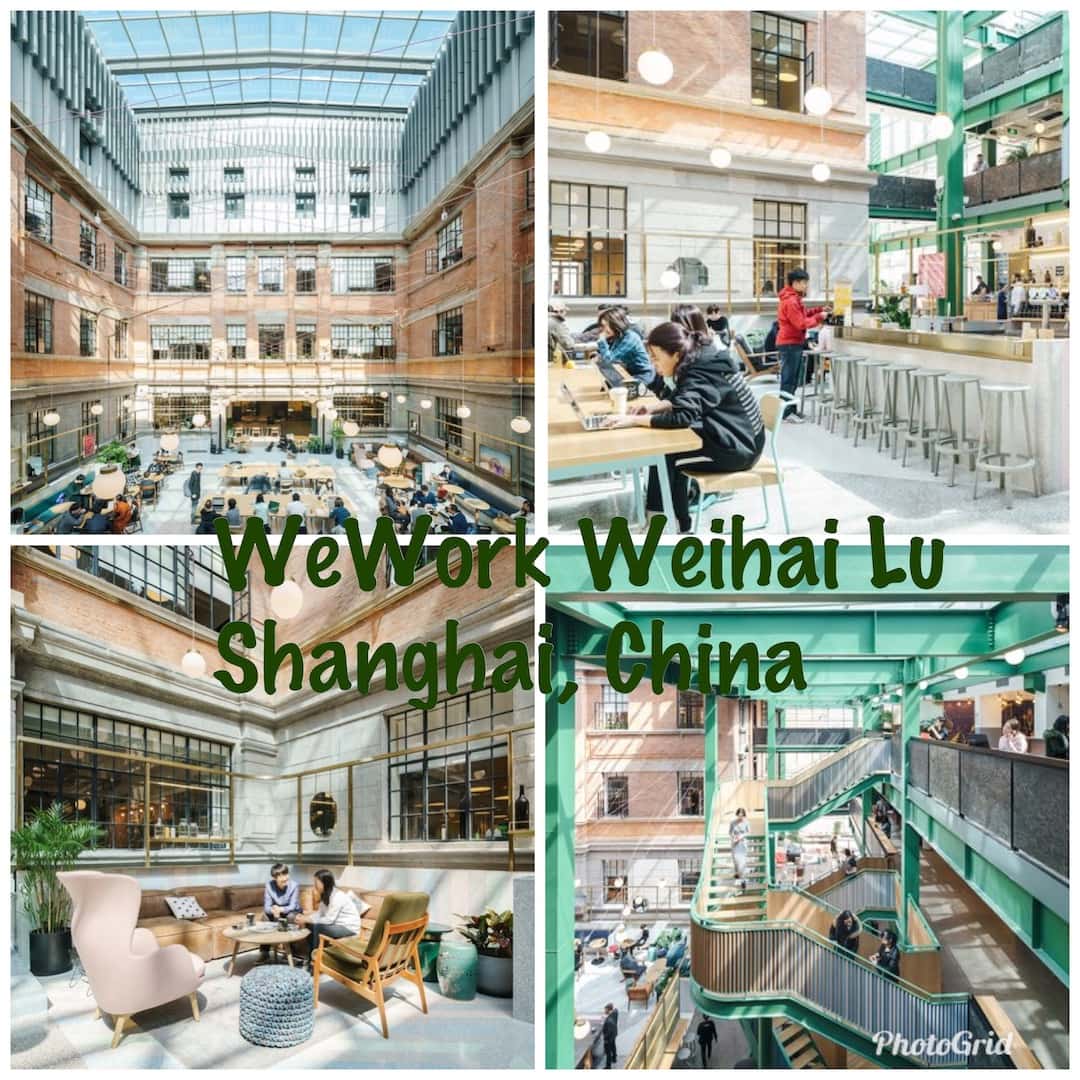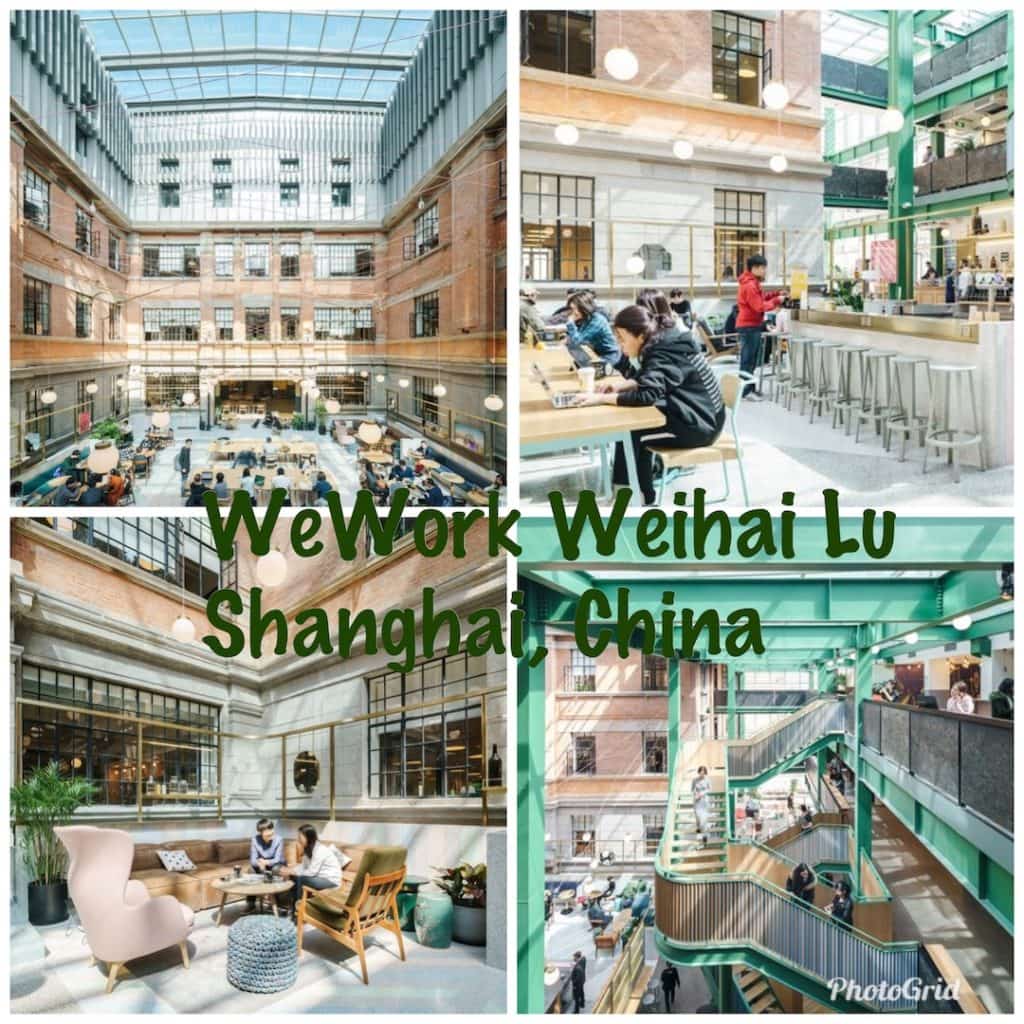 Image: Source: WeWork Weihai Lu
Crew Collective, Montreal, Canada
Formerly the Royal Bank's corporate headquarters, this breathtaking, cathedral-style building is in DistantJob's hometown and possibly one of the most beautiful places to work. No wonder one of our favorite fully-remote companies, InVision is a Crew Collective sponsor.
Companies That Pay Co-Working Stipends
According to Cushman and Wakefield's report, HSBC supposedly saved $1 Million by renting 300 hot desks at WeWork, Hong Kong. IBM has rented an entire WeWork space, and KPMG uses them to save on international real estate.
Although the cost varies widely, the average co-work monthly rents according to Deskmag are:
USA – $387
Eurozone – €245
Asia Pacific – $250
The Co-Work Space Report by HDFC Realty (PDF) states that businesses realize as much as 25-30% cost savings by using co-work spaces compared to traditional offices.
And in true remote work spirit, many fully-remote companies are paying stipends to their employees to co-work. Such as:
Automattic – the company behind WordPress offers employees $250/month and famously closed their San Francisco because "no one was showing up".
Remote.co – allows $166.67 per employee per month for any expenses, in addition to the $2000/year technology allowance.
Basecamp – gives a stipend of $100 to rent a space in the remote employee's city.
Buffer – pays co-working allowances based on city rates and says that they want their benefits to reflect their company values. Hence co-working allowance is relevant.
Of course, a few of the fully-remote companies we've profiled like HotJar, InVision, and Groove provide co-work allowances, too.
Co-work belongs with the ethos of remote work. If your company can benefit from remote work, so it can from co-work.
The Co-working Manifesto emphasizes collaboration, community, support, friendship, learning, and participation. And having your remote developers work in such a supportive community ensures increased productivity and creativity.
Giving them a stipend to co-work is a small overhead that leads to considerable cost savings and better results for your company. Contact us to learn how you can make that happen and how you can hire your first remote developer fast.