If you've ever suffered from the notion that remote work is for the likes of "stay-at-home moms," you're sorely missing out on some fascinating changes in the corporate world.
Did you, for instance, know that telecommuting is most prevalent amongst managers? Or that an average remote worker is more educated than an in-office worker? Professionals from the STEM industries make up the most significant number of remote employees?
As a matter of fact, remote work is "a very professional and viable option, and it's not going anywhere" according to Sutton Fell, the CEO of FlexJobs.
And discerning businesses know this. FlexJobs saw a 20% rise in remote job postings across its boards, particularly in industries like real estate, HR, accounting, and finance. Just look at the below slide taken from the presentation Telework: Overcoming the Obstacles by Telework Research Network (TRN).
Granted, your company may not be the size of Best Buy or Microsoft or HP. But the principles still hold. In your small- or mid-sized business, don't you face issues like exorbitant rent, employees calling in sick or not engaged in their work, or having to keep offices closed due to inclement weather? Remote work solves these problems – almost in one fell swoop.
Let's consider the variables that can save your company money by hiring remote workers.
Remote Workers Are More Productive

– Despite the

raging debate

whether remote workers are more

productive

than in-office workers, it has been found repeatedly that people work better when they have some peace and quiet. Open offices (which is what 70% of US offices are)

decrease productivity

by 15%.

Businesses approximately lose $600 Billion a year due to workplace distractions

, according to the

TRN

. There is no exact figure as to how much more productive remote workers are, when compared to office workers (because the correct answer is "it depends"). But in

one survey

by CoSo Cloud

remote workers were 77% more productive

than office workers!

Remote work reduces absenteeism

– The

same survey

by CoSo Cloud also showed that remote workers are 52% less likely to take time off work when sick. That finding is corroborated by another study from

Softchoice

, which showed that

57% of remote workers worked when ill and 44% worked on vacation

. Smaller tasks like answering emails or phone calls, or completing urgent tasks don't get put off even when remote workers are on vacation. Because they'd prefer to get it done immediately, rather than let everything pile up (and they already have the means to work from beyond their desks).

Remote work decreases turnover

–

TRN research

suggests that

72% of office workers are disengaged from their work

. It's one of the most significant ways businesses fall behind. According to

Gallup

, remote workers are somewhat more engaged (32%) compared to their office counterparts (28%). But because they save an average of $5000/year working from home, remote employees are more likely to

stay with a company longer

. They also

put in longer hours

(in the case of

AT&T

, five more hours per remote employee per week). And they spend a part of the time saved from commuting on work, such as

Sun Microsystems

employees do.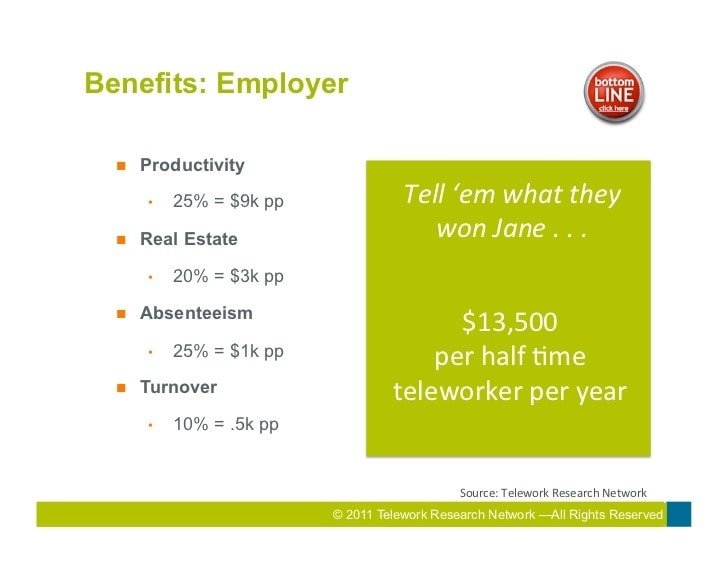 Remote work reduces healthcare costs

– While working from open offices increases the probability of sickness, people working from home tend to get sick far fewer times. A

survey

from PGI showed that

82% of remote workers reported reduced stress and 80% better morale

. Understandable – when the stress decreases and morale improves, health automatically follows suit. So as a

small business owner

,

if you pay for your remote workers' health insurance, your premiums will go down.

Complete eradication of costs related to on-site injuries

– According to the

Occupational Safety and Health Act of 1970 (OSH Act)

, employers are responsible for maintaining a safe and healthy work environment. More importantly, injuries or accidents that happen in the workplace is the burden of the employer.

Serious work injuries cost US businesses $59.9 Billion each year

, according to the

Liberty Mutual Workplace Safety Index 2017

. As a small business owner, you're liable to pay workers comp. But remote workers don't have any grounds to file, except for

rare cases

.

Remote workers mean no need for commuter benefits

– Many businesses provide transportation and commuter benefits to its employees. It may be a fringe benefit, or in

some cities

(District of Columbia, New York, and San Francisco) employers may be required to do so by law. Either way, as of 2018,

IRS announced

that each employee could receive up to

$260 pretax dollars per month to cover for transport

. That is one thing you don't have to worry about with your remote workers. If you're a small remote business with only ten employees, your savings potential is $2600 per month!
BYOD translates to no office equipment expenses

– There is no mandate as to which equipment you should provide your remote employees with. You could provide them with a complete home office set-up, provide them with a few basics, such as laptop or smartphone. You could even offer a monthly allowance. But at the same time, you could go BYOD – bring your own device. Today

64% of workers

already use their own tools at work.  According to a

Cisco study

,

89% of businesses already allow their employees to BYOD

, and for US businesses the

estimated savings is an astounding $3150 per employee per year

.
SF Bay Area ($142K)

Seattle ($132K)

Los Angeles ($129K)

New York ($129K)

Austin ($118K)

Boston ($118K)

Washington, DC ($116K)

Chicago ($113K)

Denver ($112K)

San Diego ($108K)
Compare that with the average software developer salaries from across the world.
Image Source:  Daxx
And if you're thinking, that's all well and good for the IT industry, what about the rest. Here you go:
Based on the Organisation for Economic Co-operation and Development (OECD) data, US has the second highest average salary in the world. Kudos. That's a loophole you can use to your benefit. You can choose to hire from practically anywhere in the world and still can pay less than you would your American employees.
As it happens, countries like Poland, Korea, Italy, Spain, New Zealand, and Finland have standout education programs, and you'll be spoiled for choice as far as finding the right candidate goes.
But isn't' that bad…like promoting a sweatshop mentality, you ask? No, along with average salary, the U.S. also has one of the highest cost of living. Hence, a reduction in the wages of a prospective employee from another part of the world still lets you be fair to them. And, you know it, many of the countries where the average salaries are low, and the education standard is high, also happen to have lower costs of living than the U.S. This list includes Sweden, Canada, Germany, South Korea, Italy, and Spain and so on.
You may know that remote work is gaining incredible momentum with predictions slating it to become the standard way everyone will work in the not-so-distant future. But there are a few things you may not be familiar with. Here are some highlights from the 2017 State of Telecommuting in the U.S. Employee Workforce report:
        Remote work has seen a 115% increase in the USA since 2005.

        It closes the

gender gap

– 48% of remoter workers are women.

        Remote workers are

older

, have more graduate degrees, and make more money than the average worker.

        As a means of transport, telecommuting has grown faster than any other mode of commute.
Whether you like to look at the details (like the happiness of your employees) or look at the big picture (sustainable long-term plan for the planet) or only worry about your business (imagine the savings you'll enjoy) – remote work is the answer.
If you're ready to take the plunge and save your business some significant dough, we're here to help. Write us or chat with us now.