If you're not techy yourself, hiring developers can be challenging. And browsing for general tech recruitment tips for non techies doesn't really help.
There are a lot of subtle – and not so subtle – differences between developers that a non techie may miss. For example, you might think that Java and Javascript are pretty much the same thing. After all, their name is basically the same, right? Try asking developers. And see how long will take them to make you feel dumb.
On Quora, you can find this type of answer:
So, how do you recruit great IT talent? There is a secret tech recruitment for dummies? After all, if you need a Java developer, you don't want to end up hiring a Javascript expert, right?
5 Tech Recruitment Tips for Non Techies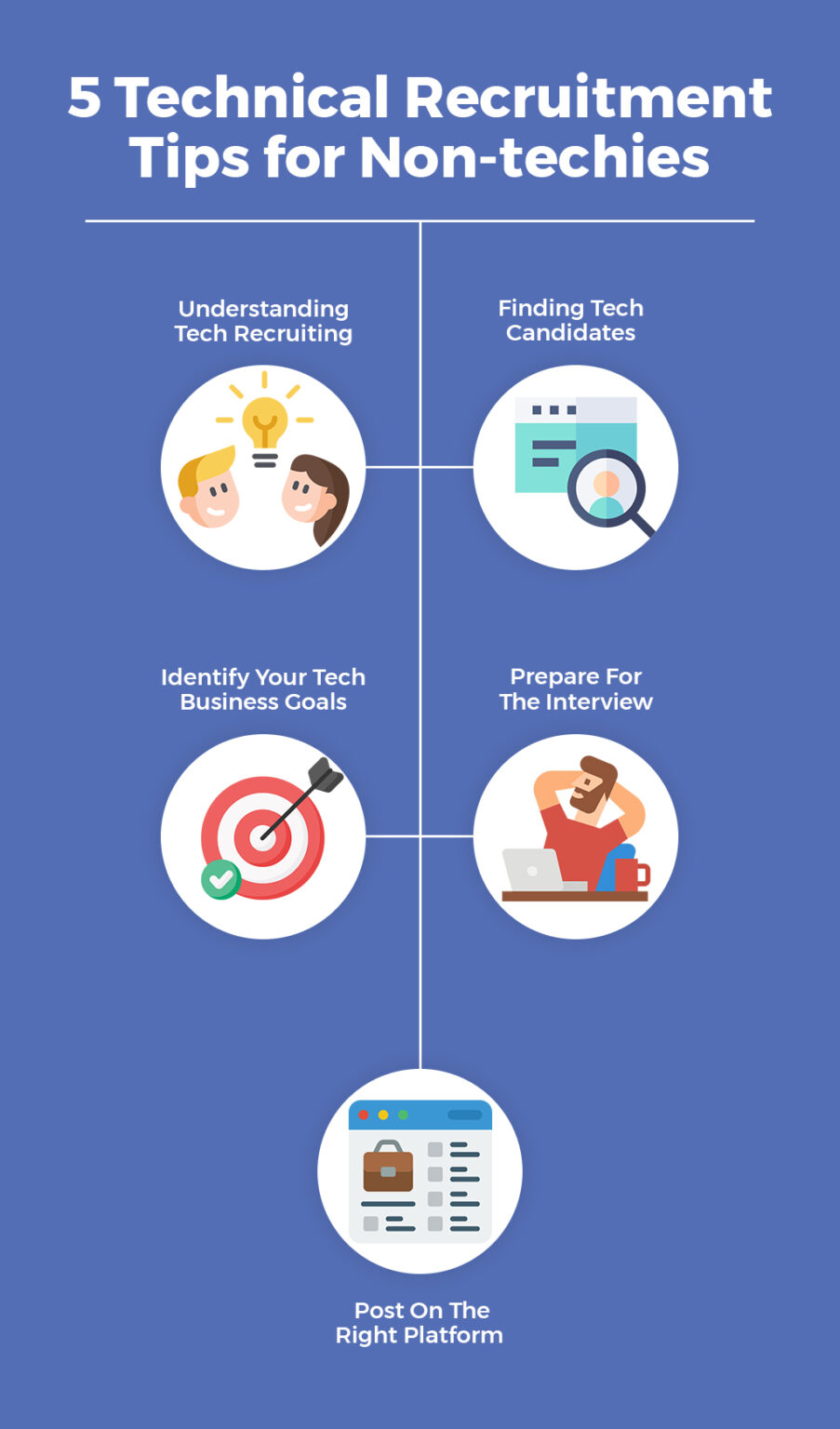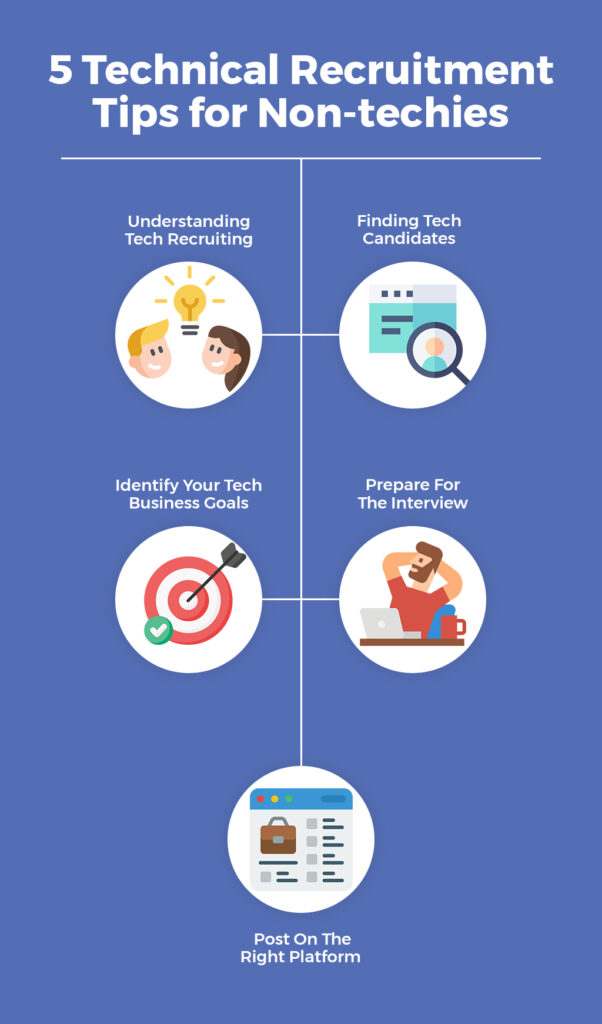 1. Understanding Tech Recruiting
Our first tech recruitment tips for non techies is to know your business and the market. You must be aware that hiring developers, analysts, and other IT staff is different:
The Technology
IT roles require a specific skill set. For example, you're looking for a database developer. In this case, you can't approach any database dev you find on LinkedIn and expect them to be able to slot into your company.
Roles vary tremendously between companies. IT staff from smaller companies usually have an overview of the whole system from end to end. While devs from a bigger company might work on a really specific stage of design or implementation. To simply put it, if you're not technical yourself, you need support to isolate the right skills and experience in your candidates. For example, when you want to improve your user experience, you look for a UX developer. Someone who can implement your interface design to make your users stay longer on your page. If you need a better system to store payment data for your ecommerce, you look for a back-end developer with experience in cloud-based solutions like SaaS CMS. For a non techie manager, setting specific goals is the first step to isolate the type of skills you need for your project. Ask your dev existing team (if you have one), or set up with your manager a list of goals for your new hire.
➡️ For more tips and tricks on finding tech talent check out our blog post: How to hire remote developers!
The Market
Carefully isolating the skill set you need leads us to the second step to consider. Developers not only build websites, but also help you stay competitive in the market. Even before the first COVID outbreak, new software and tools, like AI or augmented reality, are changing business performances and customer services. Talented developers don't just keep your website running. They also make sure you access the most innovative software to boost your company's performance and stand out from competitors. In the next future, research expects a shortage of 1.4 million software developers – with over 920,000 unfilled positions for software engineers in the U.S., there are only 165,000 potential applicants. So, make sure to hire the right candidate and keep your developers with you!
How to Attract a Tech Professional
Stack Overflow published a survey last year, in which they asked technical staff to list what the most important factors about their jobs were. If you were expecting them to say money, you might be in for a surprise – here are the five most popular responses:
Languages, frameworks, & other technologies I'd be working with.
Office environment & company culture
Flextime or flexible schedule
Opportunities for professional development
Remote work options
This is another reason to make sure that the job description is accurate when it comes to the technical details. That might just be what persuades your new hire to make the call.
2. Finding Tech Candidates
Because of the increasing demand, most developers aren't actively looking for work and it can be challenging to find candidates with over 2 years of experience. It's worth brushing up on tips on recruitment for passive candidates; those who are already happily in a role. This doesn't necessarily mean headhunting, although that is one approach. It may just mean that you ensure that your job advertisement and job description stand out from the crowd and gain the attention of the type of candidate you're looking for.
One of the most interactive IT recruiting tips is to engage with developers by issuing a challenge. One example of this is 'Code on the Road' an in-app development by Uber that gives users three coding challenges with 60 second time limits for each. If you pass, they ask if they can send you recruitment information. Coding challenges or hackathons are becoming increasingly popular as ways to identify the best IT talent.
It's also advisable to use the services of a tech recruitment agency. OK, we admit we might be a little bit biased on this one, but we honestly believe that one of the most effective tips for IT recruitment is to use a specialist agency. As we've outlined above, tech roles are different not only in terms of the job description and specific requirements but also in the culture. It's a lot easier for someone who is connected with that culture to find the right person for you, than an outsider who is more used to interviewing admin or call center staff. All tea, no shade.
3. Identify Your Tech Business Goals
Another tip to attract the right candidates is identifying your tech goals. As we mentioned earlier, you don't want to hire a Java developer if you need a Javascript expert.
Have a meeting with your team and list what you need and expect from the role. Once you have your list clear, you can do research on the technical skills you need, without underestimating soft skills.
For example, you need a part-time position to support your database system. In this case, your candidate needs interpersonal skills to collaborate with the team and to be fluent in the English language to write reports and internal documentation.
The same thing happens with other types of developers. Depending on their role you will need specific skills. For example in the case of Ruby on Rail developers you want someone with great communication and interpersonal skills to talk to clients, manage the team, and report to you. In addition, you need someone with a complete overview of the project, able to manage other devs, and integrate back-end elements in the interface design. In short, you want someone who can be a great team player, not only a good developer.
4. Prepare For The Interview
If you know the type of personality you want for your team, you can focus on the tech aspects. Before the interview, you can prepare specific interview questions, focussing on the skills you need. Don't be afraid of asking tech questions or using specific vocabulary. The point isn't to become an expert, but to be aware of the quality of the answers. Of course, to test their coding, you need someone able to help you define the quality of the outcome. But on more general questions related to how they will use their skills to improve your project, you can see whether a candidate is passionate or not about your project and company.
For a non techie, testing practical skills can turn into a nightmare. Which is why you need to arrange at least two interview trance sessions. During the first one, you test coding/development skills with the support of tech recruiters and your existing dev team. After that, you can arrange the second round focussing the questions on your project and how they would use their skills to improve your team workflow. Finally, you can arrange the last round of interviews with the last selected candidates and focus on personality. Here, you don't need tech support, but you must be aware of the type of solution that works for your team.
5. Post On The Right Platform
Finally, not any job board or social media channel is worth the effort. Freelance platforms and social media platforms are full of talent – and people looking for any job. If you need a specific framework, like Django or Ruby on Rails, or with coding languages like Python or C#, you can follow better recruiting methods. 
Developers love to work remotely, but not alone. There are tons of online communities and physical meetups where they share pieces of coding and advice. You can post your offer directly in the community, avoiding paying for job platforms or wasting time on Social Media. In addition, you can ask for references about a candidate in the community, or simply ask them advice on the type of question you should focus on to interview candidates.
Last Tech Recruitment Tips For Non Techies: Remote Tech Candidates – And Get The Best To Help You Out
While the world is in the middle of the biggest ever remote work experiment (or a global pandemic if you prefer to call it), what was already a rapidly expanding sector of employment has gone into overdrive. So, follow these tech recruitment tips for non techies and hire the best talemt for you! We're confident that more companies will follow the likes of Twitter, Microsoft, Google, and Amazon embracing remote working as a permanent change, we're confident that remote and international hiring is going to be the new normal and it should be part of your tech recruiting strategies.

Which is where we come in. Because not only are we technical specialists, we're remote technical specialists. Our business is all about taking opportunities like yours and finding the perfect techie, no matter where they might be located. We'll locate and pre-vet candidates for you and send you a shortlist of those who match technical ability, company culture, and ability to work well, remotely. You could even be onboarding your new hire in under two weeks.