Finding a software developer in the US is one of the most demanding challenges of 2022. Besides a global pandemic, team leaders have to deal with a developer shortage and over 4 million software developers looking for a job. Thankfully, in the era of remote work, you solve this problem by hiring software developers worldwide. But then, you have another major problem: retaining a startup software developer. 
According to the 2021 Bureau of Labor Statistics report, the average turnover rate for a software developer is 57.3%. Turnover rates indicate the number of employees who left a company in a certain period. According to these stats, 29% are involuntary turnover (people getting fired), while 25% are voluntary turnover.
When you are running a startup, retaining your IT talent and avoiding turnover is your main task. Devs didn't experience pay cuts or job losses because of the pandemic. In fact, the opposite started to happen. Their population grew by 500,000 in 2020, with 24.5 million IT professionals worldwide.
Here are the best strategies to manage and retain software developers.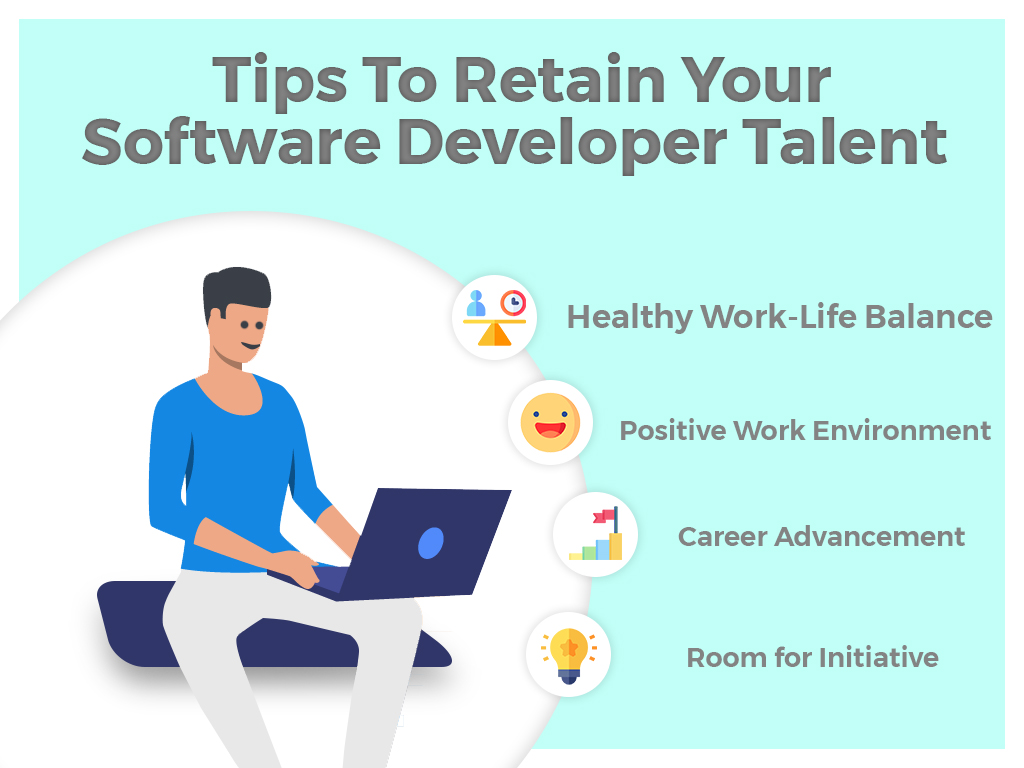 1. Promote a Healthy Work-Life Balance
A healthier work-life balance is one of the top benefits of remote work. The point is to learn how to maintain a good balance when working remotely. If you are running a startup, most of your internal documentation and procedures will be a work in progress.
At this stage, it is vital to monitor the amount of work and tasks you give to your development team. Make sure that the workload doesn't decrease productivity. Work with your team on time management to prioritize tasks and not overwhelm your team. In addition, don't fall into the over-collaboration trap. Especially at the beginning, startup roles and responsibilities are more flexible, and a team ends up arranging more meetings leading nowhere. Make sure to make the collaboration across departments effective, avoiding the feeling of wasting the time and effort of your team.  
Offering a performance review can also improve the overall production. Just make sure to provide the feedback in a positive matter, so you avoid damaging the trust between you as a manager and your developer.
2. Create a Positive Work Environment
If one of the top benefits of remote work is work-life balance, one of the hardest challenges is isolation. Start with improving social channels and encouraging participation. Rather than arranging thousands of meetings to ensure your team knows each other, engage in casual conversation besides working tasks. Creating human relationships within your team is the best way to keep your employees with you.
3. Offer Room for Initiative
The world of technology is in constant evolution. Especially in the era of remote work, new tools, languages, and software are coming up every day. While the tech market keeps growing, your job is keeping up with the latest technologies.
In this race against fast technological innovation, you have a precious ally: your developers. Especially in a startup, make it a point to give your dev team room for initiative and creativity. Give your dev the freedom of introducing new languages or solutions. Being open to personal initiative will provide you with two main advantages. First, you can rely on innovative solutions that will boost your company's productivity — remember we said that developers are crucial to improving sales performance?
Secondly, room for creativity will make your developer feel engaged. According to studies, when employees feel engaged, companies are 21% more profitable. You won't only ensure your developer retention but also higher productivity!
4. Possibility to Advance in Their Career
Indeed, the IT market didn't experience a huge loss of positions. On the other hand, it is also fair to consider that people are happier when they feel they can progress in their company in these times of uncertainty.
And this point is significant for startups. You are launching a new app or starting a new project. You can't just promise to your brand new dev team that you will do your best to avoid bankruptcy and see how it goes. When you pick the right people to work with, show them how you see the future of your company and how they will be part of this growth. How they can change and grow over time staying with you.
As we just said, you need to keep your team members engaged and give them the opportunity to grow in your company. Especially for remote businesses, internal hiring is the best strategy to retain your developers and build a solid company culture.
Startup Software Developer Retention Rate Statistics
Even if you only consider the US market, tech occupations grew by 391,000 positions in December. Applications of software developers for startups and big companies reached over 62.900 shares. A Stripe and Harris report confirms that developers are responsible for 70% of your company's sales performance. Dev teams help you stand out from other brands, creating not only a unique interface, but also the technical features that make your user experience special. They take care of databases, organize data collection, basically they make sure your app or website is always running at its best.
That's why software developer salaries are in constant growth. And a recent Stack Overflow report states that over 60% of developers in the United States are open to new job opportunities. According to a Dice survey, here are the main reasons why developers tend to change employers:
Seeking higher compensation (71%),
Looking for a better work environment (47%)
Career advancement (32%)
Seeking more opportunities to express creativity (26%).
To improve your software developer retention, your job starts with the hiring process and by asking the right questions. Hire people that fit your team dynamics and personalities. Being a good developer is never enough. You also need your future dev to be a great team member.
And we know this very well. At DistantJob, we are remote since ever, and we are experts in hiring and maintaining a good relationship with IT talent. If you need to hire a software developer for your startup, get in touch with us! We have a fantastic HR team that not only takes care of legal issues but, more importantly, has regular check-ins to ensure software developer retention. Plus, we can find top worldwide talent in less than two weeks!
FAQ
How To Keep Your Startup Software Developer Happy 

Create a positive work environment and make sure to respect your team members, you will never experience a sudden turnover in the middle of an important project.
Why Retain Your Software Developer:

Underestimating the importance of software developer retention can weigh on budget and productivity.
1. Revenue loss: Turnover and retention in the middle of a project cost on average 150% of the employee's base salary to find a replacement.
2. Productivity loss: Dev Skiller calculates an average of 43 days to hire a software developer. That's almost a month and a half of the salary, without considering the onboarding process. The average cost of the hiring process can reach $33,251.
3. Bottlenecks & Burnout: When a developer leaves a team, you need to train someone new to reach the same level of expertise on your project. Covering this knowledge gap takes one to two months, slowing down the work of all teams. In addition, you might risk overwhelming and decreasing other team members' motivation.