Managing a remote team has numerous challenges. From crashing time zones to different cultural backgrounds, building an online rapport requires effort and mutual organization. As a team manager, you need to find an efficient strategy not only to distribute tasks. But also to make your team members communicate and work together successfully.
While dealing with deadlines and clients' requirements, sometimes building rapport through a laptop screen doesn't feel like a priority. This lack of communication leads to bottlenecks and delays over time, impacting the whole teamwork organization.
Each team is unique and requires individual solutions. However, some patterns help us identify the most common challenges for remote managers. Let's look at why it is important to build rapport among remote team members, what are the main challenges, and how to overcome them.
Why Is Building Rapport Among Team Members Important Working Remotely?
To visualize the importance of building solid relationships among remote developers and remote team members, we can analyze the following statistics:
Almost 75% of employers rate teamwork and collaboration as a top priority when working in a team – On the flip side, only 18% of employees can mention 'communication evaluations' in their performance reviews.
For 86% of employees and managers, lack of direct collaboration and ineffective communication are the leading causes of workplace failures.
54% of employees said that a strong sense of community, great coworkers, celebrating milestones, and a joint mission are the main reasons that kept them in a team longer than their best interest.
Likewise, 27% of employees leave a company within the first year because they feel "disconnected" from the organization and co-workers.
Companies with effective communication procedures are 4.5x more likely to avoid turnovers. 
In short, a lack of relationships with team members leads employees to leave the company or give a worse performance. In a virtual workplace, employees turnover isn't just a challenge but an issue.
Onboarding new people takes time and resources, especially if the new hire isn't used to working remotely. As a team manager, you can't risk losing any team member on a running process. Otherwise, you will need to rush the others to respect due dates and ask more of their time to train new hires.
Let's go through the 6 most common challenges when managing a remote team to find strategic ways to overcome them.
6 Common Challenges When Establishing Rapport With Remote Team Members
1. Communication
The first challenge for any remote team is communication. In between video calls, working tasks, and communication channels, messages can get lost in the process. If so to speak, messy communication becomes the pattern, your team members will feel as if they are overworking on simple tasks putting more energy into talking to each other – instead of putting effort into better performance.
2. Tracking Productivity
Another common challenge working remotely is to track tasks and productivity. The difficulty here is to understand how much effort team members put into their work. Without a transparent system to measure productivity, it's hard to tell if everyone achieves enough results.
3. Company Culture
Working remotely doesn't mean working anonymously. To attract skilled candidates – and clients – a company needs to define a clear mission and work ethic. In virtual settings, managers often struggle to communicate their company culture. As a result, employees lose their sense of belonging and are more likely to look for another job.
You may want to read: How to Retain Software Developers
4. Scheduling Tasks And Meetings
Especially in distributed global teams, one of the biggest challenges is scheduling synchronous tasks and meetings. From different time zones to inconsistent work schedules with independent contractors, without an explicit schedule for regular meetings, the teamwork risks down for missing brainstorming sessions and catching up.
5. Trust
The lack of a clear structure for communication and tracking productivity leads to another challenge. If your employees need to work extra time or on different tasks, they will feel that you weren't transparent during the interview process. If a remote manager doesn't have the team's trust, it's unlikely that employees will put effort to perform well and stay in the company.
6. Teamwork
Finally, without teamwork, you can't achieve valuable results. Team members must be on the same page to give better results, whether in a physical or virtual setting. The challenge for most managers is finding the right team activities to encourage social bonding or engaging in casual conversations.
How To Overcome Challenges To Build Rapport Instantly In A Virtual Workplace
As we said earlier, any team is unique. The 'right' approach to overcome team-building challenges varies based on personality types, cultural background, and ethnicity.
To build online rapport, you must consider each personality and find strategies to make them work at their best. The first piece of advice to avoid these challenges is to remember that you are a team leader, and a good example for better teamwork starts with you.
If you micromanage your employees instead of finding a way to document progress, you won't give an example of trust. Or, if you just assign tasks without checking anyone's workload or results, you won't give the impression of tracking productivity – just expecting lots of work from people and less from others.
With that said, here is a small guide to manage remote teams and build online rapport based on each challenge:
How to Build Rapport With Your Remote Team: A Short Guide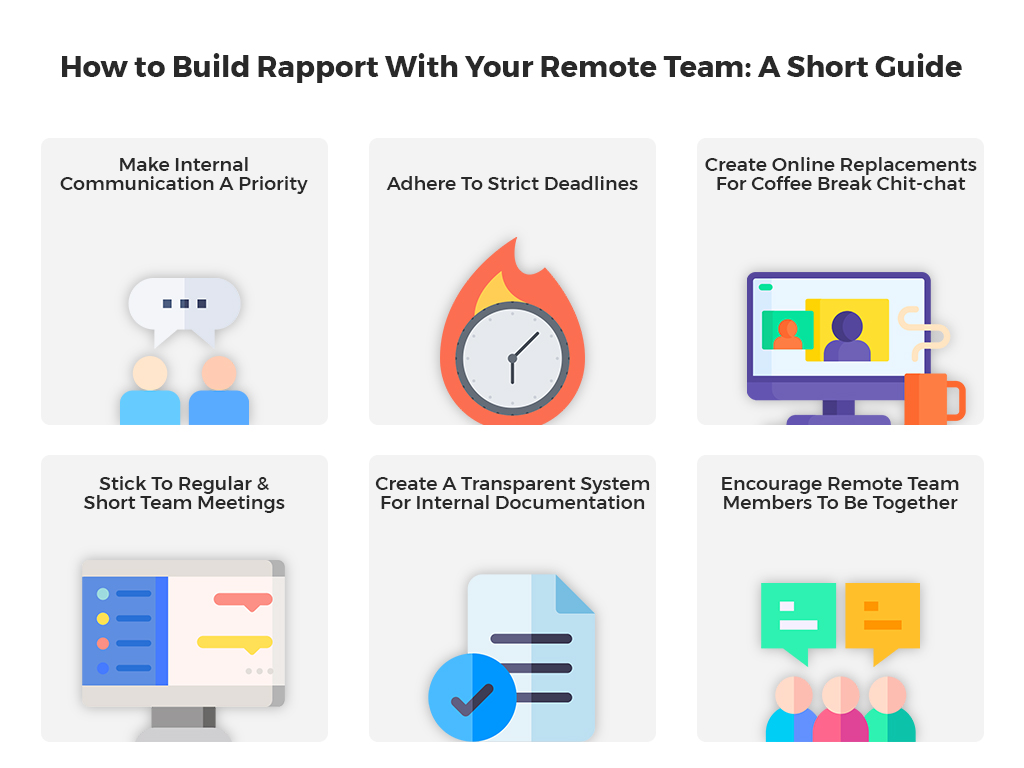 Solution #1. Make Internal Communication A Priority
We won't ever be tired enough to say this. Communication certainly is the first challenge when managing remote teams. But it's also the key to make any team productive and dynamic. And that's why, as a remote team manager, you must have communication as your priority.
1. Make time to stay connected
In a virtual workplace, you can find ways to make up for the loss of the spontaneous five minutes chat in the office during your regular meetings. The keyword here is "regular." Once it's on the calendar, it's weekly/monthly happening – stick to at least one 1-on-1 session per month.
If your team is not 100% remote, make sure in-office and out-of-office people have the same information. It's not just about work progress. You want to make sure that nobody feels left out. If there are any spontaneous discussions in the central office, spend the time updating people who aren't there.
2. Prioritize your budget to help with communication
Clear internal communication is the key to make people feel closer when they are geographically distributed. Invest in tools and gadgets that help your team organize their type of communication in dedicated channels.
Video conferencing tools
A video chat gives a lot more context than a phone call via Skype. Zoom is a great option, used by successful remote companies like Buffer because of its capacity to hold meetings and its recording feature for those who couldn't make it to a meeting.
Team communication tools
With Slack, for example, you can divide team discussions into different topics. Users can give extra context to chats by adding links, images, and fun stuff like emojis and GIFs. Hipchat is another option that you can try.
Solution #2. Adhere To Strict Deadlines
Managing deadlines efficiently to measure results' quality (and quantity) is one of the most effective solutions to track time and productivity.
In this case, there are two things you must consider to manage remote teams efficiently:
1. Make a deadline as transparent as possible
Here, make sure you cover:
– When: The specific time of delivery, including hours, time zone, and dates.
– Delivery method: How to deliver the work and on which platforms.
– Notification: Who to notify and on which channel.
2. Accessibility
After setting the meeting, communicate it and notify shared documents, making sure they are accessible to everyone involved. As your team is remote a sticker on the notice board no longer works. Emails could work, but they can get lost if the project requires more than one feedback round.
Slack is one of the best alternatives. You can announce deadlines on a channel like #general, where everyone has access. Project management tools like Trello and Zenkit, enable you to set a deadline to a task card and assign it to any team member. A user can also subscribe to a task card and get notifications when the deadline is near.
For example, when you get a remote developer from DistantJob, they will follow your company's regular working hours regardless of their time zone. That helps with communication throughout the day and progress check-in.
Solution #3. Create Online Replacements For Coffee Break Chit-chat
Building a solid company culture feels like a harvest challenge when working remotely. You won't have the coffee breaks and lunch-time chats. These ordinary moments help colleagues get to know each other personally, and it's hard to think of an online replacement. Unless you don't try some creative solution:
1. A #random Slack channel
Set up a channel where one can find cat videos or give thumbs-up for GIFs of the day – a virtual entertainment room. Other more informal options are Snapchat and WhatsApp Group. And to substitute lunches together, you can create a dedicated channel for your team to share their meals and favorite places to eat.
2. Facebook Group
Hubstaff recommends using a private Facebook Group to share interesting articles and encourage conversations. One can simply wish another "Happy Birthday." If you use Facebook with your co-workers and do it right, these small channels can help make remote employees feel more like a part of the team.
Solution #4. Stick To Regular And Short Team Meetings
Scheduling tasks and meetings working remotely requires time and effort. Yet, touch-base meetings are necessary to building team rapport. The key is to have a purpose during the meeting, to help anyone feel involved and free to contribute.
To make the meeting smooth and productive, remember to keep it:
1. Short
Two to three minutes is enough time for each team member to talk during the call. Set it a rule for everyone to be prompt. The last thing you want is for this daily routine to keep people from the actual work they are doing.
2. Light
Jokes and personal stories are allowed, as long as everyone adheres to the brief rule.
3. Away from micromanagement
The daily meeting is not the time to investigate why a particular person fails to do their task. That's a private meeting some other time.
4. Regular
Stick to the same time that works for all your team members, and do it every day. Though the flexibility in remote working is priceless, too much flexibility can mean a drift into the void. The accountability carried with a fixed meeting helps tremendously with motivation. We also have some tips on the blog to successfully conduct remote meetings.
Solution #5. Create A Transparent System For Internal Documentation
Building trust in remote teams means creating a transparent system for your internal documentation. If everyone can see what it's happening, your team members can track and coordinate with others, and you can plan an equal distribution of tasks based on workload and skills.
1. Management Tools
Platforms like Basecamp or Asana help you share tasks and progress for everyone. Organizing the work on these platforms support your team's organization of tasks and speeds up the production process.
2. Transparency
It's important that each work progress is reported on shared documentation. Having this shared files helps your team keep track of the work that needs to be done. It is also an efficient strategy to welcome new hires to your team. If you can show your past work and daily report. Plus, new candidates can easily pick up how to organize their work with your team.
Solution #6. Encourage Remote Team Members To Be Together
After all, certain things work better face-to-face, like a brainstorming session or a fun gathering. At some points, you need to leave laptop screens behind and get together. To create teamwork, these incentives can be expensive but will be worth the dollars.
If you have one or two people working remotely, fly them over to the headquarters every other month or on special occasions. When your team starts a new project with an important client, it's always an ideal moment to bring the remote workers over. You can show your client that everyone is on board. If this is the case for your company, you might benefit from these tips on integrating remote workers into your local team.
Atlassian holds a practice of secondments, which are temporary assignments in a new job role or location. They help to build rapport and spread culture across the team. Also, employees have an excellent opportunity to experience a different culture. Zapier holds a company retreat every few months and accommodates the whole team in a big Airbnb or HomeAway home. You can also copy YNAB and hire a gigantic cabin in the mountains.
When your team gets together, don't just work—spare half of the time for fun activities like going on a hike or playing a group game. If you don't have much time, a drink after work still does wonders.
Conclusion
Despite its numerous benefits, managing a remote team still has its challenges. But with the right strategies to build online rapport, you can create a solid and dynamic team. Your job is to read personalities to find who can fit your team members as a person, not only as a candidate.

For the rest, you can ask for the support of a specialized IT recruitment agency that loves to help companies hire remote developers – like us. Hiring the right candidate is the first step to build a productive team. After that, it's up to you to find the most effective strategies to manage your team and get the best results!