Do you need someone to take charge of your IT team? Someone who understands your company's goals and helps you reach them? If the answer is yes, you should consider hiring a software manager. Whether you have this ambitious idea of building and selling a new product in the market. Or you need someone to help you manage your IT team efficiently; software managers are your solution.
In this article, you'll learn about the main roles and responsibilities that will help you hire a talented software manager for your company.
What is a Software Manager?
The best way of knowing if you actually need a software manager is by knowing exactly what their role is about.
A software manager's primary role is to set direction in IT teams. But don't think of this person as the one who will be only controlling how developers work or how things are moving. Their role goes beyond that because they work for the best interests of your company.
Software managers are responsible for coordinating the people, resources, and processes required to create a new product that a company wants to launch to the market or upgrade a product that has already been built.
Think about it this way; you own a company with the vision of making an amazing software that can bring you many new clients. Although you have this big concept and goals, you are not sure what your first step should be. Or what resources are needed, what tools to use, what's the best way to save money, how to hire talented developers for it, etc. All these questions pop into your mind, and you realize you need someone in charge of this area. Someone who not only knows how to answer these questions, but also has the abilities to manage a team of IT professionals, and who also is able to come up with the best strategies to make your product successful. Yup, software managers are a big deal.
Here are the main software manager skills: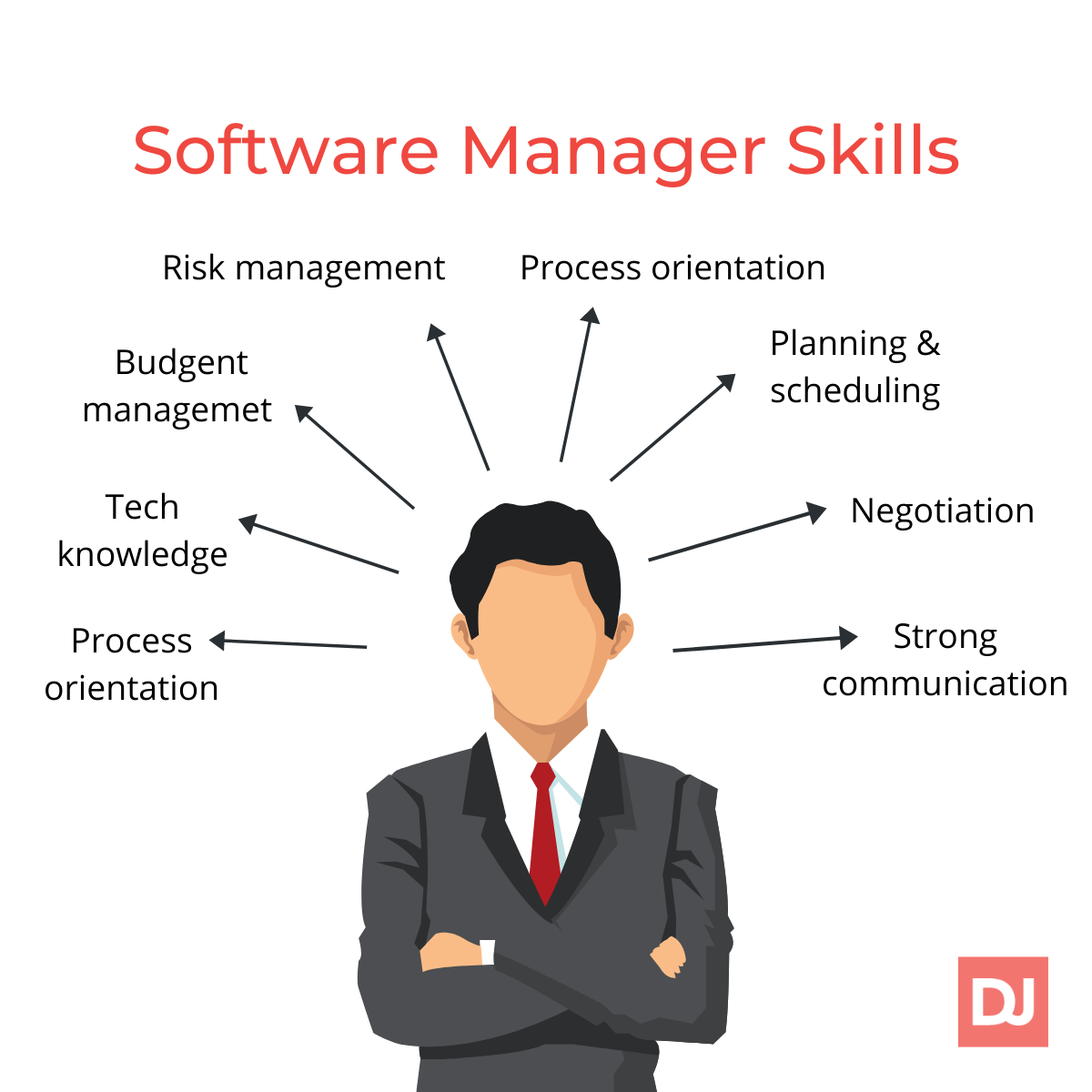 Software Manager Roles and Responsibilities
As experienced remote recruiters, we've concluded that many of the companies that come to us seeking our help to hire top international tech talent make similar mistakes when recruiting. One of the most common mistakes is that they usually have an HR team that oversees the recruiting and selection process, but has no idea about the role they are interviewing for. This mostly happens in big companies, where HR teams are given some ''guidelines'' regarding the role the company is needing. And although the guidelines might be useful, most companies still can't get it right because they hire candidates that were either not what they were looking for or that missed important skills for the position.
Hiring the wrong candidates costs you not only money but also time and energy. This is why it's important to know exactly what type of candidate you're looking for by taking a closer look into what they will be doing. Here are the main roles and responsibilities of a software manager:
1. Create a development strategy
An important part of a software manager's role is that they work side by side with business managers, marketing teams, and other product stakeholders. This way, they identify the essential aspects the new software should have. Or, if it's the case, what should the new upgrade of the product have. They analyze the important variables by listening and taking into consideration all of these aspects.
When developing a specific product, software managers make an in-depth analysis of the audience they are trying to reach. They study the market and also the competitors who have a similar objective.
This way, after all these studies and analyzing the different variables, they are able to build a strong development strategy.
2. Team management skills
When software managers have a project, they know the type of talent they need to successfully achieve that project. They easily identify candidates who are skilled enough to do the given tasks. But besides the recruiting part, software managers should understand how each team member works. And should also know how to lead their team better. This means being organized with the tasks, having a clear path into where the team is going, and providing constant support.
3. Organization and timing
Time is money, and every day thousands of software and applications appear in the market. Remember when you kids and even yourself (although you still don't admit it) were addicted to playing Angry Birds? It was the game of the moment! Now watching someone play it is uncommon because there are so many new games. This is why, when developing software, you need to be always on top of the game. Not only by creating innovative things but also by upgrading the ones you already have.
Besides completing projects on time, software managers also take careful considerations of what their next move is. They can distinguish what truly matters and what doesn't. For this is essential that they always have schedules with their process and their plan for the product. Whether it's a product release, they might need to coordinate with the marketing and PR department, for example, and keep their word on due dates.
4. Project management
Software managers need to be on top of their teams. Being on top doesn't mean overcontrolling and micromanaging each member of the team. But it means knowing what everyone is up to, if things are moving at the desired pace or if they are roadblocks that need to be removed. Software managers ensure that the quality of the product they are developing is excellent and reaches both technical and business goals. How do they achieve this? By making meetings with their teams to review progress, talk to each member to see how they're doing, and discuss the necessary aspects of the projects.
For great product development software managers should constantly be in contact with other stakeholders like the company managers, and overall, the other areas crucial.


Software Project Managers vs Software Development Managers
Software managers tend to be divided into two categories: Software development managers or software project managers. Is there a difference, or is it just to add fancy titles? Although you can hire kickass software managers who do a bit of everything, they usually tend to fall into one of these categories. Let's see what the differences regarding roles and responsibilities are:
Software development managers
Development managers are in charge of the software development process. They mainly take care of managing the people in the team and are in control of the processes, the projects, and the product itself. One of the main differences with project managers is that development managers are more inclined to understand the engineering processes and elements needed.
Some of their main responsibilities are:
Control the resources of the development team.
Onboarding and managing the contracts of the team members.
Time-management of the deliveries of the project.
Managing the project budget efficiently.
Constant communication with management and project stakeholders.
Provides continuous training and coaching to the team.
Analyzes how the product improves the company.
Build strategic plans to enhance different areas of the project.
Software project managers
Project managers are the main authority in a project. They are in charge of scheduling, prioritizing, delivering, and delegating in a team. Their main objective is to design the processes that make a project efficient, maximizing its productivity while saving costs. They manage the budget and schedule of a project. Project managers are also in charge of ensuring that they are the necessary communication channels to build transparent and collaborative teams.
Some of their main responsibilities are:
Work closely with managers and different stakeholders.
Awareness of what are the main goals of the project.
Planning, monitoring, and executing the project.
Maximizing team members capability.
Maintains direction of the goals of the project.
Makes clear and practical objectives to reach the project's goals.
Hires and supervises developers.
Analyzes and distributes the money efficiently in the different sector of the project.
How to Hire Talented Software Managers?
If you've been reading us for a while, you know how proud remote work ambassadors we are. We know the benefits of having distributed teams and speak the truth to those still unsure about hiring remote employees. Hiring IT talent, whether remote or not, always comes with its challenges. In this case, rather than just analyzing what the software engineering manager's requirements are, the main skills and abilities, it's equally important to hire for culture. Whether you want someone to take over a specific project, or manage a team, never take the recruiting processes for granted.
Our advice is to have a reliable recruitment team that has the knowledge to look for software managers in the right places and do great technical interviews, knowing what to ask. If you think building a recruiting team like that requires many resources and time, you can always seek a better and faster solution. We are a remote recruitment agency specialized in hiring remote talent. You only need to contact us, tell us the characteristics your dream candidate must have, and in two weeks, voilá, you'll be welcoming your new software manager to the team.