There is one thing that art organizers, start-up promoters, and tech pioneers have in common. They all look for funding and financial partners. Whether you are planning a music festival or developing a mobile application, you will need to create a business plan. A good one to convince investors that your project is groundbreaking and deserves financial support.
If you think about it, good ideas usually don't go far without funding. Back in 1492, even Christopher Columbus had to convince Queen Isabella I to finance his expeditions. With a map and a business plan, he convinced the Spanish monarchy that sailing through a new route was worth their money. As history tells us, his idea was more valuable than he was expecting in the first place!
Likewise, a solid business plan is a roadmap to present your business to future partners or new collaborations. When creating a mobile app, a business proposal is always a winning card to grow your company's authority and credibility.
Competition around mobile apps is constantly increasing, with over 1.85 million apps in the iOS App Store, 2.56 million apps in Google Play, and thousands of new releases every day. If you're stepping into this dynamic industry, an app business plan is something you should bring with you – together with the best app developers!
What Is A Business Plan For Mobile Apps?
As the name suggests, a business plan is a financial proposal for a business presenting a new project, looking for funds, launching an app mobile. In short, it is a tool to promote and grow your company finding partners and new investors. In this proposal, you include each step of the development process. The story of your project frames the scope of your mobile app, defining the features to add and interface design.
It is important to add how your applications will improve the customer's experience and solve users' issues. Picturing your target audience and buyer personas is essential for your app development. The process to know your customers' demographics will help improve the app features to satisfy their needs and grow your authority in the marketplace.
Why Do You Need One?
As we mentioned, there are thousands of app releases launching new services and products every day. That's why writing a business plan for your mobile application helps you create a solid product that will make you stand out from your competitors.
A business proposal isn't just listing the unique mobile app features you can offer or what colors or fonts should the app have. Above all, writing a business plan means going through each step of your company development to explain how your product is profitable.
A business plan helps founders and investors visualize your business journey and your final goal to secure loans and financial partners. In short, a business plan means building a tool to have funding and monetize your team effort.
How To Write An App Business Plan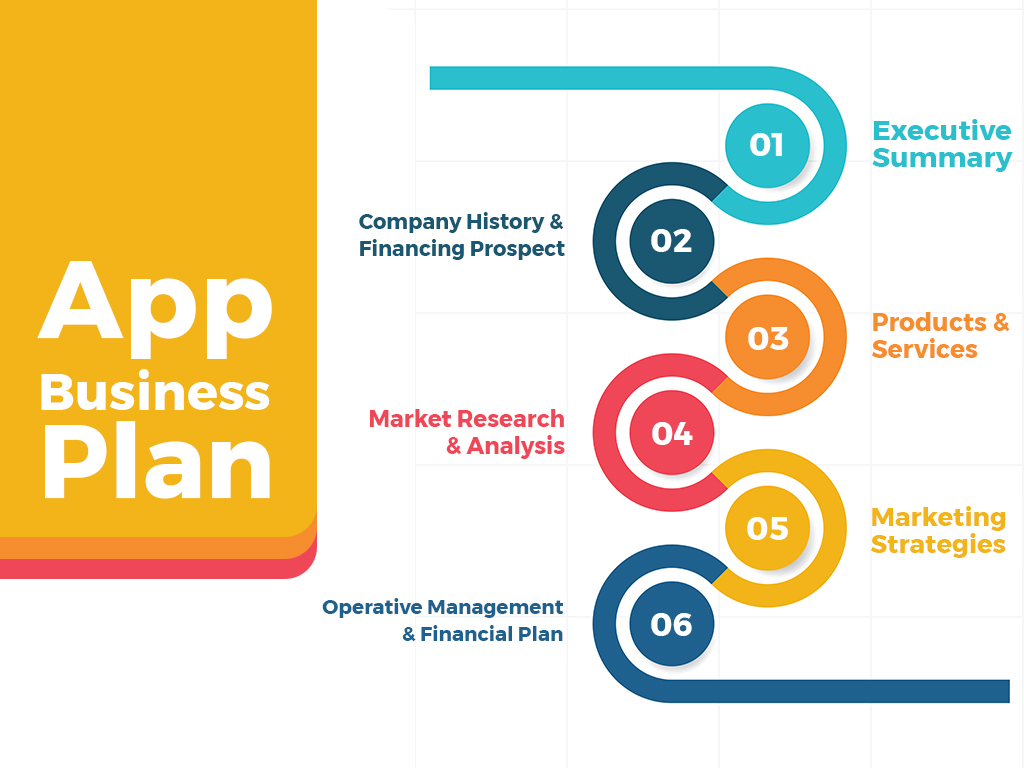 Each company is unique, and the content of a solid business plan varies depending on your goal and type of audience. Keeping in mind what makes your mobile app unique, these 6 points are the foundation for every best business plan:
1. Executive Summary
App Overview: Scope and functions.
Company mission and unique value.
Prediction of sales, operating and additional costs, and profits.
2. Company History & Financing Prospect
Company history, including all the steps of your company's journey and why your team is the best for this project.
Financial prospect specifying the type and the amount of financial support you need.
3. Products and Services
In this section, you are free to explain how your app development company's business plan will serve your target audience. Illustrate in detail how your products and services are targeted for your buyer persona.
4. Market Research and AnalysisCustomers Survey
Customers Survey
Buyer Persona Profile
Competitors Analysis
Company's strengths and weaknesses
5. Marketing Strategies
Your marketing team is the one giving identity to your company and presenting your products. Promotional campaigns and advertising create a connection with your audience and make your service unique. Here you can use your creativity explaining the story of your services and how you will present your projects to your customers.
6. Operative Management & Financial Plan
Finally, give a detailed overview of the key roles in charge of the projects and how they will operate with the rest of the team implementing its financial support.
Finding Mobile App Developers For Your Business Plan
These are the essential pieces that will help you create the best business plan for your mobile app. Remember what we said in the beginning. Even the most brilliant people need at least one wealthy visionary to finance their project.
Before looking for your visionary partners, make sure to find the best developers for your business. You can always rely on partners or credible portals to hire freelancers and outsourcing companies. But if you are growing your business, remember that a remote dev in-house team is one of the best options for consistent and long collaboration. You don't need only visionaries, but also a great team! 
And if you don't have time for the hiring process or don't know where to start to find a mobile app developer, we are here to help! We are passionate remote recruiters with a lot of experience in tech businesses. If you want a guarantee during the hiring process and support to find the best remote candidates, knock on our virtual door!