If you're on the verge of building an app and need a talented app developer to finalize your project, you need to consider the value-per-cost ratio. Keep in mind that rates for Android developers vary significantly depending on where they live so we covered the best places to search for suitable talent, and rates across the top-rated software development countries in this article, as well the difference between android app and IOS apps.
Android Apps vs iOS Apps
According to Crew, while iOS users tend to be wealthier and more dedicated to their operating system, Android is an operating system that's getting more and more popular in emerging markets such as South America and the rapidly-growing Asian market. If you already have an iOS app or you're looking to expand into novel markets, it's particularly important to secure an Android app developer. Here are some of the significant differences between Android Apps and iOS apps:
1.
Tech Ecosystem
Android
iOS
Android Works on an open-source ecosystem allowing developers to create tons of modifications. The main reason Android has this type
of ecosystem is to encourage innovation.
Apple has a closed ecosystem. This means that Apple regulates entrance to use its platform; all of the content is restricted to specific devices.
2.
Availability
Android
iOS
Is available on plenty of phones and
tablet brands. Major manufacturers are Samsung, LG, OnePlus, Vivo, and Xiaomi.
Only available on Apple products: iPhone, iTouch, iPad, and Apple TV.
3.
Development language
| | |
| --- | --- |
| Android | iOS |
| Java, C++, and Kotlin | Swift |
4.
Affordability
| | |
| --- | --- |
| Android | iOS |
| Android has a wide price range depending on their buyer's budget. You could spend USD $1,400 on the newest Samsung Z line. Or you could buy a phone for USD $200. | Apple products are expensive. iPhone 11 Pro Max starts at USD $1,100 and the cheapest iPhone you could get on the market doesn't cost less than USD$400. |
5.
Customizability
Android
iOS
Android is easily customizable. You can set up the layout for your home screen, add widgets
and shortcuts. And even change your entire interface with launchers.
In iOS, you can set backgrounds
and there's limited support to widgets. But overall, it's not very customizable.
6.
Cloud services
| | |
| --- | --- |
| Android | iOS |
| Google offers 15GB for free and has cross-platform support. | iCloud offers 5GB for free and it only works with Windows, Mac, and iOS. |
7.
Updates
Android
iOS
Approximately only 8% of
Android devices run the latest updated version.
70% of iOS devices run the latest version.
The Cost of Hiring an Android App Developer
The cost of hiring an app developer depends on the hours involved in app development and the rate that the developer charges. Part of the developer's rate depends on that individual's experience, and for business app development you need to ensure that your developer has good references and experience developing apps for your specific industry. To streamline your costs, you can work to determine exactly what you need and try to focus your project's scope as much as possible. However, there are advantages to having the app developer in on the idea-generation process as well. For an Android app, you'll also need increased testing after the app has been developed since you have to test the app within many different devices and versions of the operating system.
The graphic below shows the mobile app developer hourly rate (USD) in different parts of the world starting from US to Russia: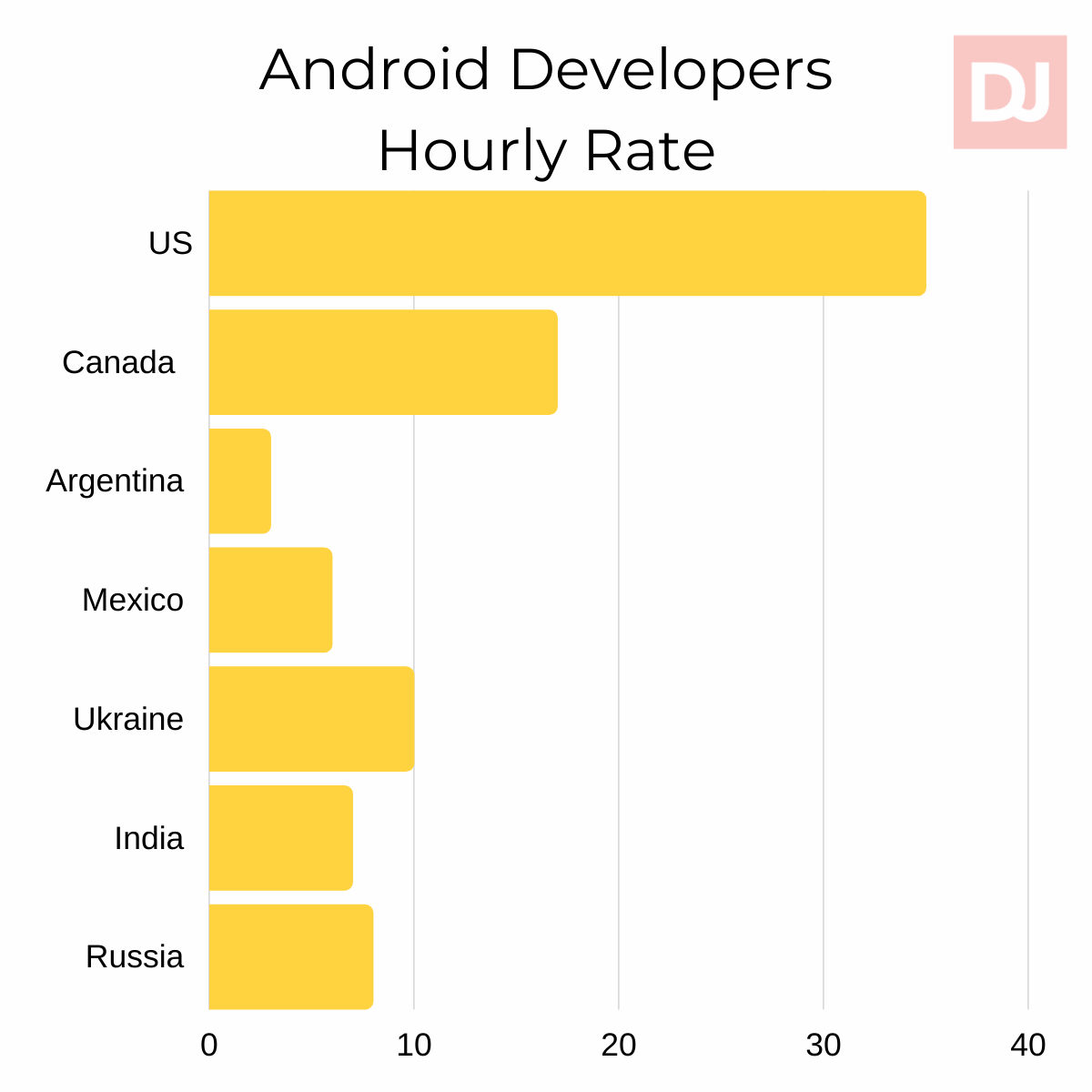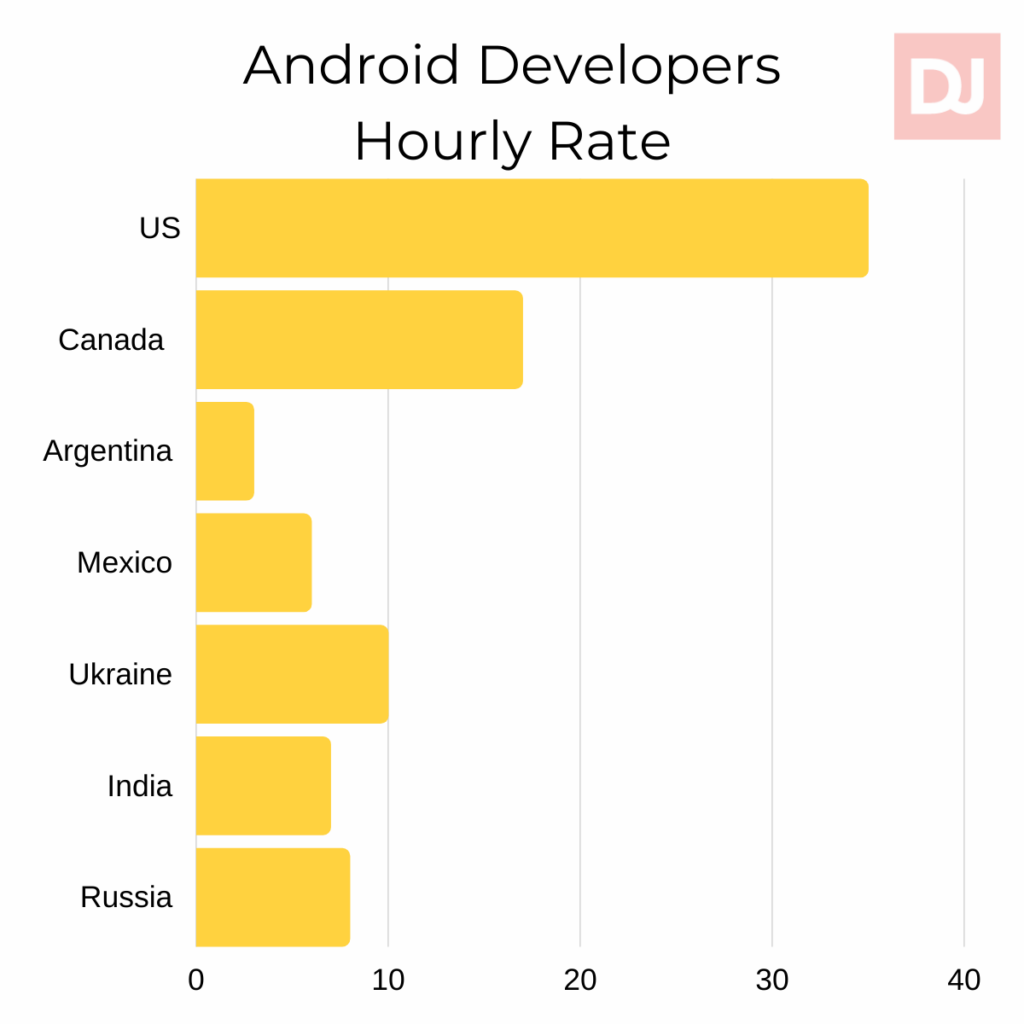 Commonly, companies think the best talent is in the United States, specifically in Silicon Valley. However, according to HackerRank, the best developers are not even in America. You could find outstanding tech talent in Eastern Europe.
How to Decrease the Cost of App Developers?
If developing an Android app sounds like a large and daunting project, it may be, but you can also reduce the cost of hiring an app developer and make your project less financially onerous. The Global Workplace Analytics revealed that a company can save up to US$10.000/year when hiring a remote employee. In our digital world, you don't need to be limited to developers in your city. It's relatively simple to communicate with people in other parts of the world, bringing them in as a remote team to develop your app. In part, the cost of hiring a remote mobile app developer depends on that individual's living expenses and experience. If you recruit a remote worker who lives in an area of the world with a lower cost of living indexes, they will often have rates that are a third of what you'd expect to spend in a large American city.
If you are looking for remote android app developers but don't want to break your budget by paying extremely high salaries, DistantJob is your best option! We can help you create connections with a global and experienced remote workforce.