With the demand for high-quality Android applications on the rise, it's essential to assemble a talented development team to ensure your app's success and customer satisfaction. Wondering what would be the costs? With over 10 years of experience in sourcing developers for clients, we have insights on finding skilled developers at a lower cost than in the US.
Generally, hourly rates for an Android app developer range from $20 to even $250 per hour – although the average amount is between $15-$85 per hour. 
However, the cost of Android app developers will vary depending on factors such as experience level, location, and the app's complexity. But if you are interested in cost cost-effective solution, then you might consider remote hiring. By extending your search remotely, you unlock a global talent pool, which not only potentially lowers the cost but also heightens the chance of finding the right skill set for your project.
A report from Indeed indicates that companies that invest in top-tier developers experience a higher return on investment (ROI) compared to those who settle for average developers. Skilled developers not only deliver exceptional products but also contribute to increased productivity, efficient code maintenance, and improved collaboration within your development team. So, what are the options for finding the best mobile app developer to create an app for you? Our know-how in remote hiring could be your gateway to finding skilled developers who align with your project needs and budget.
In this article, we covered all the answers you need: from the best places to search for suitable talent, and rates across the countries with top-rated software developers, to a short guide on how to hire them.
If you prefer a simpler route, skip the hassle of hiring and let us handle it for you. Contact DistantJob, and we'll take care of the entire hiring process, ensuring we find the perfect app developer tailored to your specific needs.
How Much Does Android App Development Cost?
The first thing to consider about Android app development services is that the cost depends on factors such as:
Complexity and functionality of the app
Design requirements
Development platform
Android app developer´s experience and location
Android app development usually costs between $20,000 to $500,000, with the exact price depending on the factors stated above.
A simple Android application can cost $5,000, but applications with advanced features such as custom animations, data management, or integrations will likely start at $20,000.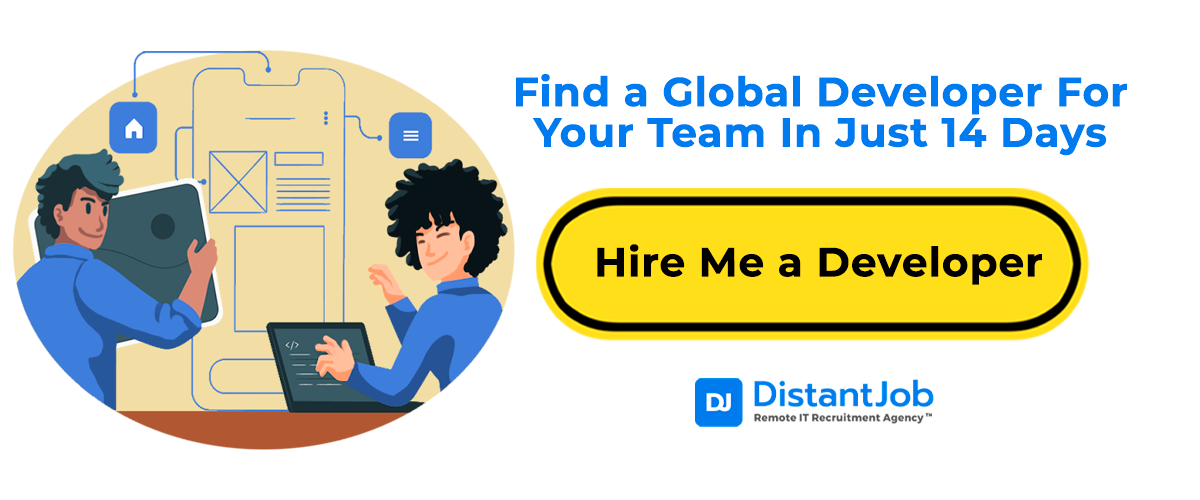 What Is The Salary Of Android App Developers Worldwide?
The cost of hiring an app developer depends on the hours involved in app development and the rate that the developer charges.
Part of the developer's rate depends on that individual's experience. For business app development, you need to ensure that your developer has good references and experience developing apps for your specific industry.
For an Android app, you'll also need increased testing after the app has been developed since you have to test the app on many different devices and operating system versions.
However, when it comes to reducing the operation's cost, the best strategy is to look for Android mobile app developers on a global scale. An Android app developer's cost in the U.S. will be entirely different from that of a developer in Romania, mostly due to the differences in cost of living.
The table below shows Android app developer salaries across different regions:
| | | |
| --- | --- | --- |
| Region | Average Hourly Rate (USD) | Average Salary (USD) |
| North America | $100-$250 | $80,000-$200,000 |
| Western Europe | $80-$150 | $60,000-$120,000 |
| Eastern Europe | $30-$80 | $25,000-$70,000 |
| Latin America | $20-$60 | $15,000-$50,000 |
| Asia | $20-$50 | $10,000-$40,000 |
The rates will always depend on the skills and experience you need, as well as ensuring candidates' level of commitment and soft skills. While U.S. and Canada are great talent pools, you can find outstanding tech talent in Eastern Europe.
How To Calculate the Cost of an Android Developer?
These are the 5 main factors that affect the cost of hiring an Android app developer:
1) Identify What Qualifications Your Developer Needs
The more skills and qualifications a developer has, the more they will charge. Some skills go hand in hand, but others require more knowledge. For example, an Android developer specializing in UX design will be far more expensive than a mid-level developer.
After defining your project in detail, start looking specifically at the skills you need. The key to hiring on a budget is not going overboard; hire based on your app's priorities. Then, you can see if you need to bring more people on board or not.
2) Evaluate the Level of Experience
Do you need a junior developer for simple tasks? Or does your application requires someone with in-depth knowledge?
Don't make the mistake of many who think that a junior will be able to handle it all. This, with time, becomes more time-consuming and expensive as you'll sooner or later need to hire someone who does the job.
If you need someone for specific minor tasks, then a junior is the way to go. But if not, consider hiring senior-level Android developers.
Here's a comparison of the hourly rates of Android app developers based on their skills and experience level.
| | | | |
| --- | --- | --- | --- |
| Skills/Qualifications | Junior Android Developer | Mid-level Android Developer | Senior Android Developer |
| Programming Languages | Java or Kotlin | Java and Kotlin | Java and Kotlin |
| Experience | 0-2 years | 2-5 years | 5+ years |
| Technical Skills | In-depth knowledge of the Android Framework, Familiarity with libraries and SDKs, Ability to design and build complex apps, Knowledge of testing and debugging, and Strong grasp of design patterns. | Expertise in the Android Framework, Ability to develop high-performance apps, Advanced knowledge of libraries and SDKs, Experience with testing and debugging large-scale apps, and Proficiency in design patterns and architecture. | Expertise in the Android Framework, Ability to develop high-performance apps, Advanced knowledge of libraries and SDKs, Experience with testing and debugging large-scale apps, Proficiency in design patterns and architecture. |
| Soft Skills | Good communication, willingness to learn, Team player, Attention to detail | Strong communication, ability to mentor junior developers, able to work independently or in a team, Project management skills, Ability to multitask | Strong leadership and communication skills, Mentoring and team management experience, Strategic thinking and decision-making abilities, Able to manage large-scale projects, Proven track record of successful app development |
| Hourly rate | $16 – $33 | $26 – $55 | $45 – $98 |
3) Go with Global Android Developers
The best way to hire affordable Android developers with the right skill set and qualifications is to expand your hiring boundaries. Developers in the U.S. tend to have the highest rates, even when it comes to junior or mid-level developers.
However, when looking for remote talent in countries with lower living costs, you're not only saving thousands, but you're also paying them above the average salary in their countries, so it's a win-win.
When hiring remotely, your talent pool expands, positively impacting the quality of candidates you hire. You get to access talent you wouldn't be able to hire or pay for in your area.
4) Technology
The hourly rate of an Android developer will depend on the specific technology stack you require. As seen above, developers who specialize in rare technologies or acquire extra skills will demand higher rates than those who don´t.
It all comes down to what features and technologies you´re seeking with your application. As the number of features increases, so does the cost of development.
Additionally, using frameworks like Flutter or React Native can also be a strategy to reduce costs, and it allows developers to create applications that work on multiple platforms reducing the need for more tools, technology, and teams.
How To Hire An Android Developer?
When looking for app developers for Android, the first step is identifying your project´s scope and requirements for your new candidate. This means having a clear panorama of how you want your app to look, its features, functionality, and design.
Make a budget plan
While the development of a simple app may run you a few thousand dollars, more complex apps can range into tens of thousands of dollars for professional development staff. In rare cases, such as when an app is extremely complex and requires a great deal of development time and effort, the costs associated with hiring a developer or developers can reach nearly $100,000 or more. All of this will need to be factored into your budget, and you should also remember that, in most cases, you get what you pay for.
2. Experience Matters … Only When It Doesn't
While it's true that the adage "you get what you pay for" applies in many cases, it shouldn't stop you to find capable developers who may lack conventional education or work experience. Unlike other fields, numerous developers have acquired skills independently, outside of formal education, making self-taught expertise a valuable asset in the industry.
In fact, if you want to hire Android development talent these days or any game developer, you might even be better off looking for professionals who have learned on their own. These individuals have proven their passion and desire for not only Android development but also for learning new things and sticking with a subject of study without any guarantee of a return. In short, self-taught developers know what they want and are not afraid to take risks. This can be a huge benefit to your company and to your final product. Don't know how to test them? Check these interview questions designed for screening the best Android developers.
3. Don't Limit Your Developer Search
Would be wise not to restrict your search for Android developers solely to your local area. Embrace the future of remote work by hiring talent for Android development from cities and countries worldwide. Whether you engage with candidates through email, text messages, video conferences, or phone calls, you can now form a cohesive team, regardless of geographical dispersion, fostering collaboration on a global scale.
Where To Find Android Developers: Different Hiring Options
Once you have a clear idea of the level of expertise and skills you need your Android developer to have, these are three hiring alternatives to consider:
1. Hire By Yourself
Do you want to work with freelancers or with full-time remote developers?
If you are looking for a short-term solution, then a freelancer is the best option. However, when it comes to app development, keep in mind, it's always a back and forth work as you'll need to run several trials and make changes.
In the case of full-time developers, if you decide to hire by yourself, start with your inner circle or in your company to see if someone can be a good fit for the position. If you still have no luck, check out posting your job ad on popular job boards or platforms like LinkedIn.
2. Outsource
Outsourcing is another cost-effective way to hire the talent you need. You set out specific tasks or projects to an external company, usually located in other countries, who will ensure they hit the deadlines.
In this case, you can hire a company to work on your app or outsource developers with specific skill sets. The downside of this strategy is that you don't fully lead and manage your team, and it's harder to build commitment as it can feel like working with strangers.
3. Partner with a Specialized IT Recruiting Agency
If you´re struggling to find Android developers to hire, skip the recruiting process and contact global recruitment agencies like DistantJob. We can help you find and hire the right Android developers seamlessly.
How does our process work?
You contact us; we get to understand more about your company, processes, technical requirements, and the scope of your project. We start our quest. In less than two weeks, we will provide pre-vetted candidates, and you´ll choose the one you feel fits best.
You´ll hire fully committed remote developers with verified skills working in your time zone.
💡 If you are also interested in hybrid app development, and developing ads that are compatible with both Android and iOS, we recommend you this guide about it.
Don't Settle and Aim for the Best Android Developers
Developing an Android application is an investment, so hiring the right team is key.
Businesses that prioritize the recruitment of skilled Android developers experience a significant boost in their app performance and customer satisfaction rates. In fact, 78% of users reported being more likely to uninstall an app if they encounter performance issues or glitches.
This highlights the critical role of proficient Android developers in delivering a seamless user experience and maintaining app retention. By partnering with DistantJob, you´ll know only optimize your resources and budget, but you´ll get to hire worldwide Android top-tier developers.
FAQ
1. How to hire an Android Developer?

To hire an Android app developer and create your app, follow these steps: define your project requirements, search for candidates through online platforms such as Toptal, Upwork or specialized agencies such as DistantJob, conduct interviews to assess their skills and compatibility, and finalize the hiring process with a clear agreement.
2. How much time does it take to build an Android app?

The time to build an Android app depends on several factors, such as the app´s complexity, its features, design, and development approach. The development process can take two to three months for an Android app with a simple design and core functionality. 

For a more complex app with advanced features such as in-app purchases, social media integration and complex back-end functionality, the development can take from four or six months, if not longer.
3. How Much Does Android App Development Cost?

According to a survey conducted by Clutch in 2021, the average cost range for developing a simple Android app is between $25,000 and $50,000. However, for more complex apps with advanced features and functionality, the cost can exceed $100,000.

4. How much will it cost to hire an app developer?

Hourly rates for an Android developer range from $20 to even $250 per hour – although the average amount is between $15-$85 per hour if you hire remote developers from countries with a lower cost of living.