What do you usually do to call someone? Most likely, you unlock your smartphone, look for the number, and call. And how do you make a payment? It's more or less the same process until – if your details are already in the app – you confirm the purchase. Would you remember these data by heart? Most probably, not without your phone.
The reason is simple. If you have a smartphone, you are using a database for mobile apps. If you have an iPhone, you have an iOS database. Often people forget how databases for mobile apps are a crucial feature in improving the user experience. When you create an app, databases keep the necessary information for the user to have a smooth interaction with your service.
The number of iPhone users in the U.S increased to 101.9 million in 2018, with a continued rise to more than 110 million in 2021, making the iPhone the most popular smartphone. For most of us, iOS databases remember the important things while the app pays for your delivery. Or it has suggestions based on your previous preferences. Or it automatically fills contact forms.
If you are creating an app for iPhone, iOS databases are important as much as interface design. But, which are the best iOS databases? Are they different from Android? Let's find out!
What Is a Database?
By definition, a database is a structured collection of data. More or less, everything you use has a database, from your contact list to your Zalando account. The difference between your contacts and Zalando is how these databases come into play.
When you look for someone on your phone, the database organizes your contacts to help you find the number you need. Working like an invisible hand, the database quickly finds and picks what you need to improve your experience as a user. When you use Zalando, the database not only organizes your choices and purchases, but also collects any of your input.
The database is the reason why Zalando knows what you want better than you. It saves, filters, loads, searches the previous data, making the app more personal and effective. For most consumers, this process is a routine when deciding on a purchase or digital service.
Consider just one fact. Apple App Store has been around only since 2008 when it featured 500 apps. Today, Apple App Store has over 2 million iOS apps and records of 194 billion downloads – which is why underestimating iOS databases might not be a smart choice.
How to Choose a Database for Your iOS Application Development?
When it comes to iOS databases, there are different valid options you can consider. Before looking at the best ones, let's mention three elements you should keep in mind when thinking about what you really want for your mobile app.
Speed affects how quickly data is stored and manipulated. As soon as the database knows what your users like, more people can appreciate your app's performance.
The scale is closely related to speed. A scalable database needs to be effective and fast to improve the overall experience of the user.
Size is the database's capacity for holding data – which you expect to increase if your iOS app's adoption rate grows in the market.
Of course, the characteristics you'll need to consider are many and cannot really be reduced to three bullet points. But when scrolling down the options you have, these three can guide you in choosing the best one for your iOS app.
Best Databases for iOS Apps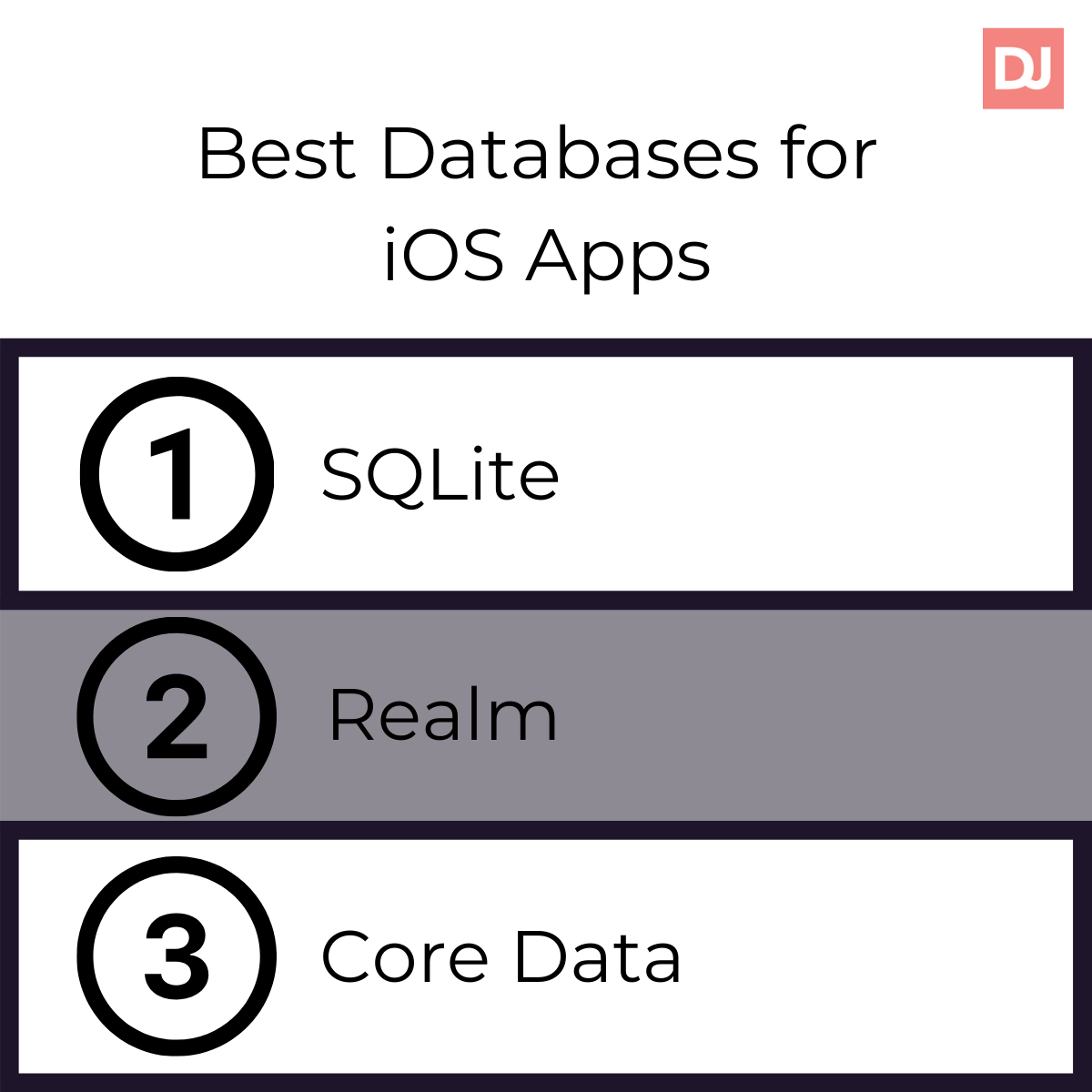 1. SQLite
Technically defined as a relational database management system (RDBMS), SQLite is the most popular database engine in the world.
Unlike a flat-file or hierarchical system, this iOS database stores data in tables. Organically integrated into the app, SQLite runs a separate service or in the background, staying very lightweight.
Why SQLite?
Easy implementation
No installation needed and zero-configuration
Highly portable and compatible with iOs and any platform from Windows to macOS to Linux to Android.
SQLite can bind several programming languages, including C++, C#, JavaScript, Objective-C, PHP, Ruby, Java, and Python.
2. Realm
Formally MongoDB, Realm is an open-source object base management system. With this object-oriented database, developers can code relationships between objects. If SQLite uses SQL databases, Realm uses C++. New on the iOS app scene, Realm is a strong competitor specifically designed for Android and iOS, Xamarin and React Native.
Why Realm?
It is faster, compared to SQLite and Core Data.
With valuable scalability, Realm can handle a large amount of users and data
For a developer, it has clear documentation facilitating the development process
It has support network actress Twitter, Github and StackOverflow
3. Core Data
Sponsored by Apple, with Core Data you can save app data for offline use, cache temporary app data, define data types and categories. To be precise, Data Core is a persistence framework, a type of middleware that stores data into a database – it has the capability to use SQLite as a database.
Why Core Data
Uses Apple-specific languages like Swift and Objective-C.
It is faster than SQLite in storing data
The framework has built-in features that reduces the written code by 70%
Data can be organized into binary, XML, or SQLite stores.
Who to Hire to Create a Database for iOS Apps?
As we said, the best iOS database is the one that works for you, always keeping in mind speed, size, and scalability. What you need now is someone with the same vision to grow your company. At the end of the day, behind any excellent iOS database, there is a great professional, not only a mobile developer. Think carefully about what you need and which database you want to pick the best developer for you.
If you don't care much about speed and scalability, going with a familiar database like SQLite means you want to look for a PHP or Java developer. If you prefer more in-built features, then Core Data is the one while Real is your best option when talking about speed.
Whatever database, pick the right person for the job and that will help you grow your business. And if you have any questions about where to find the best IOS developers and how to hire them with no effort, we are here to help!