There are common IT problems every business must identify and solve as these problems can negatively impact company growth and amplify costs. These IT issues can be as minor as poor internet connectivity or as big as a system vulnerability that brings a halt to your operations. 
Regardless of the impact, it is crucial to take a proactive approach by understanding and preparing for such problems.
This article looks at 9 common IT problems in businesses and provides advice on how to avoid them or deal with them based on practical experience.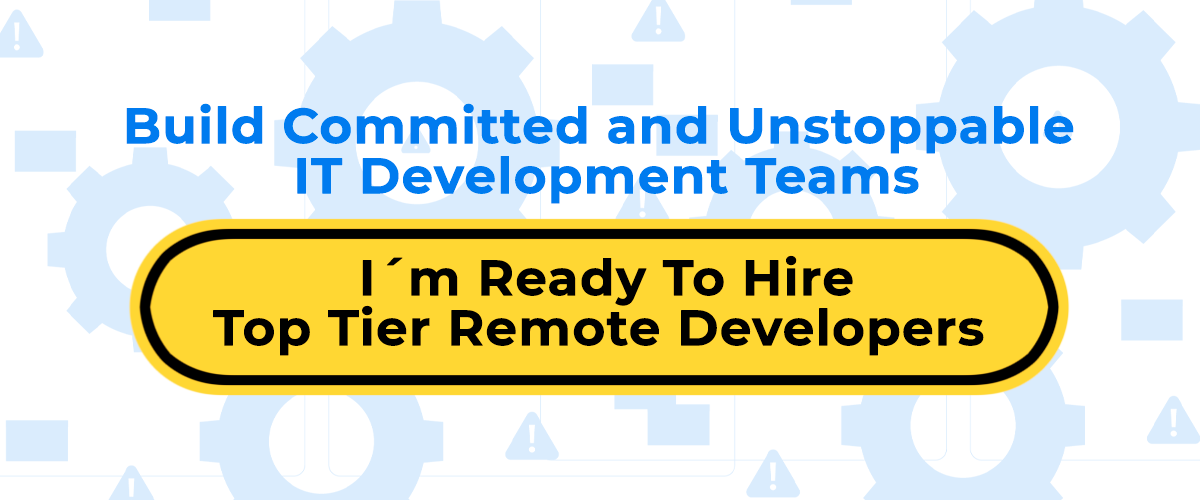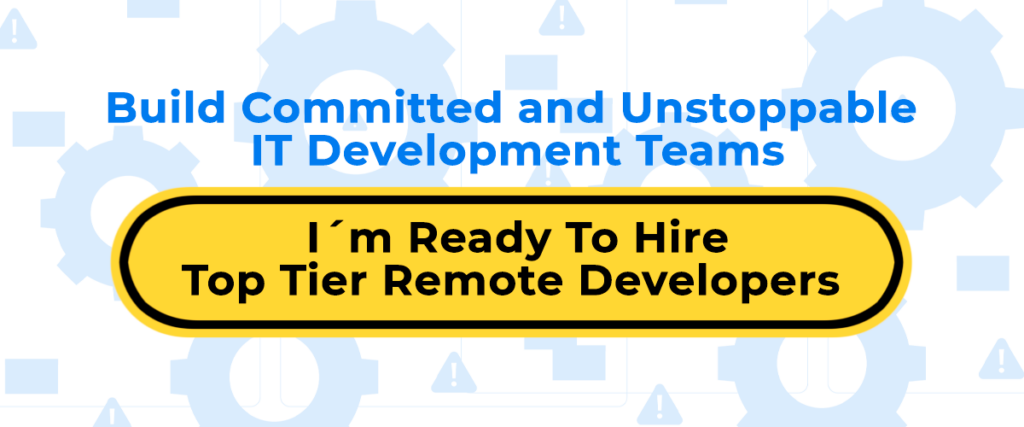 Why Bother About Common IT Problems?
IT Problems Result in Lost Productivity
Everything from Internet service outages to software glitches can cause companies major productivity disruptions. When employees are required to spend more time fixing computer problems than job-related tasks, completion times go up and quality control goes down.
This cuts into profits significantly. If the IT management team isn't aware of these issues or doesn't know exactly what causes them, then ongoing problems can go on for months or even years without being addressed.
IT Problems Lead to Security Breaches
Gone are the days when it was safe to assume that your customers or employees were the only ones trying to access your company's information. Did you know that every 11 seconds a business will fall victim to ransomware? 
Hackers now target businesses with unsecured networks.
If you don't have current anti-virus software or a strong firewall, then there's a high chance that even if you haven't had any issues yet, someone could already be accessing your data without your knowledge.
9 Common IT Problems and Their Solutions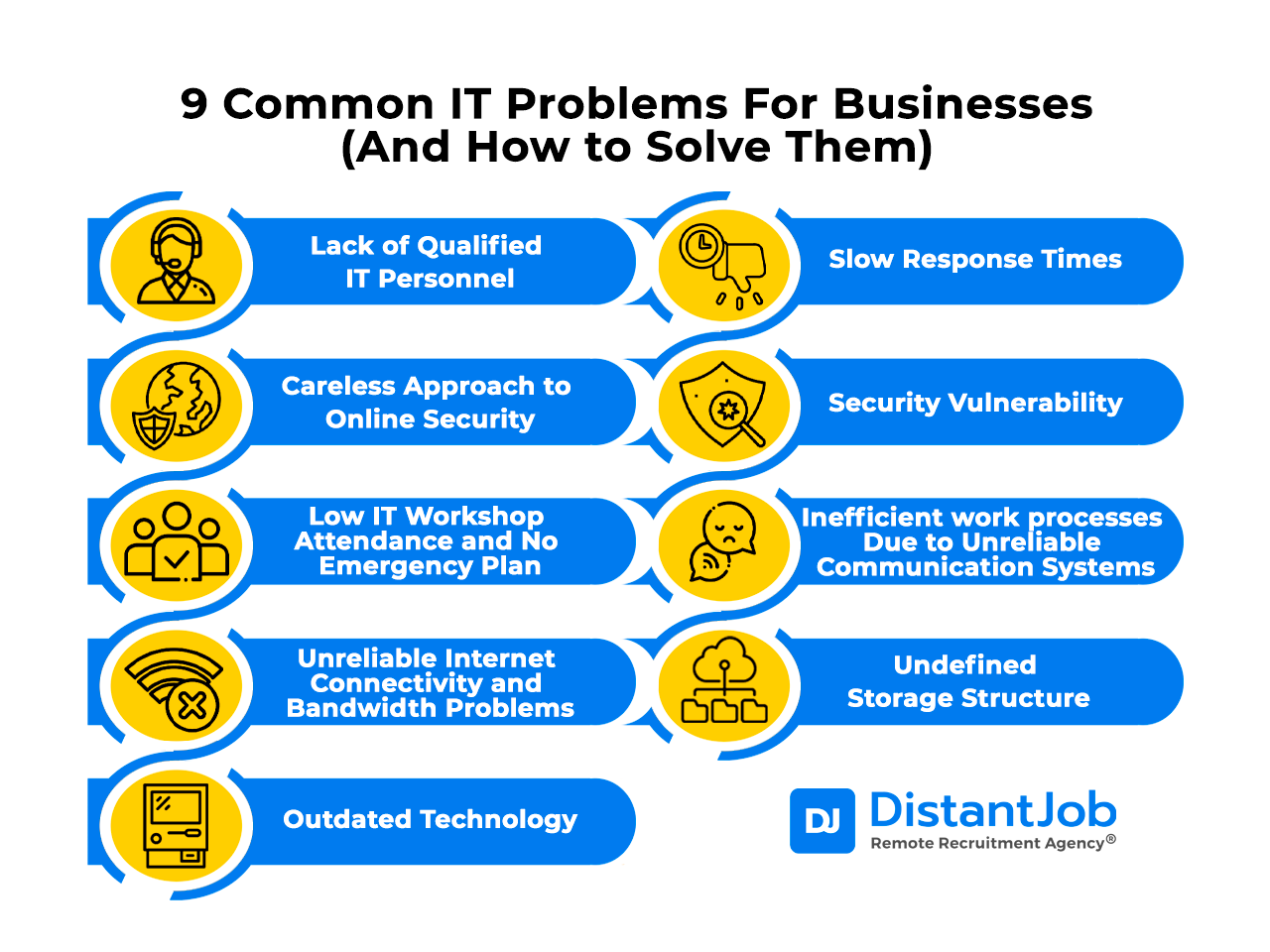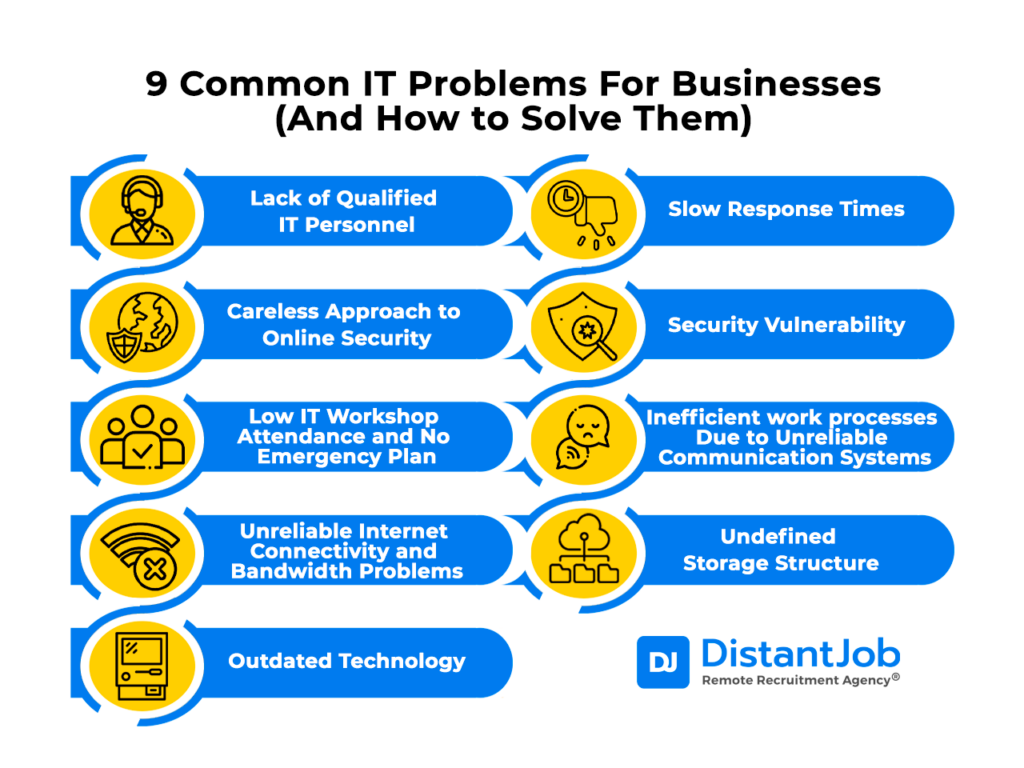 1. Lack of Qualified IT Personnel
The importance of IT professional support can be a very common IT issue for most businesses. Most times, inexperienced staff have no clue how to fix a problem and simply just get stressed out. And this affects their general productivity.
The solution
There are many ways to combat this common problem, one is to hire an IT professional. As they'd know about fixing common IT issues specific to your industry.
If you do not have the resources to hire someone full-time, it might be helpful to get the help of a recruitment agency like DistantJob that'll help you get remote employees for half the cost.
Another solution for this issue is training current employees on how to handle different situations that may arise with technology problems, which can help alleviate some stress.
2. Careless Approach to Online Security
One of the most common IT problems is a careless approach to online security. This is one of the most challenging to address because it's different for everyone.
It's unlike other common types of technical issues that can be fixed with a quick fix, reboot, or following useful strategies to hire a professional. A careless approach or bad judgment calls for steps taken outside of the computer realm, with precautions set in place to prevent this issue from occurring again. 
The solution
One way you can help protect your information against IT problems is by setting up things like:
Regular password changes for employees and clients
Multiple authentication processes
Restricting access to certain systems for employees that do not require it
Creating a written internet use policy for employees
This will protect your business from hackers and other problems that are trying to find an easy way into your website or organization system.
3. Low IT Workshop Attendance and No Emergency Plan
Having an emergency plan in place will help you combat a wide variety of IT problems.
Remembering simple steps like turning off any electrical appliances near or around a computer when it has been affected by water (to prevent short circuits), can make all of the difference if something does occur.
However, to act fast in such situations, your employees need adequate knowledge. And conferences and training are great tools to keep your employees up to date with valuable information that'll be useful in emergency situations. However, if they are not attending these workshops, then you are missing out on a huge opportunity.
The Solution
For businesses, having an experienced professional within reach to contact during emergencies will also put your mind at ease. This will reduce the level of stress and panic that can come along with technology issues in general.
But to adequately train your developers, offer them incentives to attend workshops that teach how to handle emergency IT problems. This could be anything from small personal perks to team outings. If it works, do it more often!
4. Unreliable Internet Connectivity and Bandwidth Problems
No matter what your business does, employees must have adequate access to the internet at all times. And this common IT problem is more prevalent than ever before since access to Wi-Fi has become one of the most sought-after commodities on this planet.
It is also an issue that affects a lot of companies, simply because both business owners and their employees tend to forget how important bandwidth speed is.
Internet connection connectivity and speeds fluctuate due to a mixture of internal hardware limitations, ISP levels of service, congestion on the networks themselves, or natural events like weather or space phenomena.
The Solution
You don't have one until you identify the cause of your slow internet speeds. Is it your company's internet router? Your ISP? The wiring in your building? How about natural events?
If it's a router, call a technician to fix it. If it's a satellite or a windstorm, then there isn't much you can do besides wait for everything to get back to normal
The good news is that it's something that you are completely capable of handling without too much difficulty or time required.
For unreliable internet connectivity, you can control the issue by finding an experienced professional who will be able to set up a new network within your office building if need be. Being proactive about looking into solutions rather than sitting back and taking no action will help.
5. Outdated Technology
Outdated technology is a problem that may have been caused by the unreliable internet connectivity issue, although it's also common in businesses that don't try to seek out new tech innovations or don't have the resources to do so.
The Solution
This is something you can address by making sure all of your software and hardware are compatible with the latest updates from the manufacturer.
If you do not have at least one person whose job is to research new trends in computer tech, hire someone. A person who specializes in the field will help you decide which upgrades will be best for your business.
When brand-new software or hardware is released, if it offers more options or better security than your current one it's recommended that you change to it. You should also invest some time in researching what types of changes are on the horizon so that you can stay ahead of the game.
6. Slow Response Times
No one wants slow tech devices and apps. It's bad enough when your internet connection speed is slow, but it's even worse when there is some sort of lag with our devices.
The Solution
Performing regular maintenance on your company's network and individual computers are key. You need to keep track of your technical documentation to make sure that there are no software conflicts, get rid of any suspicious programs, and maybe get someone to upgrade the hardware if necessary. With one quick sweep, you can solve many of these problems at once.
7. Security Vulnerability
One of the most common IT problems for businesses around the world today is security and vulnerability. Between hackers, malware, data breaches, and identity theft, it seems like every business has one or more reasons to be concerned about their company's security level.
What's worse? Most times, business owners don't even realize how vulnerable they are until it's too late.
The Solution
Let technology help you out here. Use an advanced firewall so outside sources can only access the information they need to access, not your sensitive data.
Get software that is constantly monitoring for threats like:
Antivirus such as Norton and McAfee
Network monitoring tools like Nagios and Argus
Also, use the latest forms of data encryption and protection like:
8. Inefficient work processes Due to Unreliable Communication Systems
For a company to run properly, there has to be some sort of process in place. Whether it's a workflow or simply how employees respond when they get an email, inefficient work processes add up over time. These small problems add pressure to the overall function of your business and can cause significant stress.
It's no secret how important communication is in the workplace. Without it, employees would be disorganized and productivity levels would drop dramatically. We all know how frustrating it can be when you're expecting an important call or email, but there's no internet connection or communication system in place to ease up the process.
The Solution
Hiring with expert help a qualified IT staff might be a good choice. IT professionals have seen more than their fair share of these problems. They know just about everything that can go wrong with a workflow and how to fix each issue. You should consult them whenever you feel that some part of your system isn't working as efficiently as you would like it to.
Also, team up with your provider to see what is wrong with your current connection speeds. Have them look into these issues until they are fully resolved. You should also make sure that you have a communication plan for the continuous operation of your work processes during unexpected downtime.
9. Undefined Storage Structure
When your employees are working on files, they must know where to save them. There is nothing more frustrating than having to search through various folders each time you want to find a document or save a new one.
If the structure isn't mapped out correctly, then there may be redundancies in your files and extraneous storage space will be used.
The Solution
Once again, technology can come in handy! Use a file-sharing application so everyone has access to the same documents at all times without having to email them back and forth.
Some great examples of file-sharing apps include:
DropBox
Google Drive
FileCloud
ProofHub
Sync.com
Synology Drive
You could also hire someone with IT training to map out an efficient storage structure that makes sense for how your office operates. It doesn't have to be complicated. It just needs to work well for everyone who uses it.
Be Proactive – Hire Professional Help For Your IT Problems
One of the simplest solutions to overcome these common IT issues is by hiring expert help.
At DistantJob, we can find and hire an IT professional for you that'll understand and blend seamlessly into your organization structure and help prevent these issues. And we can do this for half the cost of hiring IT personnel and twice as fast.