What do you do when you need to organize multiple tasks in a few days? Usually, you write all the tasks in a to-do list, checking off what you accomplish to keep track of your progress. That's basically what technical software documentation is about.
Whether you are working in a startup or an established company, technical documentation helps your team to be on the same page when organizing and planning different stages of the development project.
Here is an overview of technical documentation, why it is important in software development, and which documentation you need for your project.
What is Technical Documentation? 
Technical documentation in software engineering refers to any documentation related to software product development. Usually, software documentation consists of written material, videos, and picture instructions on how computer software works.
Technical documentation helps keep track of each stage of the development process and explains how to use services and programs. The main goal is to align developers and stakeholders during the development process. It is a valuable tool to engage anyone in the process and achieve goals meeting deadlines. And it helps teams to save time and effort, optimizing tasks, and review processes. 
In short, technical documentation is the rule book for current and future team members involved in development processes.
The Role of Technical Documentation in SDLC: Why It Is Important in Software Development 
Whether we talk about a small business or a large corporation, technical documentation is valuable to support the whole software development lifecycle (SDLC). Unlike what most people believe, creating a website or an app is a complex and intricate process. The time when developers were alone in a dark room producing something humans couldn't even read belonged to fiction stories. Nowadays, developers actively collaborate with design, marketing, and sales departments.
And technical documentation exists to make everyone's life easier during the whole process. It explains product functionality, unifies project-related information, and facilitates communications between developers, stakeholders, and team members.
Key Steps in the Software Development Process:
Depending on the method you are following, technical documentation covers the key steps of the software development process:
Planning: Starting with marketing research, this stage aims to determine the viability of a product. The purpose is to explain to developers how to build functions and services to attract the target audience.
Analysis: At this stage, stakeholders decide the user requirement and technical specification to achieve the goal, giving tasks, deadlines, and tests' parameters.
Design: This stage is for developers and architects. As they present the final project outcome, stockholders will discuss team responsibilities, risk level, schedule, budget, applicable technologies, architectural design, and project limitations.
Development and implementation: At this point, developers work on code scripts to meet the product specification and requirements. After that, the company will release guidelines and procedures to build an interactive interface and secure database. 
Testing: Ater the software is completed, developers test the running software to check bugs and verify if the performance satisfies users' expectations. 
Deployment and maintenance: Finally, the IT department constantly monitors and maintains the software functionality to ensure the best performance to the user. 
Type of Software Documentation
As we mentioned, the primary goal of technical documentation is to align developers and other departments on software development progress. Specifically, there are two types of software documentation: one for the product and the other for the development process. If product documentation collects instructions about how the product works, process documentation illustrates each stage of the product development process: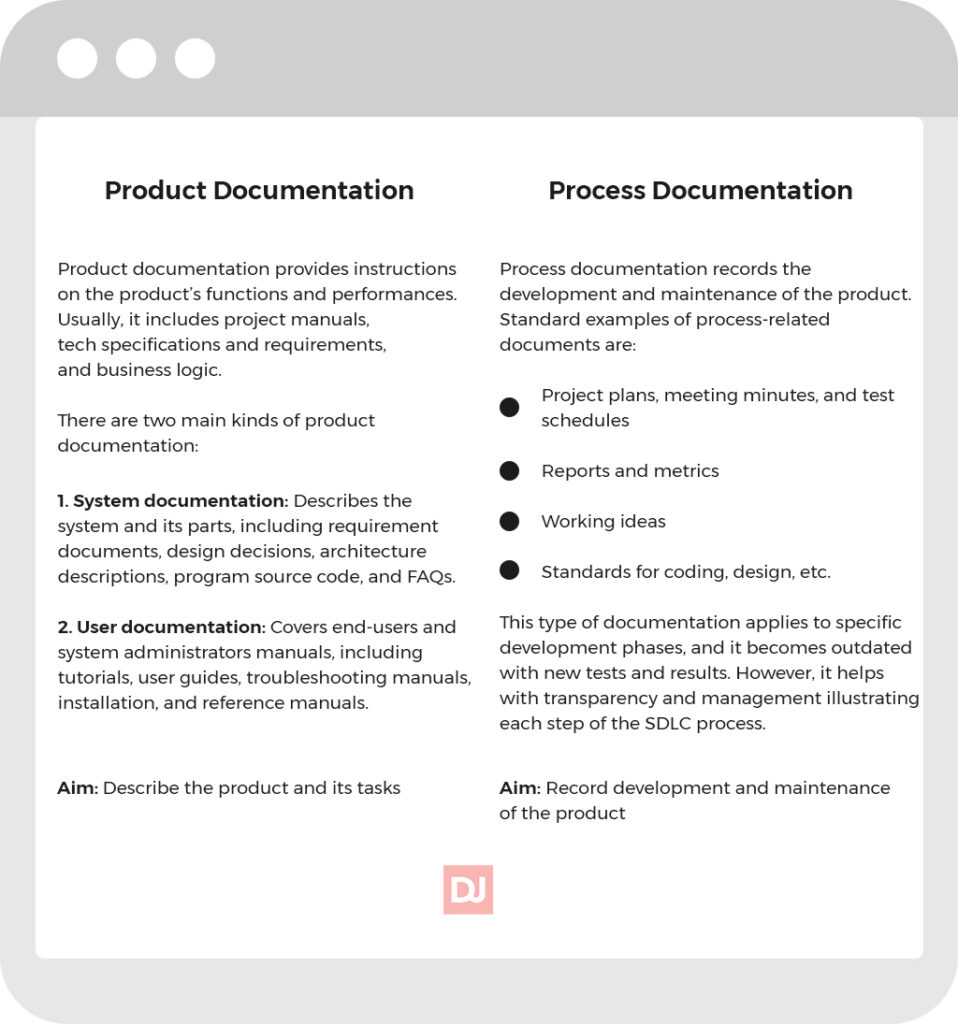 Product Documentation 
1. System Documentation
As part of technical documentation, system documentation provides an overview of the system and its parts, including requirements, architecture design, source code, validation docs, verification and testing info, and a maintenance guide.
Let's go over the main types of system documentation in software development:
Product Requirement Document
A product requirement document (PRD) records information on the system's functionality. This type of documentation covers business rules, user stories, use cases, etc. For this reason, the format should be clear and easy. You can use colors and visuals to highlight the product's purpose, functionalities, maintenance, and behavior. For requirement documents, the best practice is to use a single template for everyone.
Software Documentation Template: Product Requirement Document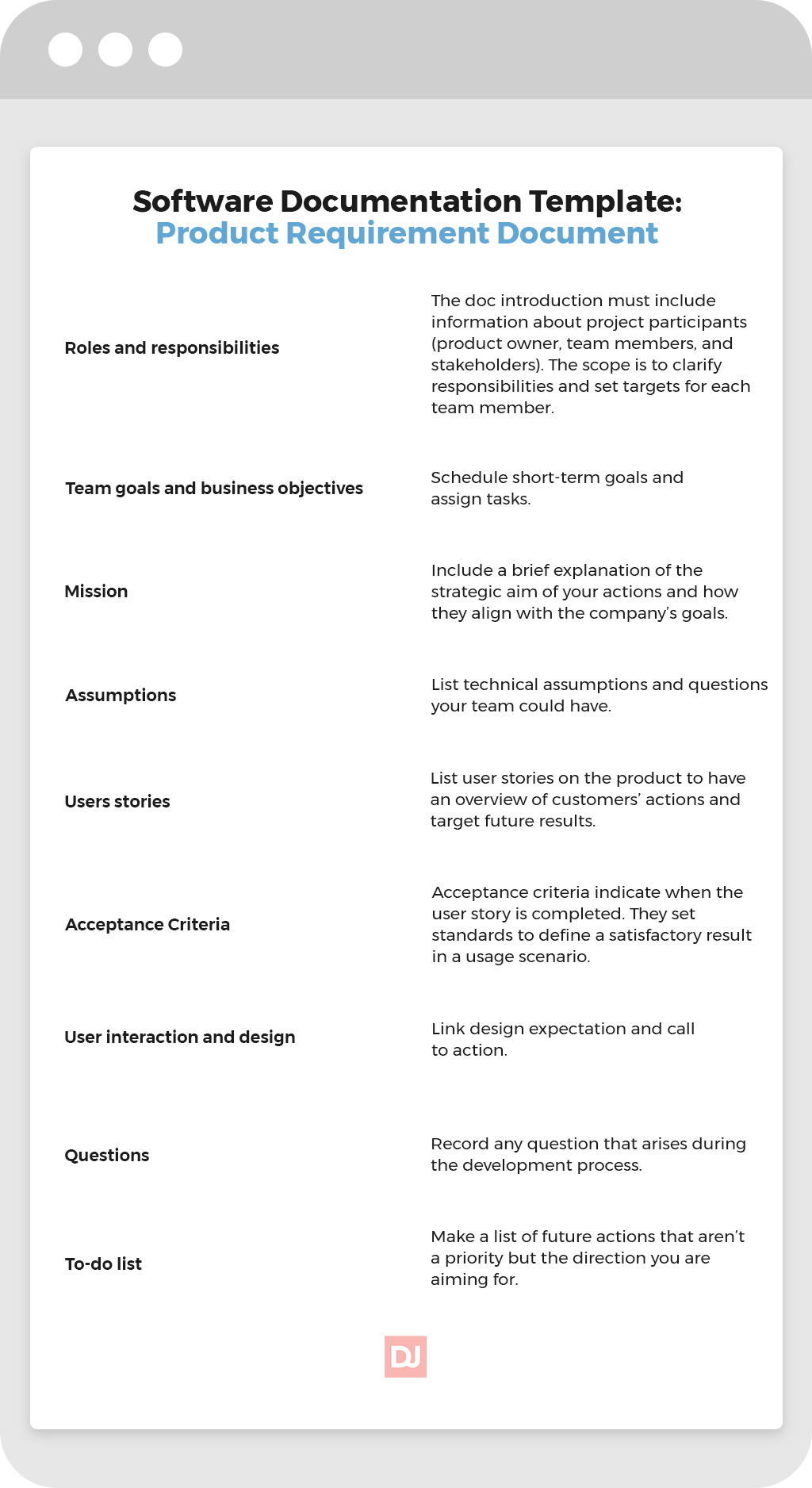 Best Practices for Product Requirement Document
Links and anchors: For this type of documentation, link and anchor improve readability and page schematization. In addition, the reader can gradually go back to links' contents, facilitating the information's assimilation.
Graphics and diagramming tools: Graphs and diagrams are the most efficient strategy to communicate problems and illustrate KPIs.
User Experience Design Documentation
User experience design documentation includes research, prototyping, usability testing, and designing related to the UX experience.
Software Documentation Template: User Experience Design Documentation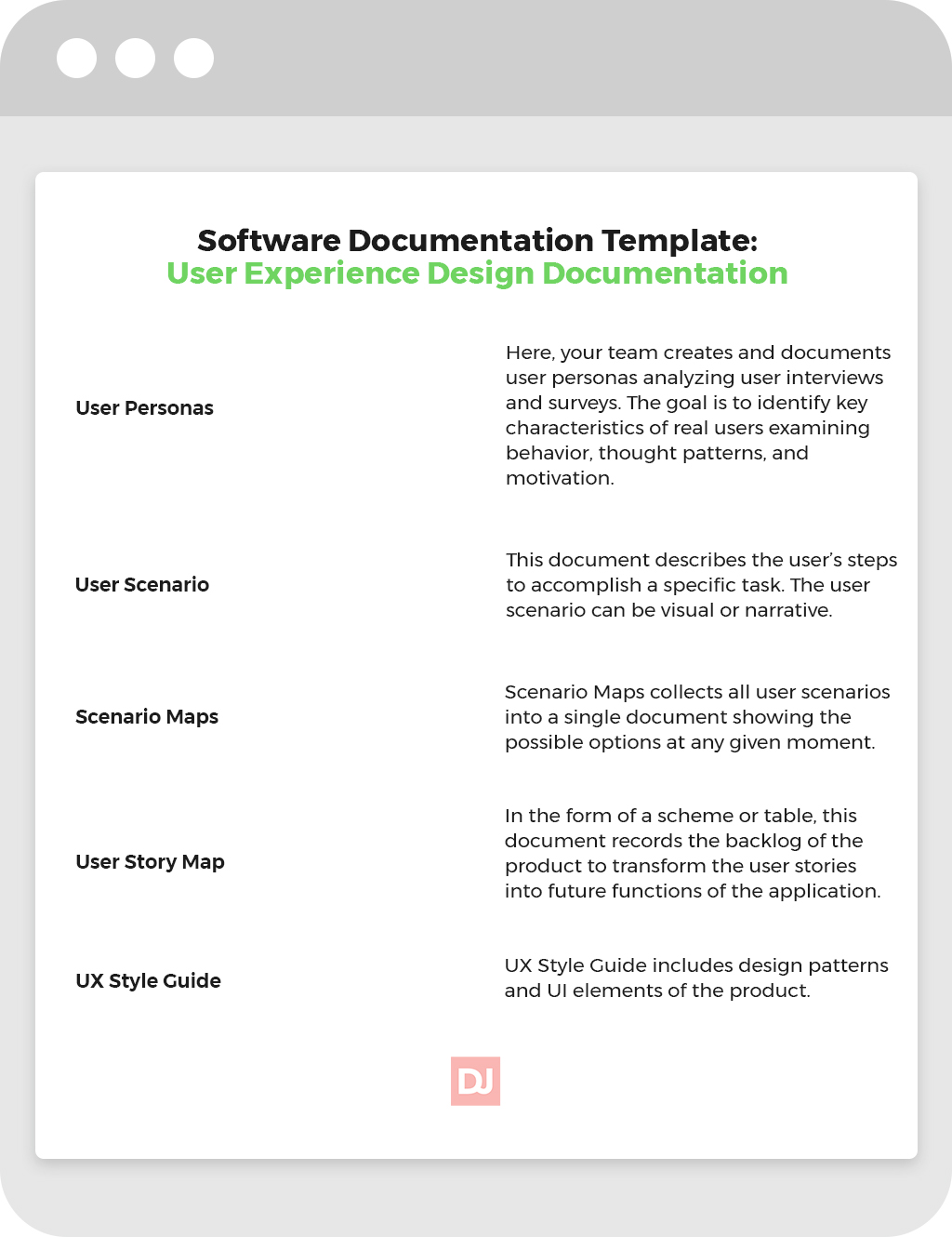 Best Practices for User Experience Design Documentation
Site/product map: These visual schemes connect all the pages of the product. This practice allows team members to visualize the website/app structure and the connections between functions.
User flow/user journey scheme: It helps to record the steps users should take through the product. The user flow scheme usually includes pages, sections, buttons, and functions to illustrate the user's movement.
Wireframes: These schemas explain how to arrange the elements on the page and their expected behavior.
Mock-up: It shows the current look and experience of the project – a prototype is an interactive mock-up.
Usability testing report: The report is a feedback document to communicate the usability results of the testing stage. It should be short and full of visual examples.
Software Architecture Design Document
As technical specifications, software architecture design documentation covers architectural decisions. It describes how to build a product, including solutions, strategies, and methods. This type of documentation doesn't need to be detailed or technical. The goal is to visualize and communicate possible solutions and scenarios.
Software Documentation Template: Software Architecture Design Document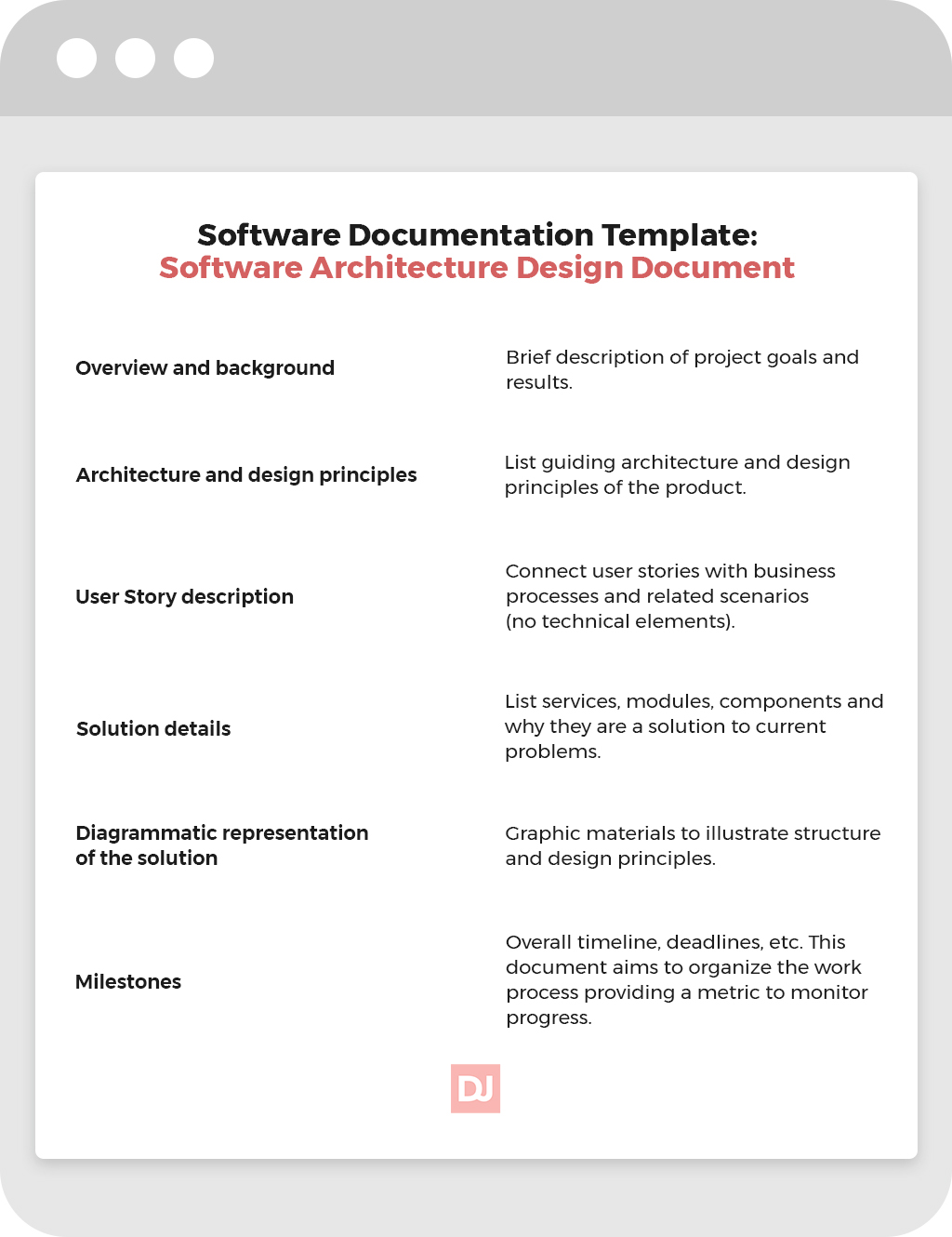 Quality Assurance Documentation
To monitor and track tests to ensure the quality of the product, you can follow this quality assurance documentation:
Software Documentation Template: Quality Assurance Documentation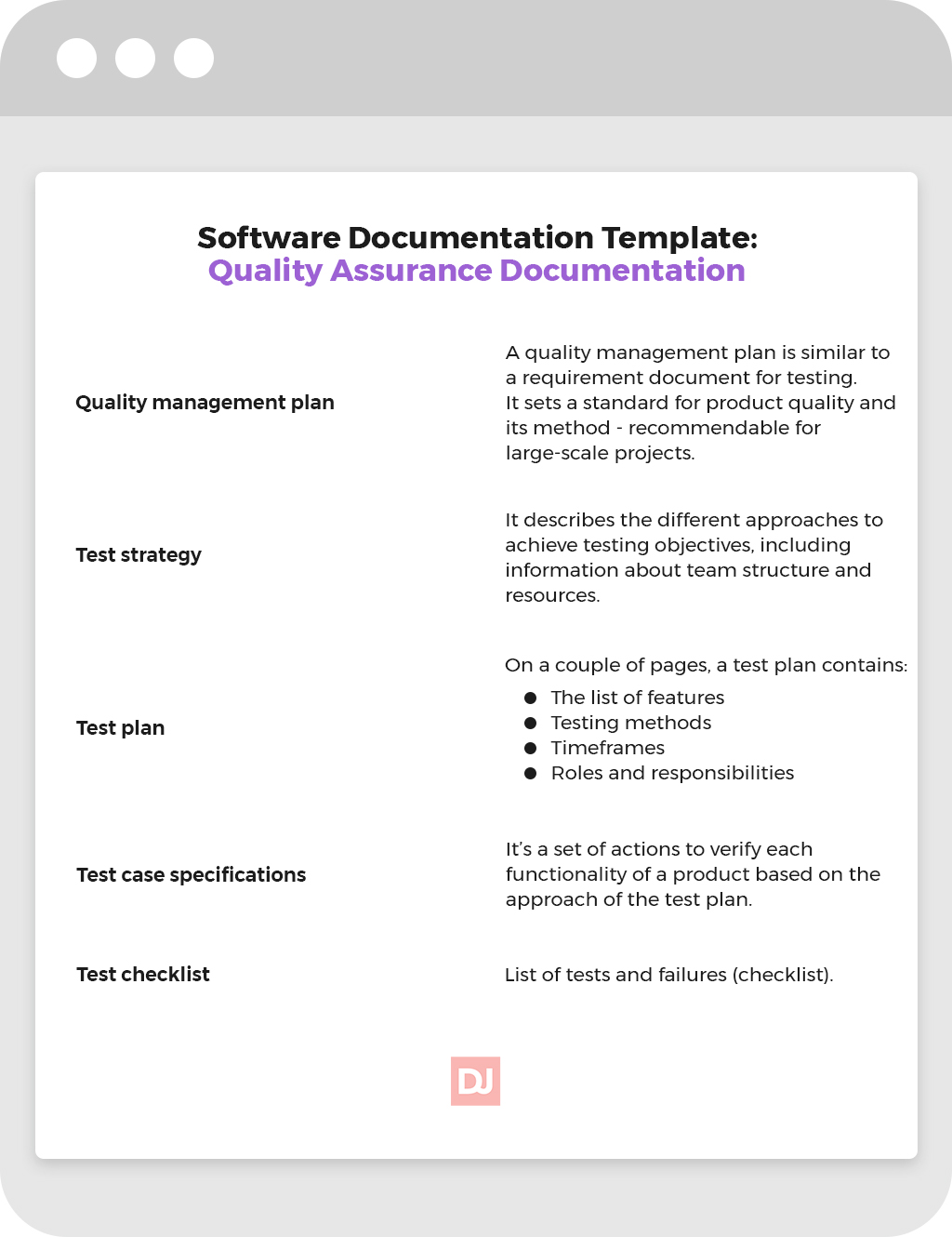 2. User Documentation
The user documentation is meant for product users, and it aims at two categories:
End-users
System administrators
End-user Documentation
End-user documentation aims to explain how software can solve a user's problems in the easiest possible way. This type of instruction usually comes in the printed form, online, or offline on a device.
Software Documentation Template: End-user Documentation
Quick start guide: Overview of the product's functionality with basic guidelines on the use.
Complete manual: Complete information and instructions to install and use the product. It usually includes hardware and software requirements, features, and full guidelines.
Troubleshooting guide: Information to resolve possible issues.
Online end-user documentation practices usually include:
FAQs
Video tutorials
Embedded assistance
Support portals and forum
User documentation is an integral part of customers' experience. It's your duty to make it as simple as possible – just think about how you react when instructions are more complicated than the product itself. These are tools to increase customer satisfaction and loyalty, and to collect valuable feedback to improve your product.
System Administrators' Documentation
System administrators' documents cover installation and updates to support a system administrator with product maintenance.
Software Documentation Template: System Administrator Documentation
Functional description for the product functionality
System admin guide to explain different types of system behaviors in different environments.
Process Documentation
As we mentioned, process documentation includes the activities related to product development. The aim is to schedule an organized and fair work plan reducing the amount of system documentation. As a result, this type of technical documentation format is minimal, including key contacts, release dates, and expectations with assumptions.
Most of these documents relate to specific products or phases of the process. Even though some papers will become outdated, process documentation is helpful to illustrate the whole development process. In addition, this type of documentation helps transparency across departments and supports future maintenance.
Software Documentation Template: Process Documentation
Plans, estimates, and schedules: Created at the beginning of the project, adjusted with the running project.
Reports and metrics: Generated on a daily, weekly, or monthly basis, they are helpful to analyze how to optimize time and resources.
Working papers: These documents record engineers' solutions during project implementation, containing code, sketches, and ideas to solve technical issues.
Standards: From coding script to UX design, standards set the level of performance your team needs to achieve.
Best Software for Technical Documentation
Here is a list of 9 tools you should consider to improve the production of your technical documentation:
Confluence
HelpDocs
Helpjuice
MediaWiki
HelpNDoc
Knowledge Owl
ClickHelp
Document360
KnowAll
Conclusion 
To recap, technical documentation covers each stage of software development. Tracking and monitoring product development is a valuable tool to illustrate your project processes and improve quality products. As a support for your team, it helps keep the process transparent and organize results and future tasks.
However, to achieve the best quality product, you still need a great team. For that, we are here to help! Contact us if you plan to hire talented and remote software engineers to grow your distributed team with skilled and international candidates!