Need to hire someone for your team? Rather than excitement, this leads to frustration most times. Hiring is not easy, especially when you want employees that, besides having talent, also understand your company's culture and processes. But you don't need to wait to hire that person and see if they are the right fit. It all begins with the job description, a description that attracts the audience you are seeking. If you are wondering about the job description's best practices, or need a sparkle of inspiration, read on and find out how to attract the right candidates. 
How to Effectively Write a Job Description in 2020
One of the best (and easiest) strategies of hiring great talent is by actually attracting it. This is why it's vital to know how to write a job specification that fits and engages the audience you are trying to attract. If you are looking to diversify your team, it's time that you are careful with the words you use in your job descriptions. For instance, according to LinkedIn, women are 16% less likely than men to apply to a job when viewing a job posting opportunity. Why? Because the language and words used in the job ads were more relatable to men than women.
That is a simple example, but your job posting can scare away the talent you are searching for in many other ways. Writing job description best practices include being clear about the vacant, the skills required, and having special consideration that the description doesn't exclude a specific group of people. 
All job description guidelines include these basic aspects: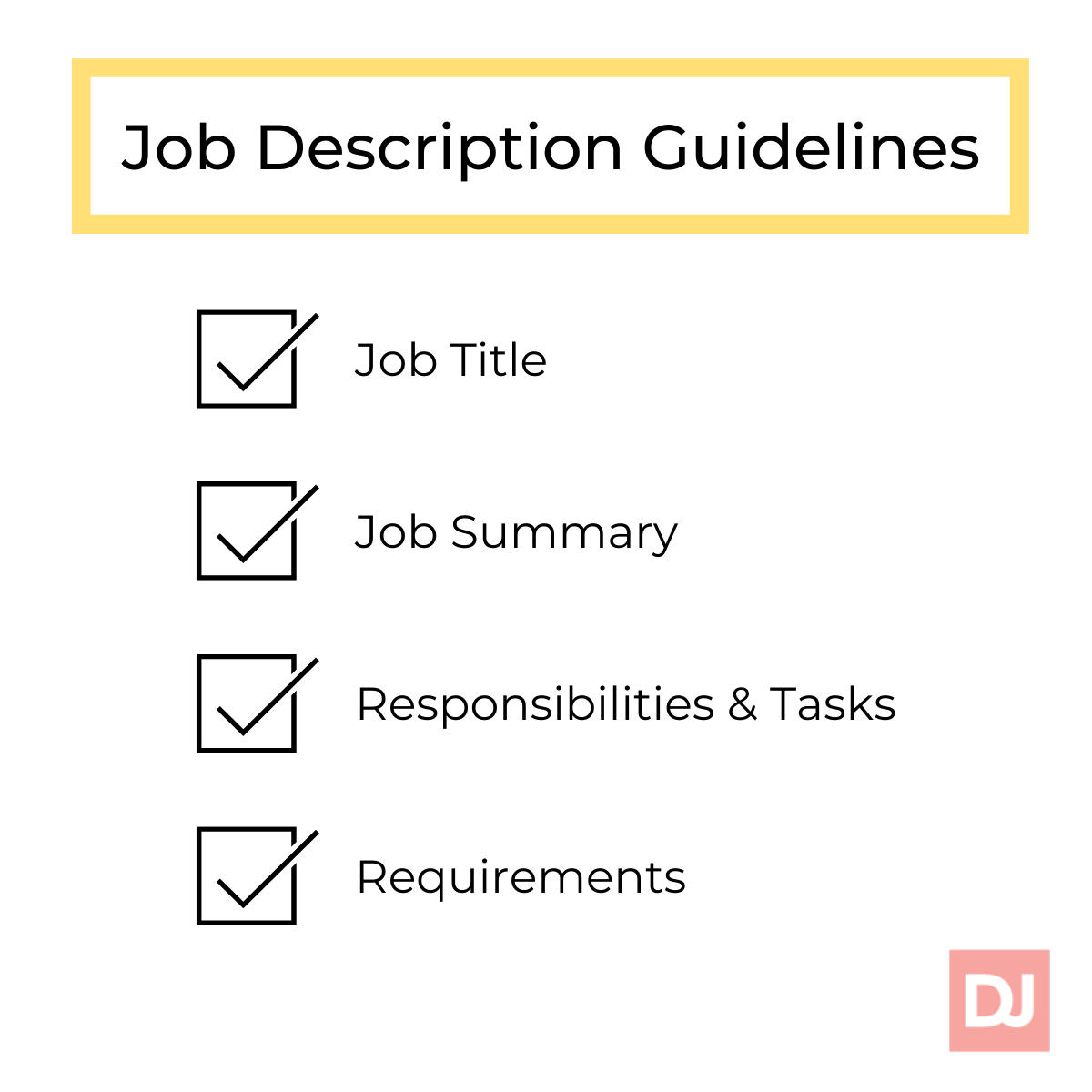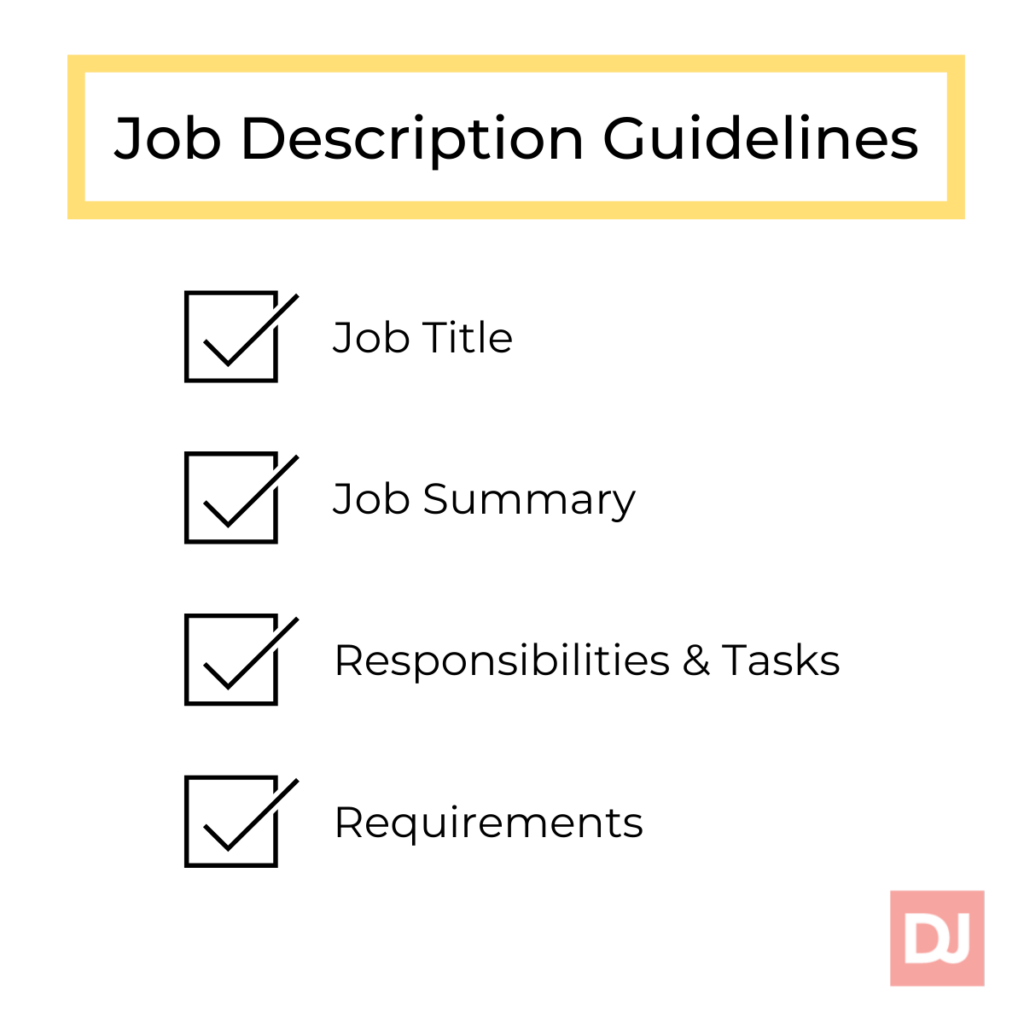 The key to writing a good job description is in how it's written. As stated in the beginning, words and expressions are key to engage potential talented candidates.
Best Practices for Successfully Writing Job Postings
Titles matter (a lot)
The first thing someone sees when looking at your job description is the title. So, this is one of the steps you need to be most careful about. Titles should be clear and not too decorative – some companies like putting too much excitement into titles that this even scares potential candidates.
For instance, let's imagine you are looking for an entry-level WordPress developer. Titles such as Superstar Junior WP Developer or WordPress Junior Warrior, even though they might be fun and attractive, are bad ideas for many reasons.
A study conducted by Indeed showed that weird "fun" titles that include words like wizard, guru, ninja, weren't as effective as simpler titles. They might indicate that a determined company has a more laid-back culture. But, most people search for a job that matches their skills and experience. People don't search in google for ninja jobs or product growth rockstars. The research showed that job titles could confuse job seekers, and rather than inviting them to apply, they scare them off.
Tip: Keep the title short and clear. Instead of WordPress Junior Warrior try with WordPress Junior-level Developer, for example.
Be careful with expressions
When writing job descriptions, some companies tend to use more adequate terms for men than for women. For example, when looking for someone to fill a sales vacancy, instead of writing words like salesmen, use a more general term such as salesperson. In industries like IT, where there are more men than women, it's particularly important to take care of these details.
Also, use Grammarly or any other grammar tool that helps you write better. Punctuation and writing skills matter a lot to candidates when applying to a job. If a job description is poorly written, they will get the sense that the company is unprofessional.
Tip: Try using general terms. Tools like Textio help create gender-neutral job descriptions. Other top-rated resume writers also help you create clear job descriptions using the right words.

Be clear about the job position
The best job descriptions are short and concise. You don't need to write the whole bible for candidates to understand the job vacancy. But doing everything too short might lead to candidates not understanding what exactly the job is about. Help candidates understand:
What would a regular day at work be for them?
What responsibilities will they have?
What will their main job be?
This will help candidates see if they have the necessary skills to perform that job.
Tip: Try writing a job description between 300 and 660 words.
Avoid using third person
Job descriptions are often written in third-person. The best way to engage candidates is to write a job ad directed to them. This means that using second-person, ''you'' to address them feels more personal and related to them.
Let's take as an example two job summaries in job descriptions, the first one written in third-person and the second one directed to the candidate.




Sell your company
Job descriptions need a little bit of marketing as well. Because besides stating the requirements and what the job is about, you need to sell the job. What makes your company a great place to work? Culture!
Sell the job and your company's unique culture! Nowadays, candidates want much more than just a good compensation. They want to work in a place that offers great benefits, like working remotely and having flexible schedules.
Also, talk a bit about your company and your beliefs; this will let candidates see if they will be a good culture fit.
Culture fit is essential because if you hire someone who doesn't enjoy the place they work in and don't understand your processes, it drains energy, time, and money from everyone in the team.
Modern Job Description Template
Years ago, when working remotely was relatively uncommon, and there wasn't as much technology as today, job postings were rather boring, chunks of paragraphs with nothing special. Nowadays, globalization has made many companies compete to recruit the best talent. And job descriptions are an excellent way for a candidate to get a sneak peek of how the company is and all they offer.
Here's an example of a modern job description template: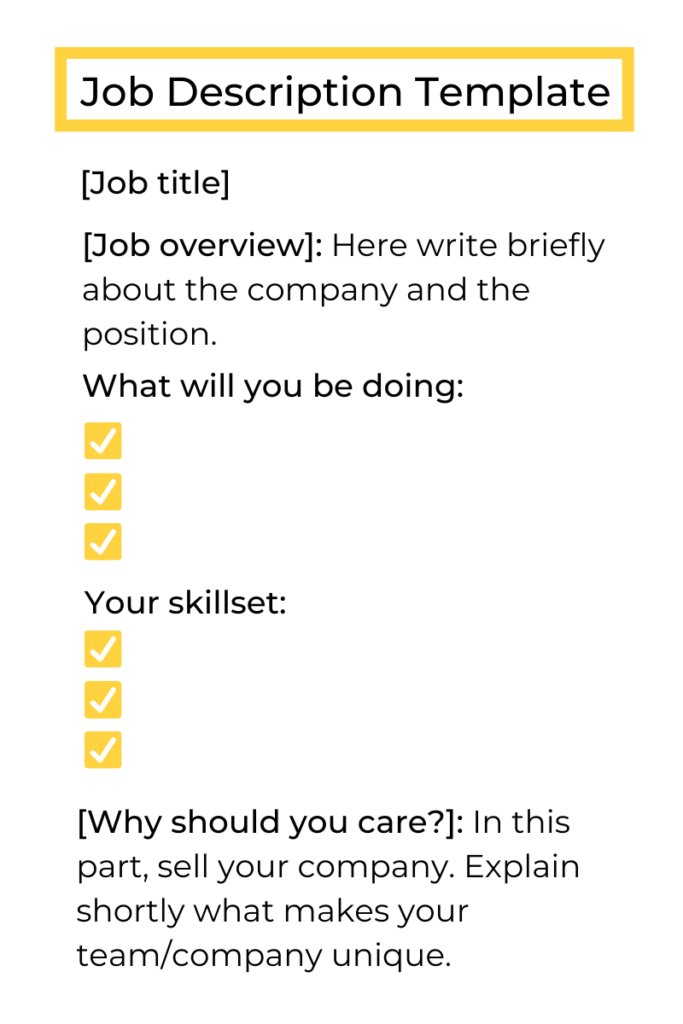 Attract the Best Talent
DistantJob is a remote recruitment agency for more than 10 years, and we get asked for recruiting advice often. We've noticed that most companies struggle to scale their IT teams because they can't get the talent they are seeking and end up hiring a developer that isn't the right fit for the company.
Hiring the talent you want is about looking in the right places for candidates. Having the entire world to look for this talent is one of the best ways to get your dream employee. However, it also means looking at thousands of CVs from all types of candidates. Instead of taking this hard work upon your shoulders, we want to help you.
We are firm believers that all companies deserve the best developers. And our mission is to help them get a candidate who meets and exceeds their expectations. In just two weeks!