If for Amleto the dilemma was 'to be, or not to be,' for a business owner it is what will win the final battle: mobile app vs. websites.
According to Statista, people spend around 5 hours daily on their smartphones. So, if you have an online business, it has to be accessible via mobile phone.
Especially after the global lockdown, 70% of searches on mobile phones lead to online action or purchases. A user can purchase through an app or a mobile website in a matter of seconds.
Mobile app vs. websites: which is the best choice for your business if you had to choose between the two? The answer isn't easy. Here is an overview of the pros and cons for both, and what you should consider for your company!
What is a Mobile Website? Pros & Cons
Some businesses underestimate the importance of mobile-friendly websites. Just think about how annoyed you get when you open an article from your phone and you need to resize the page to read it? Would you buy from such a website? Probably not. And the same goes for potential consumers. 61% of users will never return to or purchase from a non-mobile-friendly website. Consequently, 80% of top-ranked websites are mobile-friendly.
Generally speaking, a user can reach your business on a standard URL website. In addition, companies build a separate site for mobile devices to improve the user experience – the URL looks like m.Xwebsite.com or Xwebsite.com/mobile. With a different site, you can redirect your customers based on the devices they are using.
Usually, mobile websites look like an app. The main content and features are organized on the mobile screen to facilitate the user's interactions. Through images, videos, and pop-ups, consumers can easily take information and purchase products or services.
Pros
Improve User Experience
By creating two separate websites, you can target your audience more efficiently, specifically working on their needs. For example, your web analytics and customer research might indicate that your mobile users prefer a different type of content or features from those browsing from a laptop. Creating a mobile website, you can prioritize actions and features based on your visitors' preferences.
Compatibility
While an app needs a different version for each operating system, a website is accessible via browser from any type of device. If your target audience uses multiple devices, a mobile website is more accessible and compatible, integrating features like QR codes and text messaging.
Broader Reach
When it comes to reaching potential audiences, mobile websites win the battle. Responsive web design works across various platforms, offering a more comprehensive range of integrated features.
Support and Maintenance
Websites are cheaper to develop and maintain. As we just mentioned, they don't need a different version for each operating system. In addition, a mobile site doesn't require downloading updates by users, allowing quicker updating of content and design. Any edit will be immediately visible to users from any device. Finally, as an extension of existing websites, it's easier to develop features and interactive design.
Better Performance
Mobile websites with different URLs are designed for a smaller screen. Both in terms of visual experience and speed in the use, a mobile website is more efficient to use than a link for a desktop website on a phone.
Cons
Compatibility Content and Features
Tablet and mobile phones are the primary sources to get information. Sometimes, mobile websites can't provide complete content and features, risking losing users. For example, cameras, GPS, phone dialing, or other integrated features don't have the same efficiency or speed.
In addition, most people interchange a laptop and smartphone in the same research. In this case, the screen size can be an issue. A mobile screen shows less content than a desktop, impacting the user experience.
URL Addresses & Updates
Two URLs are harder to maintain and coordinate. A user should be automatically redirected, but sometimes the process fails. The same type of issue happens when people can like your websites from other pages. Depending on the link, a user can end on a mobile link from a desktop and vice versa. Finally, you must constantly ensure that new products are updated on sites, even when the updating process should happen automatically.
Offline Access
Besides the challenges related to the user experience, mobile websites don't work with offline access. Unlike apps, even with a light design, mobile web pages need a strong connection to function fully.
What is a Mobile Application? Pros & Cons
Today, people do most of their actions online, and mobile app revenues reached $600 billion in 2020. The explosion of smartphones and tablets made application development one of the most popular trends in the world – only in the US, an average app user installs over 100 apps on their devices.
Mobile apps can be:
Hybrid apps: When the app works across any OS with the same code base.
These are the most popular mobile app categories:
Gaming: Apps are the best alternative for computer video games. Gamers are the most dedicated apps' consumers. A recent study shows that mobile games account for 33% of app downloads. Candy Crush Saga or Angry Birds are the most downloaded apps ever.
Productivity: Apps focusing on time tracking, organizing tasks, or improving business efficiency.
Lifestyle and entertainment: Meditation or fitness apps are increasing their popularity, especially after the global lockdown. Also, socialization apps like Tinder, Bumble, Instagram, are growing more and more users every day. Finally, no need to mention video streaming apps such as Netflix or Amazon Prime Video.
M-commerce: Amazon or eBay opened the way offering the same experience of desktop versions to mobile users. These types of apps access users with easy payment methods for an optimal shopping experience.
Travel: From Raynair to Google Maps, Airbnb, or Uber, apps revolutionized the travel industry. Most tourists rely on these types of apps, both for booking and information because they function even without an Internet connection.
Pros
Convenience
Compared to equivalent websites, apps are more convenient. Since apps like Amazon or Zalando made it easier to browse the company's products, people do most of their searches online. By 2022, mobile app downloads will reach 258 billion – compared to 168 billion in 2017.
They offer a better user experience; load content faster; and easily connect to smart devices. In addition, app design suits better on a mobile screen.
Notifications
Unlike mobile websites, apps can send notifications pushing new products and sharing news. For example, if you are running e-commerce selling food products, you can send notifications when new products or special offers are available. Your customers will see the notification automatically and go into the app to check the details, without the need of sending emails.
Customizable
Mobile apps are a better option for services that you use daily. Users can set preferences and personalize their accounts to keep updated on what they need. A customizable app is a great strategy to target your audience based on their preferences creating specific marketing campaigns for your business.
Offline Access
Unlike mobile applications, apps work offline, providing access to content and features without an internet connection.
Cons
System Compatibility
As we mentioned initially, mobile apps can be native or hybrid. Sharing the same code through different platforms can be a risk. Hybrid applications might not fully support every feature in each operating system. This limit impacts the user experience and the functionality of the product. On the other hand, building a framework for each operating system is expensive and time-consuming.
Accessibility
Unlike mobile websites, apps need to be downloaded and installed. This process can be free of charge for users, but some apps have fees to cover the updating costs and approval system. Depending on the business model you have, your target audience might be not willing to pay extra costs to visit your app or installing a new program to use the app.
Support and Maintenance
Developing an app for multiple platforms requires time to maintenance and updating to improve compatibility issues. In addition, maintaining an application means constantly asking the approval in the market where the app is running.
Mobile Websites vs. Apps: Key Differences
If you have to decide which one is the best for your business, think of what your end goal is. When you are developing a game, your best option is an app. While you are running an online magazine, mobile applications are more functional and easier to navigate. In some cases, like a booking travel business, having both options is the most convenient choice to reach a different type of audience.
When you are running a startup, a mobile version of your website is helpful to improve your online presence and attract your target audience.
Here is a summary of the main differences between mobile websites and apps: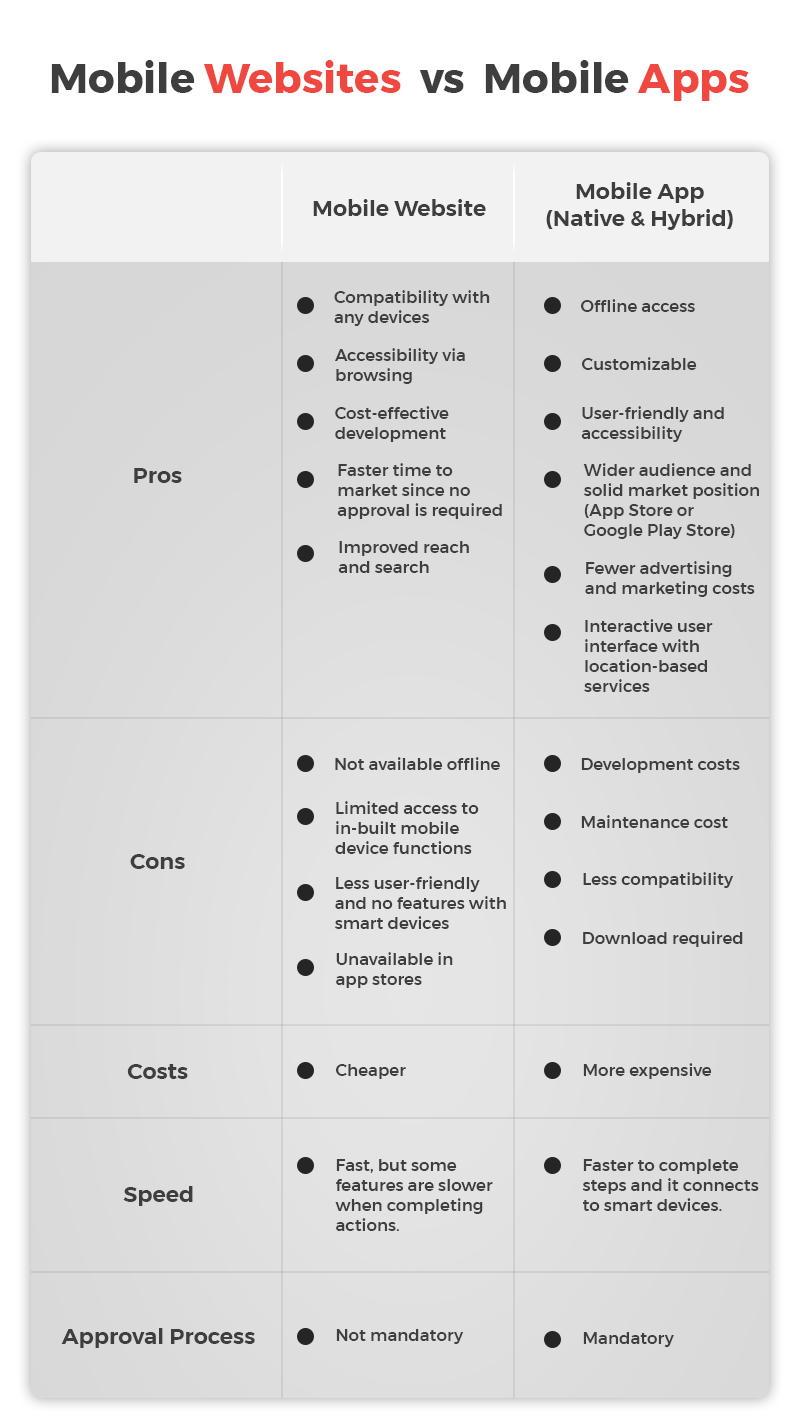 How To Choose Which Is Right For Your Business?
As we just said, the best choice depends on your final purpose. If your end goal is related to marketing or public relations, a responsive mobile website is a better option to grow your online authority. When you are promoting a service that requires regular use, mobile applications win the battle.
> Oh, by the way, we've put valuable resources on how to create a business app plan here. <
Here are the core questions you need to consider when deciding between mobile apps or websites.

App vs. Website: Which is a Better Option To Choose For Your Business?
Most of our daily actions happen through a phone, and you must decide which is the best investment for your business between an app or a website. On a superficial level, an app is better if you are selling a service that people use every day or requires high security. Websites are more functional for marketing-related goals or informative platforms like digital magazines or landing pages. On the other hand, if you are selling a service that requires offline actions, an app wins over a website.
Ask yourself what you need, and you will know which is the best option. Just remember, both solutions require a great developer to build the most functional and enjoyable product. When you decide what is best for you, make a list of the technical skills you need to build the best app or site. Do you want to push on the user experience with an interactive app? Or give all the possible information to your audience with a smooth mobile website they can access from anywhere?
When you get to this point, DistantJob is here to help you hire qualified developers around the world – literally around the globe! As a remote headhunting agency, we specialized in the tech field with a passion for new technologies and apps. Our IT recruiters can help you figure out the skills you need and the best candidate for your team, either is an app developer or a web developer. Just contact us!