Do you have to off-board a remote employee?
Oh! That ghastly feeling!
You've just been told your prized remote employee is leaving your company. Or worse, you've decided it's time to part ways. What do you do? The pedestrian truth is even the best of remote employee relationships end. And proper remote offboarding is just as important as the onboarding process.
Having a clear-cut offboarding process in place that'll help your company get back to the essential tasks with a minimal disorder is vital. That includes finding a suitable replacement – for which we're here to help. Being a fully remote company, we've dealt with the offboarding of several employees remotely in 10 years of activity.
Here are our top 5 tips to help you know how to offboard a remote employee with ease:
Good relationship matters
Implemention of a knowledge transfer process
Exit interview
Company's data security
Exit paperwork
5 Tips to Off-board Remote Employees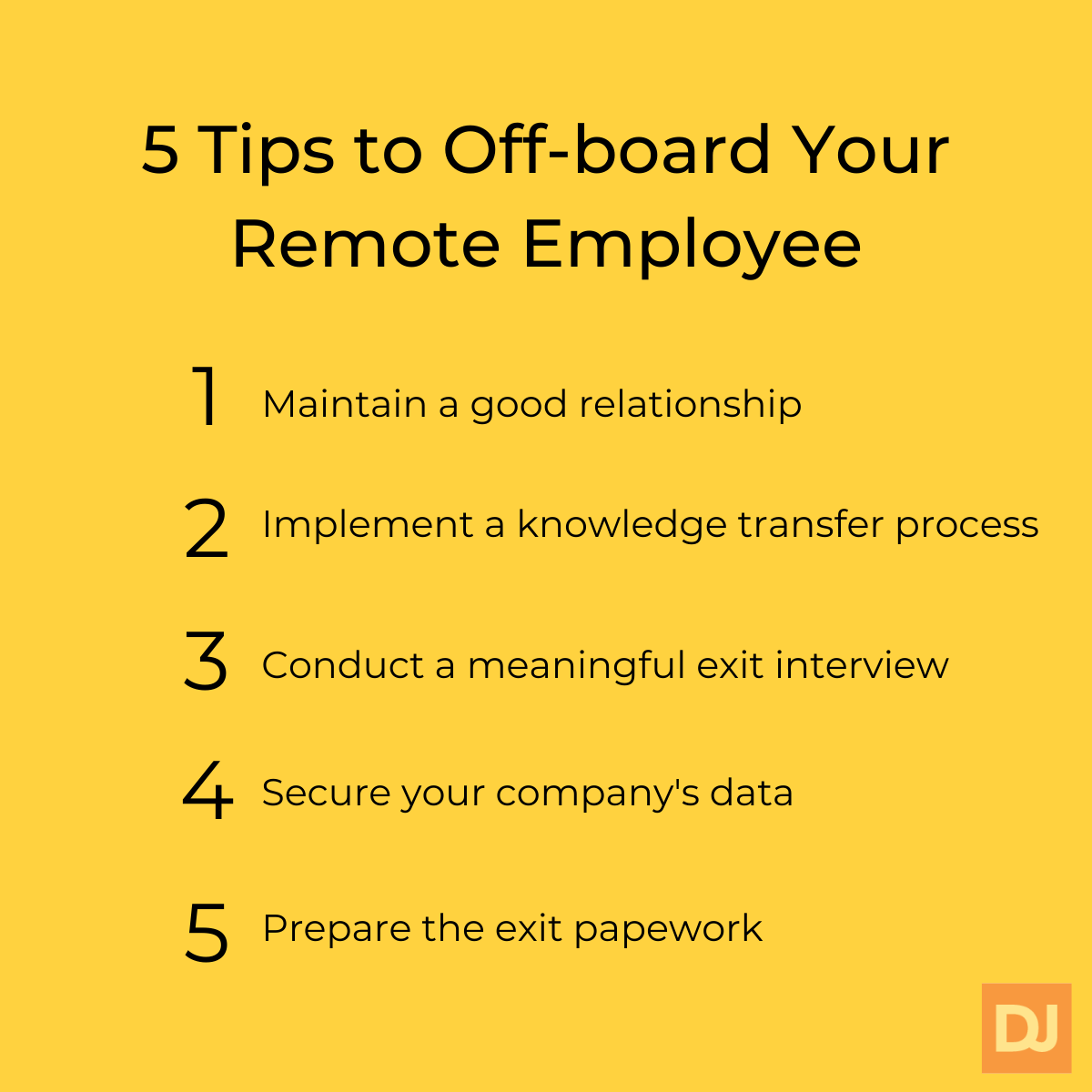 1. Maintain a Good Relationship with Your Parting Remote Employee
If you prioritize the relationship, then the rest of the process will be smooth sailing, peaceful, and agreeable.
At DistantJob we're experts in IT recruitment. However, when it comes to virtual IT offboarding, we've learned that one of the most important things is to try to end the professional relationship in the best way possible.
These are some of the main reasons why having a good relationship with your departing remote employee is crucial:
Like it or not, all employees are your brand ambassadors.
Your company will decidedly have some networking overlap with your employee. A positive word from an ex-employee often has more weight than any marketing.
And lastly, there's a possibility that a valued employee may re-join the company. You should make room for that to happen.
2. Implement A Progressive Knowledge Transfer Process
Arguably, the worst part about a valued employee leaving is the uncertainty of whether another person can carry out those tasks with the same degree of competency.
One great advantage of having remote employees is that almost all the work transpires on a remote management platform. And the chances of having trackable work and proper documentation are higher than if the employee worked onsite.
That said, you should do regular "knowledge transfers" so that you don't panic in emergencies.
Regular one-on-one meetings are excellent opportunities to ask employees more nuanced questions about their work processes, approach to a project, creative ideas. As well as get a complete sense of their current tasks.
Systematic work shadowing is another way to keep tabs on employees' work. And have other members of the team ready to take on their roles if need be.
And most important is having proper documentation that follows companywide standards – so they're easily understandable by other employees. In the off-board process, you should ask your parting employee to leave all the necessary documentation about their tasks. This means that this person's main role and responsibilities are explained clearly, so when the next person comes, it is easier for them to understand how to manage those new tasks.
If possible, involve the parting employee in the interview process for their replacement. Better still, ask them to train the new hire.
3. Conduct A Meaningful Exit Interview
Whether they're leaving of their own accord or you've let them go, a video conversation with your parting remote employee is essential.
Keep your main goal of maintaining a good relationship with them in mind. Don't hold a grudge if someone is quitting. Instead, find out what prompted them to consider leaving.
Take this as an opportunity to gain more insight into the role itself, how working remotely affected it, which projects they enjoyed working on, etc.
Besides providing them with useful feedback, ask them about how working in your company was for them. They can also give you feedback regarding how the company experience is, and this can help you improve certain aspects – These answers could be a springboard for your company to make positive changes.
If there are unresolved issues, it's better to address them head-on than shoving them under the rug. Make the departure amicable by reiterating their contributions to your company.
4. Secure Your Company's Data When A Remote Employee Leaves
A well-functioning remote work environment demands openly sharing information that'll enable developers to do their best work.
But once that relationship comes to an end, you have to take measures to secure your company information.
When working with remote management tools, for instance, make sure work data can't be transferred out of the system without notification. Or file sharing apps don't share to personal accounts.
Other than that, recover your digital assets from the employee, including passwords, key codes, access to virtual security rooms. And change them when they leave.
Let them know by when their access will be terminated so that it doesn't come as a surprise. And notify the IT admin to start the due procedures.
Lastly, update your lists, so they're not invited to the next meeting or keep receiving company emails.
5. Prepare Your Remote Employee's Exit Paperwork
Just like onboarding, the exit process comes with its own set of paperwork. And the procedure for a remote employee is no different than an onsite employee – except all the forms are digital.
Although there might be a few company-specific items, some common points on the exit paperwork checklist should include:
Get updated contact information – because you're going to forward documents to that email address.
Reiterate the benefits they're eligible to receive, such as unused vacation days and bonuses, and when they'll do so.
Clarify the legal stuff – and remind them of the agreements they may have signed, such as non-compete clause, confidentiality documents, and non-disclosure agreements.
Ask them about what they want to do with their 401K, and take the necessary actions, like roll it over to the next employer.
Apprise them of some of the other documents they'll receive from you in due time, such as the W2 form.
Let them know when they'll get their final salary.
Make sure you're in COBRA compliance – and the employee's insurance benefits will be extended for a period, and clarify when those will come to an end.
Uuff! That's a lot, isn't it? Can't be helped – it's another burden a small business owner has to bear. Or do you???
No, you don't. DistantJob can deal with all that for you. When you use our services to find a remote developer, we'll do all the paperwork for you. And find you a replacement so that you can go back to running your business.
Not only that, we put in assiduous effort to find the right developer. Someone who is right for the job and will fit with your company culture. Result? Our remote developers don't up and quit easily. And they give you even fewer reasons to let them go. If you're ready for a long-term, full-time, remote developer, you ought to call us now.