In our last article in the series, we gave you an overview of the top reasons and means of cyberattacks. And we detailed how you can secure your remote workforce.
Today, we'd like to outline for you a step-by-step guide that will help you craft your own cybersecurity plan.
Since such a plan will obviously vary between companies, we thought it'd be best to point you to the different technologies available for you to choose from.
If you have any questions, feel free to reach out to us.
What to include in your cybersecurity plan
Remember the risk assessment checklist we spoke about in the previous article? Well, the information security plan for your company should work in tandem with the results of your risk assessment.
Moreover, you should also consider the below points.
According to the Cost of a Data Breach Study from IBM and Ponemon Institute, 48% of attacks are criminal, 27% are due to human error, and 25% due to system glitch. So, you need a plan to defend your business from each of these events.
That's not all. Your information security plan should consider:
Preventive measures – how you'll thwart cyberattacks and data breaches
Detective measures – how you'll monitor your distributed systems in order to catch a threat before it happens or at the soonest
Responsive measures – how you'll react and repair your information systems if an attack occurs

On top of these, your plan should accommodate your remote employees. Consider what sort of scenarios you're opening your business up to when you have a distributed team, and what reinforcements you need.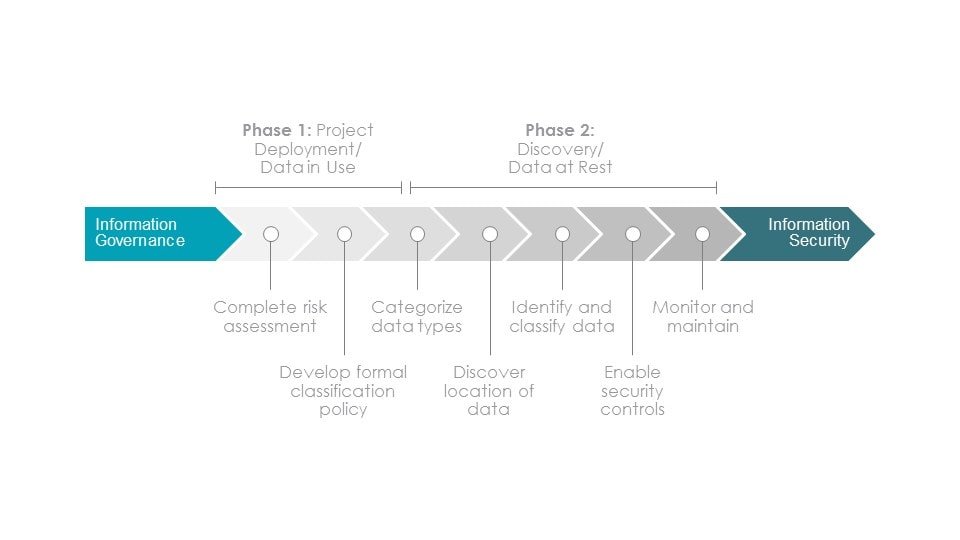 Preventive measures for your company's cybersecurity
Preventive cybersecurity measures are like the rifled guards who guard a bank vault. Offense being the best defense, you cannot skimp on this step if you mean to secure your company against cyberattacks.
Classify your data
Every piece of information in your distributed systems doesn't have the same value. Keeping cost and efficiency in mind, divide the data you store according to how important they are. Based on this classification, you can determine the level of protection each should have:
Private data that is highly restricted – a person will need James Bond-level clearance to access this stuff. You should put everything on the line to protect it – even the law demands that. Highly restricted data could include your 11-herbs-and-spice product recipe, employee/customer information, and other trade secrets.
Private data that is restricted – should be accessible only on a need-to-know basis. Such as if a person joins a project, they can be granted access, and when they leave access should be denied. Your remote workers will mostly fall into this category.
Public data that is available to all – this is mostly show-and-tell data that anyone could access/hack, somewhat like misinformation on a Wikipedia page.
Once you can classify your data into these categories, you'll know not only whom to give access to which, but also how you can protect the data.
Types of data security at the preventive stage
The two primary ways you can protect your data at the preventive stage are:
Data encryption – Using encryption, data is translated into ciphertext. Only with the decryption key, you can access the data. This method works well in the remote work environment for two reasons. One, using plaintext that can be intercepted and easily read is a poor choice. Two, encryptions are one of the most challenging technologies to hack, making it comparatively safer.
Data masking – Masking hides data using structurally similar but inauthentic data such that the original values can't be detected or reverse engineered. This process can help when you need to give your remote (or in-office) employees access to information so as to train, test, teach, or implement a system. But they don't need access to the actual data.
Technologies available to secure your remote team from cyberattacks
Virtual Private Network – This is one of the most popular technologies for remote workers. VPNs offer secure networking either through encryption or by creating a secure data tunnel. Another benefit, VPNs allow you to manipulate your IP address, which can be another level of security for international remote workers. But there are different types of VPN. Some don't have encryption – like Point-to-Point Tunneling Protocol (PPTP). In this case, you'll need to use secondary protocols. So, choose a VPN that enables encryption – such as Secure Sockets Layer (SSL), Transport Layer Security (TLS), or Secure Shell (SSH).
Cloud-based apps and storage – Cloud apps need passwords to access. Plus, they're not stored on a device. So if a device is lost, your data will still be safe. Further, these apps let you set access controls based on your data classification. Choose a reliable cloud app. Because if an app has a full-blown cybersecurity strategy in place, you can reap the benefits without extra cost.
Firewalls – When you have remote users accessing your systems and sending across data from all over the globe, you need a data safety checkpoint. Firewalls play that role.
Blockchain – The distributed ledger systems of the blockchain is the toughest to crack yet. That makes it a good choice for protecting the most critical data – especially on a distributed system. It's decentralized, uses encryption and validation to add/remove blocks. Blockchains can also be private. As yet, there are only a handful of companies offering data security using blockchain. Guardtime is one of them.
Virtual Data Rooms – If your company's most important business transactions happen online, including meeting with clients, making deals, negotiating prices – VDRs are worth considering. Pretty sure MI6 uses these to keep in touch with their assets.
Biometrics – Remote workers use numerous devices and often from locations other than their homes. That's why having a biometric component to logging onto a device or program that'll access your core system is beneficial. With biometrics, you can monitor every device that is accessing your systems.
Data Security Solutions – There are many offerings in data encryption, protection, tokenization, and masking. Make sure the solution you favor protects your data once it leaves your systems, and when it's accessed on other devices and emails.
Mobile Device Management – You can monitor, manage, and secure your remote employees' devices with such a platform. They also allow capabilities to erase data from a lost or stolen device.
There is no need for an SMB to splurge on all of these technologies. But carefully choosing solutions that suit your business and remote employees' work routines will keep your company safe from cyberattacks.
One pro-tip – diversify. Don't rely on only one method of security when you can add layers. Such as, when you choose a remote management tool, pick one that offers end-to-end encryption.
Detective and responsive measures for your company's cybersecurity
Detective cybersecurity measures are like border patrol who are always on guard and keep your distributed systems safe.
And responsive measures are similar to medical units who respond quickly when a cyberattack and data breach occurs and act promptly to minimize damage to your company.
Types of data security at the responsive stage
In this stage of your remote cybersecurity plan, the two ways to secure data are:
Data erasure – Erasing data ensures that if a device is lost or breached the data on it can be erased entirely to prevent damage. It can also mean securely removing unwanted data from your systems (hard drive or digital assets) – like from previous projects or ex-vendors or previous customers.
Data resilience – Resilience implies creating a backup of your data so that you can access the last safe mode of operation and resume business functions.
Technologies available to detect and respond to cyberattacks
According to a report from Cisco, businesses take an average of 100-200 days to identify a cyberattack, making the consequences direr.
That's why monitoring your systems is so important. Here are a few ways to keep ahead of an attack:
Sandboxing – It isolates your most essential apps from the rest of your systems, creating another layer of protection.
Anti-bot – This method can differentiate between human and bot activities/traffic and securely block threats.
Artificial Intelligence/Machine Learning/Deep Learning – Once AI/ML/DL is embedded in your systems, these technologies can "learn" regular user behaviors and detect untoward activities. They can also determine whether a threat is real and worth investigating, thus saving you time.
Backup, ITR, DRaaS – These are three distinct technologies, but they need to work in tandem to help recover your assets. Backup technology stores your systems' data. IT resilience protects the apps and data from any breach. Disaster Recovery as a Service helps your system get up and running at the fastest, even if that means shipping recovery discs to a physical location. When choosing a service provider, pick one who has cloud-based storage, has minimum spin-up time SLA, and WAN optimization for quickly moving data.
How to respond to cyberattacks
A part of your information security plan should include how to respond to a cyberattack. The SANS Institute lists six steps to do so:
Preparation – teaching your employees what to do
Identification – making sure the incident is an actual threat
Containment – isolating affected systems to mitigate damage
Eradication – identifying the source of the problem and eliminating it
Recovery – making sure the damaged systems are ready for use once again
Lessons – analyzing and documenting the incident for the future
Here are a few top-rated incident response service providers.
Standards for data security
Given the growth of cyberattacks and data breaches, following international data security standards is critical. Non-compliance can lead to huge fines, litigations, ruined reputations.
If your company collects any personal information, you become a data processor. That moniker comes with many responsibilities.
Such as, following international security standards, like General Data Protection Regulation (GDPR), Payment Card Industry Data Security Standard, Standard of Good Practice (SoGP), ISO/IEC 27001, and NIST Cybersecurity Framework – one of the most popular standard practice framework in the US.
You can learn more about some of these security standards and which ones apply to your company here.
9 Important takeaways about winning the cyber wars in the remote workplace
Both cyberattacks and data breaches have seen an upward curve for the past several years. But even with the most basic precautions, you can safeguard your company and remote employees against these attacks. Here are our top takeaways on data security culled from our previous article and this one:
SMBs are more vulnerable to cyberattacks than larger organizations.
Most cyberattacks occur because companies don't follow the most basic security measures.
Employee devices and unknown emails are the weakest links in data security.
Create and follow a cybersecurity plan that entails all stages of protection – preventive, detective, and responsive.
It's better not to rely on one type of security but add layers of protection, like choosing apps that come with their individual encryption.
For better protection, use biometrics in addition to digital locks.
Encryption and cloud-based technologies are as yet the safest.
Choose security providers who match your needs and follow through on their SLAs.
If you don't have in-house capabilities, hire data security experts to protect your company against cyberattacks.
And for expertise in hiring the right candidate to take care of your data, check this guide or give us a call.