Freelance web developer vs remote web developer: what's best?
After this massive shift to remote work and e-commerce, we all witnessed the importance of user-friendly interfaces. That's why you are looking to hire a new skilled and brilliant developer. The question is if it's better to hire a freelancer or a full-time web developer? Is it the same thing?
In short, a remote web developer and a freelance web developer are two very different types of employees. This distinction is crucial when you need to hire a new member to your team. But let's start with the basics:
What is a remote developer?
A full-time remote web developer is part of your company, following each stage of your projects over time and performing the same tasks as your regular in-office developer. What makes it different, is the fact your remote developer will be working from a remote location and not in your physical office.
What is a freelance developerr?
A freelancer web developer is a self-employed person who collaborates with your team, usually on a specific project. On the other hand. In short, the core difference between a full-time remote developer and a freelancer is the contract – and consequently, the relationship you will build with them.
In this article, I will walk you through the pros and cons of freelance web developers vs. full-time remote web developers, and why you need to consider which one is best for your project.
Full-time Remote Developer vs Freelance Developer – What's the Difference?
If you don't have someone in your team with web developing skills, you have two basic choices:
You can engage the services of a freelance web developer, who will build your site for a fee or hourly rate without having to hire them full-time.
You can hire a full-time remote web developer who functions just like a regular employee, only working from an offsite location.
At first glance, securing a freelance web developer might seem to be a pretty attractive option. You can create a one-off business arrangement with no strings attached at an affordable price. And you probably don't have to mess with HR or shepherd a freelancer through an extensive company onboarding process.
Before taking any decision, let's have a look at the pros and cons of these two arrangements and see which one is best for your business!
Pros and Cons of Hiring a Freelance Developer
Freelance web developers are self-employed coders that create websites for different clients and get paid for each project. As independent workers, they set their hourly rates and can work for more clients at the same time.
Let's have a look at the pros and cons of this type of collaboration:
Pros of Hiring a Freelancer
#1. Fewer Costs
Rather than on an hourly rate, with a freelancer, you can cut off employment costs. Hiring a freelancer is cheaper for your company because you can cut off health insurance, retirement savings, and benefits. Finally, freelancers get paid on an hourly rate or project-based, which means no overtime costs or holiday expenses.
#2. Flexibility And Independence
Freelancers work on their schedule and organize the work based on deliverables and deadlines. For you, this flexibility means that they can work on more projects at the same time or accommodate different management timelines. In addition, you don't need to provide the space or tools, just remember them about team meetings or synchronized tasks.
#3. Expertise
Usually, freelancers specialize in very specific elements of web development. If you need support for a specific feature on your website, hiring a freelancer is a good strategy to fill the gap with the necessary skills. Additionally, since freelancers normally work independently, you can skip further training in other areas and constant supervision.
Cons of Freelancing Web Development
At first sight, it might seem like hiring a freelancer is a great idea. However, the cons of hiring a freelance web developer can become significant with time. For example:
#1. Quality Output
Even though a freelancer may claim to have amazing coding and design skills on his portfolio, there's no real way of knowing if that's true. It's usually not practical to test a freelancer's skills, and you may not discover any knowledge gaps until the project is already in full swing.
Also, it's impossible to know whether a freelancer has the most up-to-date technology available, or if they're using a different coding interface or an older version of communication software. It may sound pedantic, but especially with distributed teams, it can slow the pace of a website's development. Your freelancer will work more to catch up with tools and software than actually doing the real job.
#2. Not Part of Your Company
As we mentioned earlier, the relationship with a freelancer is usually project-based. They ultimately set their own schedule, meaning that they may prioritize other projects ahead of yours. This can lead to frustrations on your side when it comes to managing times and deadlines.
Company culture is crucial for obtaining quality results for a project. Culture is what makes people feel connected and part of something greater than themselves. It's what drives commitment.
A freelancer has higher odds of providing a poor service because they might not feel attached to your company. When working on a project, things go smoothly when all the people working in it go by the same processes and share the company's values.
Also, trust is essential. Some freelancers have been known to "flake out" and disappear from a project altogether, leaving it unfinished and in disarray.
#3. Limited Changes
A freelancer may provide only limited post-launch support for a website. So, it may be more difficult to make little tweaks or changes to the site once it goes live. This is especially true if the freelancer has already been paid for the project.
Websites need some time to show results, and changes are part of the job of building a website. If the person doesn't have a formal work relationship with the company, you might lack the additional support you need after the launch.
In case you need improvements made to the site, your freelancer may not be available to take on the work when you need it. And you will eventually need to start the hiring process all over again. Finding another freelancer could take a lot of time. Your new developer will need to work on someone else's code. And even the most experienced programmers have difficulties when trying to read other developer's code. This process takes time, which for you translates into a waste of money – are you sure is it worthed it?
4.Freelance Marketplace Hunt
Finding a qualified freelance web developer is really hard if you don't personally know someone. You'll have to go to a freelance marketplace – chaotic platforms where people offer multiple services for low prices just to get a review on their profiles. Looking for web developers who charge cheap salaries means getting cheap results – unless you become a lucky exception.
Pros and Cons of Hiring a Remote Web Developer
What is a Remote Full Time Web Developer?
If a freelancer is a temporary arrangement, a full-time remote developer is a stable element of your team. A remote position doesn't mean an occasional collaboration; just working from a different location. Being part of your company, a remote developer follows your culture, HR, and team schedule. When it comes to pros and cons, choosing a remote developer would be a better option for building and maintaining such a valuable asset as a company website.
Pros of Hiring Full-time Programmer
#1. Accountability
A remote web developer is more accountable for your company simply because they're essentially full-time team members. They will learn your company's culture and shared goals and values, as well as work by the same processes.
#2. Skill Set
You can gain a better understanding of their skillset either through pre-hire testing or during their early employment tenure. And over time, you can train them in other vital areas if necessary. When you find a remote web developer with excellent self-discipline, time management skills, and proactive reporting abilities, then you'll have a valuable company asset for your current project as well as in the future – and remote web developers are way cheaper than hiring a local web developer.
#3. Part of The Team
As a remote employee, a web developer is an active member of your team. If you need further changes like website maintenance or new implementations, the remote developer is already working for you. They are familiar with the site, internal structure, and how things are done in the company.
#5. Hiring a Remote Web Developer
The process of finding and hiring a remote web developer is less complicated. You don't need to dive into endless lists of people in an online marketplace. You can work with specialized recruiters that know where to find them – like us, DistantJob superheroes. What's our superpower? You send your job description, and in less than 2 weeks, we'll send you the resumes of the right candidates for you. The best part? You don't have to pay until the person starts working with you.
According to the Duke/CIBER Booz Allen study, 70% of companies hire remote workers primarily because of the increased talent pool rather than reduced costs. Also, as I already stated above, more research shows that companies hire remote workers because they experienced how it increased retention, productivity, and commitment.
So if you're looking overseas for someone to build your website, you should strongly consider forgoing the freelancer route and opting for a remote web developer instead.
Cons of Hiring Remotely
#1. Cultural Crush
Hiring remotely means that you can pick your best candidate from anywhere in the world. It sounds amazing, but you need to take into account a few things. Hiring someone living on the other side of the world doesn't only mean a lower salary. It also means different cultural backgrounds, languages, and methods. During the hiring process, pay attention to attitude and personality. If you are hiring a long-term member, you want someone who fits with your team and can grow with them. You don't want a smart monkey that won't ever be part of your company. Plus, don't forget to check convenient time zones for meetings and synchronized work!
#2. Discipline
Remote work works only with discipline. The risk with remote web developers is that, in the long run, they may lose determination and discipline. If they don't engage with the rest of the team, they will isolate and become sloppy on deadlines and quality. Hiring a remote team member means putting extra effort to improve internal communication and team-building strategies.
#3. Higher Cost
If freelancers take care of their payroll, a remote web developer is one of your employees. Which means benefits, holidays, HR costs, and so on. Even hiring where living costs are cheaper, a full-time employee is always more expensive. However, you could also call it an investment, since you are hiring someone who will grow with your company and become part of the team.
Comparison Table of Hiring Remote Full Time Web Developer and Freelancer Web Developer
To recap, here are the core differences between remote web developers and freelancers: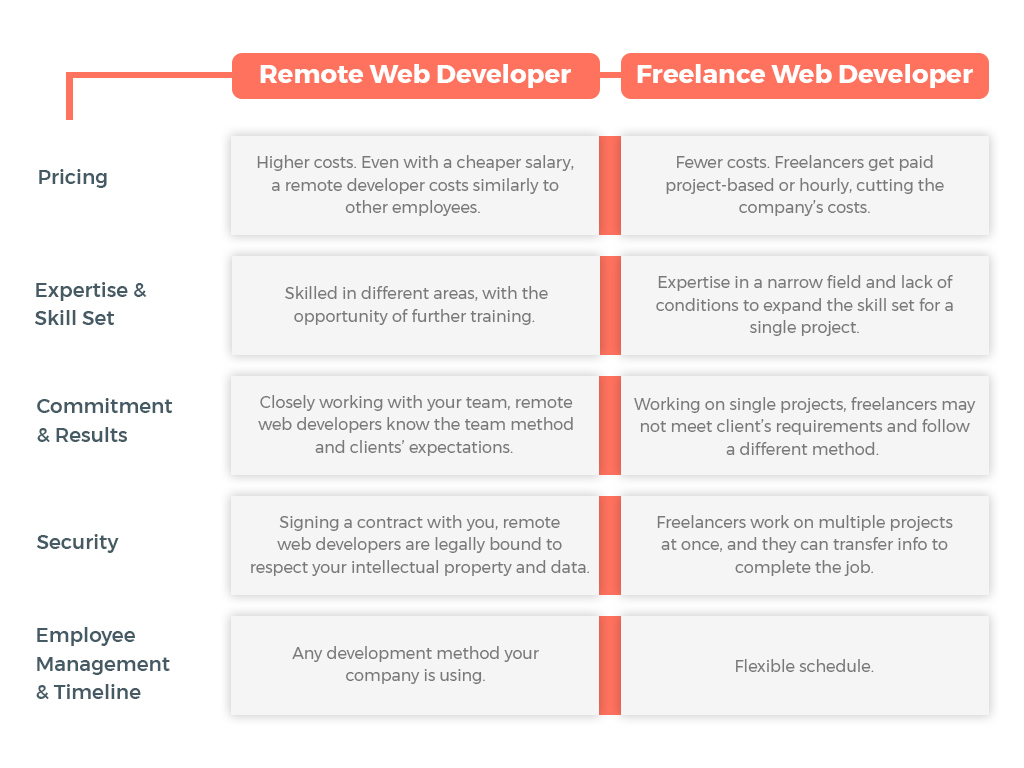 If you still want to know more about these two different models, watch this video where I share some insights on hiring freelancers vs. hiring remote web developers:
Which One Is Right For Your Business?
Finding the perfect candidate is never easy, whether it is a freelancer or a full-time remote employee. Just remember a universal rule. Qualified developers are often busy, they probably have a job, and they certainly don't work for a low price.
To optimize your time, you need a better, less time-consuming, and less costly process than screening online marketplaces. You need true headhunting to recruit talented developers. Or even better yet, have specialized recruiters who headhunt developers and take care of the dirty (and boring) work. Guess what? That's us! Just contact us and we will find the best remote web developer for your team!