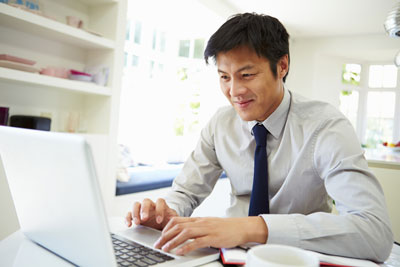 Do you remember back in the day when company websites were new and unconventional – when they just had to look snazzy without actually doing all that much?
Yeah, didn't think so.
These days, your business website has to be flawless in its content, navigability, and functionality. And if your site isn't as efficient, versatile, or user-friendly as it can be, you may be surrendering a competitive advantage to someone with a better site. That's why it's vital that you find someone who has the skills and knowledge needed to construct a website that's perfect for your company.
Freelance vs. Remote – What's the Difference?
If you don't have someone in your employ who already has web developing prowess, you have two basic choices. You can engage the services of a freelance web developer, who will build your site for a fee or hourly rate without having to hire him on full-time. Or you can hire a remote web developer who functions just like a regular employee only working from an offsite location.
At first glance, securing a freelance web developer might seem to be a pretty attractive option. You can create a one-off business arrangement with no strings attached at an affordable price. And you probably don't have to mess with HR or shepherd a freelancer through an extensive company onboarding process.
The Downside of Freelancers
But when take a closer look, freelance web developers might present some significant challenges that could hinder the construction of your site or impact how it functions when it is completed. For example:
Even though a freelancer may claim to have the necessary coding and design skills, there's no real way of knowing that's true. It's usually not practical to ask a freelancer to verify his skills via testing; and you may not discover any knowledge gaps until the project is already in full swing.
It's impossible to know whether a freelancer has the most up-to-date technology available. If he is using a different coding interface or an older version of communication software, it could slow the pace of the website's development.
A freelancer ultimately sets his own schedule, meaning that he may prioritize other projects ahead of yours. This can result in frustrations on your part when it comes to response times and deadlines.
The odds are higher of a freelancer providing poorer service simply because he may not feel as closely attached to your company and its goals as a full-time remote web developer would be. Also, some freelancers have been know to "flake out" and disappear from a project altogether, leaving it unfinished and in disarray.
A freelancer may provide only limited post-launch support for a website, so it may be more difficult to make little tweaks or changes to the site once it goes live. This is especially true if he has already been paid for the project.
If you want to add onto or improve your website in the future, your freelancer may not be available to take on the work. Then you're faced with bringing someone else in to try and make sense of the freelancer's code.
Remote Web Developers are Invaluable
Conversely, a remote web developer has more accountability to your company since he is essentially a full-time worker. You can gain a better understanding of his skill set (either through pre-hire testing or during his early employment tenure) and can train him in other vital areas if necessary. And if you can find a remote web developer with excellent self-discipline, time management skills, and proactive reporting abilities, then you'll have a valuable company asset for your current project as well as in the future – all at a fraction of the cost of hiring a local web developer.
According to the Duke/CIBER Booz Allen study, 70% of companies hire remote workers primarily because of the increased talent pool rather than reduced costs. So if you're looking overseas for someone to build your website, you should strongly consider forgoing the freelancer route and opting for a remote web developer instead. Because the next time your superiors need a website built or updated, you'll already have someone at your service who can handle the task for you.