You can calculate salaries for in-office positions using market trends, candidate's education and skill level, employment history. You can follow pre-set rules or implement your own, use apps or consult experts.
But how do you determine the salaries of your remote employees? Do the same rules apply?
The rules aren't well-established for the remote domain yet. Besides, when your employee is working from another state or even continent, the rules become unclear. If you're dealing with this issue specifically, don't wait – ring us, the experts in remote hiring, and get this sorted.
Otherwise, let's see whether remote pay varies, how, why, and where you might stand.
Confusion and Myths about Remote Pay – And the Flawed Rationale behind Them
Here are a few problematic areas and wrongly-held beliefs you may have come across about remote salaries:
Remote workers are outsiders, so they don't share the same pay scale or benefits.
They're dispensable and easily replaced, no need to invest in them.
They don't contribute enough for equal pay.
Not working at the office means not working.
Cheaper substitutes are always available from contract job sites.
Not working from the office is already a great perk, so they should get less pay.
When they are in a different state, what is the correct salary scale?
Are non-US residents allowed to work for a US company remotely?
How should remote workers living abroad be compensated?
What is the rationale behind less pay for remote workers?
Some businesses may justify paying their remote workers less by using these reasons:
No commute and other hassles – since employees are already enjoying benefits such as no commute, flexible work hours, and better work-life balance, they should take a pay cut.
Principles of cheap labor – just like outsourcing and offshoring, remote work means cheap labor.
The buzz around savings in remote work – axing remote worker salaries is the best way to reduce business overhead costs.
But salaries constitute only a small percentage of business expenses. And there are much better ways to save, such as reduced equipment cost, smaller office space, and many more – detailed in these 11 + 9 ways that don't involve pay cuts.
Besides, remote workers are more productive and add more value to your company. Reducing their pay makes them feel underpaid and sends the wrong message.
Is There an Actual Remote Pay Gap Right Now?
The answer isn't entirely straightforward because there are few laws, some loopholes, and a handful of requirements that are defining and re-defining the remote state of pay. Thus far, without doubt, companies are in charge of deciding whether their remote employees get pay cuts.
Also, the answer may also depend on whether the remote employee is a:
US worker living in the country or abroad – Most companies that have acclimatized to and adapted the remote work culture agree that their remote employees have the same salaries as their in-office staff. In an employers' webinar hosted by FlexJobs, participant recruiters from USDA, PWC, and Sodexo all agreed that "there's absolutely no difference. Whether you [are] in-office or remote, total compensation is based on the position as well as performance."
Full-time employee vs. contractor – Full-time employees and even long-term contractors in the US tend to fall in the above category. They have the same pay scale as in-office employees. But short-term remote contractors often end up costing a company more in the long-run. Because even if you hire a few remote contractors, you cannot make any real cost adjustments – like savings due to smaller office space or fewer furniture.
Non-US worker living abroad – The cost of hiring full-time remote employees from overseas is considerably less than their US counterparts. Candidates from Eastern European and South/South East Asian countries often provide the best choices – being highly educated and proficient, while costing anywhere from half to one-tenth of US employees.
An unspoken, underlying factor that may help you determine remote employee salaries is asking whether your company has adopted the "remote culture." That is to say, if your business means to employ remote workers increasingly (as is the predicted trend, see image below), you might want to consider if a pay cut is the best way to go.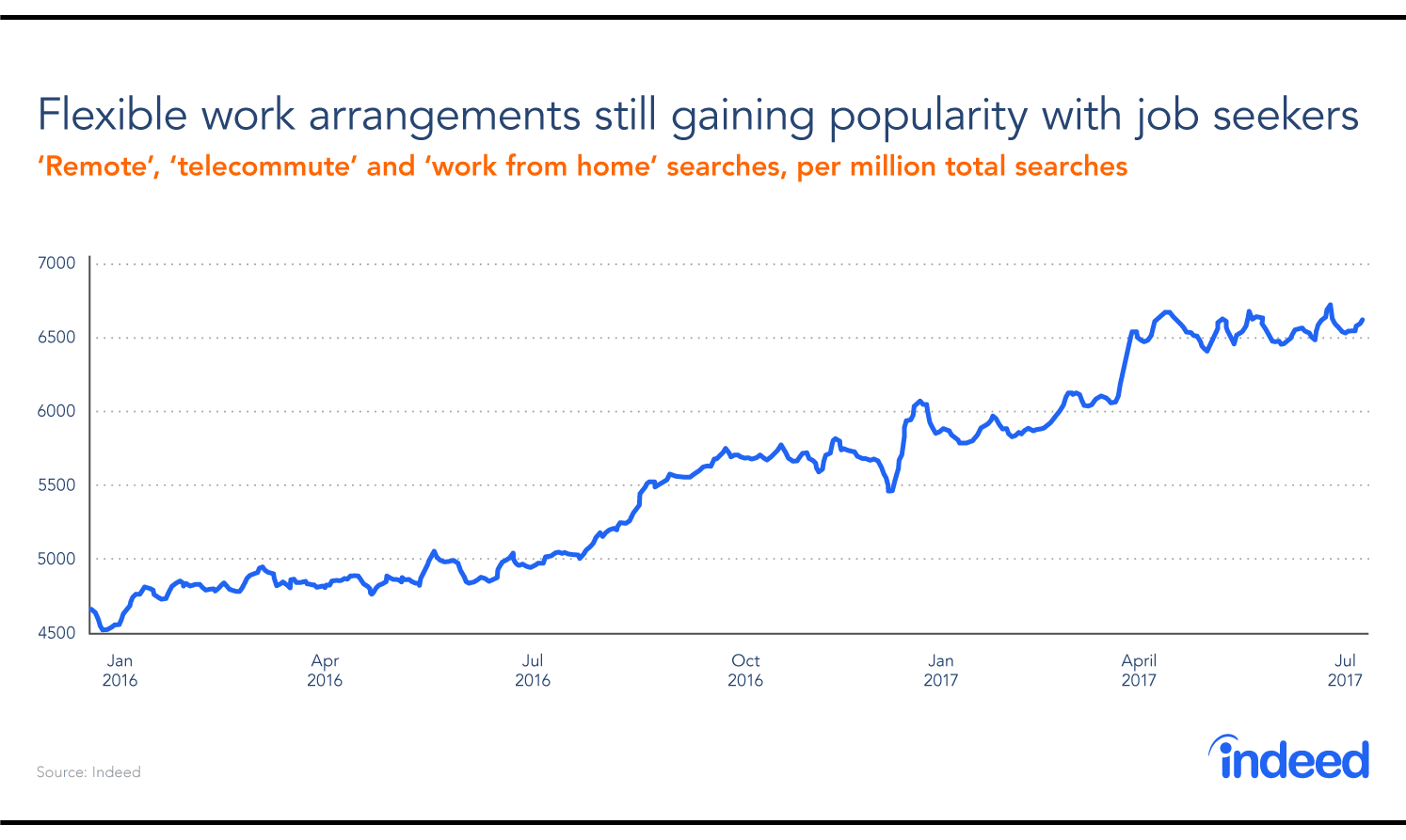 Source: Indeed.com
Why No Pay Gap In Remote Employment Might Be a Good Thing for Your Business
Essentially, a fair pay scale is a reflection on both the employers and the employees. Competitive pay is a way for employers to show that they value the work their staff does. It also tells the employees that you're an employer worth choosing over others.
If your company's remote positions offer better pay, then:
You're not stuck looking for candidates on job mills with little standing because you think it'll cost you less.
You can approach the right candidates and not compromise on skill level (doing which can end up costing you more).
It amps up your company's reputation as fair and transparent.
The best candidates come to you because you offer remote positions at no pay cuts.
'Now' is the age of transparency. It's easy for anyone to find out salaries from apps like PayScale, the Salary Project, SalaryList and so on. Just as you can find out more about a candidate from social platforms, prospective employees can learn about you from sites like Glassdoor. And candidates are actively avoiding companies that are not equal in their treatments of ALL employees. Not something you want from the current labor-driven market.
As recently as a few days ago, the juggernaut, Amazon was forced to raise minimum pay to $15/hour thanks to Sen. Bernie Sanders' Stop Bezos Act. Sure, your company is not quite Amazon, but the "power of the people" still holds.
Salary may not be the first thing your employees think about when you allow them to work remotely. Many may even agree to a pay cut for the benefit of working from home. But eventually, the money will become a factor in why a valuable employee would leave one company and join another.
How Are Remote Salaries Calculated, Anyway?
Since the cost of living varies across the country in rural and urban areas, salaries are often calculated based on locations. But the grey area of remote means your company may be headquartered in one state while your employee works from another.
Here are the three different ways to calculate remote salaries and the rationale behind them:
Location of your corporate headquarters – these companies have a national pay rate that covers all employees, no matter where they are working from.
Location of your remote employees – some companies may leverage the rural locations of their remote employees to gain a competitive edge. Or even allow more flexibility if their employees live in a costly city like LA or NY.
Location-free, considering market trends – fully-remote companies usually adopt this calculation method. They tend to offer salaries based on the value employees bring to the company, regardless of their locations.
Calculating pay for non-US remote workers abroad – the most successful means of calculating remote worker salaries for non-US residents is a cross of the second and third methods. That is, basing the compensation partly on the candidate's location and partly on market trends.
If the salary is based solely on local rates, chances are you'll miss out on the best candidates to local/national companies who have above average pay rates. But considering global market rates, you can still match the best local offers, compete with the top local employers to source outstanding candidates, and pay substantially less than US rates.
The DistantJob Method
If you choose to work with us, you don't have to worry about calculating remote worker salaries. We'll do that for you. We find you the best global hires with uncompromising skills and for salaries that you're on board with. All the related paperwork concerning recruitment and payment and benefits….well, we take care of those, too. Instead of bothering with inane calculations, email us, and we'll get it done.