.NET is a framework with different languages, editors, and multiple libraries that makes the development of different types of applications easier. As it enables developers to build native apps for Windows, macOS, Linux, Android, and more, hiring a .NET developer is a long-term investment; you gain more than you spend. Of course, if you look for them in the right places. The .NET developer salary varies, depending not only on the skill set and experience you look for in a professional but also in the location.
Currently, 220,476 companies are using .NET because of its various benefits. The free, cross-platform, open-source framework provides:
Multiple languages: Developers can write .NET apps in C#, f#, or Visual Basic.
It's cross-platform: Regardless of what language you're working with, your code will run natively on any compatible operating system. The framework has implementations to help developers with this task, such as .NET Core, .NET Framework, and Xamarin/Mono.
Many libraries: The NuGet has over 90,000 packages.
Some renowned brands using .NET are Accenture, Microsoft, Stack Overflow, and Trustpilot. And although these are well-established companies who can afford to pay six-digit salariesf, what about the smaller companies or startups? Is hiring a .NET developer a cost-effective solution? 
In this article, we made a .NET developer salary guide based on two factors: Level of experience (Junior, middle, and senior-level) and location.
.NET Developer Salaries by Country
During the past years, offshoring development teams has become a popular solution because you can still hire full-time developers for lower costs and equal (or even better) talent.
And while the United States, with places such as Silicon Valley, offers a wide number of potential talented dot NET developers, other countries around the world are becoming a hotspot to hire software development talent. According to our research, these are some of the countries with the best programmers in the world:
Canada
Czech Republic
India
Poland
Romania
The Philippines
Ukraine
As you've noticed, the U.S. doesn't even make it to the list, as throughout different tests, American developers got good results but not as good as developers from these countries. We will still add it in this .NET developer salary guide as thousands of software agencies still look for highly educated and skilled U.S software developers.
Our research is based on reliable sources such as PayScale, Talent.com, Glassdoor, ZipRecruiter, Indeed, Mobilunity, Salary Explorer, and Salary Expert.
1. Canada
If your company is located in the U.S., hiring a .Net developer in a nearby location like Canada is a great solution as time zones are similar, and you don't have the language barrier as Canada is an English-speaking country as well.
Additionally, the country's IT industry continues to grow; the Bureau of Labor Statistics Employment predicts that positions in software development will grow 21% from now until 2028 – much faster than other occupations.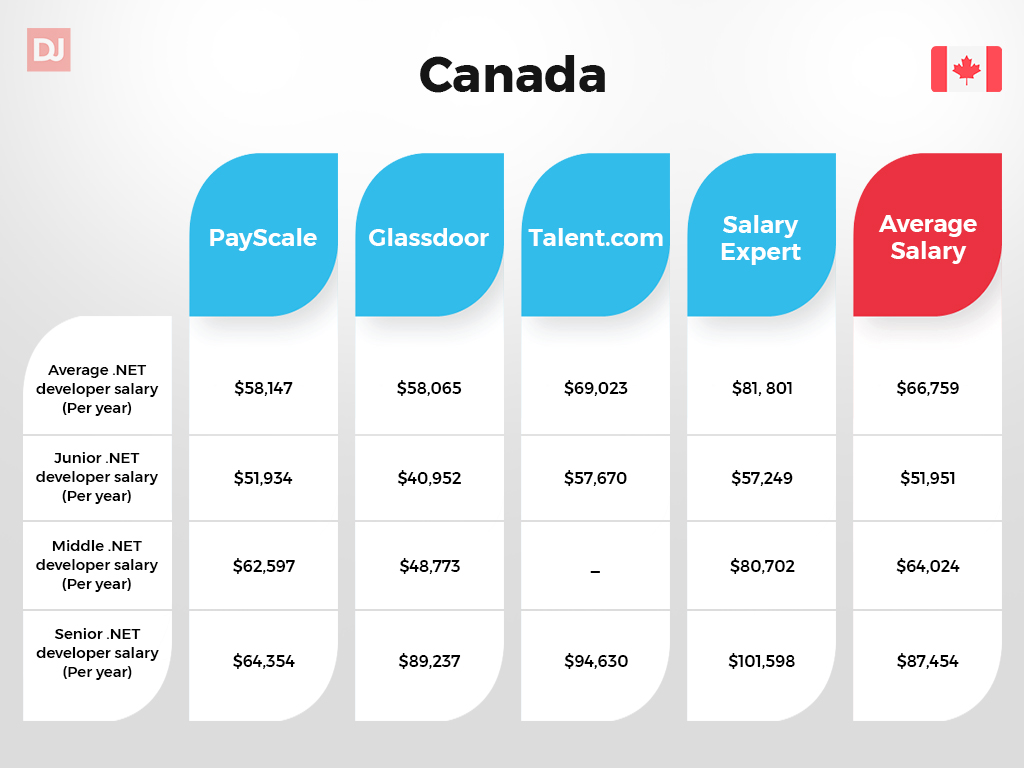 2. The Czech Republic
The Czech Republic is becoming an attractive location for businesses and startups as it combines high quality with low prices. The country has a fast-growing industry – according to Statista, in 2018, the software market reached $1,225,01 million. And by 2021, according to predictions, the industry will reach $1,335,83 million.
The most popular programming language in the Czech Republic is .NET (The other three are Java, JavaScript, and C#/C++).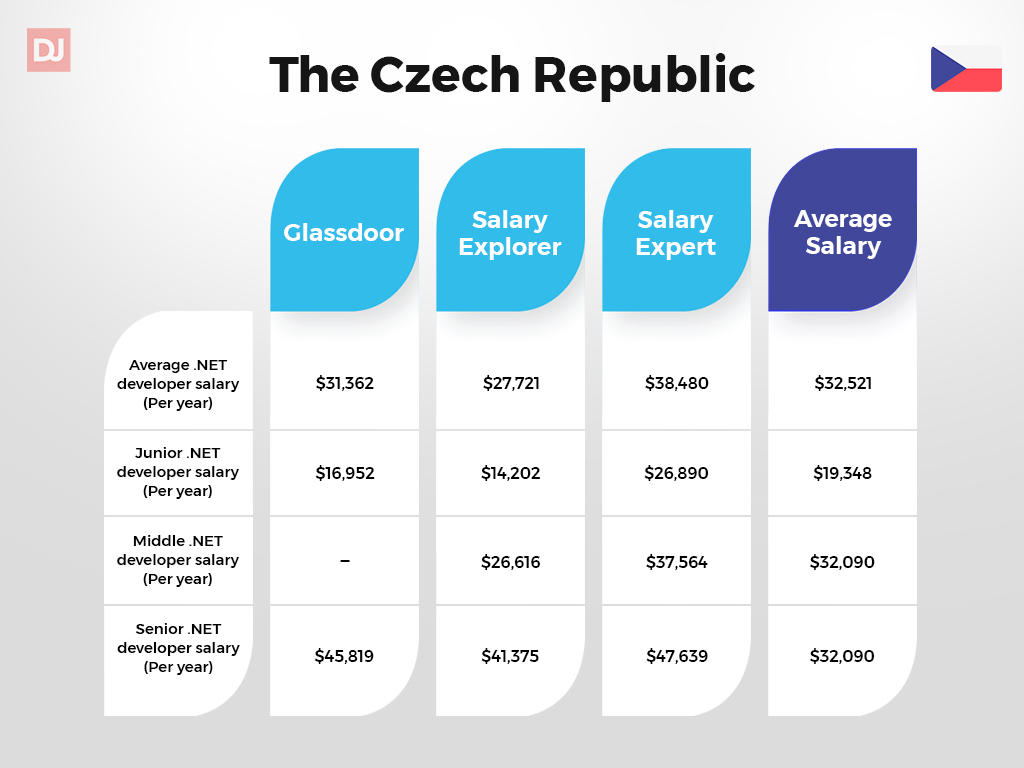 3. India
India has been one of the most common outsourcing and offshoring spots during the past years. The main reason is that its professionals charge low salaries compared to the U.S. or other countries. Additionally, as it is the second-largest English-speaking country, it's one of the first choices for American employers.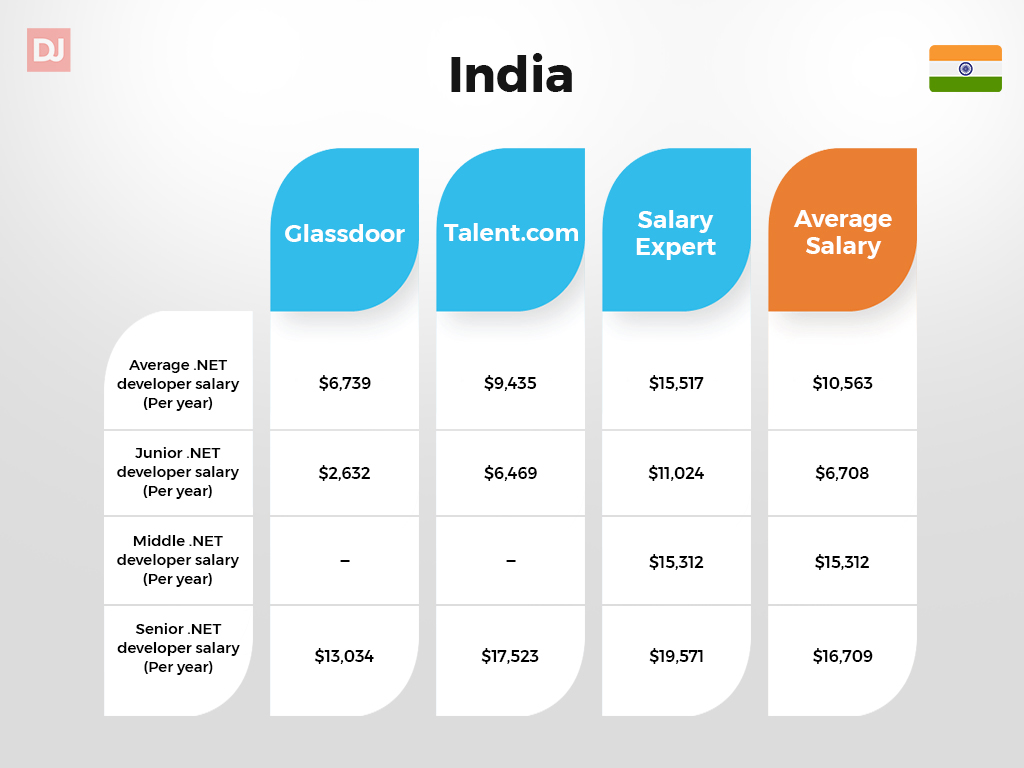 4. Poland
Eastern Europe is becoming one of the top regions to hire IT talent from. Its local market is projected to increase to $12.4 billion by 2021, according to Statista. And the country ranked #3 in the HackerRank test, where developers from all over the world tested their programming skills.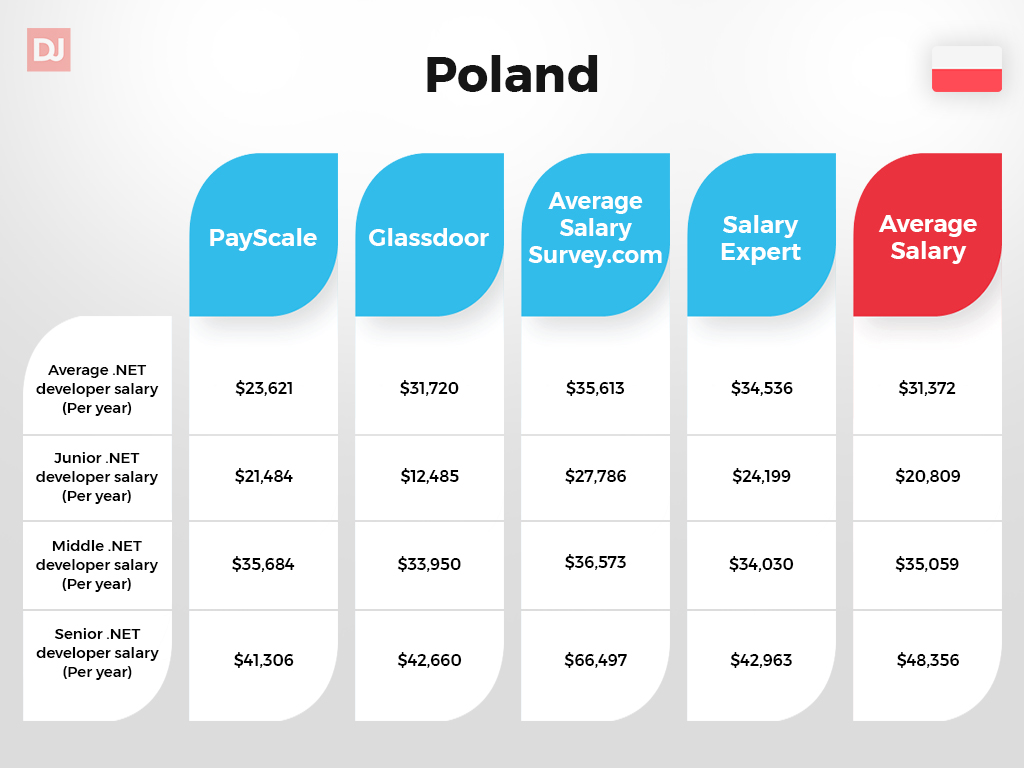 5. Romania
The National Bank of Romania announced that the computer and information services exports reached $6.2 billion in 2019, a 10.4% rise compared to 2018. The country continues to focus on technology, and it has thousands of software development graduates each year. Major companies such as Coca-Cola, Ford, and Microsoft have built development centers in the country, and more than 400 startups are operating in the Romanian tech market.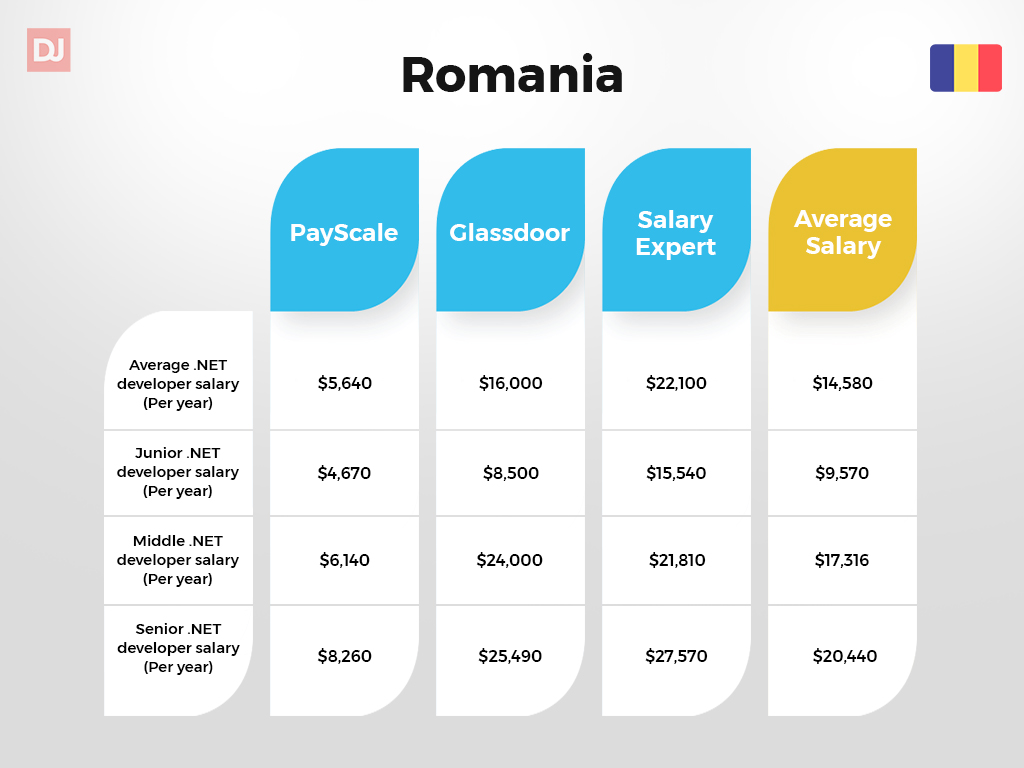 6. The Philippines
Most colleges in The Philippines offer a wide variety of specializations in the tech field. For instance, schools like AMA Computer University and STI College offer IT courses for students specializing in the field. With thousands of graduates, and the fact that they have English as a second language, many foreign companies are hiring software developers from the country.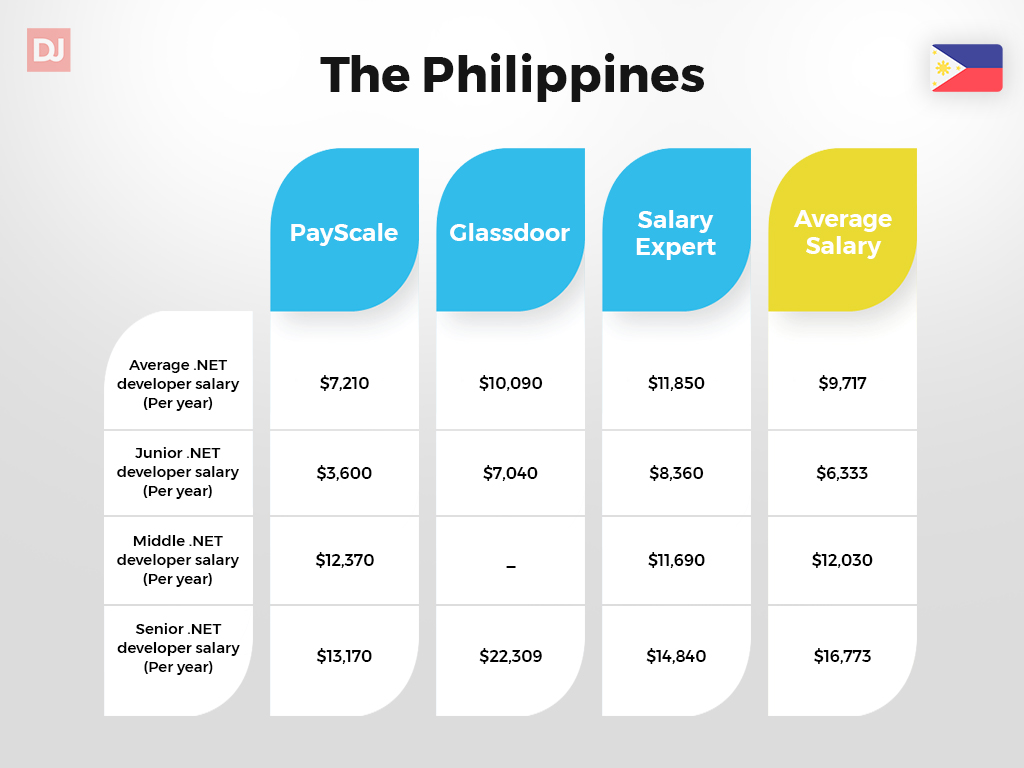 7. The United States
The United States not only has a mature IT sector; it also has the largest tech market in the world, representing 32% of the total. In monetary terms, this translates into $1.7 trillion for 2020. Because of the number of talented developers, companies often choose to hire developers from the US despite paying higher salaries.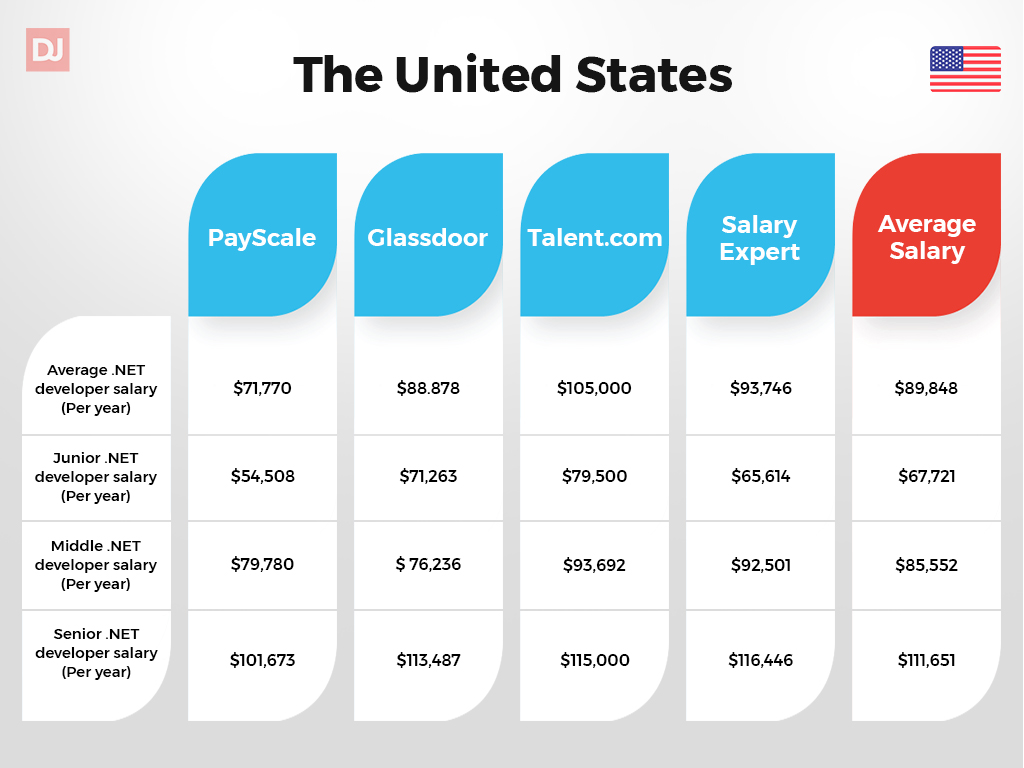 8. Ukraine
The number of IT specialists in Ukraine is up to 200,000, and according to predictions, the number grows to 30,000 every year. The country was already becoming a popular outsourcing spot prior to the pandemic, but nowadays is one of the leading outsourcing destinations for countries such as the USA, the UK, Germany, and Switzerland. The most popular and demanded technologies in Ukraine are PHP, .NET, Java, and JavaScript.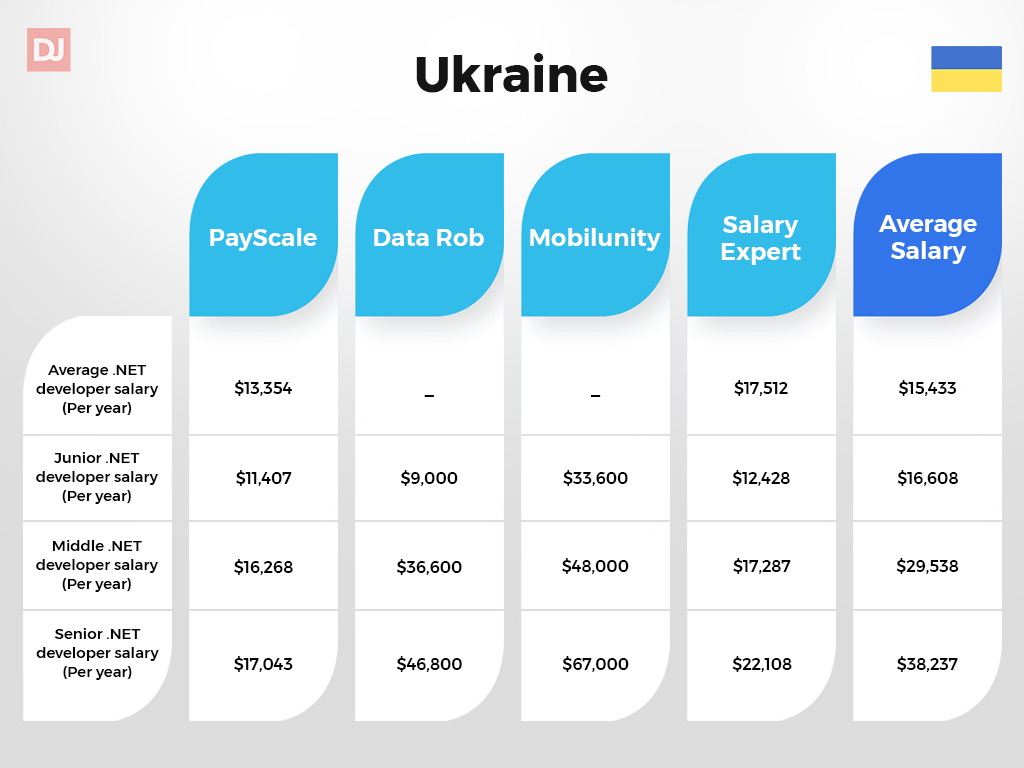 Additional Criteria To Determine a .NET Developer Salary
The two main criteria that help to define a .NET developer's salary are level of experience and location. However, these are not the only factors that define the salary of a dot net programmer.
Another key aspect is whether you're hiring freelance .NET developers vs. full-time remote .NET developers. Because, with freelancers, you often pay an hourly rate or a project rate instead of a fixed salary. This means that you hire them for specific skills and tasks. For example, these are, on average, the rates of .NET developers on the freelance platform Upwork:

If you want to hire them for a single project or overall without having the idea of a long-term relationship, it makes sense. But if you want them to become part of your company, you likely need to reconsider if this is the best option for you, as they probably have other projects on their plate and are working with other companies.
Besides defining what type of developer you need (full-time remote vs. freelance), the skills are other criteria that define a .NET developer salary. There are certain skills within this framework that are more valuable than others. For example:
ASP.NET MVC – Consists in open-source software that provides access to client-side technologies, allowing .NET developers to produce software efficiently.
.NET Core – It's mainly used to build command-line applications on Windows, Linux, and macOS. 
jQuery – It's a feature-rich JS library used to build interactive web pages. 
Client-side technology – Allows dot NET developers to build interfaces that are easy for users to use and visually pleasing. 
Xamarin – Is a platform of .NET developer tools and libraries that are especially helpful for mobile app development. 
ASP.NET – Is a framework that makes it easier for asp net developers to reuse their code in multiple places. It gives them the ability to set apart their app's code from its presentation layer. 
Key Takeaways: What Countries Are More Affordable to Hire .NET Developers From?
The salary of dot NET developers varies depending on the region they are living in. The difference is significant; however, we always like to highlight to our clients that price is not the same as quality. Before hiring a remote developer because they charge a low salary, make sure they fulfill your requirements, have the necessary skills, speak fluent English, work remotely, etc.
Based on our guide, here are some key takeaways regarding the most affordable countries to hire .NET developers from and the most expensive ones:
The cheapest country to hire .NET developers is The Philippines, where the salary (per year) ranges from $6,333 (Junior dev) to $16,773 (Senior dev).
The most expensive country to hire .NET developers is the United States, where the salary (per year) ranges from $67.721 (Junior dev) to $111,651 (Senior dev).
In the Eastern European countries analyzed in this guide (Romania, Poland, Czech Republic, and Ukraine), the most expensive country to hire .NET developers is Poland, where the salary (per year) ranges from $20,809 (Junior dev) to $48,356 (Senior dev). And Romania has the lowest salaries in the region ranging from $9,570 (Junior dev) to $20,440 (Senior dev)
The second country with the lowest salary rate to hire .NET developers is India, where the salary (per year) ranges from $6,708 (Junior dev) to $16,709 (Senior dev).
The second country with the highest salary rate to hire .NET developers from is Canada, where the salary (per year) ranges from $51,959 (Junior dev) to $87,454 (Senior dev).
Hire .NET Developers with DistantJob
"Hiring .NET developers has never been easier as it is nowadays" – said no one, ever. Unless you hire with us!
At DistantJob we have a streamlined process that focuses on helping our clients hire the best full-time remote developers in just two weeks. How does this process work? With three simple and effective steps:
As soon as you fill our form, we will study your company. We focus on hiring candidates who adapt to your culture and who you would like to work with.
We start the interviewing process by focusing on quality over quantity. 
Say hello to your .NET developer! Once you decide who you want on your team, we help you handle the contracts and payment from Day 1, so don't worry about the paperwork.
If you like our simple and effective process, contact us!