.NET is a framework with different languages, editors, and multiple libraries that makes the development of different types of applications easier. As it enables developers to build native apps for Windows, macOS, Linux, Android, and more, hiring a .NET developer is a long-term investment; you gain more than you spend. Of course, if you look for them in the right places. The .NET developer salary varies, depending not only on the skill set and experience you look for in a professional but also in the location.
Currently, 275,908 companies are using .NET because of its various benefits. The free, cross-platform, open-source framework provides:
Multiple languages: Developers can write .NET apps in C#, f#, or Visual Basic.
Cross-platform development: Regardless of what language you're working with, your code will run natively on any compatible operating system. The framework has implementations to help developers with this task, such as .NET Core, .NET Framework, and Xamarin/Mono.
Many libraries: The NuGet has over 90,000 packages.
Some renowned brands using .NET are Accenture, Microsoft, Stack Overflow, and Trustpilot. And although these are well-established companies that can afford to pay six-digit salaries, what about the smaller companies or startups? Is hiring a .NET developer a cost-effective solution?
To answer that question in depth, we made a .NET developer salary guide so you too, can hire the best for your development team.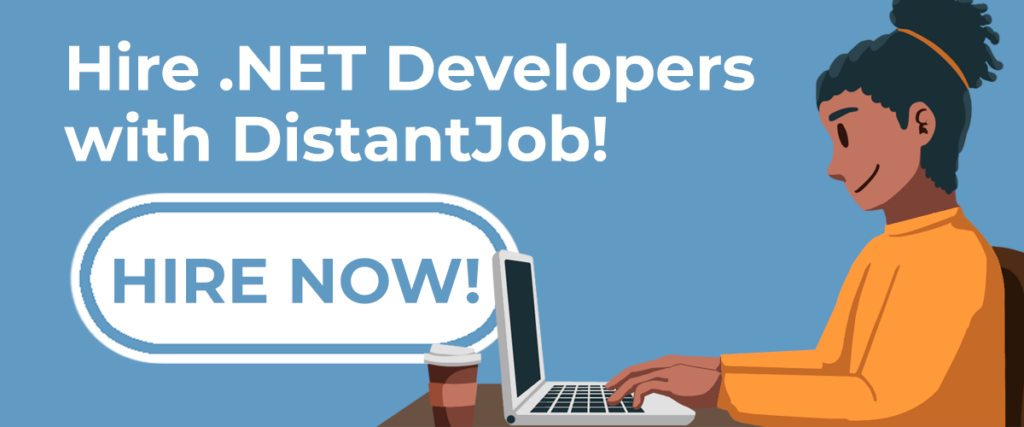 The "New" Global Job Market: .NET Developer Salaries by Country
During the past years, offshoring development teams has become a popular solution because you can still hire full-time developers for lower costs and equal (or even better) talent. This phenomenon was exacerbated during the recent pandemic. The ability to do remote work in tech has become a very desirable, if not an outright mandatory, requirement for many developers when considering a job.
And by opening up to remote work, companies can also tap into worldwide job markets.
Hiring remote worldwide developers is not just a savvy way of reducing costs for your company with lower salaries: you can also get comparable or higher quality work. But that increase in quality will only manifest if you pay a competitive salary and sign a long-term contract with your developers. Stability and growth are two key factors you'll need to provide to have happy and productive staff that will want to stay and work for you.
Given this, we've investigated a few key countries with a reputation for having great programmers and analyzed how much .NET developers earn there based on experience. Our research is based on reliable sources such as PayScale, Talent.com, Glassdoor, Indeed, and Salary Expert.
What Is The Average Salary Of A .Net Developer?
Let's have a look at the types of salaries you can expect from a regular .NET developer around the globe:
| | |
| --- | --- |
| Country | Average Salary |
| Canada | $66,759 |
| Czech Republic | $32,521 |
| India | $10,563 |
| Poland | $31,372 |
| Romania | $14,580 |
| Philippines | $9,717 |
| US | $98,809 |
| Ukraine | $15,433 |
What Is The Average Salary Of A Senior .Net Developer?
Now let's have a look at the average salary for a senior .NET developer in those same countries:
| | |
| --- | --- |
| Country | Average Salary |
| Canada | $87,454 |
| Czech Republic | $31,090 |
| India | $16,705.76 |
| Poland | $48,356 |
| Romania | $20,440 |
| Philippines | $16,773 |
| US | $111,651 |
| Ukraine | $38,237 |
Additional Criteria To Determine a .NET Developer Salary
The two main criteria that help to define a .NET developer's salary are level of experience and location. However, these are not the only factors that define the salary of a dot net programmer.
Another key aspect is whether you're hiring freelance .NET developers vs. full-time remote .NET developers.
With freelancers, you often pay an hourly rate or a project rate instead of a fixed salary. This means that you hire them for specific skills and tasks. For example, these are, on average, the rates of .NET developers on the freelance platform Upwork:

If you want to hire them for a single project or overall without having the idea of a long-term relationship, it makes sense. But if you want them to become part of your company, you likely need to reconsider if this is the best option for you, as they probably have other projects on their plate and are working with other companies.
Which .NET Skills Affect A .NET Developer's Salary?
Besides defining what type of developer you need (full-time remote vs. freelance), the skills are other criteria that define a .NET developer's salary. There are certain skills within this framework that are more valuable than others. For example:
ASP.NET MVC – Open-source software that provides access to client-side technologies, allowing .NET developers to produce software efficiently.
.NET Core – Mainly used to build command-line applications on Windows, Linux, and macOS.
jQuery – Feature-rich JS library used to build interactive web pages.
Client-side technology – Allows .NET developers to build interfaces that are easy for users to use and visually pleasing.
Xamarin – Platform of .NET developer tools and libraries that are especially helpful for mobile app development. Also commonly referred to as Hybrid Mobile App Development Framework.
ASP.NET – Is a framework that makes it easier for ASP.NET developers to reuse their code in multiple places. It gives them the ability to set apart their app's code from its presentation layer.
What Does A .NET Developer Do For Your Business?
A .NET developer is an asset to your dev team in more ways than one. Depending on their seniority, their skills and responsibilities will bring different benefits to your business.
Regular .NET developers can have the following responsibilities (depending on the field of the business):
Developing software (both frontend and backend if separate) using .NET compatible programming languages, such as VB.net, MSSQL, and C#.
Automate code testing by programming unit tests.
Developing websites and web applications using ASP.NET.
Testing websites and web applications to ensure compatibility with all target web browser platforms
Developing changes to projects based on new specifications from clients or maintaining compatibility with evolving systems.
While regular developers are mostly responsible for creating and maintaining code solutions, senior .NET developers have other responsibilities:
Develop and structure a software project's architecture.
Lead teams of developers and coordinate with other departments in the company.
Delegate tasks to their team according to their individual expertise.
Guide and assist less experienced developers with any problems they may face during development.
Research and keep up to date with technologies being used in the field to use in current or future projects.
In short, senior .NET developers are much more inclined to deal with the macro of a project (architecture, code structure), while regular developers deal with the micro of a project (systems, algorithms). Regular developers will usually take the queues from their leads and work in a more independent fashion, while seniors must interact with their whole team and oversee it to lead a project to success.
Which Skills To Value When Offering The Salary Or Considering A Raise?
The answer to this question will depend on the type of .NET developer skills your company values and needs. Every project will have its own specificities, and there should be someone on the development team that can tell you what to look for. If that's not the case, it's probably time to find an expert to fill this position.
Here's a list of the considerations you should have in order of priority:
Rarely needed skills in the job market, as they are harder to fill (and come at a cost).
All other needed skills
Determine the skills that are not necessary but Nice To Have (NTH). The best of both worlds is to find candidates that encompass both needed skills and NTH, as these people will bring more value to your team.
How To Make An Offer Based On Skills?
Before making an offer to a candidate, it's a good idea to evaluate how proficient they are at the skills you value most. To do so, you have two major options to go about this:
Technical interview: These can be oral or written and serve as tests for your candidates' .NET developer skill set. In them, you can ask specific questions about the functioning of tools or libraries that your team uses and are important in their work, how .NET and C# functions overall, and even open-ended questions about how they would go about implementing a certain functionality themselves. All this serves to tell you how comfortable the candidate is with the technology your dev team uses.
Coding challenges: These are carefully prepared tests that pit your candidate against a problem and should be overseen by a professional from your dev team, both to evaluate the candidate and to help and guide them during the test itself. While the technical interview is more geared to see if the candidate is technically knowledgeable and competent, the coding challenge serves more to see how they function in a team environment and how they tackle problem-solving.
Do note that these are not mutually exclusive. A thorough candidate assessing pipeline may require both of these methods to be implemented at different stages in the hiring process.
After successfully determining their skills and compatibility with your projects, offering a developer is a matter of aligning their level of expertise with an adequate salary. Again, having an expert .NET developer on the team, or even a knowledgeable HR department, can help you immensely with this. If those are not an option at the moment, you can always scour job boards to see what skill thresholds warrant salary increases.
What Countries Are More Affordable to Hire .NET Developers From?
The salary of .NET developers varies depending on the region they are living in. The difference is significant; however, we always like to highlight to our clients that price is not the same as quality. Before hiring a remote developer because they charge a low salary, make sure they fulfill your requirements, have the necessary skills, speak fluent English, work remotely, etc.
Based on our guide, here are some key takeaways regarding the most affordable countries to hire .NET developers from and the most expensive ones:
The overall cheapest country to hire .NET developers is Romania, where the salary (per year) ranges from $2,190 (Regular dev) to $3,328 (Senior dev).
The most expensive country to hire .NET developers is the United States, where the salary (per year) ranges from $98.810 (Regular dev) to $137,060 (Senior dev).
In the Eastern European countries analyzed in this guide (Romania, Poland, Czech Republic, and Ukraine), the most expensive country to hire .NET developers is Poland, where the salary (per year) ranges from $23,808 (Regular dev) to $38,700 (Senior dev). And Romania has the lowest overall salaries in the region ranging from $2,190 (Regular dev) to $3,328 (Senior dev)
The second country with the overall lowest salary rate to hire .NET developers is Ukraine, where the salary (per year) ranges from $2,033 (Regular dev) to $3,794 (Senior dev).
The second country with the highest salary rate to hire .NET developers is Canada, where the salary (per year) ranges from $64,991 (Regular dev) to $73,203 (Senior dev).
Hire .NET Developers with DistantJob
"Hiring .NET developers has never been easier than it is nowadays" – said no one, ever. Unless you hire with us!
At DistantJob, we have a streamlined process that focuses on helping our clients hire the best full-time remote developers in just two weeks. How does this process work? With three simple and effective steps:
As soon as you fill out our form, we will study your company. We focus on hiring candidates who adapt to your culture and who you would like to work with.
We start the interviewing process by focusing on quality over quantity.
Say hello to your .NET developer! Once you decide who you want on your team, we help you handle the contracts and payment from Day 1, so you don't have to worry about the paperwork.
If you like our simple and effective process, contact us!