From finding qualified candidates to competing with big industries, companies face a wide range of IT recruitment challenges daily.
I've been working in the tech recruitment industry for more than 8 years, and I know for a fact that the problem sometimes – most of the time, actually – is not in finding developers but in finding the right developers. This means professionals who go beyond the technical skills and abilities and adapt successfully to your company culture.
In this article, you'll learn more about the current IT recruitment challenges and how to overcome them. Even if you're a small startup.
Why is Recruiting in the Tech Industry Difficult?
The demand for technical professionals keeps increasing as the world relies more on technology. And while some might argue that running out of developers is impossible, considering there are 26.9 million of them, I'm sorry to tell you that the talent shortage of software engineers is real. This is one of the main recruitment challenges in 2022, and HR trends for 2023 indicate this problem will persist or perhaps even worsen in the coming year.
The Bureau of Labor Statistics indicates that by 2026, the shortage of engineers in the US will exceed 1.2M. This means that as the demand is higher than the supply, the competition will increase even more.
Years ago, the main concern was fighting against Silicon Valley giants who could afford to hire the best software engineers. Now with more companies open to hiring remote developers, Silicon Valley has become part of the past. Companies, from large corporations to garage startups, can hire developers from different parts of the world with all the required skills.
High salaries or fancy benefits such as gym passes, coffee bars, or nap pods are not the best strategies to attract developers anymore, but remote work possibilities are. And with this at stake, the challenge of recruiting IT professionals increases as companies rethink their strategies and recruitment processes, adapting them to a remote scenario.
5 Critical Challenges in the IT Recruitment Industry (And How to Overcome Them)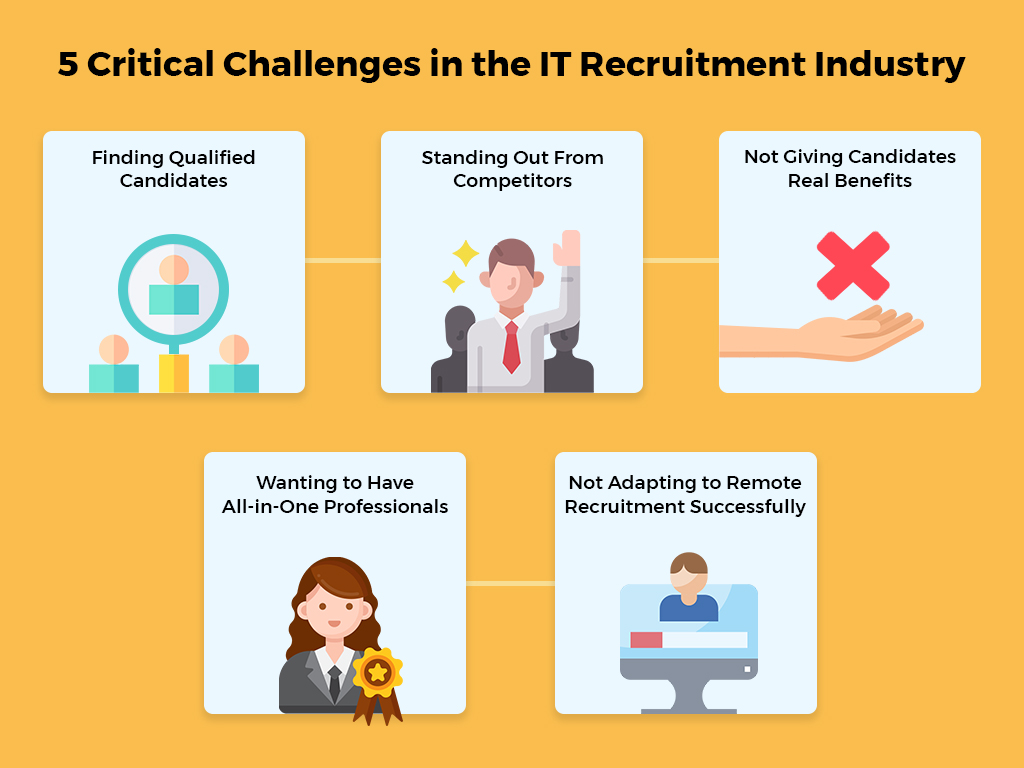 What are the critical IT hiring challenges of 2022? How can you overcome them? Answering these two questions is not that simple, primarily because these recruitment challenges have evolved and changed with time.
The challenges faced by recruiters 5 years ago are not the same as the ones most teams are currently experiencing. With the pandemic, more companies are enabling remote work and building hybrid or fully remote work structures. Consequently, recruitment teams have a new set of challenges they need to learn how to overcome.
Within the last months at DistantJob we've seen different recruitment trends that we haven't seen before. For example, these past months there has been a significant increase in the number of companies looking to hire remote employees. While remote work has increased in the past years, it blew up because of the COVID-19 pandemic. This made companies realize all the benefits of hiring a remote workforce. It also made them realize how unprepared they were to hold a remote structure.
Furthermore, remote recruitment was not something most had on the table, and HR teams had to reevaluate and discover new ways to attract and recruit IT remote talent.
If you're wondering about the challenges in IT recruitment (including remote IT recruitment), I made a list of the top 5, with tips and strategies to overcome them.
Challenge #1. Finding Qualified Candidates
The developer shortage keeps increasing because many candidates are often not qualified enough to fulfill the role's requirements, extending the recruitment process even more.
Cyberstates shared that there were 3.9 million postings for tech roles in 2020 in the U.S., and shockingly less than half the candidates with computer science degrees available to fulfill these positions. It often happens that candidates aren't as experienced as they say they are or lack key skills for specialized positions.
When recruitment teams are looking for qualified tech candidates, they struggle to find the right one because candidates lack technical skills, experience, formal education, and soft skills.
Additionally, when the recruitment process is expanded to other countries when HR teams are not experienced evaluating tech candidates, they could encounter new challenges like learning more about IT certifications in different countries, language and communication barriers, and cultural diversity challenges.
Solution: How to Find Qualified Tech Candidates?
1. Don't Prioritize IT Degree Requirements.
While this tip might sound controversial, IT degrees shouldn't be the most important requirement you have when looking for qualified candidates. The main reason is that many developers are self-taught, and although they might not have an impressive academic background, they might have the experience and the exact skills you need.
2. Broaden Your Recruitment Methods
If you're still convinced that hiring locally is the best way to maintain your company culture and the effectiveness of your team's performance, I suggest thinking again. Remote recruitment is becoming the number one method to attract and retain top-performing tech professionals.
Whether you're hiring remotely or not, don't stick to just one recruitment method or platform. These are some alternative strategies that can help you connect with the right skilled candidate:
Referrals and internal hiring: A Stack Overflow survey revealed that most developers (27%) heard about their current position from a friend, family member, or former colleague.
Use social media: Facebook, Twitter, Instagram, and Reddit are great platforms to find your next candidate. Nearly 94% of recruiters admit using social media for candidate sourcing as hiring tech talent is getting increasingly difficult.
Hackathons: Whether hackathons or coding contests, these are ways to see and evaluate a developer's performance and skills.
Indeed: According to Challenger.Inc 56% of companies use Indeed to recruit tech candidates.
3. Work on Your Job Descriptions
Job descriptions also help candidates evaluate if they want to apply for a job or not. Maybe what you're offering are great benefits, but it will be harder to attract and convince candidates to apply if you can't sell them. Make sure to:
Keep it short: The best job descriptions have between 300-600 words.
Be as clear as possible with what you offer and with what you expect from candidates (Skills, salary, requirements, the role).
Sell your company the best way: Candidates unconsciously will ask, "why should I work for this company". Make sure to answer it on your job ad by showcasing the benefits and advantages of working for you.
Challenge #2. Standing Out From Competitors
The IT industry is one of the most competitive ones. Not all candidates are skilled and qualified, so companies are constantly fighting to hire and retain the best ones. Also, because as technology keeps evolving, so do companies. Years ago, hiring software developers was something companies involved in the IT industry did. Now, all industries need developers to some extent.
Companies want to increase their digital awareness, build a digital brand, and attract more customers through their websites and applications. As a consequence, more companies seek the help of tech professionals. And the challenge for many is standing out from competitors.
A survey conducted by CodinGame revealed that 25% of the tech recruiters surveyed said that the second biggest challenge they face is standing out from other companies to attract talent.
How is your company going to stand out from other companies that offer higher salaries or different perks? This challenge is notably harder for startups that have limited resources.
However, the key to overcoming it is to learn what candidates want.
Solution: How To Stand Out From Competitors When Recruiting Tech Talent?
While having a high salary will always be on the list of priorities tech candidates have when looking for jobs, it is not the only thing they seek. Especially now that remote work has become the main work structure for most companies, people in all industries want to continue working remotely.
A survey conducted by Dice revealed that two main things topped the list for tech job seekers:
Great healthcare benefits.
The ability to work remotely.
DigitalOcean, a cloud-based platform, surveyed 4,500 developers. 43% of them said that the ability to work remotely is a must-have when considering a job offer.
These stats prove that compensation matters to developers, but it's not the only thing they consider when taking a job offer. A great strategy to attract talent and stand out from other companies is offering them exactly what they want: to work remotely.
Challenge #3. Not Giving Candidates Real Benefits
This is one of the biggest IT remote recruitment challenges. With remote work getting increasingly popular, companies are looking for ways to get access to specialized talent at affordable costs. And while remote work enables companies to hire developers at a fraction of a cost from the U.S., remote tech professionals are sometimes not interested because companies are not offering real benefits.
Companies who want full-time committed, remote employees often ignore that hiring a full-time remote employee is the same as hiring an onsite employee in terms of benefits. This means that if you want to have a 100% remote team, then you need to take into account that besides offering remote work as a benefit, there are also other key aspects such as:
Health benefits
Insurance
Retirement benefits
Paid time off – vacation days
Paid security
The biggest mistake I often see companies make is that they think candidates will take the job offer simply because they offer remote work as the main (and only) benefit. As we've seen through the stats, the IT industry keeps getting more competitive, and remote developers want real benefits, the same ones as any other full-time onsite employee would have.
Solution: Tips To Attract IT Candidates
When we look for potential candidates for our clients, we sometimes go for those who already have jobs. And what sets the bait are all the benefits we offer them besides remote work.
This depends on several factors, though. In some countries, you need to review the regulations to hire remote workers and analyze your resources to see if it makes sense and won't negatively impact your budget. But in most cases, it's just a matter of understanding a candidate's needs and offering them a better offer to the job or offers they already have.
These are some of the things to keep in mind when making a job offer to a tech candidate:
Remote work benefits and flexible schedule
Regular employee benefits (Insurance, vacations, etc.)
Sell your company culture (According to LinkedIn, 75% of job seekers consider an employer's brand before applying)
Challenge #4. Wanting to Have All-in-One Professionals
You might be wondering why wanting an all-in-one professional is a bad thing? If you need an individual with specialized skills, solid academic background, and many years of professional experience; you'll need to provide benefits that compensate for the quality of the work they will make.
This goes for either remote hiring or onsite hiring. Companies that want to have an all-in-one professional but are unwilling to match the salary to the skills they are asking for make candidates look for better opportunities. This imaginary ideal of the perfect candidate becomes a utopia that slows the entire recruitment process. A simple and great example that illustrates this problem is the graphic below: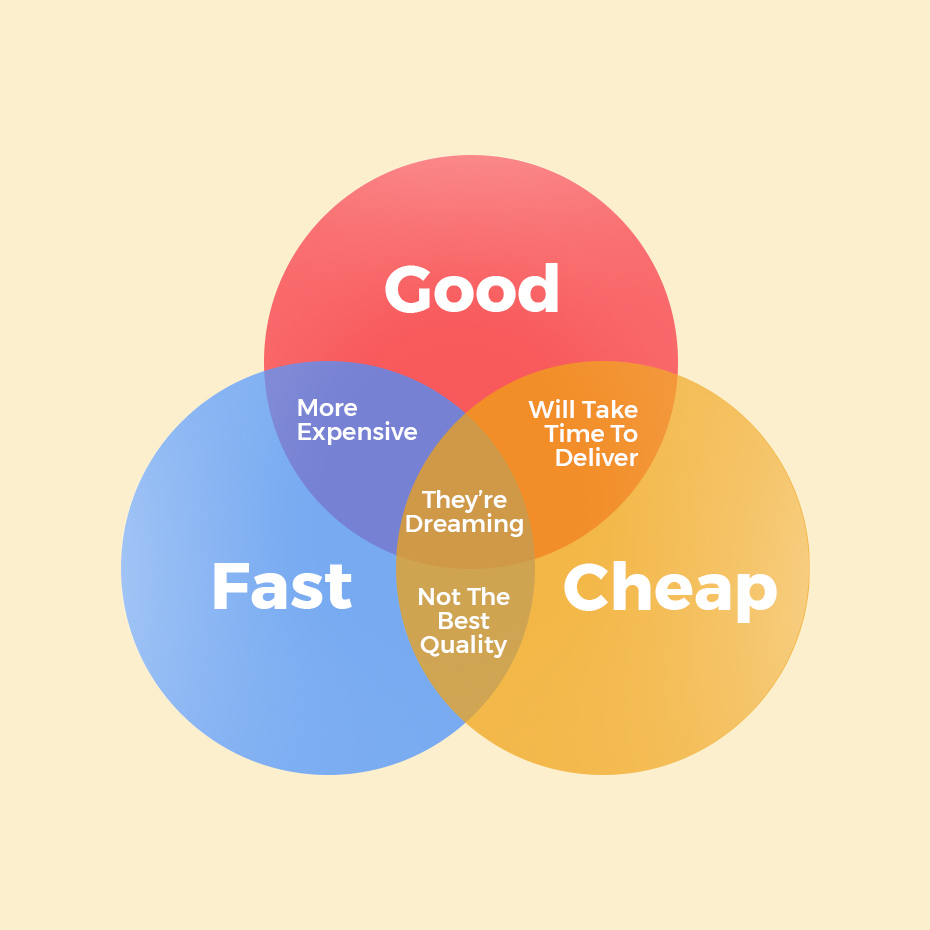 Solution: Know What Type of Candidate You Need
Instead of wanting to hire the perfect (non-existent) candidate, you should instead focus on what exactly you're looking for. If you need a tech professional, it's because you have a problem that needs a solution. Whether you want to improve your website speed, build an effective database system, or create and manage an application, you need candidates with a specific skill set. So, build a list of the skills you need and divide them into two parts:
Must-have skills: Those skills that are non-negotiable. Like programming languages, experience working with a specific framework, or any other skills they need to fulfill the role and your expectations.
Nice to have skills: Those that are not much of a necessity but a desire. They are bonus skills.
Knowing the type of candidate you want will help you build a specific search. Your recruitment team will understand in-depth the skills to look for. In return, they can offer candidates benefits and a salary according to those skills.
Challenge #5. Not Adapting to Remote Recruitment Successfully
One of the latest IT recruitment challenges for most companies is not successfully adapting to remote recruiting. In most cases, this happens because of the lack of skills and knowledge HR teams have when recruiting candidates virtually. From sourcing to interviewing, processes are lengthy, and knowing if a candidate is the right choice can be more challenging in a virtual scenario.
However, building a process around this new modality continues to become an increasing need as remote work is demanded in most industries. According to EMEA, 84% of recruitment professionals believe that remote recruitment will continue after the pandemic, and 70% agree that it will become the new recruiting standard.
Read more: What is remote recruiting and how it can help my company?
If tech companies don't successfully adapt to remote recruiting, attracting candidates will become increasingly difficult. In the same vein, because of this lack of experience, I've noticed that often candidates don't apply to job postings because they think it's a scam. They don't want to be catfished or waste their time on something that could be false.
Solution: How To Build An Effective Remote Recruitment Strategy?
Nowadays, tech candidates are getting pickier. Before considering a job offer, they will analyze a company, its benefits, the culture and environment, and other aspects. So, if you don't have an updated LinkedIn business profile, and if no one in your company has profiles with their current information, likely candidates will think it's a scam.
Part of your remote hiring process should be to guide your staff into updating their employee status and social media profiles, as well as making sure your company's page has all the relevant information. This helps candidates learn that the company is real and that employees' are proud to work there.
These are other steps you can take to improve your remote recruitment strategy:
Be clear of the role you're looking for. This will help candidates learn more about the position and think if they could be a good fit for it.
Don't only expect possible candidates to apply for job postings. One of the most effective remote recruitment methods is to headhunt candidates. Offer them the job, even if they already have one.
Invest in an ATS system. This will help you streamline your hiring process, allowing you and your team to save time and money.
Have an interview process. Interviews are what make you learn more about a candidate's personality and skills. Make sure you have different stages of interviews where you evaluate a candidate's technical abilities, soft skills, and culture fit. Additionally, I always recommend companies conduct group interviews to see how a candidate interacts with other team members.
Overcome All the Tech Recruitment Constraints and Challenges by Hiring with DistantJob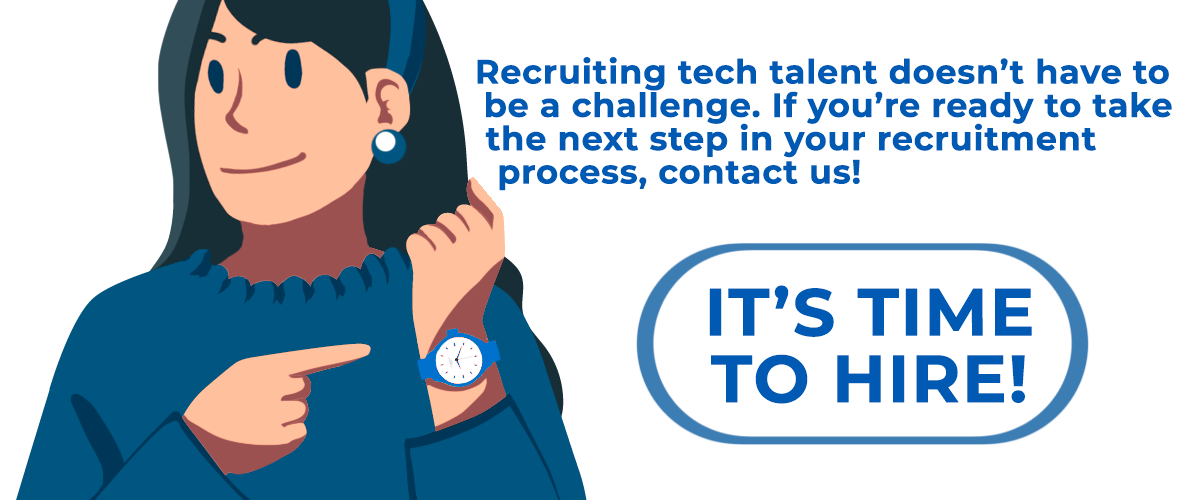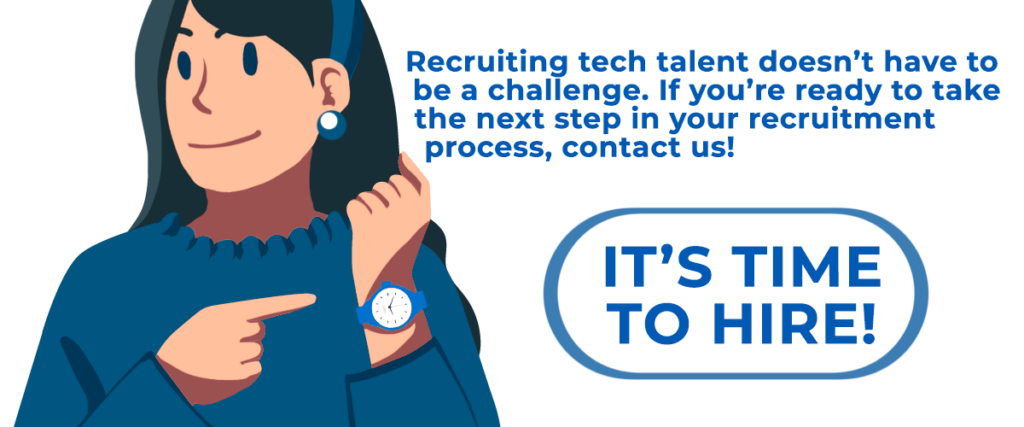 While there are many alternative recruitment methods and strategies to attract IT professionals, today's market continues to become more challenging and competitive. And while you can continue to improve your recruitment process, adapting it to the current needs, at DistantJob we can offer the exact solution for your hiring problems.
DistantJob is a tech recruitment agency with over a decade of experience helping companies hire remote IT professionals. We have a wide database filled with potential candidates that suit your needs.
How does our process work?
You describe your dream employee (the skills, abilities, knowledge, everything you need)
Our recruiters provide you with the best 5 candidates that match your expectations.
Congrats! You have a new employee working for you. However, the process doesn't stop here. We take care of all the paperwork (payments, contracts), and we help your candidate have a smooth integration with your team.
Recruiting tech talent doesn't have to be a challenge. If you're ready to take the next step in your recruitment process, contact us!