Shopify has established itself over the years as one of the (if not the) go-to e-commerce platforms. Boasting more than 2 million users, it is used by many small and large businesses as their main online presence and source of income.
Nowadays, Shopify is a lot more than a way to build a simple internet storefront. It provides a myriad of useful services, and not just online. Chances are if you need something to boost your business, Shopify already has a solution in place.
But committing to a platform like this can be binding, so it's best to do extensive research before making a decision.
Let's go over the advantages and disadvantages of Shopify so you can decide if it's the right platform for you and your business.
The Pros of Using Shopify for Your Online Business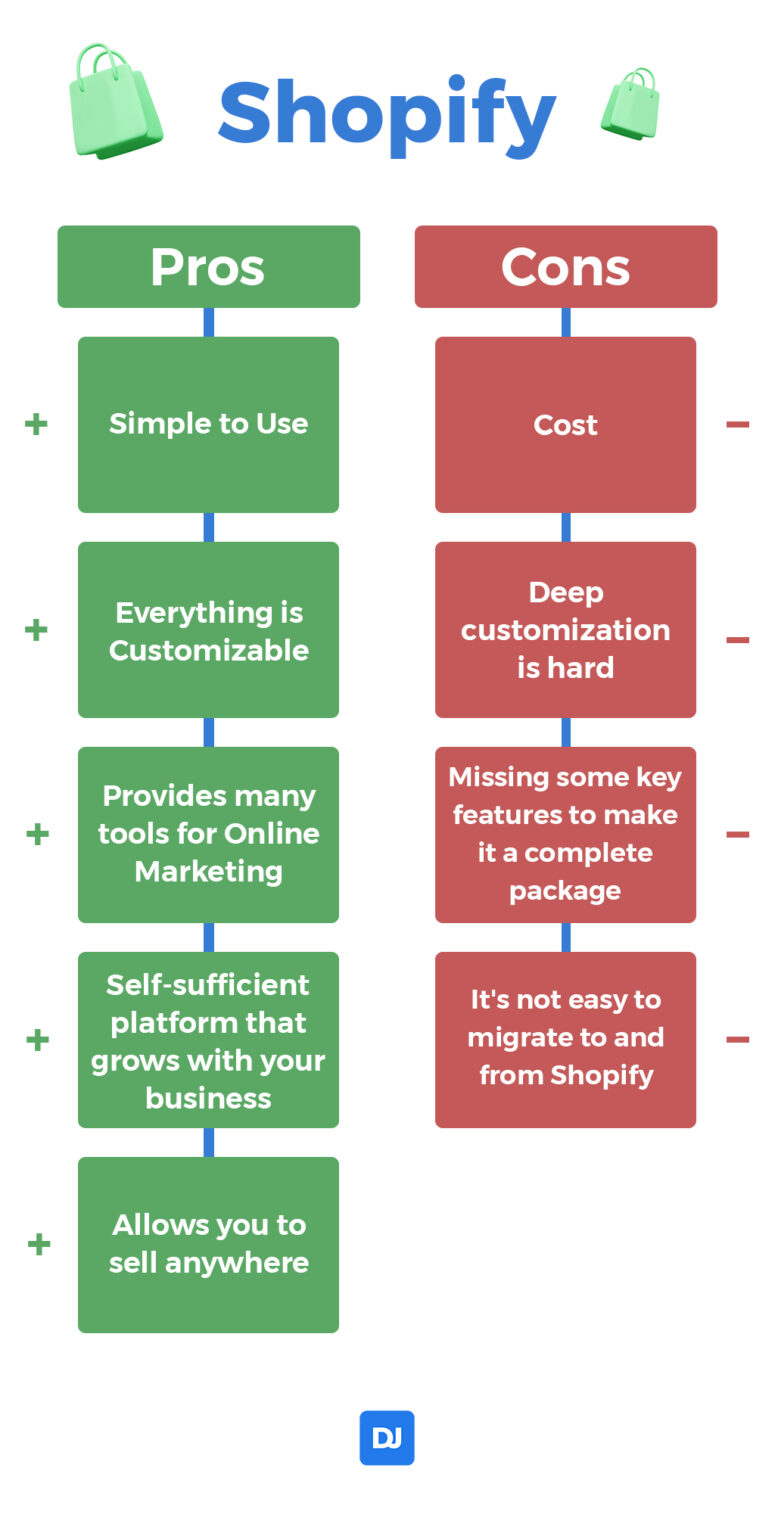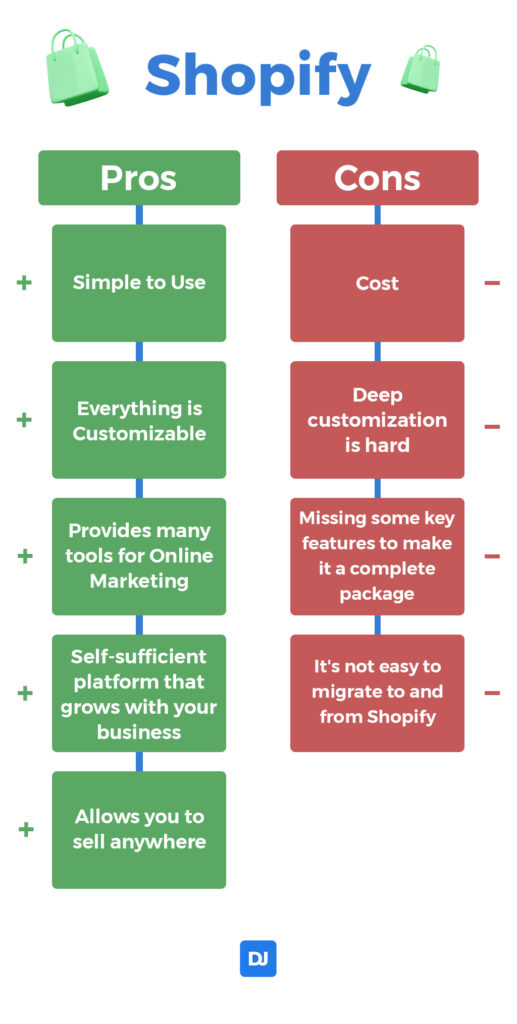 1. It's Simple to Use
Shopify doesn't sell itself on features alone. What makes it so appealing to all kinds of businesses and the people who run them is the ease of use of their services.
Shopify provides several tools to manage business activities, and they are made to be useful to people of all skill levels, from the person who only uses computers for simple tasks to the most tech-savvy. Creating and editing your storefront is made easy by tools that allow real-time editing, including the drag and drop of elements, and show the changes in real-time.
2. Everything is Customizable
Shopify has many ways to customize your business's online presence. It was built to accommodate various types of businesses with different needs, both in terms of look and functionality.
How Shopify looks
Shopify's main way to customize your storefront's appearance is through themes.
Themes change the look of the store in order to better showcase and help browse through your products. Different businesses will have different needs in this regard, and Shopify provides themes for several different categories, such as:
Art and Entertainment
Business Equipment and Supplies
Clothing and Accessories
Electronics
Food and Drink
Hardware and Automotive
Health and Beauty
Home and Garden
Pet Supplies
Sports and Recreation
Toys and Games
All themes provided are mobile compatible, making it easy for your customers to browse through your store no matter what device they use.
If you want a truly custom experience, you can develop your own theme and apply it to your storefront. This, of course, requires some programming and design knowledge.
How Shopify works
Shopify already has a number of systems in place to improve your shop's experience. It comes with its custom checkout solution and secure payments to make shopping as seamless and painless as possible for the customer. On the employee's end, it features a powerful dashboard to set up products and review analytics and marketing.
However, the biggest draw of the platform is what Shopify calls Apps. Apps are essentially plugins you can add to your business to tailor the experience, both for the customers and employees. Examples include:
Adding features to your shop's theme (such as product reviews and integration of social media sharing buttons)
Product management tools
Marketing and decision making tools
Back office task automation
Printing and/or shipping on demand, if your business so requires
If there's anything your store requires to function or improve, chances are there's an app available in the store made for that specific purpose.

3. Shopify provides many tools for Online Marketing
With so many businesses competing for a customer's attention, it's especially important to stay on top of the latest marketing trends for online presence so you can drive them to your business instead of the competition.
Search Engine Optimization (SEO) helps customers looking for products to find your store based on searches they make on search engines such as Google. It is an integral part of an online presence and, as such, it is extremely important you set it up correctly. Shopify comes with built-in SEO features that help your store stand out and drive more eyes to your products.
There are also tools and apps to set up Discount Codes and Gift Cards for special occasions and/or specific types of customers, such as recurring or new ones, to help drive sales in certain periods or demographics. The App Store has many plugins that help analyze your data and make marketing decisions of this nature.
Finally, Shopify also provides a space to write a blog for your store. A blog is a versatile tool that allows you to connect with your customers while also improving your store's SEO, so you should make ample use of it.
4. Shopify is a self-sufficient platform that grows with your business
Be it the purchase of a domain, website hosting, storefront theming, or back-office management, Shopify provides many services that meet the needs of an online store.
By providing all these services in the same platform, it more easily integrates and optimizes them to work better together. This makes the experience of using it far smoother and faster than other solutions, both for the customer and the employee.
Shopify provides several service plans depending on the size and needs of your business. You can start small and upgrade your plan as your business grows. Since it provides many services in one package, it saves you the hassle of buying, subscribing, integrating, and upgrading them independently.
Also, this means that keeping tracking and paying for all these services is centralized in one place and can be managed more easily.
5. Shopify allows you to sell anywhere
Shopify may have started out as a self-contained e-commerce platform, but these days, it provides services that allow your business to branch out to many other outlets.
Sell Online
Your online store is just one endpoint for your sales. With Shopify's "Buy Button", you can sell your products on any website or blog by linking them directly on the page itself with a custom button that will interface directly with your store.
Besides websites and blogs, social media has revolutionized the way people share and find items they want to purchase. Shopify provides tools and apps that help you sell your products directly on Facebook, Instagram, Pinterest, Tik-Tok, and many others.
Your business, even online, does not need to be a local affair. Shopify allows your products to go global by allowing you to tailor your storefront to international markets. You can easily create a custom domain for your store for any market, change the language and currency shown, and provide the most popular payment methods of that market in order to increase your chances of a sale.
You can also leverage the power of big companies to your advantage. A lot of mainstream marketplaces allow other stores to sell their products using their platform. Shopify has plugins that automate the integration of your store to marketplaces such as Amazon, eBay, Etsy, and others, allowing you to import your business from those marketplaces or establish yourself there as a new seller.
Sell Offline
Shopify is more than an e-commerce platform. If you ever want to open or transition your business to a retail store, you can do so with Shopify's Point Of Sale (POS).
POS features both hardware and software (though you can always just use the software if your existing hardware is compatible) that allows you to use the same tools you're familiar with in a new setting.
A big advantage of this system is that customers can use your online store to place orders and then pick them up, or even exchange them, in your retail store.
The Cons of Shopify
1. The Cost
Shopify does indeed provide a suitable platform for any online commercial endeavor, but that does not come without costs. And those costs can mount up quickly if you're not careful.
The Plans
Shopify comes with 5 distinct plans, with increasing access to features and, most importantly, reports to analyze and make decisions:
1. Shopify Lite ($9/month): The cheapest, but the barest plan in terms of features. Shopify Lite allows you to embed the Shopify Buy Button on your website or blog. However, this plan does not include an online store channel. Reports Available at this tier include:
Analytics: Allows you to see how your store is performing at a glance.
Finance Reports: Includes Sales finance, Payments finance and Liabilities finance.
Product Analytics: Gives you detailed information about each of your products, such as Net sales, Sales breakdown, Net sales by channel, Net units sold by traffic source, and information about the Customers that purchased it.
2. Shopify Basic ($29/month): If you want an online store through Shopify, you'll get it starting at this tier. With it comes product, order, and customer management. From this plan, you will also have access to the store blog, which you can use to drive engagement and sales. Besides the previous reports, you get access to:
Live View: Gives you a real-time view of the activity on your store, including a map to see where in the world that activity comes from.
Acquisition reports: Gives you information about the visitors to your store, including the time they visit it, from where they are referred to your store and where in the world they are located.
Inventory Reports: Includes monthly inventory snapshots, Average inventory sold per day, Percent inventory sold, and days of inventory remaining.
Behaviour Reports: Includes reports about the online store conversion rates, the speed at which it loads, recommendation conversions, top searches made in your store, the page customers enter your shop in, the devices they use to search the store. These can help you devise marketing strategies to apply to your products, such as reordering their placement on the store, which ones to recommend when your customers are browsing, etc.
Marketing Report: Reports on sessions attributed to marketing, giving you insight into what sessions were the result of campaigns such as ads.
3. Shopify ($79/month): With this plan, you'll have more slots for staff accounts as well as inventory locations. Besides that, you get access to more reports to help your business:
Marketing Reports: Besides the one present in the Basic tier, you gain insight into what sales were attributed to marketing campaigns, as well as giving you the sources of your customers, split into by first interaction and latest interaction that has generated a sale. You also get access to a comparison model that gives you the difference in order values between these two interactions.
Order Reports: You can view several reports that pertain to orders, such as orders and returns, orders over time, the time-frame of fulfilment, shipping and delivery times of your orders, as well as an overview of fulfilment statistics over time.
Sales Reports: Gives you insight into sales, including ways to check sales by date and time, product, discounts applied, etc.
Retail Sales Reports: This section of reports is mainly useful if you have subscribed to Shopify's POS service. It gives you the same kind of insights as the other Sales Reports, but tailored to a retail store. As such, it features reports showcasing stats about the staff member that was at the register, as well as other reports about staff that were attributed to have helped in a sale.
Profit Reports: Gives you reports that help narrow your profit margin depending on the product sold and even the POS location of the sale, in case the sale was made in a retail store.
Customer Reports: Reports that give you insight into the evolution of your customer base, as well as their location. Also gives you detailed information about their regularity, be it first-time or returning customers.
4. Shopify Advanced ($299/month): This is the priciest plan you can get without having a custom solution. Besides the even more competitive pricing in fees and more slots for staff and inventory locations, you get access to automatically calculated shipping rates, as well as estimates for duties and import taxes for your customers at checkout, so they get a more transparent total cost of an order they are placing. Finally, you get the ability to set custom prices for each market you sell in. If you sell internationally, this tier will help immensely in reaching your customers. Also, you get access to a few more reports for your business:
Customer Reports: Besides the ones presented in the previous tier, you get access to two more that give you customers that haven't bought from your store in a while, as well as your most loyal customers. These give you the ability to target your marketing campaigns to those demographics in order to bring them back or maintain their loyalty.
Custom Reports: Allows you to either modify a default report or create an entirely new one with the data you find valuable to track and analyze together.
5. Shopify Plus (starts at $2000/month): A plan for the largest companies that need to be negotiated with Shopify itself. They have all the benefits from previous plans, plus some others tailor-made to your business that are agreed upon at the time of negotiation.
Shopify also provides a custom payment service called Shopify Payments. Payments made using this service are usually not subject to fees, but not all markets have access to this payment method. Be aware that transactions made outside of this system are subject to fees. These get cheaper (but never fully disappear) based on the level of your plan.
There are other variables that you should account for, such as the number of staff and inventory locations. If you want/need more slots for any of these, you'll have to consider pricier plans.
Other Operational Costs
Besides the plan and other operational costs, Shopify can bloat in price very quickly with other expenditures.
While there are some free themes available for your store, most themes on offer by Shopify are paid. Despite being a one-time payment, you will have to part with more cash if you want to change the theme to another paid one at any point.
Apps can also be installed for free or for a price. Unlike themes, however, the paid ones usually are recurring monthly payments, and the prices can vary depending on the type of functionality you're looking for. Usually, more powerful tools and services can become quite costly depending on your business' needs. Prices for the most popular Apps on the store can range between $5 and a whopping $1000 a month. As you accumulate paid apps in your store, you'll see the price of your subscription rise very quickly.
2. Deep customization is hard
If you want a fully custom experience and design for your shop, you will have to delve into design and coding for the platform. That's a given no matter where you set up your store.
However, Shopify's themes are developed with a custom language called Liquid. Although it's written in Ruby, which is fairly popular among developers and companies, the developer will either have to be proficient in it or learn it in order to create the template.
3. Shopify is missing some key features to make it a complete package
While Shopify has many built-in features to take care of the many needs of an online business, some other related features are missing from its package.
As an example, despite providing services for website domain and hosting, and even e-mail marketing, Shopify does not have an e-mail hosting service, something commonly used by the majority of businesses. In order to set up e-mail hosting for your business, you'll have to look for another platform to provide the service.
4. It's not easy to migrate to and from Shopify
Shopify may provide good tools to manage your products and clients, but importing and exporting that information to and from the platform is another thing entirely.
If you want to import or export your products and customers, you can use a Comma-Separated Values (CSV) file. However, transferring data such as your orders and even blog posts is not so easily done.
There are Apps that can solve this problem, but they either don't solve all problems at once or cost money. Another option is to use the Shopify API, but that isn't tailored to non-tech-savvy people.
Conclusion
Shopify is the go-to platform for e-commerce, and with good reason. It provides a solid platform with many features businesses need to function online, while also being user-friendly and focused on giving its users, both store staff and customers, a smooth experience.
Shopify has been powering many online businesses for many years and, as such, it has developed over time to stay on top of the latest trends and provide the most up-to-date tools stores need to thrive in the global market. It will undoubtedly continue to expand and change its toolset and meet the needs of shops as the markets develop over time. The benefits of Shopify's integrated platform should not be underestimated.
However, in the end, the decision of whether you should use Shopify or not will depend on weighing its advantages and disadvantages, especially the cost associated with the features you require. Make sure you analyze your businesses' needs and research if Shopify can meet them reasonably and within your budget. Don't forget to account for apps you might have to subscribe to in order for your business to function and other external operational costs.
If you're still unsure, there's nothing like trying it out for yourself. Shopify has a 14-day trial period for you to give it a test drive and see if it's the right platform for your business.
Regardless of whether you decide to go with Shopify or with a custom solution entirely, we can also help. DistantJob can help you hire a Liquid-fluent Shopify developer or a more general Web Developer to set up a tailor-made online shop. Whatever your decision, you can find what you need with us.