PHP is not dead.
There is a big discussion around whether this scripting language is becoming obsolete or if it's still popularly used. Facts speak more than words, and PHP has proven to be like good wine: it ages well. 79% of websites use PHP as a server-side programming language, and a vast majority of programmers learn it to develop websites efficiently.
But, as time passes by, sites have a higher level of complexity. Nowadays, factors such as the design of the website, the user's experience, cybersecurity, data management (among others) have gained importance. This is the main reason why developers keep creating tools that help them reach these expectations faster. One example of such tools is frameworks. With the development of frameworks, programmers can code faster and better.
Yet, there are thousands of frameworks for each type of necessity. How to know which ones are the best? We gathered the 8 best PHP frameworks for web development in 2020.
What is a Web Development Framework?
A framework is a platform for developing software applications. Frameworks give developers a foundation on which they can build programs for a specific platform. This means that developers don't need to start projects from scratch. For example, if you are a dev building a business application, using a framework will allow you to focus on the app's functionality rather than the minutiae of the code. Why? Because frameworks take care of these!
Best PHP Frameworks for Web Development 2020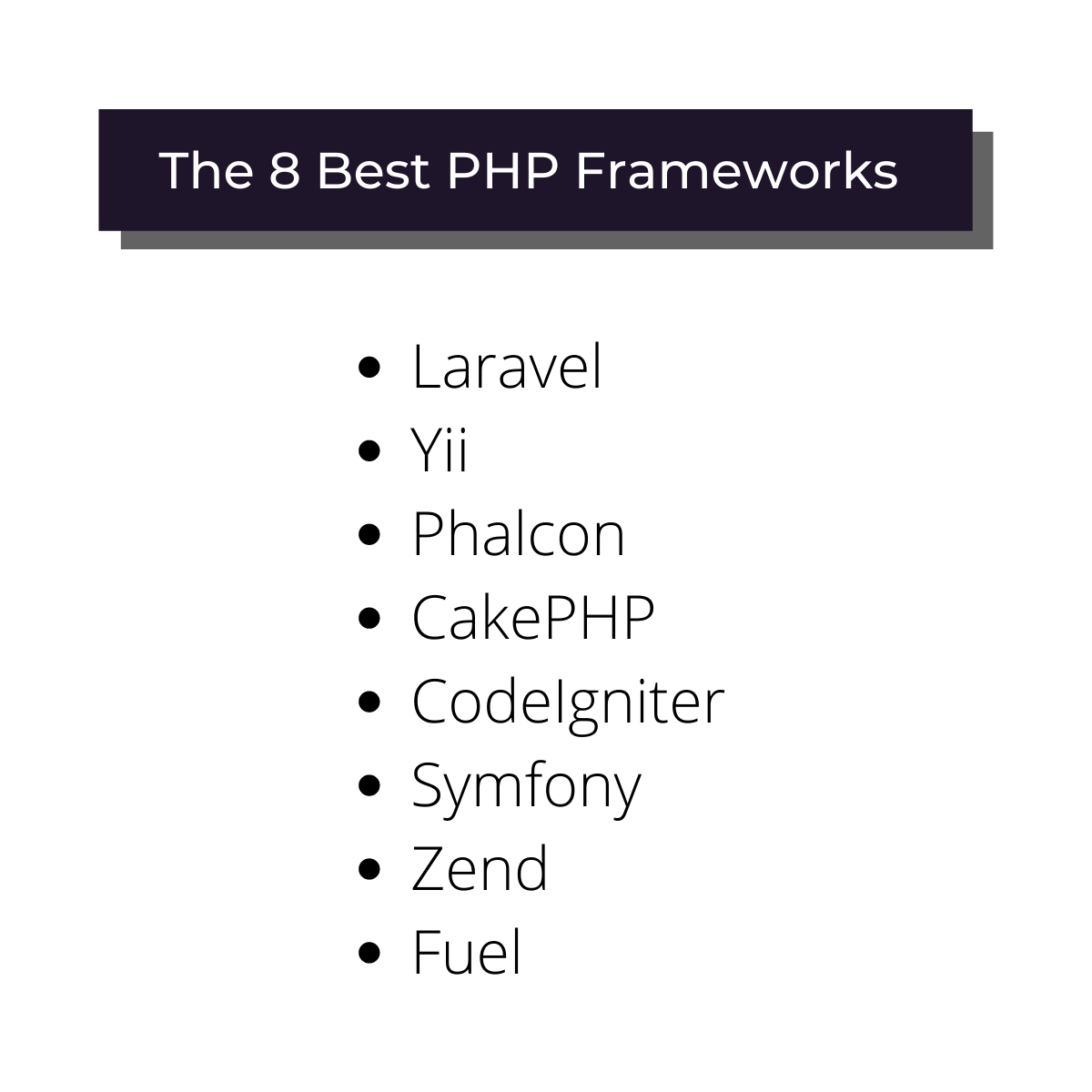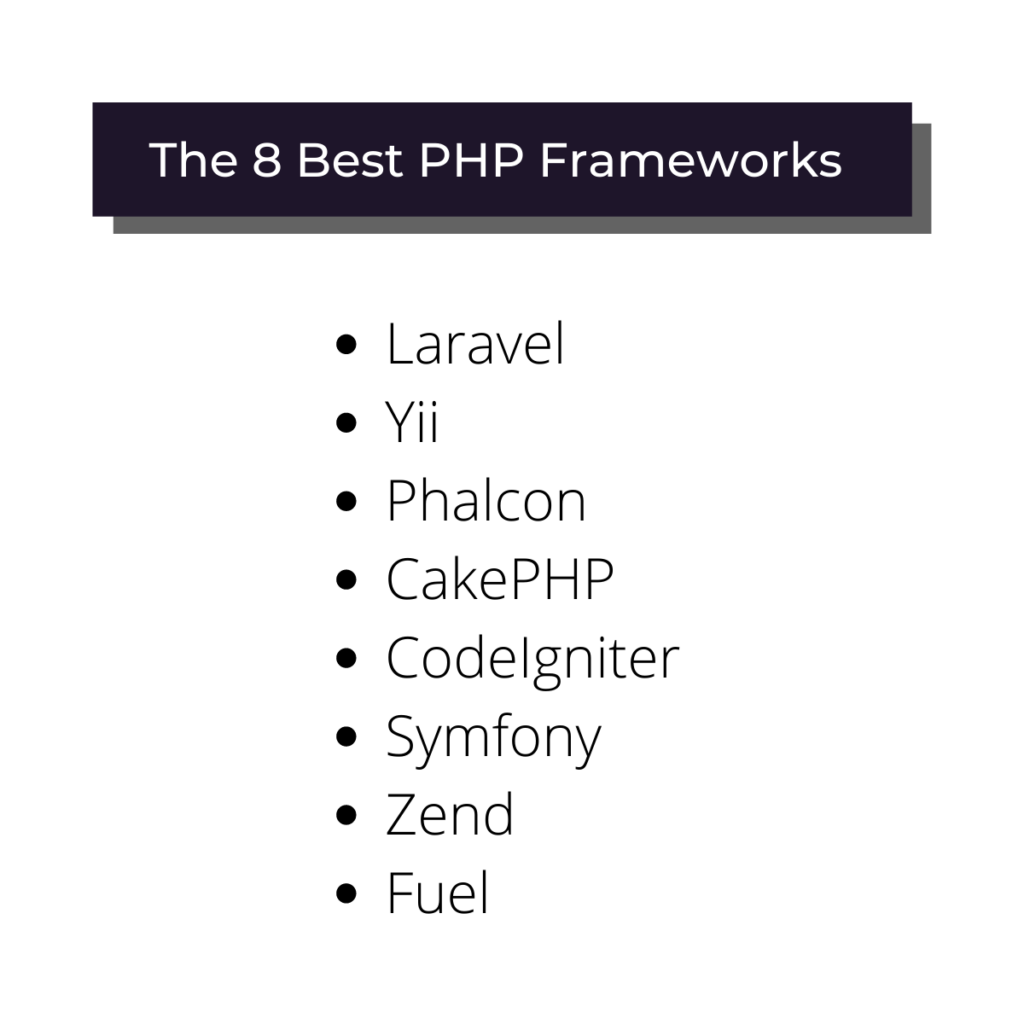 1. Laravel
Laravel is a PHP open-source framework that follows the Model View Controller (MVC) pattern that helps developers to manage their coding tasks more easily and simply. This framework has gained popularity among programmers because it helps them code and manage complex and sophisticated web applications. 
When developers are working in projects, whether big or small, they have to handle many repetitive tasks that become tedious. They regularly need to make sure their code is clean and that there are no bugs (errors) in it. Another responsibility they might have is to make sure that their code and website are secure. All these small but crucial tasks can be a lot to handle. But developers working with Laravel are more focused on the high-gear tasks because the framework has tools to help them do the simple and repetitive tasks faster and safer.
Laravel framework benefits:
Helps developers customize complex apps.
Laravel strengthens web application speed and security.
It brings a set of helpful tools such as Artisan, a built-in command tool that helps programmers automate several repetitive tasks.
It has a database migration system allowing developers to move data from a platform to another safely.
2. Yii
Yii is a PHP object-oriented framework known for its high-performance for building modern web apps. For those wondering, Yii stands for Yes, it is!
One of the greatest features this framework has is that it's suitable for all kinds of web apps. This means it's a universal programming framework, easy to install, and useful for programmers who need to develop strong, secure, and fast applications.
Another characteristic of Yii is that it comes with a powerful class code generator called Gii. This extension provides a web-based code interface that helps developers generate models and modules, and to get the desired code interactively.
Yii framework benefits:
It boosts speed and performance in web apps.
Developers don't need to write repetitive SQL statements (they can model the database data in terms of objects).
It has a big community making it easier to get help during a project.
It has robust security features and a simple installation process making it suitable for e-commerce, forums, etc.
It's extensible, meaning that programmers can customize almost every piece of the core's code.
3. Phalcon
If frameworks where superheroes Phalcon would be Flash. Developers who use this framework can build fast (really fast) websites. This full-stack PHP framework was initially written in the C and C++ programming languages. But since it's delivered as a C-extension, developers who are not familiar with a C programming language, don't need to worry about learning it.
Two of the many distinctive characteristics Phalcon has is its speed and innovative architecture. It's easy to install, and it's one of the most helpful frameworks for building complex apps. This is because Phalcon makes use of many resources that other PHP frameworks don't have. Since its release (2012), Phalcon keeps continually updating. Lately, it has improved security features such as speed, caching, asset management, among others.
Phalcon framework benefits:
Phalcon optimizes performance because it has an efficient memory utilization. This translates to building fast websites.
Easy installation.
It keeps continually updating, bringing new features, and improving old ones.
It has features such as speed, caching, asset management, universal autoloader, etc.
It's perfect for developers who work on complex systems.
It has a flexible architecture.
4. CakePHP
CakePHP is one of the oldest and most delightful PHP frameworks. It simplifies a developer's work due to its key ingredients, such as code caching, validation, translation, database access, etc. It has also a backward compatibility making it possible for developers to create visually appealing websites, which is important to attract users, especially when it comes to sites with commercial purposes. CakePHP also comes with a high-security measure, including cross-site scripting protection and SQL prevention.
CakePHP framework benefits:
Is one of the best frameworks for beginners to learn because of CRUD principle (Create, read, update, and delete).
Easy installation.
Perfect for e-commerces or websites with commercial applications due to its security and ability to create visual features.
It has great documentation, and many forums to help out developers.

5. CodeIgniter
It's a lightweight framework (It's only 2MB in size) suitable for building dynamic websites. It offers a toolkit with diverse prebuilt modules to develop full-featured web apps. CodeIgniter comes with valuable features such as simple security, encryption steps, and easy error handling. It also comes with a full range of libraries that developers commonly use. And overall, it's the perfect framework for developers who want to simplify tasks and code faster.
CodeIgniter framework benefits:
It's suitable for beginners because of its simple process and documentation.
It has key features such as MVB architecture and inbuilt security tools.
Because of its small size, CodeIgniter is considerably faster than other frameworks.
It generates clean URLs.
6. Symfony
Symfony is an open-source framework, known to be one of the best for building complex business websites. It has an MVC architecture pattern, and it offers various command-line tools helping developers save time during the process of web development. One of the framework highlights is that with Symfony, programmers can write code in fewer lines. And it's about 7% faster, making applications work efficiently.
This framework also offers customization features that make web apps user-friendlier. On the one hand, it has Full-stack that makes it possible to build complex products with multiple functionalities. On the other hand, Brick by Brick approach allows creating a web app with selected features and functions.
Symfony framework benefits:
Easy installation and configuration.
It has reusable PHP components and libraries.
High flexibility.
Symfony components are used by content management systems such as Drupal.
Big and active community to offer help and support.
7. Zend
Zend is an object-oriented PHP framework with over 570 million installations that makes it possible for developers to build high-quality websites. Because it uses many object-oriented concepts like inheritance and interfaces, most of Zend's components are extendable. This means that developers can implement their customizations. Another relevant characteristic is that Zend can be used under Agile Application Development because of its qualities such as faster development, security, good documentation, easy installation, and low configuration mechanism. In simpler words, tech teams working under the Agile methodology can implement this framework successfully.
Zend framework benefits:
It has advanced features like MVC components and data encryption.
It allows the integration with external libraries.
Zend brings components that make the creation of tasks easier. Components such as authentication, services, and forms.
It has good documentation and a large community.
8. Fuel
FuelPHP is a flexible and extendable PHP framework supporting the MVC pattern and HMVC (Hierarchical Model View Controller) at the framework architecture model. With its key features and the HMVC implementation, this framework allows devs to save time and memory. One of FuelPHP's highlights is it's security-focused system using URI filtering along with output encoding. Overall this framework has proven to be a perfect solution for diverse platforms sizes.
FuelPHP framework benefits:
It has key features such as RESTFUL implementation, a URL routing system, vulnerability protection, and a caching system.
It's easy to configure and use.
It has a big community that regularly creates and improves packages and extensions.
FuelPHP has an Auth package with a set of components with authentication and authorization functionalities for stronger security.
These frameworks have proven to help developers reach their goals and create awesome websites. If you are looking to build a web app, make sure to check them and find the framework that best suits your needs.
Although keep in mind that building a website is not only about making it pretty. It has other important aspects that need to be taken care of by someone with a strong tech background. So you can spend hours and hours of your time learning how to build and manage websites. Or opt for a simple and effective alternative such as hiring a full-time talented remote PHP developer. Think about it; while you spend your time taking care of other essential things in your company, your dev is busy managing your website. If you like how that sounds, we can give you a hand. We know to head-hunt techies who will build the most amazing website you've ever seen. It sounds like an exaggeration, but it's not. We mean it. If you are interested, contact us!