At first, talking about Angular vs React makes no sense because Angular is a framework, and React JS is a library. However, both are frequently used in the development of interactive apps. Both of them are appropriate for this, but their methods are pretty different.
The key difference is that Angular is a framework, and React is a library. The latter focuses on the user interface, while the former takes a complete approach, i.e., makes the model, controller, and view available simultaneously according to the MVC principle.  
Angular: Overview
Angular is a popular Javascript framework created by Google and continues to be used by a large community. It is not a simple library but a framework limited to the unique applications for displaying websites in the World Wide Web Browser.
Using Typescript, the framework has a type of safety similar to that which developers know from other languages ​​such as C # or Java. TypeScript is a programming language developed by Microsoft, a superset/extension of Javascript. 
The code is under the Apache license, and the source code is available on GitHub. In Typescript, types play a critical role as it is standard to assign a type to each variable, function parameters, and output in advance.
React JS: Overview
React JS is a JavaScript library developed by Facebook with a strong community of developers and communities. It provides a basic framework for displaying components of the user interface of websites (web framework). Components are hierarchically structured, and their sentence structure can also be shown as defined HTML tags. 
Therefore, it is primarily responsible for the display (view) and interaction. The React JS library is usually the basis for one-sided web applications, but it can also be (pre) rendered on the server-side with the help of Node.js.
Angular vs React: Full Comparison Chart
| | | |
| --- | --- | --- |
| Parameter | Angular | ReactJS |
| Popularity | Has its share of fandom yet less popular than React. Was at 4th spot in the most-used & most-wanted framework as per Stack Overflow | Enjoys more popularity among developers. Grabbed the top spot in the most-used and most-wanted framework list as per Stack Overflow |
| Performance | Comparatively slower due to real DOM and bidirectional data | Utilizes virtual DOM & often a choice for sophisticated and dynamic applications |
| Use-cases | Complete framework to build apps | Mainly used to build UI components |
| Code Quality | Single syntax & uses HTML specific files | Two different syntaxes; uses JSX to contain both HTML & Javascript components |
| Testing | Jasmine is a popular tool for testing Angular; some developers find it difficult to read | Facebook's Jest is popularly used for testing which is simple to use |
| Maintainability | Cohesively organized and consistent code structure | Dynamic & customizable code structure that is easy to work with |
| Community Support | Considerably smaller community but endorsed by Google and others businesses that use it like HBO, McDonald's, Apple, Adobe, Forbes, Nike. | Bigger community & used by businesses like PayPal, Twitter, Facebook, Netflix, Uber, Microsoft, Yahoo. |
| Size | Varies on the package; typically weighs about 500KB. Recommended when you want to create a single-page web or app. | Library weighs only 116 KB and is recommended if the application that you intend to create is likely to be expanded in the future.  |
| Difficulty | Requires prior knowledge of topics like TypeScript and MVC and typically takes a long time to master. | No previous knowledge needed to learn; has a highly engaging and enjoyable tutorial to learn. |
| Upgrades and Migration | Modifications should be updated twice a year so changes can last for at least 6 months. | Customized scripts make migrations easier and benefit end-users. |
| Components | Has an integrated toolkit with all components that makes it quicker & straightforward to customize the user interface. | Components usually installed by the community; need to install an extra library to use after a complicated setup. |
| Speed of Development | Quicker to build web apps in Angular; speed in both usually depends on project complexities. | Architecture is simple to measure. |
| Flexibility | Can make single or multi-page web apps. Dependent on Ionic framework to develop mobile apps. | Can make single or multi-page web apps. Dependent on Cordova framework to develop mobile apps |
1. Angular vs React: Popularity
In a Stack Overflow Survey of 2021, React was voted the most used framework (40.14%) as well as the most-wanted framework (25.12%). In comparison, Angular was at the 4th spot in the most-used (22.96%) as well as the most-wanted framework (8%).
Google Trends is another figure who may give an idea of the popularity of a specific tool and the yearly search history of app development environments. This index is also significantly more favorable for React, averaging 84 searches a month in Angular vs. 68.
The actual downloads are as significant as the number of searches. Accordingly, NPM trends indicate that React dominates Angular seven times.
As all three criteria indicate, React is more popular than Angular.

Angular developers usually have Jasmine as their go-to tool for writing tests and assertions! Some developers find Jasmine's output complicated or hard to read though, due to its overcomplicated nature.
2. Angular vs React: Maintainability
Angular has an organized structure. As a result, the code is easily reusable and maintainable. On the other hand, React's architecture is dynamic but easy to work with.
Angular has a more complex-but-consistent structure; meanwhile in contrast React's architecture is simple but dynamic as it depends on newer libraries added as layers of code are created each time they're needed.
3. Angular vs React: Community 
Given React's greater popularity, its community is considerably bigger. It has also been used by PayPal, Twitter, Facebook, Netflix, Uber, Microsoft, Yahoo, and other major businesses that contribute to its reputation. 
The community size is another benefit for a platform that regularly releases updates (as with React). While there isn't much documentation regarding the most recent changes, community assistance in specialized forums fills that gap.
The Angular community is considerably smaller since the developers found it too difficult to understand and operate their initial skepticism.
But the legitimacy of the framework is underpinned by Google's endorsement and the businesses that use it, including HBO, McDonald's, Apple, Adobe, Forbes, Nike, and Microsoft.
4. Angular vs React: Size 
Although the React library only weighs 116KB, it is hard to quantify Angular's size since it varies on the produced package but typically weighs about 500KB. React is also recommended if the application that you intend to create is likely to be expanded in the future. 
All changes here seem to be in favor of React. However, is there a reason why Angular is still in use? Of course, Angular is the most acceptable way to create a small application if you develop a single-page web app.
5. Angular vs React: Difficulty 
The choice of any framework will be decided by the time you learn how to write inside it. Angular mastering takes you longer since you also have to understand related topics such as TypeScript and MVC. 
No previous knowledge is needed with React. In addition, it does not include classical templates or complicated characteristics. Additionally, React's tutorial, makes it more enjoyable to learn.
6. Angular vs React: Upgrades and Migration 
You will need to modify your code when the upgrade is published. Therefore, developers want to know whether updates are posted to move to a newer version with minimum trouble. 
React makes these migrations easy by providing customized scripts that assist customers. Angular modifications should be updated twice a year so that the changes that you make endure six months.
7. Angular vs React: Components 
Frameworks use the opposite approach to the creation of components. Angular provides an integrated toolkit with a full range of design components, including layouts, pop-ups, buttons, indicators, and more.  This technique makes the user interface quick and straightforward to customize. 
The React Community develops and publishes React tools (free and paid) on its site. To use them, an extra library has to be installed before a complicated interface setup with React.
8. Angular vs React: Speed of development 
The speed depends on how many libraries the developer can access. And each instrument has its own merits in this regard. 
On the one hand, the architecture of React is simpler to measure. On the other hand, it is quicker to build web apps using Angular. It is thus up to you and your project's priorities to determine what is best for you.
9. Angular vs React: Flexibility 
Both systems can make single and multi-page apps easier to create. Additional technologies – React Native and NativeScript – enable mobile programming in both situations.
But both frameworks are primarily dependent on other frameworks to develop mobile applications (Cordova for React and Ionic for Angular).
List of companies using React and Angular
For React: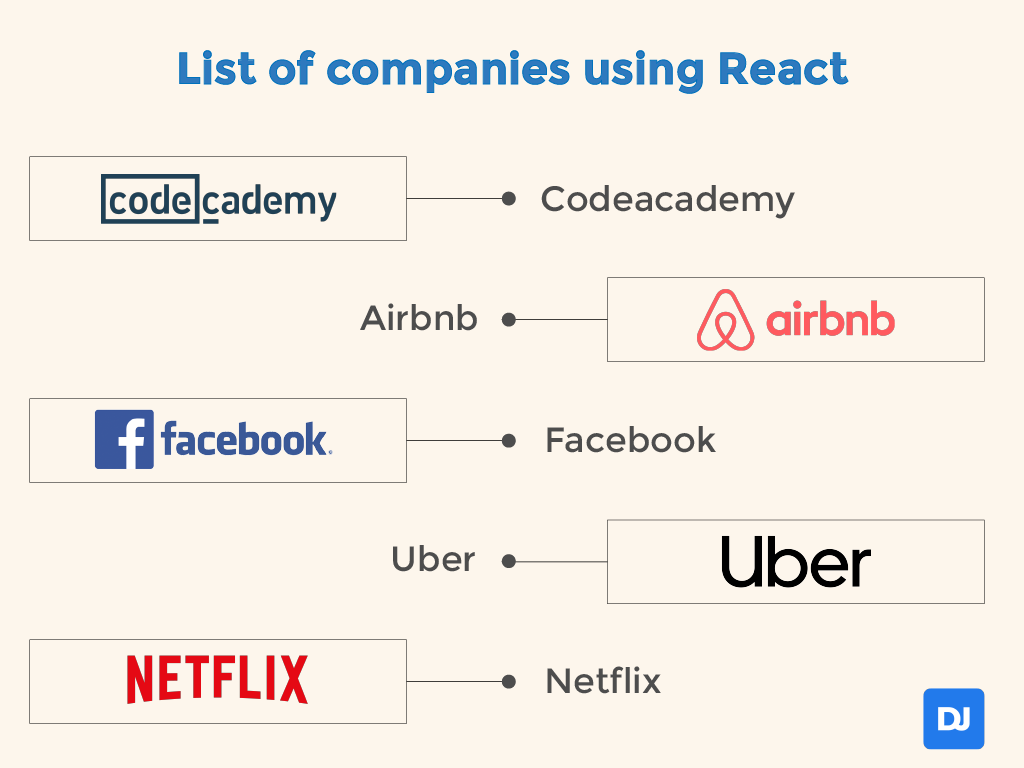 For Angular: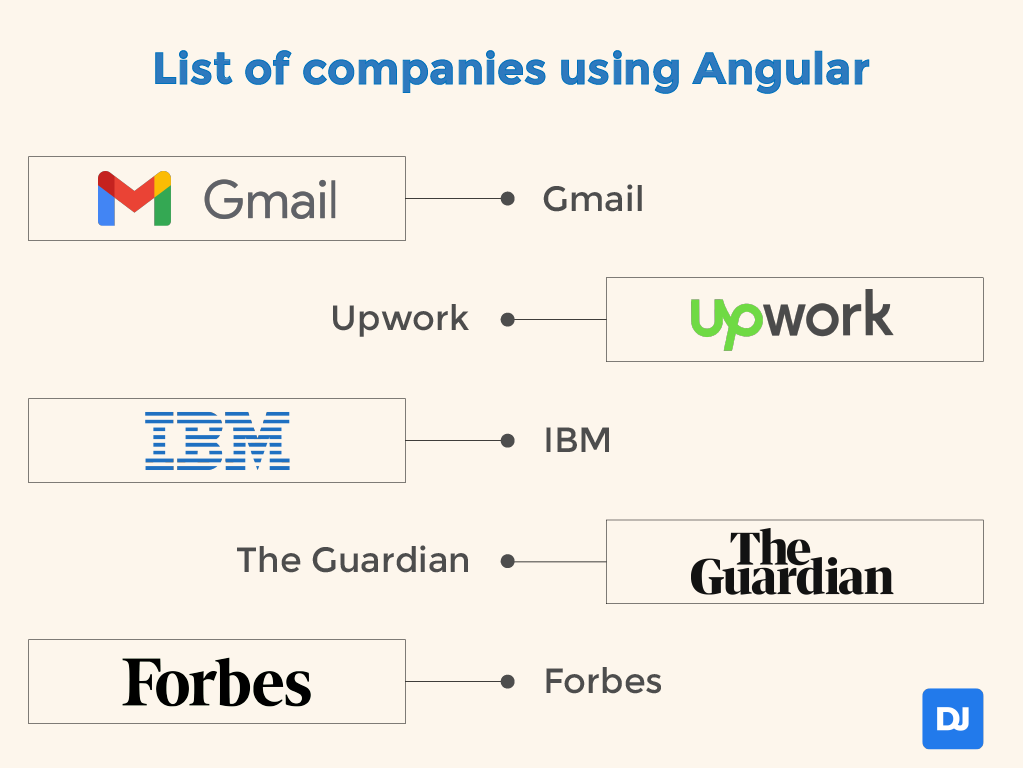 Key Takeaways: Angular or React?
There is no clear solution to this issue, even if you compare them side by side. The comparison between React and Angular demonstrates that both have their own benefits and drawbacks. 
While React is mainly intended for UI development and requires extra libraries to maximize its potential, Angular is an all-inclusive multi-purpose tool that can be used for both online and mobile apps. 
Is react better than Angular? Overall, it depends on the final product you want to create. An application that focuses heavily on front-end development with many interactive elements or is integrated into existing applications is better off with React. 
Angular is better if an application is developed from scratch, especially if it also has more sophisticated backend elements. Since Angular also requires prior knowledge of topics like TypeScript or MVC, they would most likely prefer using it to someone who has to learn it first.