Do you need to hire a SQL developer? Do you need a SQL developer fast? And do you need them to be absolutely pros in what they do? Well, sorry to break it up to you but you're out of luck! According to the 2020 Stack Overflow Developer Survey, SQL is the third most popular language used by developers. You might think this is good because more SQL developers equals to more opportunities of hiring a talented one. But no, it doesn't work that way.
SQL developers are in high demand, and in the US, you can find talented devs but likely at exorbitant salary rates. So, what do you do now? You find a SQL developer from outside the US, of course.
Hey, don't run away just yet. It's good; we know what we're talking about. We've been at this for years. We know you're worried about communication. You're worried about the quality of the work. That you'll be writing a fat paycheck to someone that's spending all their work time playing World of Warcraft. In their underwear.
Let me stop you right there for a second. Do you need an SQL developer or not? You're not going to find one in the US, that's for sure. Not at a reasonable rate, anyway. And can you pay an average Google or Microsoft salary? No? Then do you want to get their leftovers? The runts of the litter? No, you don't.
Then please consider the following reasons why your SQL developer should be remote. As for playing video games during work time? Don't worry, that's where we come in. DistantJob vets its candidates via our expert headhunting team. You're getting seasoned pros!
No promises about not working in their underwear, though. It gets hot in some Mediterranean countries.
6 Reasons to Hire a Remote SQL Developer
If you're wondering why you should hire a remote SQL developer, there are many reasons. You see, it all comes down to the quality of talent you get when you have the entire world as your possibility.
Of course, finding and hiring a SQL developer is also about knowing in the first place what a SQL developer does. Or what their main roles and responsibilities are, because otherwise you will get tons of applicants and you will have no idea which one is the right one. If you have a solid HR team that knows IT, your good to go. But if not, consider a remote recruitment agency like us, to help you hire a remote SQL developer in no time.
Still not sure about hiring remote developers? Here are 6 reasons why remote is your best option when it comes to hiring a SQL developer: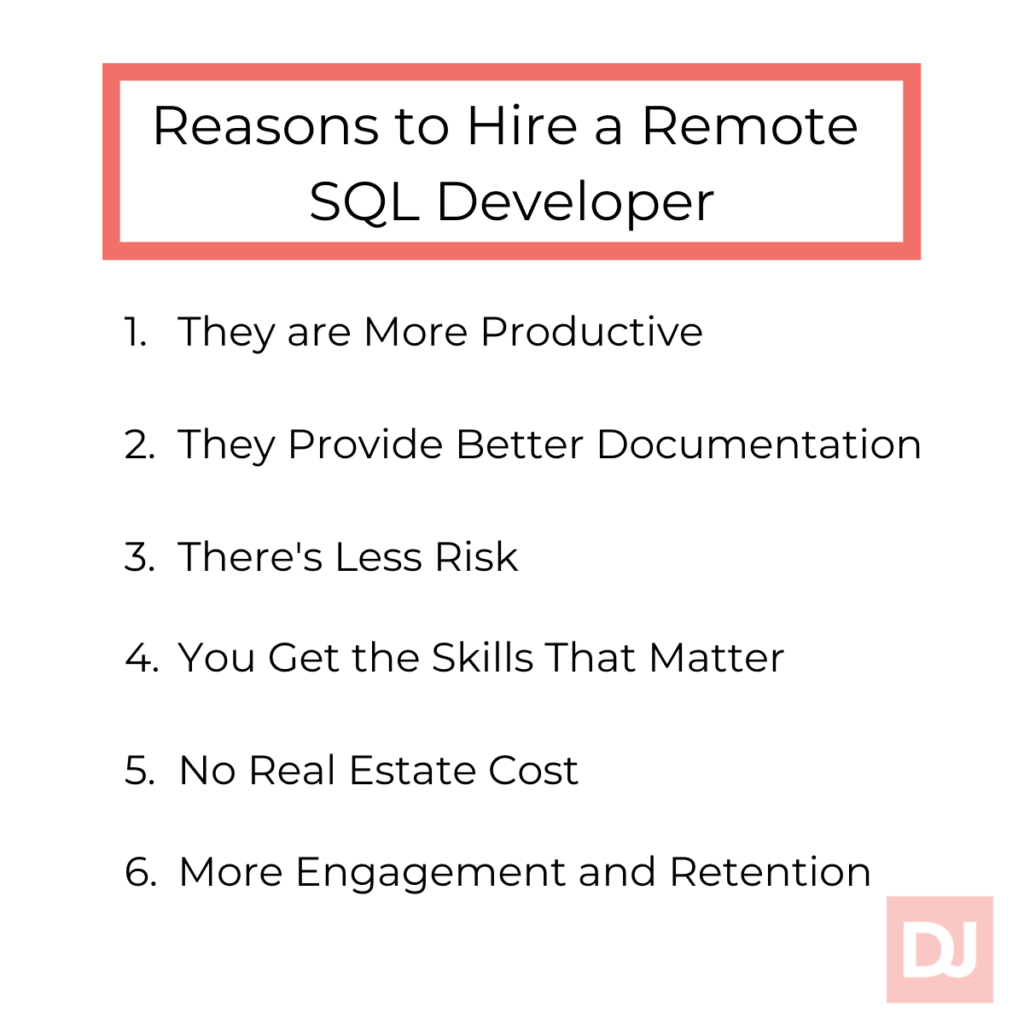 1. Remote SQL Developers Are More Productive
This is a fact. And it's got everything to do with how remote work minimizes interruptions. Developers get the mental head-space they need to focus. This is the number one rule for delivering good code. Programming is a creative pursuit. The office is a terrible space to nurture creativity.
2. Remote SQL Developers Provide Better Documentation
A crucial aspect of remote work is communication. Stuff like asynchronous chat or good video conference tools are important. But god-tier developers understand that when you are working remote, documentation is king. It's a necessity. So a remote SQL developer will provide you with full project documentation. Slacking on it is not an option.
3. You Don't Have to Worry About Red Tape
Let's say you have found a one-of-a-kind developer. Her salary is burning through your finances but she's revolutionized your code-base. You cannot see your product working without her.
And then, some new President locks down the border while she's visiting her folks in Pakistan. BAM! I wouldn't want to be you right now.
But what if she had been working from Pakistan all along? No worrying about visas, tax benefits, or new presidents! Insulate yourself from risk. Hire remote developers.
4. You Get the Skills that Matter
There's a lot broken in the way the industry interviews for developer skills. You often end up with people better at cramming for interviews than at programming. You don't want that. The best programmers in the world use cheat sheets all the time. You want to focus on efficiency and creativity. On problem-solving. And on cultural fit. Remote interviews put aside meaningless tests. They let you focus on a person's real, professional qualities.
5. No Real Estate Cost
The easiest way to increase workspace efficiency is to use less space per employee. By hiring remote developers, you don't need offices. This also lowers the environmental footprint. Save on electricity bills, save on office space.
6. More Engagement and Retention
In the end, a new employee is a big investment. No matter how good the person is, you'll invest in integration. You'll have to take time to get them to know the product, the team. Time is money, and getting people up to speed takes time.
Nothing worse than going through this and having an employee leave after 6 months. Remote developers to stick around. The quality-of-life from being able to work from their home is more valuable than bonus pay. Yahoo! won't poach your top developer if that means he must move from the Italian countryside to California.
Want a Top SQL Developer? Remote is the Way to Go
There is no point in explaining the thousands of benefits that remote work brings to the table because most companies around the world are already experiencing them. However, it's worth highlighting that if you really need a SQL dev, hiring in the US is going to cost you a lot of money. While, if you hire a remote SQL developer you are giving your company access to top talent at a fraction of the cost. Don't know where to start with hiring your first remote developer? This guide can help you. Plus, it makes employees happier and more productive.
Ready to take the next step in building an international team?
We can help. We will help you find, hire, and integrate the best programmer in the world. What are you waiting for? Get in touch!