Companies are always in need of expert staff, and hiring and maintaining them comes with many challenges, especially in the world of software development. When in need of a workforce for specific software development projects in a timely fashion, companies are looking increasingly to more cost-effective and flexible solutions, namely staff augmentation and consulting.
Staff augmentation is commonly used when needing an expert onboard a project already in motion, while consulting is more about hiring a whole team to see a project from start to finish. But which to pick when your needs don't align with those common use cases? When that happens, the choice to use staff augmentation vs consulting has some nuance.
In this article, we'll delve into the difference between staff augmentation and consulting so you can choose which is best for any given software development project you may find short-staffed at your company.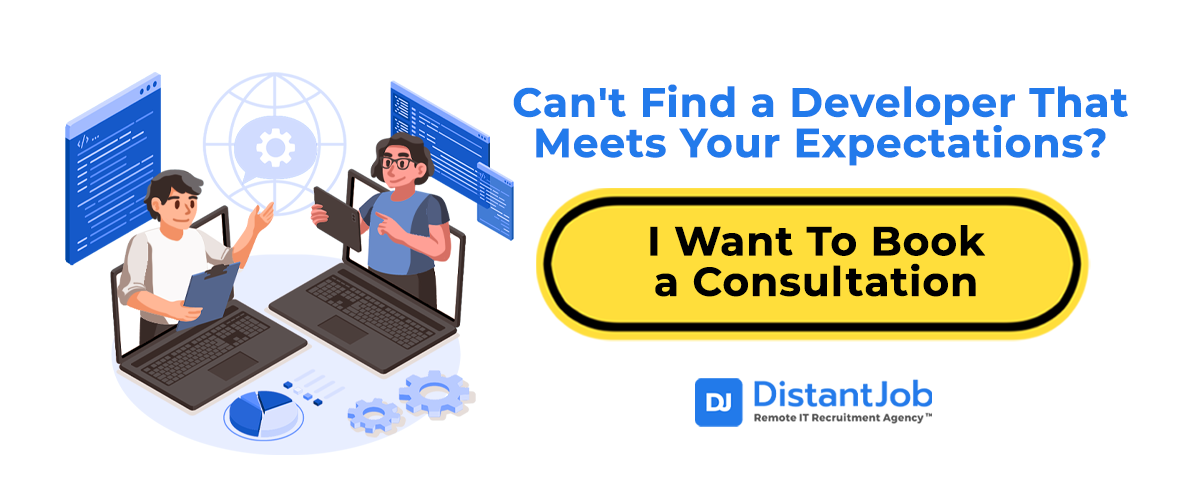 What's Consulting and When Is Best to Use It?
Consulting also referred to as Project-based Consulting, refers to hiring a software development team from a consulting agency. These agencies usually have employees with diverse knowledge and expertise that span the many stages of software development: from conceptualization to post-launch support.
Project-based consulting is most often used when a company lacks a whole team with the skills needed for a certain project. These teams can be hired at any stage of the project and can be useful to help define a project's parameters, scope, and even required resources.
When to Use Staff Augmentation Services?
Staff Augmentation, also referred to as Resource Augmentation, is often used when a development team requires a small number of developers with specific skills for a given project. The need for those developers can arise either due to new project requirements or an employee leaving the company or moving to another project.
In most of these instances, the project's guidelines are already set by the company and its team, and the outsourced developers are just there to fill in the required job.
Staff Augmentation vs Consulting: What's the Difference?
Now that we understand the main way these two outsource hiring methods are used, let's compare staff augmentation vs project-based consulting, and find out where they differ:
1. Cost-Effectiveness
Both options are cost-effective for different reasons and in different scenarios.
Staff Augmentation saves company costs by providing an expert without the maintenance costs associated with an employee, such as medical expenses. They also forego the need for training (except for the company's own internal workings) and can start working as soon as they are hired.
Consulting can save a company costs by providing its services without requiring the heavy frontload needed to build a full in-house team. They are usually more expensive than staff augmentation but have the flexibility to provide more services in a single package.
2. Control
Staff augmentation will usually afford a company more control since the new employee will defer to the company's team and their inner processes and methodologies.
Consulting teams, on the other hand, will usually have a way to organize their work internally. These teams will usually employ models and strategies that a company may not be familiar with or find difficult to adapt. Communication will also be limited to specific people and at specific times.
3. Flexibility
Staff augmentation is extremely flexible since you can hire people as needed and for specific periods.
Consulting teams are usually less flexible since a team will usually need certain experts with specific skill sets for the project to be carried out. This can also increase the costs of the service.
4. Security
Staff augmentation can be more secure, since by hiring within the company you do not expose your project's sensitive data to outside sources.
When involving consulting teams you will need to provide them with access points to the project's sensitive data, which increases the likelihood of leaks or malicious attacks.
Main Advantages and Disadvantages
Let's review the main pros and cons of staff augmentation vs project based consulting and see how they compare.
| | | |
| --- | --- | --- |
| Facets | Staff Augmentation | Consulting |
| Cost-Effectiveness | Extremely cost-effective | Expensive, but still more cost-effective than building an in-house team |
| Infrastructure | Company will have to set up the infrastructure for the project itself | Provides the full infrastructure for the project to be carried out |
| Training | Needs training for the company's inner processes and culture | No need for training |
| Management | Company will need to allocate resources to manage the new staff member | No need for extra management, the consulting team will take care of it |
| Control | Staff will follow the company's workings and methodologies | The consulting team will have their own inner workings and methodologies |
| Communication | Always Available | Only available at certain times |
| Flexibility | Extremely flexible, can hire as needed | Teams may need specific people to function, which will limit their flexibility |
| Security | Sensitive data stays in-house, providing less points for security breaches | Sensitive data has to be accessible to an outside entity, possibly compromising its security |
Conclusion
Staff Augmentation can be a great option to provide your company with a missing tech expert or developer. It is a very flexible way to add temporary talent that will help your development team stay on track and have the necessary know-how to succeed and see a project to its conclusion.
Project-based consulting is a better option if your project delves into new territory for your staff. Consulting can set you up on the right track regarding processes, methodologies, and technologies to use. They can also give you a leg-up during development or even during post-launch support.
When choosing between remote augmentation vs consulting, you have to consider the project they will be responsible for, and its needs. Don't be afraid to communicate with your team and let them help you pick the best option.
Hiring people can be daunting, especially in the middle of a project. If you're looking to hire people through staff augmentation, DistantJob can help you find the experienced developers you need. We provide support and remote staff for the top technologies used by IT companies, and we ensure that you'll hire someone that fits your company's culture to smoothen the transition.
1. Is Staff Augmentation Consulting?
Staff Augmentation staff can be considered consultants since they bring their development expertise to a company while not being directly affiliated with it. Consulting companies can offer both Staff Augmentation and Project-based Consulting services in their portfolio.
2. What's the difference between Staff Augmentation and Managed Services?
Managed IT Services provide a full-time staff member (or members) for the purposes of your business' management and support. They gain control of not only the projects of their client but are also responsible for determining the skills and personnel needed for a project to succeed. They can also train people within the company to fill those roles and recommend and implement tools to help teams be more productive.
Managed Services provide people capable of viewing and assessing a company and its processes in a bigger picture, while Staff Augmentation is more about hiring experts for specific projects.