The right recruits are essential for the growth and prosperity of any company but sifting through endless piles of resumes is a hefty challenge that requires experience, know-how, and… luck.
As fate would have it, there are plenty of ways one could ease the burden of this task. From a careful selection of what to look for in a resume, to fully automated electronic solutions, let's explore the paths to the perfect candidates to fill your job order.
Resume Screening
At DistantJob, we know that the majority of applicants (up to 80% on average) are likely to be unqualified for the position at hand. It's vital to learn how to screen resumes and identify suitable candidates to save time and effort.
Set criteria for this purpose, ranging from a person's professional experience, through their education, to various skills and qualities.
To save yourself the trouble, leave tips and notes such as advice on using an online resume analyzer/checker to grade and correct, so you won't have to.
A few simple steps can guide you to read resumes and sort them effectively.
Step 1: Qualifications List
As you examine the resumes of successful employees within your company, patterns emerge when comparing traits and expertise. You may observe commonality among education, knowledge, and previous experience.
Talk to employees and their supervisors to identify the list of important qualifications that helped them shine in the field. Pay close attention to soft skills.
Step 2: Minimum and Preferred Qualifications
Next, classify each qualification as either minimum or preferred.
Minimum qualifications are mandatory, as it would be impossible for the candidate to perform the job without these. A web developer, for example, must have superb communication skills and a solid grasp of programming languages.
Preferred qualifications are not vital to the job, but give an edge to potential candidates. Previous experience in similar positions or relevant certifications, for example.
Step 3: Resume Scorecard
Once you know what to look for in a resume, prepare a scorecard to shortlist the strongest candidates.
Split the qualifications into categories like levels of education or amount of previous experience. Dedicate individual columns for the minimum viable skills to ensure the required foundation is always present.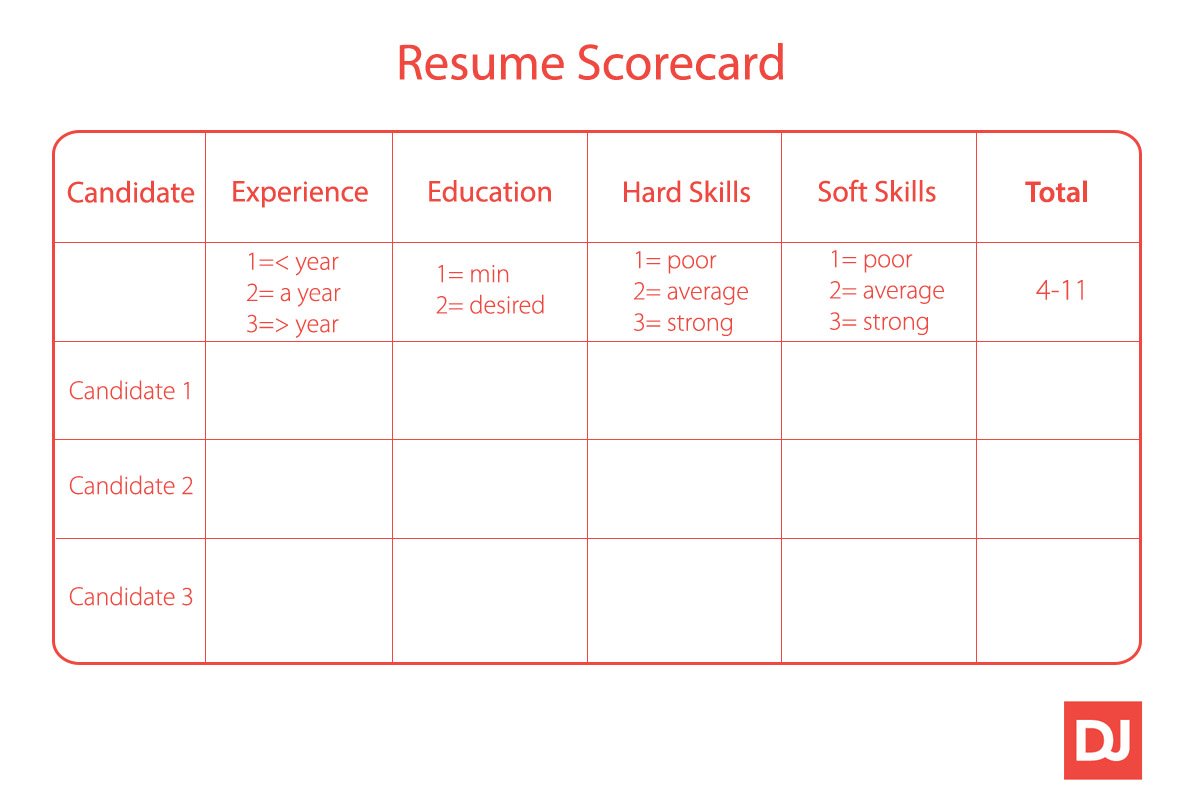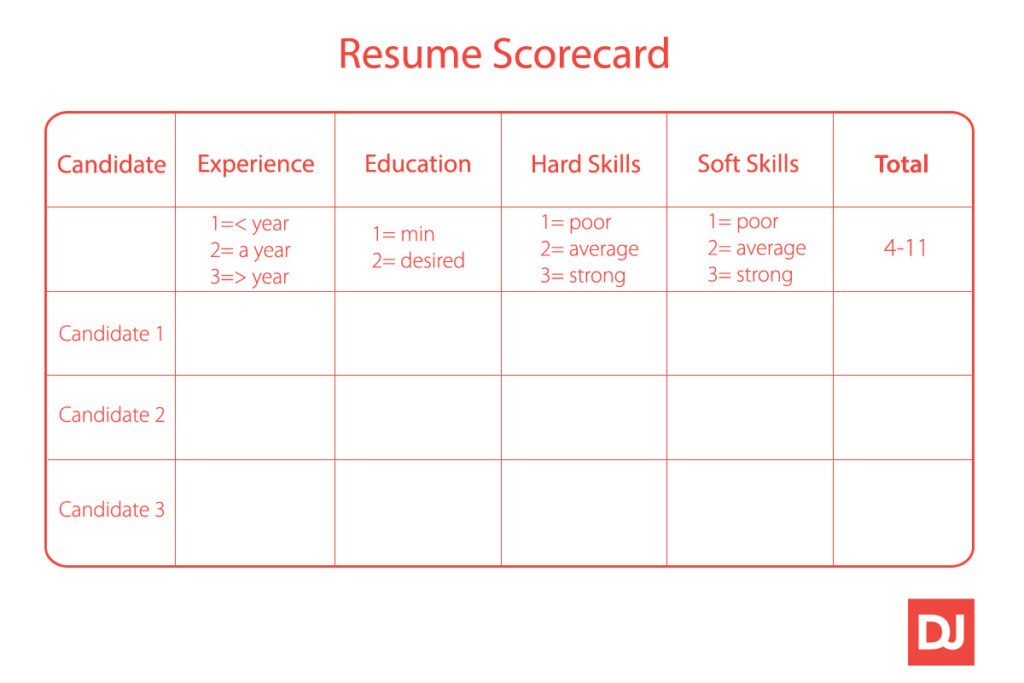 Step 4: Automation (Optional)
If you have hundreds or even thousands of resumes on the table, it takes a tremendous amount of time and effort to perform the steps above manually. Thanks to the advent of modern technology, there are automated resume screening tools that assist in the recruitment process.
This new category of tools is called AI for recruiting. Such software scans the existing database of employees to identify who is most successful and pulls the required qualifications. It even automates the screening and short-listing of candidates.
When reviewing resumes, there are specific points and precautions to consider.
Resume Review Checklist:
Review the open job listing for any qualifications that will be relevant when assessing the resumes.
Disregard the candidate's personal information, as that can create sub-conscious biases.
Ignore stylization, typography, and other superficial features, as long as they are not relevant to the position. Prioritize the contents of the resume.
Be wary of buzzwords stuffed by under-qualified candidates to fool your recruitment AI into ranking them higher.
Check the finer details of their professional experience – relevancy to the position they are applying to, duration of each employment and reasons for leave, any awards they may have received.
Note any significant unemployment gaps. There could be reasons behind these worth discussing at an interview.
Confirm they have the necessary level of education to perform the job.
Account for any relevant skills and certifications.
Watch out for any spelling or grammar mistakes. Diligence to proofread tells a lot about a candidate's attention to detail and dedication.
Review the applicant's web presence via the provided links in the resume – social media accounts, portfolio on the web, personal website, or any other account you can find.
Verify the provided information is consistent. Compare the resume to the LinkedIn profile to catch any discrepancies. Confirm that the dates of the events make logical sense. If there is anything out of order, consider disregarding the resume.
Write questions that arise upon reviewing the resume and split them between what to ask during a phone screening and what to keep for the interview.
Split the resumes between top applicants to screen by phone, backup list of less qualified candidates, and rejected ones.
If the list of top candidates proves to be exceptionally long, perform further screening to narrow it down. A reasonable number of candidates for a single position is about a dozen on average.
When screening by phone, provide a brief description of the job (location, working hours, salary, position, etc) and ask the candidate if they are still interested. If they are, raise questions prepped from the interview.

Red Flags in a Resume:
Job hopping – Workers who frequently change their occupation may prove to be unreliable;
Employment gaps;
Decreasing responsibilities at jobs;
Short-term employment;
Essay length paragraphs;
Lack of information;
Multiple pages of information;
First-person narratives;
Exaggerated titles/jobs/responsibilities;
Ridiculous email addresses.
Reviewing Resumes – Final Remarks
Resume screening can be a straining experience, but when done meticulously, can help you win invaluable assets for your company. Knowing how to evaluate a resume will reduce the chances of missing out on a strong candidate. The guidelines provided above will increase your screening efficiency, as far as the technical side of things is concerned. When all else fails, sometimes intuition can be the best guide, so don't be afraid to listen to your gut once in a while?
Once you're done with the resume screening, it's time to prepare for the interview with our guide: Tips for a Successful Remote Technical Interview in 2020