Most of us are aware of a fundamental tool created by the American psychologist Maslow in the mid 20th century – the hierarchy of needs. We have previously touched on the matter of nurturing a belonging environment for your distributed teams, so now we are going to review the same pyramid in the context of today, a Covid-dependent world that has put our internal policies, best practices, and management approach to test for the last year.
One fact that is worth mentioning is that this pyramid is valid for every remote team, division, organization, or industry. These five layers should be embedded in our remote hiring, managing, and developing strategy as they affect equally all employees regardless of their location, beliefs, religion, or cultural background.
Applying the Hierarchy of Needs to Remote Work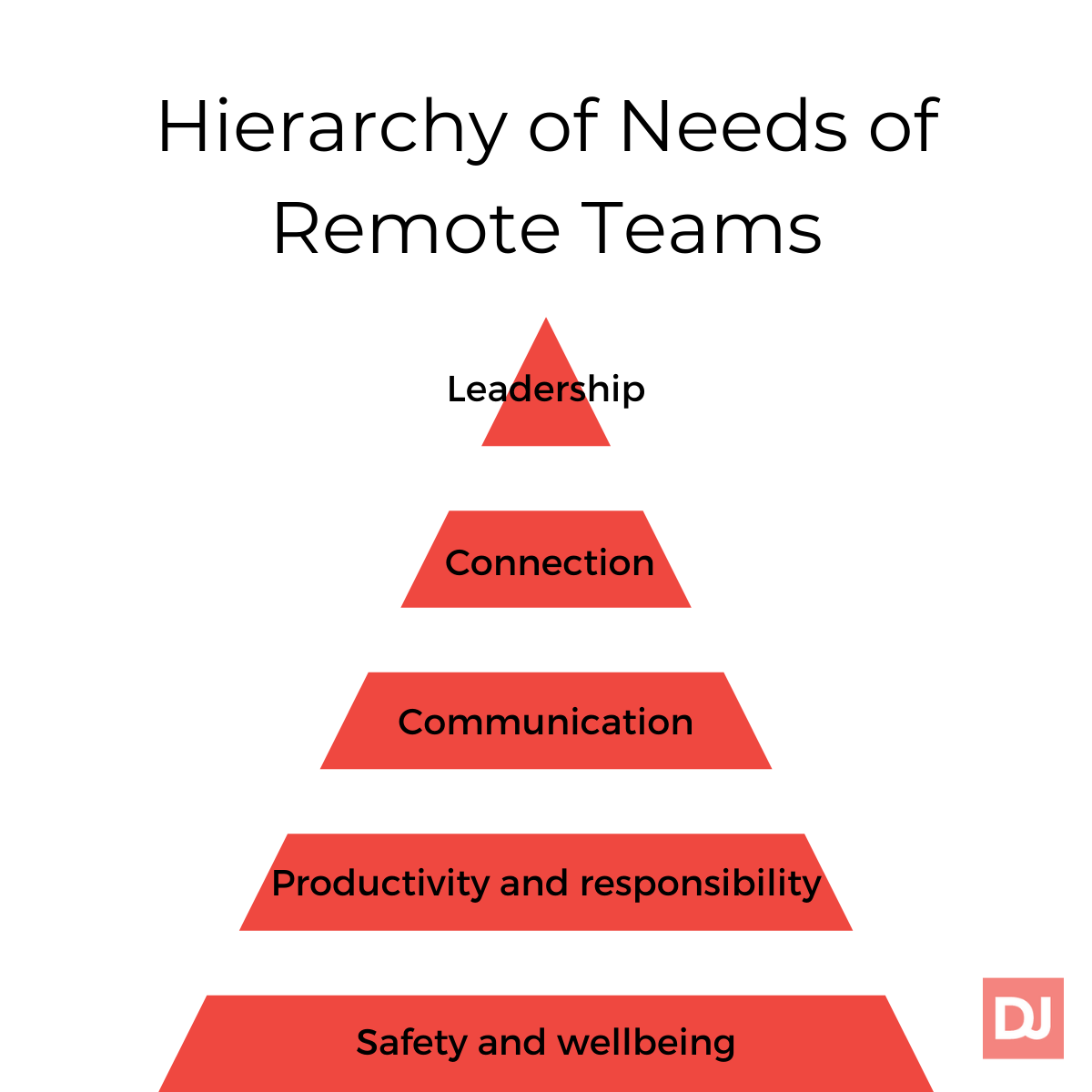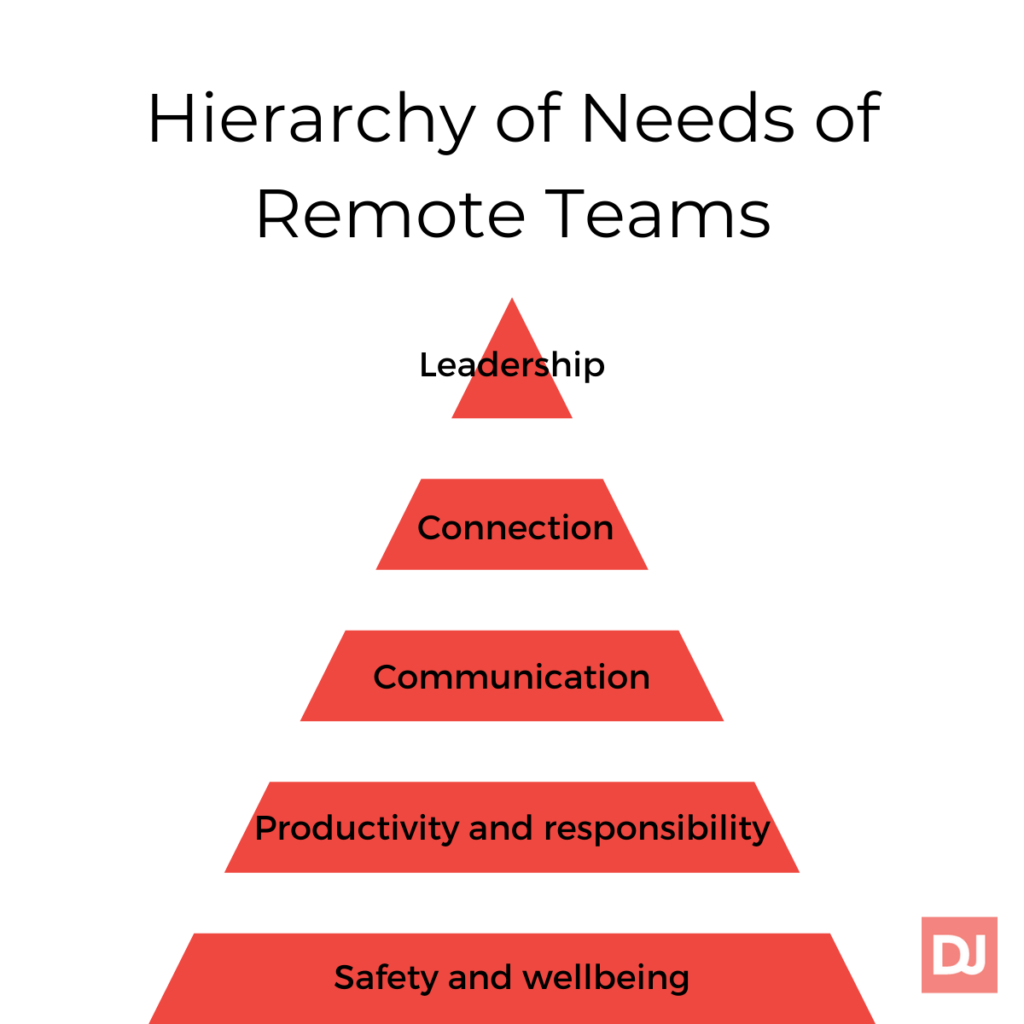 The Base of the Pyramid – Safety and Wellbeing
There is nothing more critical than our own safety and wellbeing – both physical and mental health have been deeply affected by the global pandemic, which led to evident and hidden struggles related to our day to day as remote employees (from homeschooling our children, to overworking during lockdown as there is simply "not much else to do").
A lot of employers worldwide have recognized the importance of establishing stable practices related to emotional health, whether it is a "Wellness Friday", regular check-ups by the managers, enhanced EAPs and psychological support or additional days off dedicated to resting and relaxing.
1st Floor – Productivity & Responsibility
Once you have successfully set up this layer, it is time to talk about the resources that help us stay productive and responsible – to ourselves and our work.
Remote organizations are leading the way in terms of being early adopters of technology that is there to facilitate and streamline the everyday job. From dealing with high volume applications, through ensuring non-invasive tracking of the ongoing projects, to introducing apps that support us in staying on track during our most productive hours (check the Marinara timer).
Without the presence of these tools, a big chunk of our work could not be accomplished in a fully remote setup. And it would have been a lot more complicated to make managers confident in the integrity of their employees – which has proven to be one of the main issues when it comes to allowing WFH or remote work.
2nd Floor – Communication
Without a doubt, results cannot be the same if there isn't the right communication strategy in place.
When it comes to most international companies, verbal and non-verbal interaction is facilitated by a number of software systems that are supposed to provide a smoother communication, although in a lot of cases the different tools don't necessarily talk to one another (which could potentially lead to having an overwhelming amount of systems that are underused).
Every leader's role is ensuring people are on the same page in terms of the common goals, approach, and desired input (the What and the How). And sometimes it is enough to pass the message in a clear, transparent, frequent and easy to comprehend manner.
3rd Floor – Connection
One element, borrowed from the original Maslow hierarchy, is the need to have personal connections at work. As a social animal, every human thrives when they feel accepted, encouraged and surrounded by people (even virtually) whom they can learn from, bounce ideas or simply find a common ground: languages, pets, family roles, heritage, sports.
Many remote teams struggle with this part in particular, as time and cultural differences could get in the way, however, these practices should be a joint effort – coming from you as managers and from the employees whose voices need to be heard.
Some companies have set up internal clubs based on interests, or take the time to celebrate once a goal is hit; others, like Salesforce, have introduced an AI-based tool that matches you with another person from a different office every Wednesday. How do we successfully nurture a culture where everyone can build strong bonds in a natural way?
The Tip – Leadership
Lastly, we should discuss how our leadership strategies have been redefined over the course of 2020 – from the "new" skills on the rise (adaptability, EQ and vulnerability), navigating uncertainty, adopting new technology within a short period of time, to understanding downsizing and upskilling of the internal teams.
The need to demonstrate united and capable, but most importantly, human-oriented leadership style is and will be crucial for any organization. True leaders are seen in times of adversity. A recent example was the open letter from the CEO of Airbnb Brian Chesky announcing that despite the 20% global team reductions, the company will do their best to offer competitive packages, references and support to every affected employee.
Even traditional companies have been pushed to embrace the new norm of having a mixed schedule of remote and onsite days and even nonlinear working arrangements.
There wasn't a leadership book to prepare us for what the year brought, nor there were people equipped with the knowledge to make all the right decisions. Nevertheless, one thing is sure – people will always hold their leaders accountable for the good and the bad choices.
Knowing what is the hierarchy of the remote team's needs, do you believe you have the right tools and strategies in place to hire, lead and develop effectively your people?