Nowadays, everything is about data collection and analysis. From clothing brands to political predictions, data engineering has been one of the most requested fields for a few years, with a 50% growth only in 2019.
Why is recruiting a big data engineer so tricky, then? Big data engineering is a vast and complex field in constant evolution. After the boost of the 2020 pandemic, society is quickly adapting to new business models, and so are users.
Companies need to adjust their strategies to keep up with market demands and customers' habits and preferences. Under the umbrella of 'Big Data,' you can find different roles specialized in various data collection stages.
Unlike data analysts or data scientists (here's our guide on how to hire data scientists), a Big Data engineer is the one organizing and storing data. Their role sounds ambiguous, and when it comes to hiring the best developer for your project, it can be hard to picture the right talent you need.
Before looking at the skills and responsibilities of a Bid Data engineer, let's find out what this role is about and why they are so popular today!
What Is a Big Data Engineer?
As the name suggests, big data engineers create the infrastructure to keep data organized. The role requires a wide set of technical skills, from multiple programming languages to SQL database design. Taking care of the data collection from various sources, data analysis, and pipelines, data engineers are split into three main categories: generalist, pipeline-centric, or database-centric.
Despite their specialization, recruiting a big data engineer doesn't mean only finding someone to collect millions of data. First, you need to know which data you need to collect. The role of a data developer is crucial to realize the full potential of these data and use them to grow your company. 
Once you know what you need for your project, you can focus on the type of responsibilities and skills your Big Data engineer should muster:
Big Data Engineers' Core Responsibilities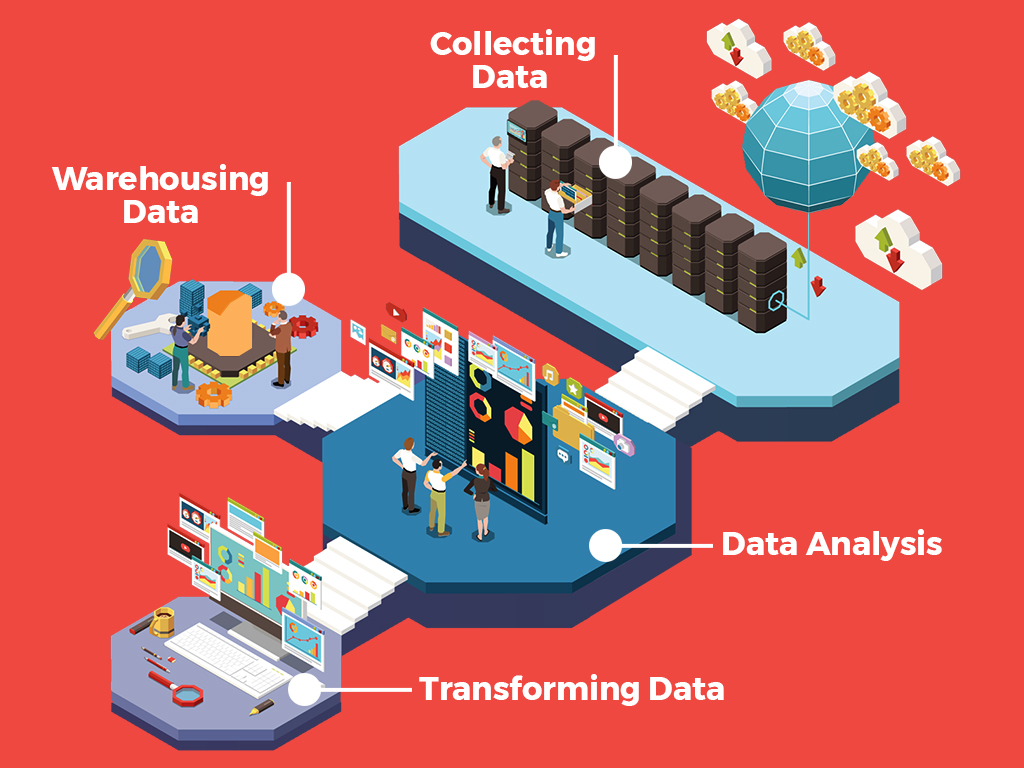 1. Collecting Data
As we mention, big data engineers handle the collection of massive data sets from new and unstructured sources. These sets are almost infinite, and the complex process of collecting data relates to:
Volume of unstructured data coming from multiple sources.
Velocity of the rate at which data are collected from the sources.
Variety of the different available data types coming from unstructured forms.
Usually, velocity and volume are the realms of data engineers. To make this process as smooth and effective as possible, here is when your developer coordinates with your team to isolate the type of data that is more relevant for your application.
2. Warehousing Data
Big data means a collection of high-volume data that need to be organized and, more importantly, stored. The first responsibility of your data engineer is to capture and store data to select what is relevant for your company. How an engineer inspects and interprets data is what makes the real difference for you — even more than running and maintaining the warehouse.
3. Data Analysis
As we said, big data isn't only about collecting and storing information. It is also about how to analyze them to avoid a waste of time and resources. Why do you need this data? To analyze users' interactions or predict trends? The scope you need these data is essential to analyze them contributing to your company growth.
4. Transforming Data
To keep up with new technologies and market demands, transforming data collection is a crucial responsibility of a big data engineer. With the company growing, you need to adjust the data you need to collect and the strategies to analyze them.
Skills Set & Tools
When it comes to hiring, it is tricky to isolate the exact qualities you would need for your project. Based on their main responsibilities, here are the skills you can't really miss when recruiting a big data engineer:
Apache Hadoop provides a framework for distributed storage and processing that uses a network of multiple computers to solve issues with a massive amount of data. As one of the oldest open-source software to collect data, it is the most popular system to deliver mapped results from different clusters.
NoSQL databases are replacing traditional databases, like Oracle or DB2, with better equipment to access and store data. Seeing their increasing demands for these types of databases, your big data engineer can't miss a deep knowledge of this software.
To organize a high volume of data, your big data engineer needs to set up cloud clusters. The cloud's flexibility allows organizing a high volume of data into patterns easy to find and analyze.
Machine learning is not the most popular skill among big data engineers. Yet, recruiting someone with expertise in the field will improve your system's classification and storage.
Apache Spark is another software getting more popular for its ability in-memory stack, widely used in big data analytics.
Beyond Technical Skills
Based on what we said, big data is about frameworks, rather than single data objects. Can you imagine finding a book in a library without following an alphabetical order? Or any type of classification? Try to imagine your data as books. Big data engineers are the ones that build your bookshelf and, more importantly, think of how to organize the books in it.
Knowing tools is essential, but still not a guarantee for your performance. When it comes to hiring, pay attention to communication skills and a collaborative attitude. Who is taking care of data housing and collection will often deal with your team and executive offices.
Plus, collecting data is also about interpretation and analysis. Your goal isn't only to find the best expert among experts, but also someone who can fit with your company culture and mission. The way your engineer will read and store your data is an essential element to achieve the performance of your business.
Recruiting a big data developer is a complex process as understanding the type of skill you need for your project. At DistantJob, we have been recruiting remote developers and engineers for over a decade, selecting the best candidates for hundreds of companies. These were just some pieces of advice to picture the best candidate for you. If you don't have time for recruiting or want a guarantee on the hiring process, we are here to help!