Being up-to-date with new and advanced software development life cycles and technologies is essential for businesses and developers if they want to excel. Software development life cycles have been around for a long time and have helped businesses deliver high-quality projects more efficiently and with fewer errors. In this article, we will learn everything about one of the popular software development life cycles (SDLC) called iterative development.
Here's what we'll cover:
What is iterative development and how does it work?
How did the iterative model start?
What is iterative software development?
Iterative Processes: A starter's Guide
Iterative and incremental development: step by step
Iterative model example
When is iterative software development useful?
Iterative process advantages
Iterative process disadvantages
Should you use iterative development?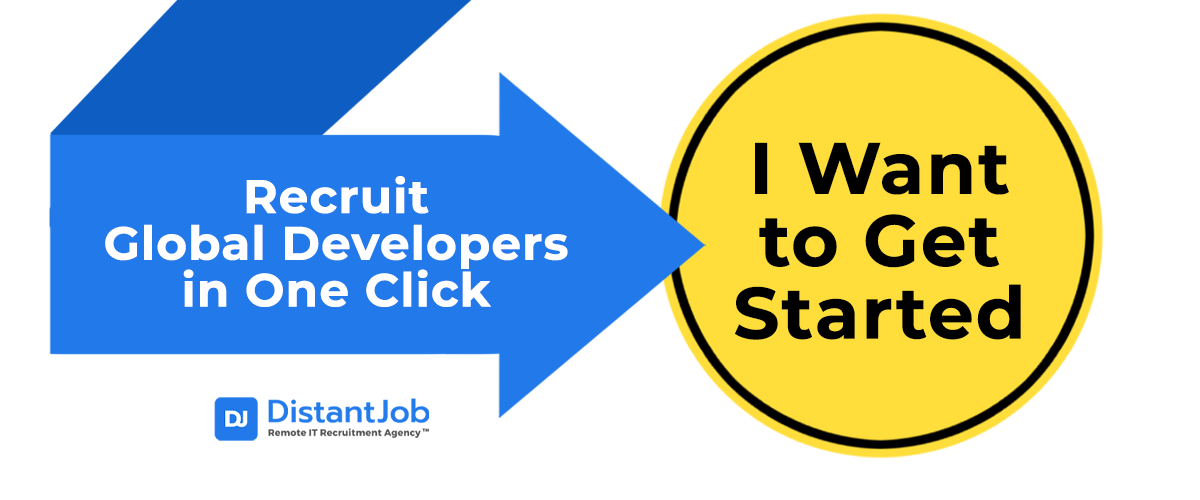 What Is Iterative Development and How Does It Work?
Before we get into the details of the iterative processes, let's understand the history of iterative development, how it started and how it works.
How Did Iterative Development Start?
The introduction of the Kanban method in the 1950s made way for the iterative SDLC model. The Kanban method was based on lean production to boost efficiency, delivery time, and iterative improvements. It allowed for easy upgrades to iterative methodology and could also be applied to other SDLC methodologies.
Later, in 1955, the iterative process model was studied further, and it was understood that human learning is an iterative process: the one of trial and error. The same approach was considered relevant to develop better software.
In 2004, Microsoft applied the iterative strategy for software development, and other developers followed. In more recent years, there has been further development in strategies. Agile and Lean methodology in software development use the iterative model to ensure faster and efficient product development processes.
What is Iterative Software Development?
Iterative development is all about simplifying software development processes by breaking them down into smaller chunks. The feature code is developed and tested in repeated iterations or cycles. With every iteration, new features can be developed and tested until the software application is ready to be deployed to end users.
What are iterations?
Shorter development cycles are referred to as iterations or sprints, which are time-boxed. This means that there's a limited time for the developer to finish a particular development cycle. At the end of the iteration, the developer is expected to deliver the working code.
Working iteratively allows more flexibility to the developer for incorporating changes. If traditional methods are used, unforeseen problems might surface only at the development stage after the entire design process is complete. This can be avoided by working iteratively as the project is divided into stages and the project team can evaluate the progress or changes at one stage before going ahead with the next stage.
Iterative Process: A Starter's Guide
The iterative development process is cyclical, which makes it more flexible. Once the rough initial planning is done, the next steps for each iteration are carried out repeatedly with thorough testing until the deployment stage.
Each iterative cycle is tested in the initial stage before software integration. The decision to keep or discard is made at every step. This is known as incremental prototyping since the software is developed step by step.
The SDLC iterative model allows developers to go back to previous cycles if anything needs to be changed. This process is followed till the final product delivery.
Let's understand the steps in an iterative cycle.
Iterative and Incremental Development: Step by Step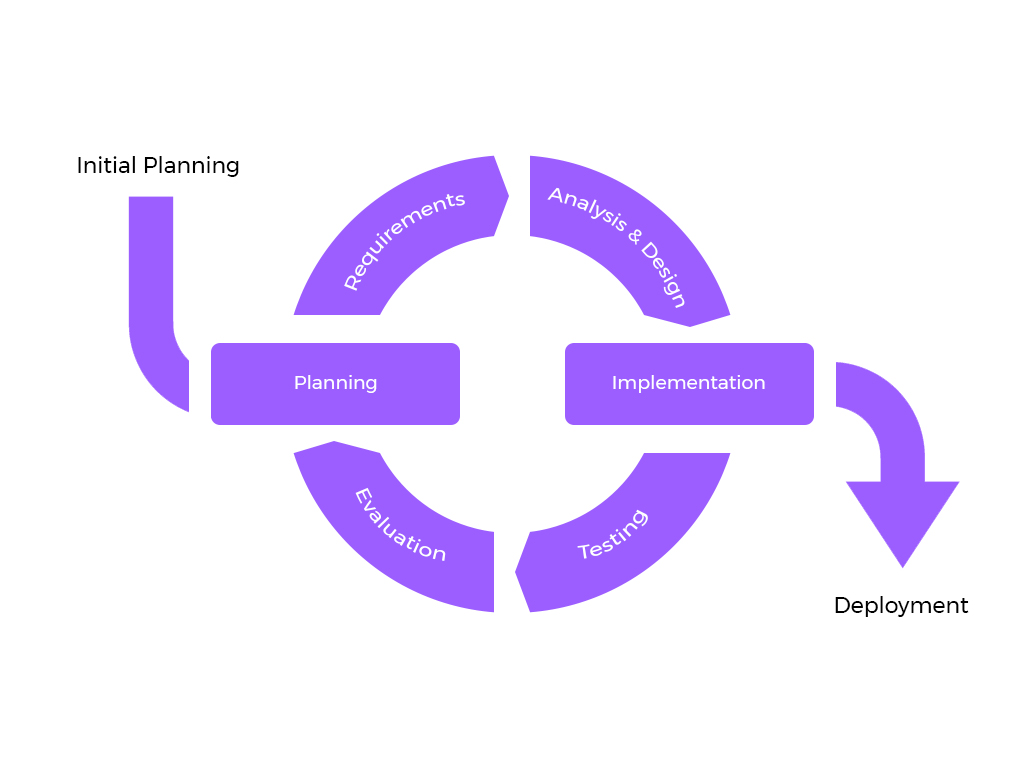 Step 1: Planning and Analysis
In the planning stage, the developers and clients identify software requirements in accordance with the business and stakeholders' requirements. Since this step will be repeated for the next iteration, it isn't necessary to figure out risks and quality at this stage.
After all the requirements are understood, an analysis is done to streamline the development process.
Step 2: Design
The design isn't a very important aspect in iterative development as compared to other steps. However, it makes sense to follow this step to establish the architecture of the software. Here, the design team establishes technical requirements like services, languages, data layers, etc.
Step 3: Implementation
In this step, the development team starts writing the code to build the first version of the software. The developers follow the coding guidelines and build the technical architecture, the database, and theprograms of the first iteration module.
Step 4: Testing
In the testing stage, the code is tested for potential bugs. During unit testing individual units of codes are tested. Integration testing verifies that the units of code function properly when integrated and a user acceptance test is done to determine if the system satisfies the user requirements for that iteration.
The testing team also tests the iteration module for security against potential hacks using different methodologies like black box (no access to source code), grey box (partial access to source code), and white box (full access to source code).
Step 5: Evaluation
After completion of all the previous steps, the project team will evaluate the whole project which will then be handed over to the client for review.
Iterative Model Example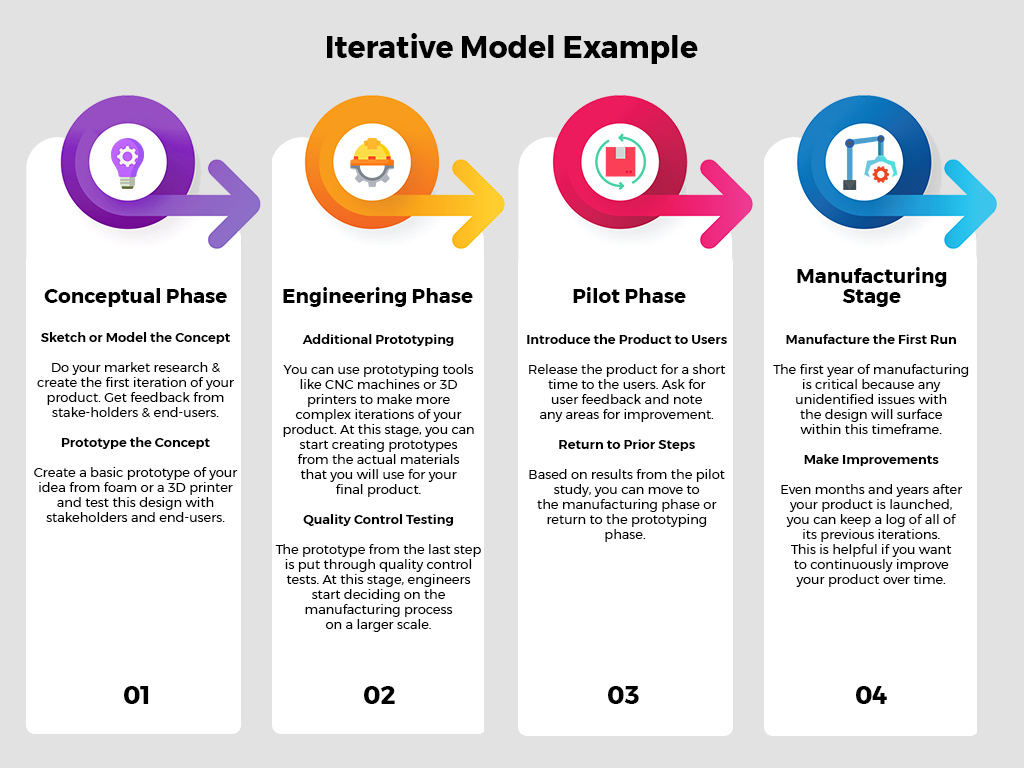 Conceptual Phase
Sketch or Model the Concept
Do your market research and create the first iteration of your product. Get feedback from stake-holders and end-users .
Prototype the Concept
Create a basic prototype of your idea from foam or a 3D printer and test this design with stakeholders and end-users.
Engineering Phase
Additional Prototyping
You can use prototyping tools like CNC machines or 3D printers to make more complex iterations of your product. At this stage, you can start creating prototypes from the actual materials that you will use for your final product.
Quality Control Testing
The prototype from the last step is put through quality control tests. At this stage, engineers start deciding on the manufacturing process on a larger scale.
Pilot Phase
Introduce the Product to Users
Release the product for a short time to the users. Ask for user feedback and note any areas for improvement.
Return to Prior Steps
Based on results from the pilot study, you can move to the manufacturing phase or return to the prototyping phase.
Manufacturing Stage
Manufacture the First Run
The first year of manufacturing is critical because any unidentified issues with the design will surface within this timeframe.
Make Improvements
Even months and years after your product is launched , you can keep a log of all of its previous iterations. This is helpful if you want to continuously improve your product over time.
Here's a 5 minute video that explains the iterative development model with a simple example.
When Is Iterative Software Development Useful?
Iterative software development is different from traditional methods as you don't stick to one design or idea through the development process. In a traditional waterfall method, each phase in the software development life cycle is "gated." Coding begins only after the design of the entire software application is complete, and testing begins only after coding is complete and has passed necessary phase gate reviews.
Working iteratively allows more flexibility for changes. However, the iterative development process comes with its advantages and disadvantages. Once you have a clear picture of those, you'll be able to decide whether or not you want to use the iterative development method in your business.
Iterative Process Advantages
Potential problems and defects are spotted early.
Development of functional prototypes takes place early in the project life cycle.
Progress is easy to measure.
Less time spent on documenting, more on designing.
Changes to the project are easier to implement and less costly.
Most risks can be identified during iteration and dealing with bigger risks can be prioritized.
Operating time is significantly reduced.
Every iteration leads to the delivery of an actual product.
Customer feedback is based on actual working products and not just technical specifications.
Iterative Process Disadvantages
More resources may be required.
Rigid successive phases without overlaps.
More intensive project management may be required.
Issues about system architecture could become a constraint because of the lack of full requirement specifications for the whole system.
It may be difficult to decide an end date for the project because of repetitive iterations.
Finding highly-skilled talent for risk analysis could be difficult and time-consuming.
Should You Use Iterative Development?
While it's tempting to create anything and everything using an iterative process because of the flexibility it comes with, it's not ideal for every kind of project. After weighing the pros and cons, here's what can help you decide if your project needs an iterative development process.
An iterative development process works better than others if:
Your software application is large.
The project requirements are not well-defined but easy to understand.
The requirements could change in future.
The resources for a few iterations are not available but can be used in later iterations.
Conclusion
To sum up, iterative development is a software development life cycle model which works through small iterations and phases. This approach is taken to ensure efficiency of the team and processes and the quality of the software. This model is apt for large software that needs changes based on feedback and review from time to time rather than at the very end. Following every step of the iterative development model properly with the right tech talent on board, will lead to a good quality product that is aligned with the desired functionality in the end.