The office meeting rooms are now part of the past. Nowadays, the fancy glass rooms where meetings took place have transformed into cozy rooms in the comfort of your house or favorite café. However, some team's virtual meetings have been a nightmare, especially for those who didn't know anything about video conferencing gear or how to conduct these meetings.
Conducting virtual meetings is not as easy as it sounds, especially for big teams where members tend to get bored during them because they never have a chance to speak. Leaders need to be organized and develop ways to make these calls effective, short and cover all the important points.
The Agile methodology encourages teams to engage in meetings to boost collaboration, productivity, and communication. Agile created the concept of the Daily Standups that consist of 15 min meetings where the team gathers around an office, and each member of the team shares what they did yesterday and what they'll be doing during that day. This way, leaders get a wider panorama of how the team is performing, if they are roadblocks, or if things look good.
But, to have successful daily standups or any other type of Agile meeting, there are fundamental aspects to take care of. So, the real question here is, how to ensure a smooth, agile video conferencing experience in your remote team?
5 Tips to Improve the Agile Video Conferencing Experience
1. Video Conferencing Gear
First off, none of this will help if your remote employee is connecting her laptop to a 20-year-old, hamster-wheel-powered dial-up modem. Fortunately, you can count on DistantJob to ensure all our candidates have appropriate, non-hamster powered gear.
One of the most frequent problems remote teams have regarding video conferencing gear is poor audio and video quality. Many employees, especially this year, were forced into remote work and weren't ready for the change. They kept using the old microphone that made them sound as if they were using a walkie talkie.
To improve your Agile video conferencing experience, one of the first things you should keep in mind is to provide your team with top quality video conferencing gear. Not necessarily the best hardware on the market, but tools that have a good price and are worth buying.
2. Camera On!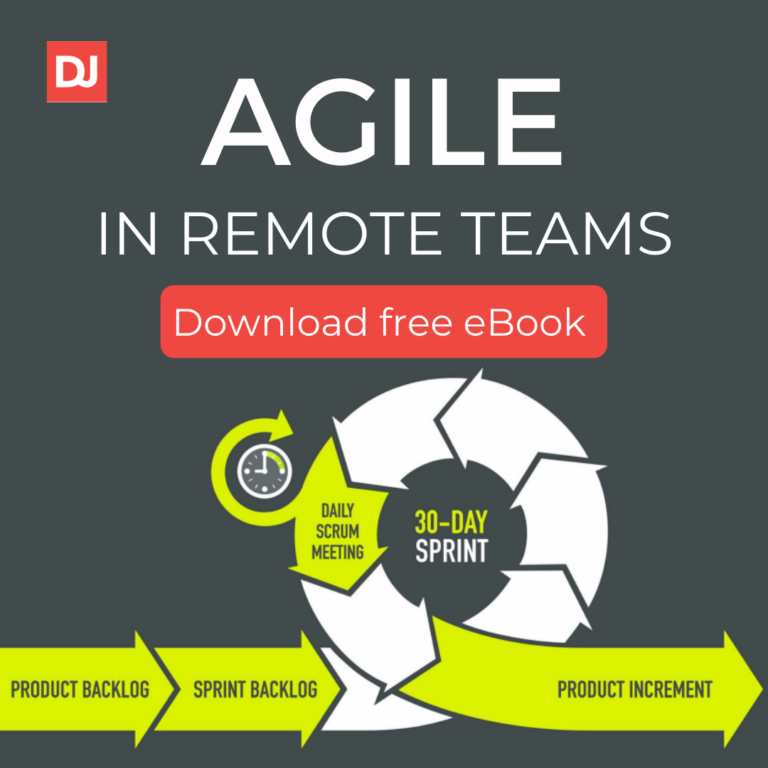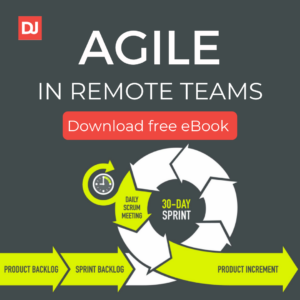 In a physical office, meetings are easier because you are in the same room as everyone. You can read their body language and even sense when someone is having a hard time going through something difficult.
In remote teams, this doesn't happen, and the only way it can happen is by video calls. This way, you get to see the faces of the employees you work with and establish better relationships with a deeper connection.
Agile best practices suggest getting the necessary tools and virtual teams to establish video meetings. For instance, daily standups can happen via Zoom or any other video conferencing app you like the most that enables you to turn your camera on and make the meeting more personal.
3. Network Bandwidth
Network bandwidth is also a crucial component that determines if your online meeting experience will be successful or not. You could have a fancy video conferencing solution that can deliver high-quality video, but if your network bandwidth only reaches the minimum requirements, it's all in vain.
This is particularly important for conducting virtual meetings that have many participants. Or webinars with 300+ people on them. For this, you need to make sure that your bandwidth matches your video conferencing application/solution. Otherwise, you might face connectivity issues, video lag, freezing, delays, etc.
4. Have a Meeting Etiquette
What I truly mean with meeting etiquette is to have organization. Agile has a set of meetings, each of them with a specific purpose. In software development teams particularly, where they need to reach goals and results regarding a project, diving meetings helps teams be more organized and goal oriented. Other industries and teams also implement the Agile methodology for the same reasons.
Before sending your team a Zoom link, or setting up a meeting, reflect what is the purpose of it in the first place. Why do you want to have a meeting? Write down the 2-3 main points you need to establish in that virtual conference, that way you keep focus on what really matters. Also, make time to listen to your team, their ideas, suggestions, problems, etc.
5. Protect you Wi-Fi Connection
Network bandwidth is one of the reasons why your video or audio might be low, but your internet connection is one of the aspects you should also prioritize.
If your internet connection at your home is terrible, consider getting another provider. Otherwise, you'll always have the same issues. There is the option of going to coworking spaces or coffee shops, but it's still advisable to have a strong connection at home.
Also, another solution to improve your Wi-Fi connection is it near your router during important virtual meetings. This way, there would be few obstructions between your Wi-Fi and your device. Even if it doesn't seem like it, sometimes walls, floors, or your TV can interfere with the wireless signal.
Your router is set to prioritize your video conferencing software over everything else. Please keep in mind that there are a million different routers out there, and while many have similar control panels, they are never quite the same, so that some exploration may be required on your end!
In Closing
When you consider the cost-effectiveness of hiring remote employees, and of taking an Agile approach, it's perfectly justifiable that you spend a bit extra on setting up a great communication infrastructure.
And if you still haven't found the right remote employees we can give you a hand with that. DistantJob is the premier global remote recruitment company placing developers and technology experts in companies throughout the U.S. We established a unique model for companies that is quickly becoming recognized as a faster, more effective way to hire the right person. Learn more about our IT Recruitment Specialists, and how DistantJob contributes to the development of elite teams across North America.