How much does it cost to hire a Blockchain Developer in 2022? As cryptocurrencies keep transforming the global economy and banking industry, more businesses are adopting this technology. However, hiring a blockchain developer requires a significant investment as it has become one of the highest-paying programming fields. The average blockchain developer's salary is approximately $150,000 per year.
While not every business can pay such an amount, something to keep in mind is that a Blockchains developer's salary also depends on factors such as the location and the level of expertise. In this article, I'll share with you a detailed guide regarding blockchain developer compensation and the different advantages of using this technology in businesses.
How Much Does It Cost to Hire a Blockchain Developer Around the World?
Blockchain's popularity is increasing due to all its advantages. In 2020 20% of IoT technologies had blockchain-enabled services. And according to MVP, 60% of CIOs across sectors have started integrating blockchain into their infrastructure.
With the rapid growth of this technology, more and more companies are demanding blockchain professionals. The career has become one of the highest paying in the programming field, where developers earn between $150,000 and $175,000 on average per year.
However, the salary of a blockchain developer depends on different factors. You need to take into consideration the location, as well as the level of experience and skills.
In the United States, where IT talent tends to be pricey, ZipRecruiter reports that the average annual pay for a blockchain developer is $154,550 a year. This means that they earn $74,30 an hour, $2,972 a week, and $12,879 every month.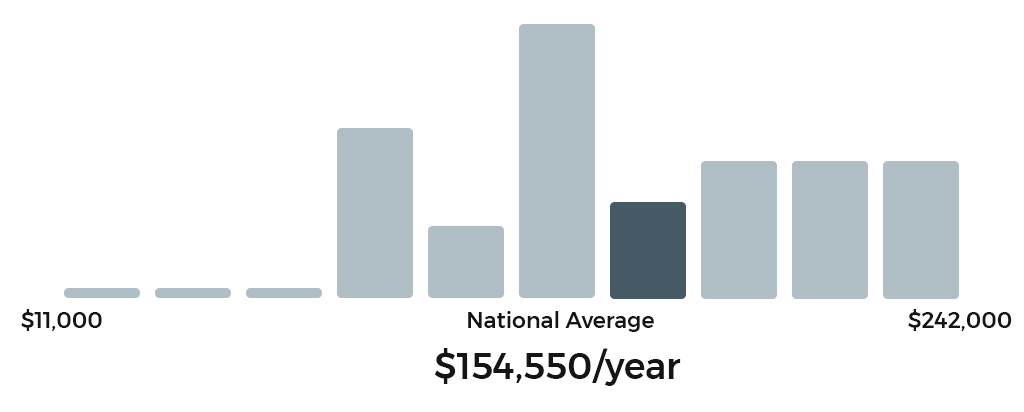 The salary will vary depending on the state developers are from and their years of experience working in the field. If you are considering hiring a remote blockchain developer, costs will continue to lower down in most cases as there are countries with lower costs of living. To be fully aware of the blockchain developer salary panorama we will explore the different salary ranges between different states and countries, as well as the different expertise levels.
Blockchain Developer Salary
This segment aims to help you understand how the blockchain developer's salary varies depending on two main factors: experience and location. I divided it into three different elements:
Years of expertise.
Blockchain developer's salary in the U.S.
Blockchain developer's salary in other countries.
Blockchain Developer Salary: Levels of Expertise
One of the key elements when analyzing the range of salaries between blockchain developers is experience. In this case, the findings are surprising as even junior-level developers have high-paying salaries compared to other programming roles.
If you want to estimate how much you need to pay blockchain developers, I created a table that goes from beginner level to advanced blockchain developers that you can have as a reference. The data was taken from Hired.com.
Keep in mind that the salaries change depending on the location, especially when the location is outside the U.S., where developers charge lower wages.

Blockchain Developer Salary by Location: United States
Although salaries change depending on the state or city, in general terms, hiring a blockchain developer or engineer in the U.S. is expensive. As a reference, I took two platforms, Hired.com and ZipRecruiter, that suggest how much it costs to hire a Blockchain salary based on different areas. These are the results from Hired: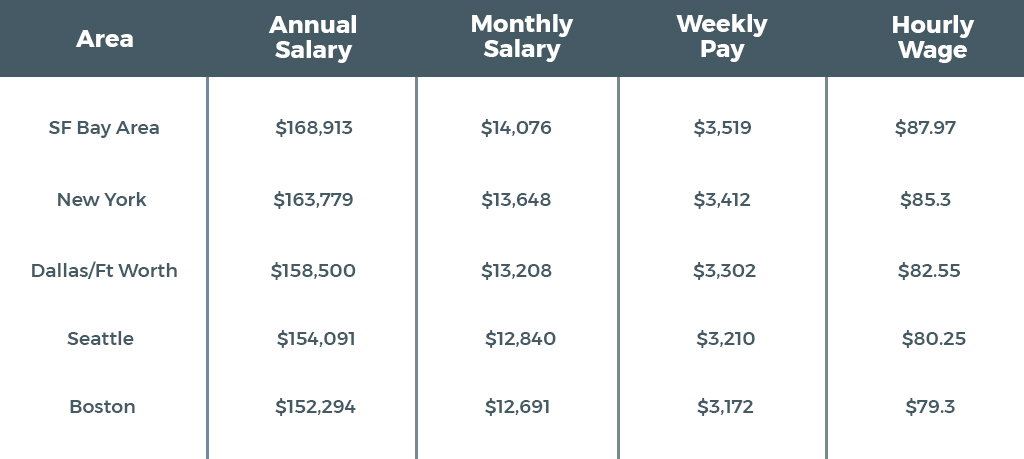 These areas have a higher salary than the average. For example, New York City has a moderately active blockchain dev job market where only a few companies hire for this role. San Francisco is also known for having expensive developers as this state is a magnet for top-rated programmers.
ZipRecruiter also analyzed 10 cities with different blockchain developer salaries: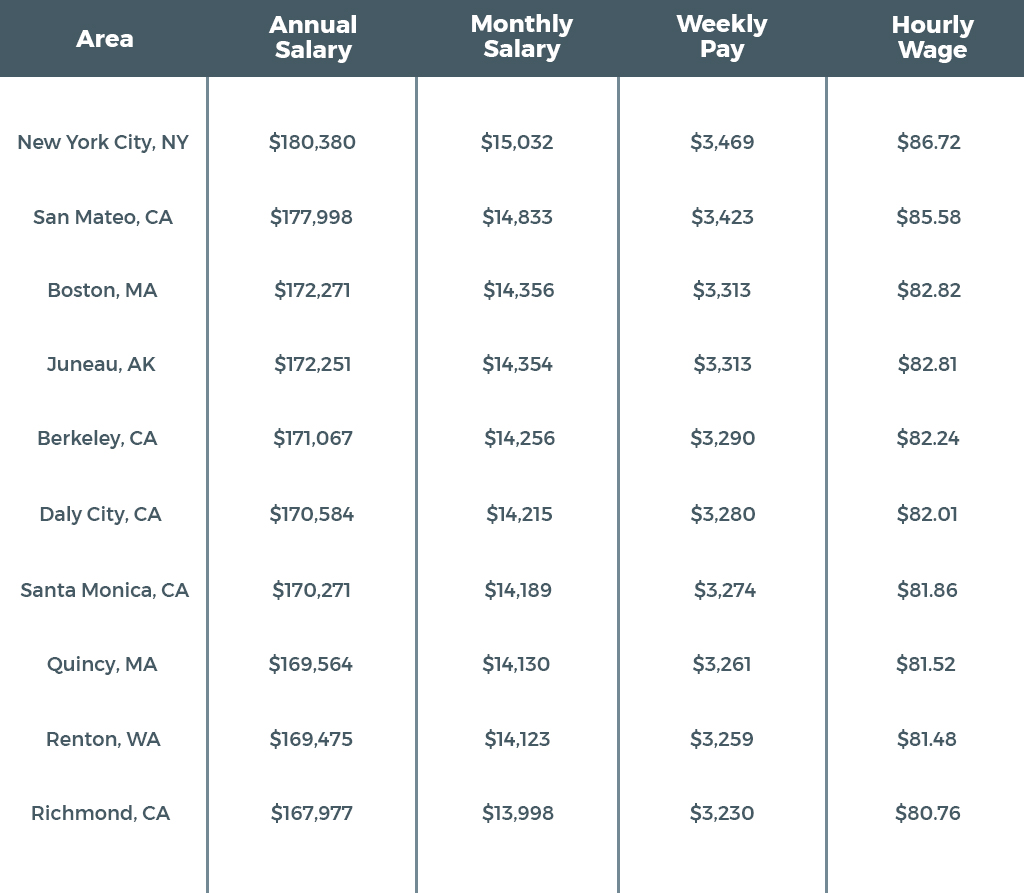 Blockchain Developer Salary by Location: Other Countries
When comparing the blockchain salaries in the U.S. with other countries, you'll instantly notice that the difference is huge. This comparison table is based on the data collected from Qubit Labs; the salaries vary from different companies within different regions.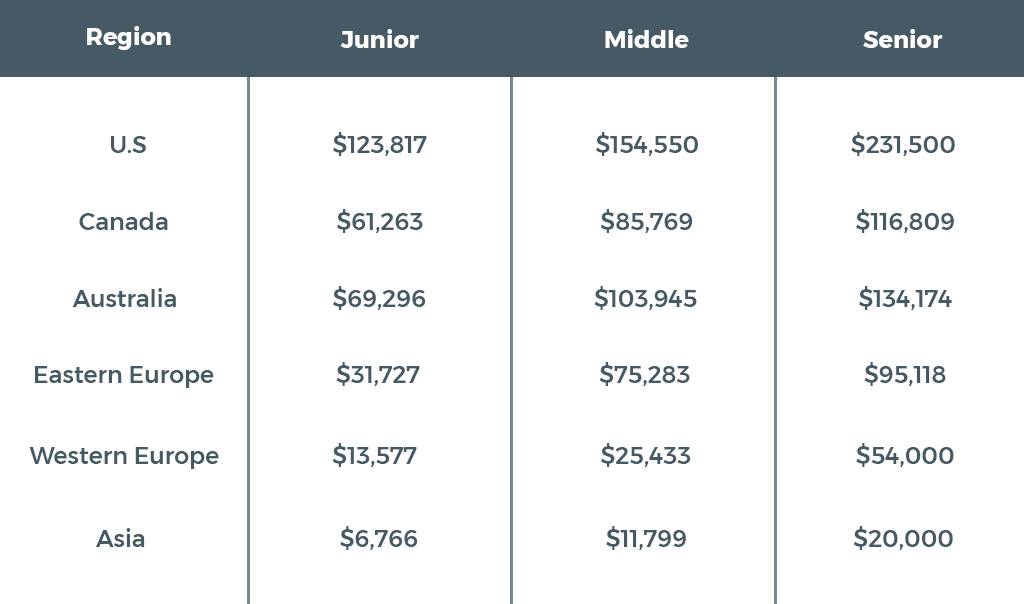 The U.S is by far the most expensive region to hire blockchain developers; Asia and Western Europe, on the other hand, have the most affordable prices. Because of these differences, many companies, instead of hiring locally, have started to hire remotely. However, it's not only about the money.
For example, Eastern Europe has become a magnet for companies in the quest for quality software engineers. The region has been investing in the IT sector, growing in both software development and computer technologies. Additionally, most of its countries speak fluent English. Therefore hiring a developer in this region enables you to access top-quality talent while paying lower salaries.
What is Blockchain Development?
Oil has been a valuable resource in humanity for thousands of years. However, in the era of technology, data is dethroning oil. A few years ago, The Economist, among other business publications, announced that data was now humanity's most valuable resource, or in other words, ''the new oil.''
The concept behind that famous phrase is that just like oil, raw data isn't valuable. But when data is gathered, analyzed, and connected to other relevant data, it becomes a powerful tool for most businesses.
Businesses require database developers, scientists, and different types of data professionals to help them create management systems where they can organize and structure all their data. This has become a necessity, as businesses run and make decisions based on information. And blockchain is an ideal type of database to deliver information. It provides immediate, shared, and completely transparent data stored on an immutable ledger that can be accessed only by specific network members.
For those who are not familiarized with blockchain, let me give you a brief introduction. Blockchain, in simple terms, consists of a shared, immutable ledger that facilities the process of recording transactions and tracking assets in a business network.
Anything of value can be tracked and traded on a blockchain network, reducing risks and cutting costs for all involved. It can store data of any kind, and despite its common uses in cryptocurrency transactions, businesses can use this technology for different purposes.
The popularity of this digital ledger relies on the fact that it can track orders, payments, accounts, production, and much more.
Blockchain Advantages for Your Business
Blockchain became popular with the rise of Bitcoin in 2009; however, despite its common uses in the cryptocurrency industry, it has different applications. For example, its commonly used in businesses involved in:
Secure sharing of medical data
NFT marketplaces
Cross-border payments  
Real-time IoT operating systems
Personal identity security
Supply chain and logistics monitoring
Advertising insights
Cryptocurrency exchange
Real estate processing platform 
While any conventional database can sort information and organize big amounts of data, blockchain has the characteristic of being entirely decentralized. Unlike the other databases, blockchain is not maintained in one location by a centralized administrator.
Many identical copies of a blockchain database are spread out on multiple computers across a network, making it highly secure.
These are the top 5 advantages of using blockchain for your business:
1. Security
One of the best things about using blockchain is its security. If you're a member of a members-only network, you'll receive accurate and timely data, and your confidential blockchain records are only shared with network members who have access. Additionally, all validated transactions are recorded permanently. And no one, not even the system administrator, can delete them.
2. Its cost efficient
As blockchain eliminates the need for third-party verification, it doesn't have additional costs. For example, whenever business owners accept payments using credit cards, they eventually pay a small fee when the bank processes those transactions. Bitcoin, on the other hand, does not have a central authority and has limited transaction fees.
3. Privacy
Some blockchain networks operate as public databases, which means that anyone with an internet connection can view a list of the network's transaction history. Users can access details of certain transactions, but they can't access personal information about the users making those transactions.
4. It's not centralized
As explained above, blockchain differentiates from other databases because its information is not in a central location. Blockchain copies the information and spreads it across a network of computers. For example, if a new block is added to the blockchain, every computer on the network updates its blockchain to reflect the change. The fact that it quickly spreads this information and updates across the network rather than simply storing it in one central database makes it difficult to hack it.
5. Its accurate
Thousands of computers approve all the transactions that take place in the blockchain network. There's a minimal margin of error, as it removes almost all human involvement in the verification process. Additionally, if for some reason a computer makes a typing mistake, the error will occur only in one copy of the blockchain.
Where to Find Blockchain Developers? Check These Sites
A blockchain developer's salary can be less than $10,000 or more than $200,000. It all depends on the type of expertise you need and if you're willing to hire remote developers.
If you need to hire a blockchain developer, keep in mind that the right strategy depends on what type of contract you want to have with the developer. For example, if you want someone to work on a freelance basis or a full-time basis.
These are 6 websites that can help you find a blockchain developer for your team:
1. Toptal
Toptal is a fully remote company that provides a freelancing platform focusing on IT talent. This means those businesses that don't want to hire a full-time remote software engineer, designer, finance expert, or product manager, can use Toptal's services to hire a freelance employee.
2. Upwork
Similar to Toptal, Upwork is a freelancing platform that helps individuals or companies connect with freelancers. They do not specialize in a specific sector, meaning that there are millions of freelancers in different industries. The downside is that there is no vetting, so you don't really know if someone will provide you the results you expect.
3. We Work Remotely
We Work Remotely is one of the largest remote work communities in the world. The platform connects remote workers that are looking for jobs. Therefore, you can make a job publication and receive thousands of applications from qualified candidates. The process of finding a candidate with WWR might be easier, but you will still need to evaluate the skills you're looking for.
4. Reddit
If you think freelancing platforms are not the best strategy for hiring blockchain developers, a different approach is using Reddit. Reddit, in a few words, is a social news aggregation and discussion website. And it is the perfect platform to spot talented developers as most of them are engaged in different discussions where they show their knowledge of specific topics. The only problem with this alternative is that it might take you a lot of time to spot the right candidate.
5. LinkedIn
LinkedIn is a professional platform that everyone is using nowadays. It helps you showcase all your experience; you can share what companies you have worked in and even ask for references. When it comes to hiring IT talent you need to go where developers are. In one word: LinkedIn. With this platform, you can have a first glance at a developer's experience. And you can directly offer them a job opportunity without having to go through all the fuzz of freelancing platforms or job boards.
6. DistantJob
If you want a full-time dedicated remote blockchain developer one of your best options is to seek the help of expert recruiters.
Think about it; the main challenges of hiring blockchain developers are that they are costly, and they are in high demand. Unless you have an offer, they can't refuse, hiring one will take you a lot of time and money in most cases. But, if instead of going through all the processes, you get the help of experts, chances are you'll be working with your blockchain developer in two weeks.
I'm not kidding. At DistantJob, we've been helping companies hire remote programmers for more than 10 years. We take the time to understand their situation, what type of developer they are looking for, skills and requirements, and once we have all this information, we start our search. In two weeks, we provide them with our top selection of candidates, and the process continues smoothly until they find their perfect match. You save time, money, and stress. All you need to do is contact us, and we take care of everything.