Welcoming a new remote employee can be a challenge. Especially when your new member doesn't have prior experience with virtual teams. Though you're likely to have your own process in place, here are some tips for onboarding remote employees.
Here at Distantjob, we take the maximum care of our employee's onboarding process especially when it comes to onboarding a developer into an existing team. That's because we understand how hard it is to be the new one, to get up to speed quickly, and integrate with an existing team.
With a decade of experience as a remote recruitment agency, we have been through a lot of virtual onboarding processes. So, here are our tips to help things go smoothly when acclimating a remote employee:
How to Onboard Remote Employees in 2021
1 – Make a Video Introduction
When that "hey, I'd like you to meet our newest team member" email arrives at the top of the pile in an overflowing inbox, most people will shrug and mark "read and archive". Some will probably report you for spam!
Go the extra length of setting up a video conference. Introduce the new member to the team live on webcam, explain what he/she will be working on, and encourage your remote team member to share something personal about themselves.
Prep them beforehand, so you don't put them on the spot in front of the whole team, of course!
2 – The First Seven Days Are Crucial
Our experience at DistantJob tells us that seven days is the average amount of time that it takes an employee to start integrating into the company culture and workflow.
It's during this time period that the employee is more receptive to giving up habits from previous working arrangements that are undesirable in your company, and picks up your tactics and strategies.
So be prepared to dedicate an extra bit of time over the next week to apply the tips below – in doing so you'll initiate your new employee for maximum performance!
3 – Be Clear About Your Standards and Hold Them Accountable
For some employers, this may be your first remote hire, and unsure of what to expect. We're here to tell you: you should expect no less than you would from an on-site employee! You don't have a home team and a remote team – you have a single team and some people in it happen to work from another city. We make sure that our candidates represent the top talent in their field and have an impeccable work ethic.
But it's important that they know exactly how they are expected to perform their job. You need to be clear at communicating your standards: what you expect from them, and how you expect them to do it. And you need to be firm in holding them to those standards.
Remote employees may come from a freelance background and are used to a lot of flexibility around when and how they work. However, when onboarding a full-time remote team member that is working for you they should be able to adapt to your business hours and work within your set guidelines. They aren't a freelancer anymore, and their work will reflect the bigger goals and initiatives of your company.
Set standards early and reinforce them often over those crucial first seven days!
4 – Provide Instructions
We're not saying you need to print a hardcover user guide. Usually a one or two-page document or email will do fine – but your employee shouldn't have to ask around about what tools you are using and how you use them.
Your remote employee shouldn't wonder if they should send you a file via email or share a dropbox link with your tag in Slack. Your new employee should be briefed on general modus operandi as soon as they hit the ground running.
When onboarding be sure to let he/she know what tools they are expected to use in each circumstance, and let them be aware of the various procedures in accomplishing various tasks. This is especially true when decision making is to be done by the manager of the team, and when the remote team member can use their own discretion in deciding.
5 – Pair Them Up With a Mentor
Working in pairs is a tried-and-true way of having people find their footing exponentially faster on a new setting, and this strategy is equally viable for remote employees. Jeff Atwood, the co-founder of Stack Overflow, wrote the following when detailing his own strategy for killer remote productivity:
"The minimum remote team size is two. Always have a buddy, even if your buddy is on another continent halfway across the world."
Knowing that someone has your back when you are the "new guy" removes a lot of stress, and the "mentor" will not only guide the new employee smoothly through your team's workflow, they will also start their integration into the team's culture.
6 – Have Each Team Member Introduce Themselves
Over the first week, encourage your new employee to have a couple of one-on-one meetings with the rest of the team over video chat.
While the general introductions may have been made on the first day – now is the time for each specific team member and colleagues get to know one another.
Communicating a company or team's culture is hard, and doubly so at a distance. But it is also one of the major factors in making a new employee into a kick-ass part of the team. Having one-on-one meetings with team members will help kick start the process.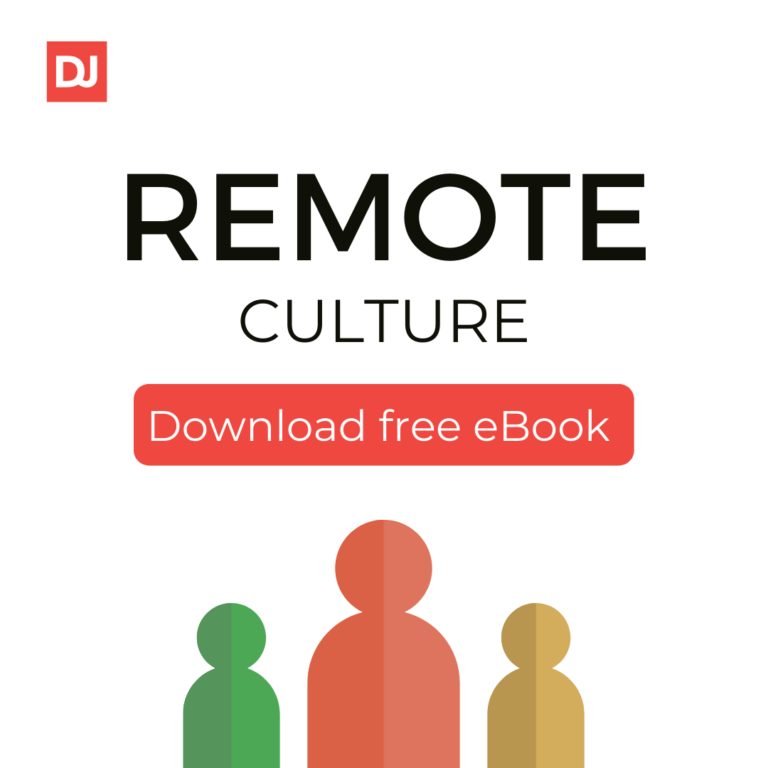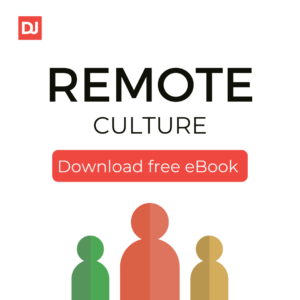 7 – Encourage Casual Conversation
Having an open communication channel where the team can have casual conversations is key in ensuring a buildup of team bonding and familiarity.
Engaging with the new person's interests (or just asking how his day is going) should be an ongoing process. A lot of team building is made around the watercooler, so make sure your remote team has a virtual watercooler and that the new people are invited!
Everyone enjoys talking about their interests, so actively try to get engaged in conversation with the new employees and get to know what sports they are into, what kind of movies they enjoy, how's it like where they live.
Do they have any hobbies? What are their favorite foods? What their goals are in life? Get to know the face behind the computer screen.
That's it – follow these seven guidelines and you'll be off to a great start! DistantJob places remote employees that range in size from start-ups to foundational brands in the industry. We help companies onboard and manage remote team members and aim to build long-lasting, successful relationships between employers and dispersed employees. Learn more about our services and how your company can benefit from remote placement hires.
Who are we?
DistantJob is the premier global remote recruitment company placing developers and technology experts in companies throughout the U.S. We established a unique model for companies that are quickly becoming recognized as a faster, more effective way to hire the right person. We know the advantages of hiring remote employees instead of local employees.
Learn more about our IT Recruitment Specialists. We contribute to the development of elite teams across North America providing sought-after candidates to grow with the business. Just contact us!
PS. If you are interested, download the free eBook "Effective techniques for interviewing remote employees – Assessing Compatibility to Find the Perfect Match"
---